With the countless beaches, 49 UNESCO World Heritage Sites, rich history, intriguing architecture, and beautiful landscapes, it's no wonder Spain is on your to-do list.
The warm people, tons of sunshine, great beaches, delicious wine, and tasty tapas are just some of the things that make this country a place you must visit. If this is your first time in Spain, you may be wondering how to plan your 10 days in Spain.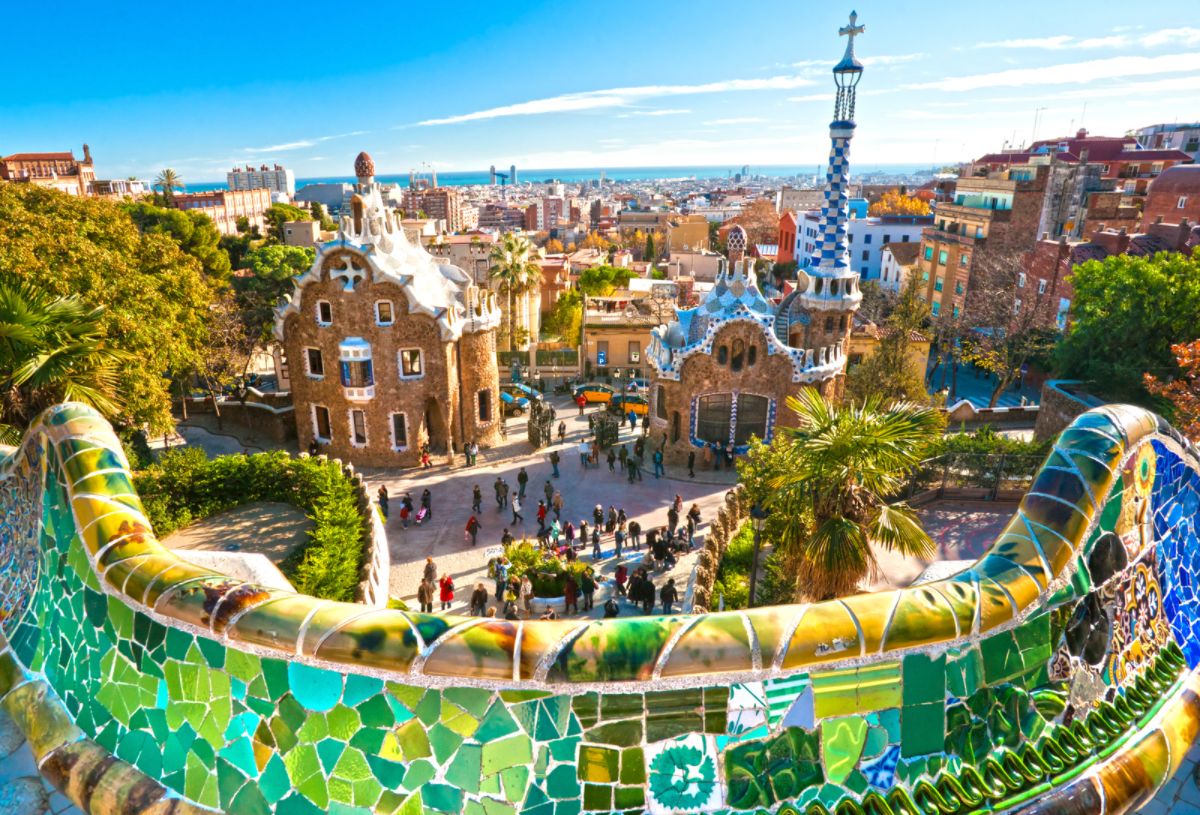 With our 10-day Spain itinerary, most of your days have been planned for you, and all you have to do is book the adventure. From Madrid to Seville, this guide has it all. Keep reading to learn more about what to do to make the most out of your trip to Spain. You will want to see some of the most beautiful cities in Spain while you are there.
Want more info to plan your Spain trip? Check out our Spain travel guide and these informative posts:
Planning a Trip to Spain?
Okay, so you're working on your Spain 10 day itinerary and keep wondering what you need to prepare for this vacation. Or maybe you're wondering which of the 49 UNESCO sites are actually worth the detour?
This guide will walk you through some of the best Spanish attractions that you must include. All you'll have to do is book your accommodation and flights and pack your bags. Everything else is laid out for you down below.
10 Days in Spain Itinerary Mapped Out For You
There are a lot of places to see in Spain and it can be a bit overwhelming planning a trip, to make sure you see everything you want and have some truly Spanish experiences. Our itinerary mixes sightseeing with wine tasting, eating, and lots of history and architecture along the way.
You can follow this itinerary exactly and have a wonderful journey, but feel free to skip any places or activities that don't interest you, or lengthen any part to spend more time in a place you love.
Here are all of the places you'll be touring on this Spain itinerary at a glance.
Days 1 & 2 – Madrid: El Retiro Park, Royal Palace of Madrid, and Musei Nacional del Prado.
Day 3 – La Rioja wine region: Around two hours and five minutes from Ribera del Duero. Check out the many bodegas, go wine tasting, and visit Valdezcaray.
Days 4 & 5 – San Sebastián: Check out Parte Vieja, Playa de la Concha, Playa de Ondarreta, Monte Urgull, and Monte Ulia. Takes around two hours from La Rioja.
Day 6 and 7 – Barcelona: Just under a six-hour drive. See La Sagrada Familia, Casa Batllo and Casa Mila. Also see Park Guell and Mercado de la Boqueria.
Day 8 – Valencia: About three hours and forty minutes. Check out City of Arts and Sciences, La Lonja de Seda, Mercado Central and Plaza de la Virgen.
Day 9 and 10 – Seville: See the Guadalquivir River, Royal Alcazar, and Seville Cathedral. Around six hours from Valencia.
Day 1 & 2: Madrid
Madrid is one of the easiest starting spots for your trip because you can fly international into Madrid from many places. If you're starting out in the U.S., you can fly into Madrid or Barcelona. We recommend starting in Madrid.
Between the usual attractions like Retiro Park and the Royal Palace of Madrid, you'll want to spend some time at Museo Nacional del Prado, and walking through the many plazas, especially Plaza Mayor, where there are many shops and tapas bars to pop into.
We like to spend the first afternoon on a tapas tour (this is a good one to book) because it will help you determine where to eat for the rest of your time there. Plan to see a Flamenco Show at Corral de la Morería in the evening.
Madrid is full of beautiful attractions like art galleries, museums, and outstanding parks. On your second day, do a Hop on Hop Off tour so you can stop at many places, including the Museo Nacional Centro de Arte Reina Sofia to the Thyssen-Bornemisza Museum.
OPTIONAL STOP: Ribera Del Duero Wine Region
Normally, I wouldn't recommend stopping in Ribera del Duero if it's your first time in Spain. Rioja is more accessible for visitors and most tourists are not such wine connoisseurs that they know and want to stop in Ribera del Duero. So I've made it an optional stop on this itinerary.
It's just under a two hour drive from Madrid, on the way to Rioja, so if you want to stop, you should. This area produces some of the finest red wines in Spain. If you don't stop for the wine, at least stop for lunch at El Lagar de Isilla for their world-famous lechazo (suckling lamb). You can visit their winery then visit their restaurant for lunch.
Another easy option is to stop at Bodega Portia, which is a modern winery right on the A-1, heading up to Rioja.
Explore the area with help from a tour guide to explain the history and the wine. You can even get a tour from Madrid, if you don't want to drive there yourself.
Day 3: La Rioja Wine Region
La Rioja is a fantastic experience for wine lovers, but even for those who are not big into wine. There are tons of wineries you can visit in Rioja and it's really easy to get around for first timers. You don't have to have a lot of wine knowledge to love it.
Remember to book your hotel to stay in La Rioja well beforehand. We love Viura Hotel and the modern Hotel Marquez de Riscal built by renown architect Frank Gehry. Or you can stay in Logrono, where they have the best pinchos crawl in all of Spain.
Read our guide to the bodegas you must visit while in Rioja. You can make your own appointments online and drive yourself around (it's really easy driving) or you can hire a guide and driver for the day.
Days 4 & 5: San Sebastian
In the heart of Basque Country, you'll find the quaint town of San Sebastian. While it's mostly known for great beaches and cultural events, the real drawcard is the food – especially the pintxos and Txuleton steak.
We have a guide to the best pintxos in San Sebastian. I recommend setting aside an afternoon/evening to do a pintxos crawl and eat your heart out. There are also a lot of Michelin star restaurants you might want to dine at if you're a foodie.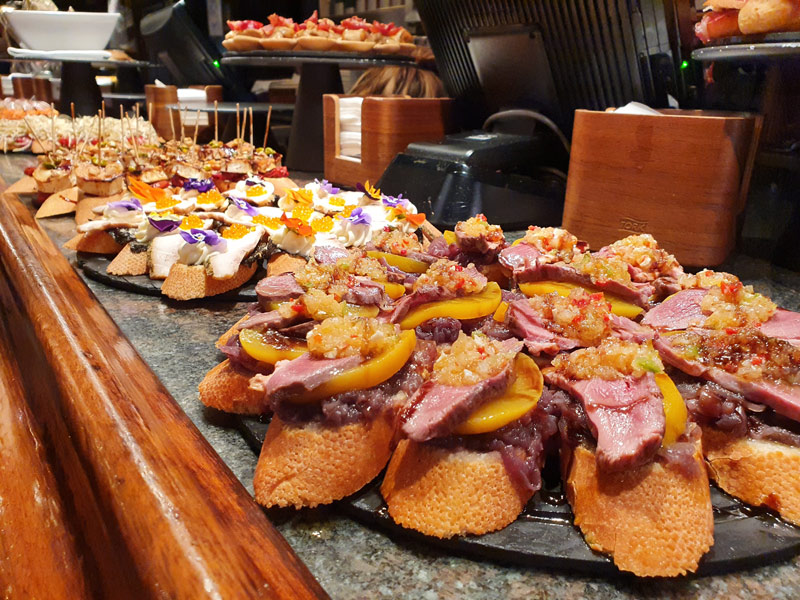 San Sebastian has a lot going for it, aside from the pintxos tours. During the sidra season, you must go out to one of the siderias (cider houses) to participate in the annual release of the year's cider. It's a full on dining and drinking experience that can't be missed.
Sights to see include the dramatic horseshoe shaped La Concha Beach and nearby Zurriola Beach. Take the funicular up to the top of Monte Idelda for a dramatic view of it all. There's even a fairground at the top.
Day 6 & 7: Barcelona
It's a 5-hour drive from San Sebastian to Barcelona.
If the drive feels like too much all at once, take your pit stop in Zaragoza, Spain. Here, you can explore the Aljaferia Palace, Goya Museum, or Zaragoza museum. Hit up as many art galleries as possible before jetting off to explore Barcelona's many cathedrals and markets.
Barcelona is a must visit. It will give you a different perspective on Spain, being in the Catalonia region. The language is different, the food is slightly different, and the proximity to the sea is refreshing.
Check out the handy Barcelona travel guide to decide what to add to your itinerary. The hop-on-hop-off bus tour is a great way to see a lot in a short time. You'll want to head straight to Sagrada Familia (the line can be long), and Gaudi's other gems, Park Güell. And be sure to save time for a tapas and wine tour.
Don't miss the Catedral de Barcelona and a walk around the Old Town, then stop by La Boqueria, one of Barcelona's oldest markets, dig into some paella at a restaurant nearby, then head to the Picasso museum.
See our guide to where to eat in Barcelona.
Day 8: Valencia
The unassuming city of Valencia is the third-largest in Spain, so there is tons to do and lots to see. It is also called the city of 100 bell towers and has a unique history dating back to the Romans.
Valencia is known for fancy architecture and museums and festivals, but it is also the birthplace of paella. So, once again, you have to know what to eat in Valencia before heading there.
In the old town, you can go on a history and tapas tour. You'll also want to sign up for a Paella making class.
Other than that, you've also got the stunning Central Market to buy great gifts, the Valencia Cathedral, or the exotic looking City of Arts and Sciences, the Barrio del Carmen and its Palaces and Plaza de la Virgen. You can see this all with a private guide or go on one of those awesome segway tours.
Day 9 & 10: Seville
We recommend at least two days in Seville. Not only are there more great tapas experiences to revel in, but there are also some unique activities to make your last days unforgettable.
Stop for a beautifully choreographed flamenco show in between tapas (seriously, food is the reason you go to Sevilla). There are dozens of tapas restaurants to choose from. We usually just spend a lazy afternoon meandering between them, having a tapa here and there.
If you're still feeling slightly uncultured and too full to eat anymore, walk about the city to visit the main sights, like the Cathedral and Seville Alcazar, Plaza de Espana, and the Seville Cathedral. All of these sights are spectacular.
Finally, make sure you sign up for Eating Europe's night tapas tour. You will (again) eat your heart out and have a really great experience in the streets of Sevilla.
In Conclusion – Spain Itinerary for 10 Days
A 10 day trip to Spain is no where near enough time to see everything, but at least you will have experiences a lot of things, eaten a lot of different foods, and really embedded yourself in Spain. Next time you can expand your trip to the lesser known corners of this amazing country.
On this trip you've gotten a tan on Playa de la Concha, experienced some culture at the Sagrada Familia, and basked in the delicious wines at one of the many bodegas in Rioja. It's a success!
Like this post? Why not save it to Pinterest?
FOLLOW US on Pinterest, Instagram, Facebook for more great travel inspiration and tips.
Angela Morris loves traveling around the world and exploring fun new things to do and foods to eat. She lives in Oregon with her two kids.