Home to dozens of Port wine producers, Porto, Portugal, is a fantastic place to visit if you're a wine lover, but even if you're not into Port, you'll find plenty of fun things to do in Porto. It's one of our favorite places in Portugal. Porto is an incredibly picturesque city, set along the western coast of Portugal, about a two-hour train ride from Lisbon.
There are two halves to the city, divided by the beautiful Duoro River: the city of Porto lies to the north, while the historic Port city and all of the Port wine houses are in Vila Nova de Gaia, which lies to the south. To get a full feel for the city, you really need to visit both.
We deliberately booked into two different hotels (The Yeatman in Vila Nova de Gaia and the Intercontinental in Porto), spending time in both, to be sure we experienced it all, and we were very happy with that decision.
Both sides are fantastic, but for very different reasons. If you're going for main tourist attractions, stay in Porto. For port houses, stay in Vila Nova de Gaia. If you are looking for more great information for your stay in Porto, read up on neighborhoods and accommodations and more here.
Want the best food and wine experience in Porto? Book this tour!
» Preparing to visit Porto? You might also want to read the top things to do in Porto and where to eat and drink in Porto. Maybe head up to the Douro Valley for some wine tasting.
---
Fun Porto Activities for Your Itinerary
Many people go to Porto as a long weekend getaway, and we think it's perfect for that. You can see so much of the city in 3-4 days.
These 10 activities cover the top things to do in Porto and Vila Nova di de Gaia, from where to eat and drink, to port wine houses to visit, art, culture and history.
1. Visit the Port Houses of Vila Nova de Gaia
One of the main reasons people initially consider going to Porto is because of the Port. If you're a wine lover, you absolutely must take some time to visit the Port houses.
Used entirely to store aging wine and welcome visitors, there are literally dozens of Port houses along the banks of the river and up into the hillside. Just keep in mind that the hillside is extremely steep and you need to be in good shape to walk between the houses, unless you stay on the main street, which has no small number of Port houses.
You'll find Calem, Kopke, Sandeman, Quinta do Noval, Ramos Pintos, Vasconcello's, etc. Unless you really want to take the hike up to Graham's, Taylor's, Offley's or Cockburn, there are plenty to visit on lower ground.
⇒ Book a port tour in Vila Nova de Gaia. Here are some we recommend:
2. See a Fado Show
Fado is a traditional Portuguese style of music and it's a great way to immerse yourself in the culture. A great way to combine #1 and #2 is to visit Calem Port house in the evening for the 6pm English tour, which culminates in a 30-minute Fado show while tasting the Port.
There are plenty of restaurants and night spots that feature Fado, as well, such as Restaurante Tipico O Fado, where the music begins nightly around 10:30pm.
⇒ Plan ahead! Book your tickets to Calem Port House with Fado show before you go.
3. Eat a Francescinha Sandwich
A Portuguese sandwich that originated in Porto in the 60s by a returning French emigrant, a Francesinha is a quite decadent adaptation of a Croque-Monsieur. It's made with bread, stuffed with wet-cured ham, fresh sausage and steak, and then covered in melted cheese and a tomato- and beer-based gravy poured over the top.
It's often served with french fries and a local beer. You can try one at almost any restaurant along the Ribiera or up near the center of the city. Try Cervejaria Brasão Aliados and Cafe Santiago for some of the best in town.
4. Take a Hop On Hop off Bus Tour
There's nothing wrong with being a tourist when you are a tourist! Some cities just lend themselves well to a hop on, hop off bus tour, and Porto is one of them. There are a few different bus companies, so check out their routes and timetables before you decide.
It's a great way to see different parts of the city and always have a ride waiting. We took the Yellow bus, which has two lines, with stops in the historic center of Oporto, the Douro river, Avenida da Boavista, the riverside area – Ribeira, Matosinhos and Vila Nova de Gaia with wine tasting at Espaço Porto Cruz.
It will take around 1:30 to do the entire loop, without stops. It'll take the better part of a day if you get off at most of the stops, like we did.
⇒ Book a Hop on Hop Off Tour right here before you go
5. Walk Along the Waterfront
Porto has two waterfront areas that are perfect for walks. Both are very different. There's the Cais da Ribeira, which starts from the west side of the Dom Luís I bridge and follows the riverfront until it meets Ribeira square. which is packed with cafes, bars and restaurants. The upper walkway is in fact the top of what remains of the original mediaeval city walls.
North of the city is a fantastic beach and promenade that you can walk along for a couple of miles worth of seaside splendor. You can walk all the way from Vila Nova de Gaia to Matosinho, where you'll find the freshest seafood in the city. It's a beautiful walk and there are lots of cafes and restaurants along the way to stop off at.
6. Eat Fresh Seafood in Matosinho
Some of the best food I ate in Porto was at a small, but elegant restaurant on the waterfront in Matosinho, called O Valentim. We didn't know what we were in for when we arrived, but were extremely happy with our choice to stop there for lunch.
You'll find the freshest seafood and fish in town in Matosinho, prepared simply on an outdoor grill with a little olive oil and salt. To find a great place, just walk along the main street ("restaurant row") in the neighborhood and you'll see all the grills out front.
The fish is displayed in the window and you can choose your own fish to grill. Then select a few sides like grilled whole potatoes and garlic soup, and have a feast.
Try one of these: O Valentim, Salta O Mura, or Restaurant Teresa.
7. Eat at a Michelin Star Restaurant
It's always a treat to have a meal in a Michelin-starred restaurant. There is a lovely one-star restaurant at the Yeatman Hotel that is worth spending an evening enjoying. With more than seven beautifully plated dishes, all paired with local wines and Ports, it's sure to be a memorable experience.
The Yeatman's gastronomic restaurant opens daily for dinner, at 19:30 (last seating at 21:00), with a fixed seasonal tasting menu consisting of 8-10 courses at €170 per person. There are two optional wine supplements starting at €80 per person to accompany your experience.
8. Check Out the Many Museums and Galleries
There are many museums and galleries to enjoy in Porto, like the Serralves Art Museum and Casa da Musica. There's also a 12th-Century fortress/Cathedral and the grand Palacio da Bolsa if you like to see stunning architecture and learn more about the city's history.
The Museu Nacional Soares dos Reis is the oldest public museum in Portugal. The Tram Museum in Porto (Museu do Carro Eléctrico) features interesting photos, original uniforms, restored machinery and various trams from different periods.
9. Take a Trip to the Douro Valley
You can easily book a day trip to the Douro Valley to see another side of Portugal and the Port production process. Further up river is where the grapes are harvested and crushed. Only then are they brought back to Porto for the aging process.
A tour will take up an entire day's worth of time, but it's more than worth it for the glimpse at the beautiful Douro Valley and the opportunity to try some authentic cuisine in the countryside. If you want to spend a little more time there, check out our guide to the Douro Valley.
⇒Book a tour before you go. We recommend:
10. Take a Douro River Cruise
As long as you're on a day trip to the Douro Valley, you should definitely take a Douro River Cruise. I don't mean the type where you board a full-sized cruise ship and drift slowly down the Douro, although those exist too. I mean a short one- to two-hour boat ride down the river.
You can catch a boat from the waterfront in Pinhao. It only costs a few euros and it's a great way to see the valley from the water, catch a glimpse of the terraced hillside covered with vineyards and see where some of the Port production facilities are located.
⇒ Book a day cruise from Porto to Pinhao with breakfast and lunch included.
Where to Stay in Porto, Portugal
If you're looking for a recommendation on where to stay while you're in Porto, we've got you covered. We've stayed in numerous parts of the city and have found our favorites that we'll return to again and again. Below are our top choices. There's really no reason to look any further. These are fantastic.
In Porto:
In Vila Nova de Gaia:
The Yeatman Hotel: Gorgeous hotel on the top of the hill with an amazing view, decanter-shaped pool, and a Michelin star restaurant.

⇒ Read reviews on

Trip Advisor

.  Book a stay on

Expedia
Apartment: Your Opo Ribeira Apartments: There are a few apartments available here with amazing views, right near everything. It's a perfect place to stay if you want a kitchen!

⇒ Read reviews on

Trip Advisor

.  Book a stay on

Expedia
CONCLUSION
So many fantastic and fun things to do in Porto, you could easily spend a week or two exploring. We like to spend half the time on the Porto side and half on the Vila Nova de Gaia side, to have two different experiences in one great city.
Have you been to Porto? Share your favorite thing to do.
Like this post? Why not save it to Pinterest?
FOLLOW US on Pinterest, Instagram, Facebook for more great travel inspiration and tips.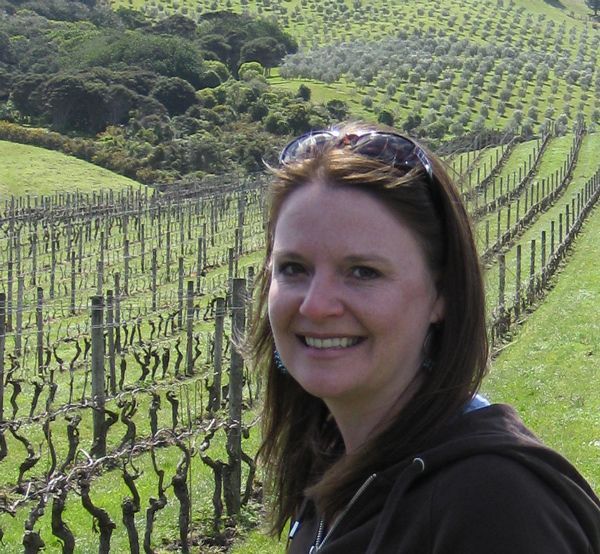 Laura Lynch, creator and writer of Savored Journeys, is an avid world traveler, certified wine expert, and international food specialist. She has written about travel and food for over 20 years and has visited 70+ countries.