Thinking about planning a trip to the famous port houses of Portugal? If you enjoy drinking port or just want to learn more about the fascinating history of the Port and how it's been made, stored, and transported through the years in Portugal, you absolutely must get started planning your trip.
We've got a fantastic list below of the 11 best port houses to visit in the Porto region. There are actually two sides to the city often referred to as Porto. On the southern side of the Douro river is the city of Vila Nova de Gaia and on the northern side is the Ribeira district and the city of Porto. They are connected by the famed Ponte Luis I Bridge.
The Vila Nova de Gaia side is where you'll find all of the port houses. Along the river is the main road on which many of the port houses have tasting rooms, like Calem and Kopke. Some of the other places are built up on the hillside and require a little climb to get there (like Taylor and Graham).
How To Get There
There are several ways to get to Porto, Portugal, depending on your budget, travel preferences, and where you are coming from.
» Preparing to visit Porto? You might also want to read our top things to do in Porto and where to eat and drink in Porto. Maybe head up to the Douro Valley for some wine tasting. Read our guide about renting a car in Porto.
Port Tasting in Vila Nova de Gaia
» Preparing to visit Porto? You might also want to read our top things to do in Porto and where to eat and drink in Porto. Maybe head up to the Douro Valley for some wine tasting. Read our guide about renting a car in Porto.
There are two ways you can do port tasting in Vila Nova de Gaia. The preferred way is to make an advanced arrangement for a tour and tasting. Not all Port houses have continuous tours that you can just pop into, and English tours are only given occasionally.
Making a reservation will ensure you can see and do what you want, without disappointment. In order to make reservations, contact the port houses individually via email, or see if they have an appointment form on their website (many do!).
The other way to do port tastings is to just pop into the tasting room and ask. While some don't offer this, some do. We also found that we could walk in and schedule an appointment for later the same day.
If you don't want to go through a tour at each port house, it would be wise to find out which places offer just a simple tasting. You can do that by emailing in advance.
⇒ We recommend this Port Wine Tour in Vila Nova de Gaia – visit 3 Port houses and try 6+ wines.
Top Port Houses to Visit
If you're looking into a trip to Porto for Port wine tasting, and you want to find the best port in Porto, you'll quickly find that there are dozens of Port Houses to visit, so the decisions aren't going to be so easy.
This guide will help you narrow down the choices. These are 11 favorites among the Port houses that dominate the landscape in Vila Nova de Gaia.
If you're a power taster, you can probably get around 4+ port houses in a day, if planned properly. But we would not recommend this. Don't forget that port has a much higher alcohol level than wine and can catch up with you quickly. We recommend only visiting 2-3 port houses in a day.
Don't forget that Porto is only an hour's drive from the beautiful Douro Valley wine region, where the views will absolutely stun you.
1. Burmester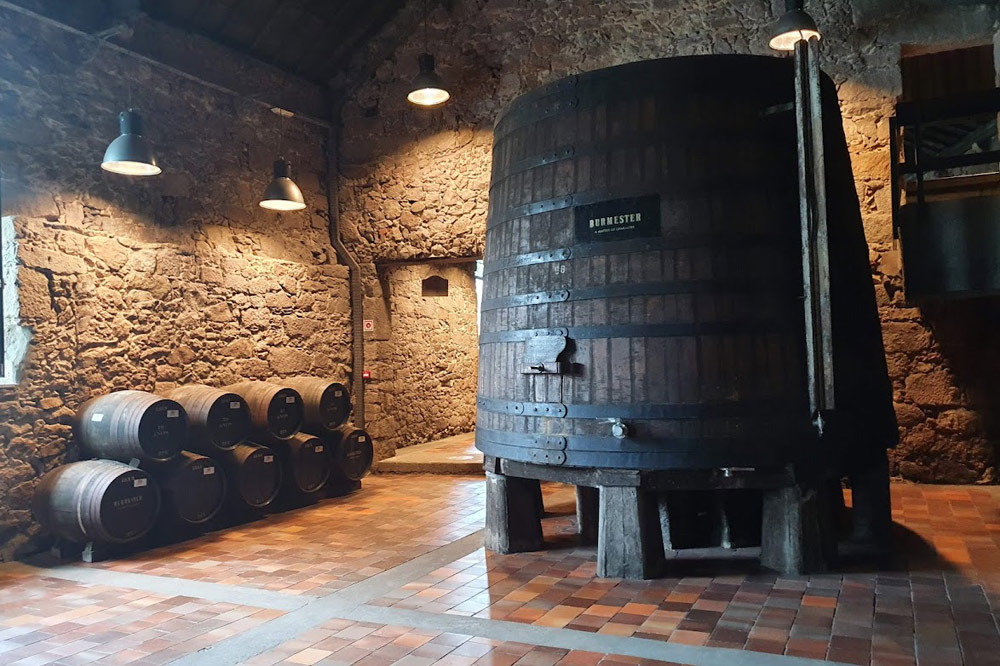 The Burmester story starts in 1750 in London, when Henry Burmester joined John Nash to establish the company Burmester, Nash & Co. They exported port to Europe. Then in the 1800s, Johann Burmester took the company to new heights in Porto, and it's been operated as a family business ever since, though now it's part of the Sogevinus brand.
In the 1990s, they started producing table wines as well.
You can tour the Burmester cellars. They offer a classic (13€), premium (17€), and exclusive (20€) visit, where you will taste 2-3 of their ports. They also have a large shop where you can purchase any bottles you enjoy.
Website: https://burmester.pt/en/caves/
Email: visitas.burmester@sogevinus.com
Hours: Open everyday from 10am-1pm, 2pm-7pm
2. Cálem Port House
Calem is located front and center along the Cais de Gaia (the main road that runs through the lower waterfront area of Vila Nova de Gaia).
Calem is one of the largest port cellars. They offer many options for visitors to enjoy. A typical tour & tasting includes an interactive museum, a guided tour of the cellar and either a standard tasting for €14 or premium tasting for €17.
There are then options to add a Fado show or to add a food tasting to go along with your wine (chocolate, cheese & chocolate, or food pairings). The tours operate regularly throughout the day in various languages and last about 45 minutes. The Fado show is only offered at 6:30pm.
There is an English tour that culminates in a tasting room where you'll enjoy a 30-minute performance of traditional Fado music. The current cost is €23. You can book your tour and pay for your tickets directly through their online form.
Website: https://tour.calem.pt/#en
Email: turismo@sogevinus.com
Purchase tickets in advance on their website
3. Kopke Port House
Kopke is the next tasting room you'll come upon along the Cais de Gaia. It is the oldest port wine house, originally opened in the 1600s. They don't offer a tour, but they have a menu full of choices for tasting, including some really nice wine flights that are paired with chocolates. The flights range from €25 to €75 or you can buy by the glass.
The flights include DOC table wines made by Kopke, in addition to Port. You'll choose your tastings downstairs and then find a seat upstairs in the lounge. Kopke is very famous for their vintage and aged Tawny ports, but don't overlook their table wines.
4. Sandeman Port House
It's hard to miss the large building that houses Sandeman. The cloaked man on top of the building is a great brand emblem. At Sandeman, you can take a tour and do a tasting. You can also just grab a seat outside and enjoy one of the cocktails they're making on the patio. I highly recommend a port & tonic.
They offer a classic tour that includes a tour and tasting of Ruby and Tawny Ports for €14. The premium visit is €17 and includes a tasting of 3 ports. Their 1790 visit includes a more in-depth look at the facilities and a tasting of 5 unique Ports for €23. And there are a few other options if you want something more unique.
They also have port wine workshops you can take, and a great shop inside where you can buy just about any port or DOC table wine you like.
5. Quinta do Noval Port House
Along the waterfront, you'll find a couple of small tasting rooms for Port Houses that have their main production and aging facilities in the Duoro Valley. Quinta do Noval is one of them. It's just a wine shop and bar with a couple of tables to sit at, plus outdoor seating during the summer. But it's not to be overlooked!
This is a great choice when you've heard the same tour over and over and want to try the port without the tour. You can choose tastings flights, or have a full glass, and even half or full bottles of Port.
6. Vasconcellos Port House
You may not have heard of the Vasconcellos port house before. It's part of the Christie's brand and they don't market their port tours, like some of the port houses do. They actually don't do organized tours, and only invite you in if you're interested in buying.
However, you'll be treated to a smaller, more intimate, tour than at the larger houses and you'll learn quite a bit about the process they use for blending the more than century-old ports they have aging in their cellar to create the 10, 20 and 40-year ports they make.
We were guided around by Jorge Silva, who took great pride in the port that he was telling us about. We had a very informative tour of the cellar and then made our way up to the tasting room to give it a try. The tasting included a 10 and 20-year Tawny and a white port.
If you are looking for a 40-year port, they have that too. We fell in love with their 20-year (the bottle and all) and had to take some back with us.
You can just approach the cellar door and inquire about tastings in person.
Website: https://www.christiewines.com/visit
Email: info@christiewines.com
7. Vasques D Carvalho
Located just around the corner from Ramos Pinto is the brand house and tasting room of Vasques D Carvalho. Their cellars are located in Regua, in the Douro Valley. After tasting ports at many of the larger houses on the main street, we were very pleasantly surprised by the tasting here.
You can find a seat in the garden and choose your preferred tasting from an extensive menu. We chose a Tawny tasting that included their 10, 20, 30, and 40 year Tawny. Very good decision!
Everything we tried here was fantastic. They age their wines in the Douro, not in Porto, so you'll find they can achieve aging slightly faster than those that age in Porto, due to the heat differences.
You don't need a booking to stop in for a tasting, though it might be a good idea to make one during busy months.
Website: https://www.vasquesdecarvalho.com/
Email: geral@vasquesdecarvalho.com
8. Ramos Pinto Port House
Housed in a beautiful yellow building, founded by Adriano Ramos Pinto in 1880, Ramos Pinto stands out among the Port houses on the main street. A tour of the cellars also includes a visit through the cellar's museum that houses a collection of art and items from the house's long history.
The tour ends with a tasting of two Port wines, a ruby and a tawny, which are presented in a large, yet comfortable lounge area with couches and barrels for tables. You can schedule a visit at the reception area just inside. They give regular tours in English. The last tour takes place an hour before closing.
You can book through their online form.
9. Taylor's Port House
Taylor's wine cellar is now in its fourth century of operation, which in itself is a major accomplishment. The story of Taylor's is very interesting and well worth learning about. The porthouse is located up a fairly steep hill, so be prepared for a bit of a hike.
From Ramos Pinto, head up the alley and continue up the hill until you reach Taylor's on the right. Tours at Taylor's are mostly self-guided now, though you can book a private tour in advance if you want.
There is no need to schedule an audio tour in advance. You can walk through and listen to the history and details of the Taylor family and winery at your own pace, in many languages, while looking at the displays and barrels throughout the cellar and museum, which have been recently renovated.
It costs €15. At the end of the tour, you'll have a tasting of two of Taylor's ports: Extra Dry White and Late Bottled Vintage (LBV). You'll want to schedule for at least an hour or two to wander through the cellar and finish the tasting. The last tour takes place an hour before closing.
Website: https://taylor.pt/en/visit-taylors/port-cellars/
Hours: Every day 11:00 – 20:00
10. Cockburn Port House
Cockburn is located slightly farther and also up the very steep hill. It's about a 10-minute walk from Taylor's, though at around the same elevation. If you're taking the Hop-on-Hop-off bus tour around town, there is a convenient stop right outside Cockburn's door.
The tour takes you through the cellar and the stacks upon stacks of aging barrels. Once a family estate, Cockburn is now owned by the Symington Family that also owns other Port cellars, such as Graham's and Dow's. They specialize in median level wines that are approachable. The tasting includes a young ruby and a 10-year tawny.
Email: cockburnslodge@cockburns.com
11. Graham's Port House
Graham's Port House, opened in 1890, is located the furthest away from the others. It's on the hillside, about a 15 minute walk from Taylor's. You can enjoy lunch or a drink at the bar in Graham's restaurant, Vinum, which helps make the trip there worthwhile, especially if you're walking. Just remember that it's a very steep hill.
Another aspect that makes it worthwhile is the incredible view. A tour can be booked in advance online, which makes it easy to fit into your schedule without walking all the way there to find out their hours. If you'd rather not take a tour, there's a wine bar in Vinum where you can taste some of Graham's Port by the glass.
Website: Book your visit online.
Tips For Port Wine Tasting & Porto Wine Cellar Tours
Where to Eat in Porto and Vila Nova de Gaia
Three of my favorite places to eat in Vila Nova de Gaia are all within easy walking distance of each other. If you're staying in the city, you'll be able to enjoy these and so many more without worrying about transportation.
Where to Stay in Porto, Portugal
If you're looking for a recommendation on where to stay while you're in Porto, we've got you covered. We've stayed in numerous parts of the city and have found our favorite Porto hotels that we'll return back to again and again. Below are our top choices. There's really no reason to look any further. These are fantastic.
In Porto:
In Vila Nova de Gaia:
Frequently Asked Questions on Porto, Port Houses & Wine Cellars
Do I need to make reservations for a wine cellar tour?
It's advisable to make reservations, especially during the high tourist season. Some cellars may have limited availability for tours and tastings, so booking in advance ensures you get a spot.
What is the best way to get from Porto to the Douro Valley wine region?
You can reach the Douro Valley by taking a train, bus, or organized tour from the Porto district. The train journey is particularly scenic, offering picturesque views of the Douro Valley River and vineyards.
Are there any wine festivals or events in Porto?
Porto hosts various wine-related events throughout the year, such as the Essência do Vinho wine festival, Port Wine Day celebrations, and wine-themed tours. Check local event listings for specific dates.
Is it possible to ship Port wine home from Porto?
Many wine cellars offer international shipping, so you can purchase authentic Port wine during your visit and have it shipped to your home address. Some wineries may have restrictions or require a minimum purchase for shipping.
Can I visit the vineyards in the Douro Valley from Porto?
Yes, it's possible to visit the Douro Valley vineyards as a day trip from Porto. You can join guided wine tours that take you to the vineyards, allowing you to learn about the winemaking process and the grapes used in the winemaking. You can also enjoy the stunning scenery whilst tasting wine.
Before You Go
Since you made it to the end of this article, you're probably pretty interested in Porto and the surrounding area. Here are a few more articles we think you might enjoy.
Related Posts:
Like this post? Why not save it to Pinterest?
FOLLOW US on Pinterest, Instagram, Facebook for more great travel inspiration and tips.
Like this post? Why not save it to Pinterest?
FOLLOW US on Pinterest, Instagram, Facebook for more great travel inspiration and tips.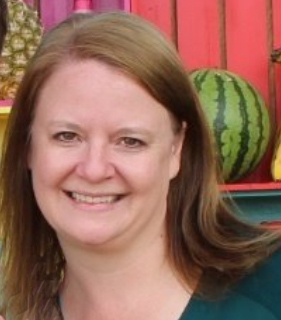 Laura Lynch, creator and writer of Savored Journeys, is an avid world traveler, certified wine expert, and international food specialist. She has written about travel and food for over 20 years and has visited over 75 countries. Her work has been published in numerous guidebooks, websites, and magazines.