Visiting La Rioja for wine tourism is an incredible experience. You can't possibly understand the famous Rioja wine region without seeing it for yourself — the tiny plots of vines, the dozens of centuries-old family-run wineries, the amazing modern architecture, the golden-hued leaves in fall.
The best way to see if for yourself is to check out a few of the must-visit bodegas in Rioja.
There are hundreds of bodegas in Rioja to visit and they are spread out over three principle zones – Alavesa, Alta and Baja. The area is so large, you would have to play darts with a Rioja wine map to decide where to go.
We've done some of the work for you and offer up this list of the wineries where we found the best Rioja wine, because when it comes down to it, it's all about the wine!
This is no where near a comprehensive list, but if you're doing your own planning, it's a great place to start. Remember that you must book a wine tasting appointment at a winery at least 2 days in advance (more is better). Most bodega websites have information in English on how to book, either by email, phone, or online form.
We suggest email if you're doing it yourself. We never get much response from submitting the form online. You also need to be flexible if you want an English tour, because they aren't always offered. Tour and tasting at each winery ranges in price from €5-€20 and include a tasting of 2-4 generous pours of wine.
Planning a Rioja wine trip? Here's more
Book a Tour
You probably don't want to drive yourself around while wine tasting (unless you're a good sip and spitter), so here are a few recommended wine tours you can take instead. Keep in mind that it's expensive.
If you're already in the area, we recommend this full-day Best of Rioja private tour. You can be picked up in Logroño, Elciego, Laguardia or Haro and accompanied by a local expert to four wineries, plus lunch and a stop in Laguardia. The cost varies depending on how many people are in your group. For 2 people, it's around €280/pp.
If you're in San Sebastian, we can recommend this Rioja Wine Hopping Tour. It includes pick up in San Sebastian, four Rioja wineries and lunch. The cost is €285/pp.
Customized wine tour in la rioja
Let someone else do the driving. Rioja in Style, can design a private guided tour in La Rioja, tailored to your preferences. Request a tour to the wineries we suggest or ask them to tailor-make a tour for you. Book at least a week in advance. Cost for 2 people is $400/pp.
[Maria's] knowledge and passion for the region and its rich culture allowed us to get to know La Rioja and enjoy learning its history. We highly recommend her guided tours if you want to experience a totally unique journey…. — Carmen Pérez-Pozo
inquire about a tour
11 Must-Visit Bodegas in Rioja
You can easily visit three wineries in a day, plus lunch. Four would be pushing it, but if you plan it right, it can be done. If you want to lay out the best path, put all of these bodegas into Google Maps so you can see where they are before you start planning them out.
Always make sure you're traveling responsibly between wineries. Choose a designated driver, or sip and spit — but also make sure you're properly refueling between stops. There are a bunch of bodegas that serve wine lunches (see below for details), but one of our favorite things to do in the area is a pinchos crawl in Logrono, which can be done during lunch from 1-3pm. If you need some tasty ideas, here's a list of the top foods to eat in Spain.
Keep reading below for more information on how to get to the Rioja wine region and where to stay.
Muga
Located in the town of Haro, Muga offers many experiences from hot-air balloon rides, to private tours and wine classes. The modern building has a great wine store where you can buy gifts and wine and enjoy a tasting flight at the bar.
They offer daily tours, but you don't have to take a tour to try the wine, which is great if you want to make it to some other wineries in Haro in one day. Muga is close walking distance to the other Haro bodegas mentioned here, so you can easily park your car and walk between them.
Website: http://www.bodegasmuga.com/
Location: Barrio de la Estación s/n 26200 Haro
Phone: +34 941.306060
Lopez de Heredia
One of the oldest wineries in Haro, Lopez de Heredia now features an interesting juxtaposition of the old and new winery experience. You can tour through the old part of the winery, which has been receiving visitors since 1886, then taste the wines in the space-age looking room built by Zaha Hadid (that's the decanter shaped building on the left).
The winery is located just 100 steps up the hill from Muga and you can also taste wines here without a tour.
Website: http://www.lopezdeheredia.com/
Address: Avda. de Vizcaya, 3, 26200 Haro
Phone: +34 941 31 02 44
Roda
Again, just another 100 steps up the hill is Roda, another of the old wineries of Haro. The modern tasting room here leads down into the underground cellar that is built into the hillside.
If you go just for tasting, you can take your glass down into the opening of the cellar for a view (it`s closed off by a fence, so you can't actually go in – just peek through), otherwise you can see the underground cellars on a full tour. Roda specializes in Tempranillo. They also sell a plate of Jamon Iberico to go along with the tasting.
Website: http://roda.es/
Address: Av. Vizcaya, 5, 26200 Haro
Phone: +34 941 30 30 01
Dinastia Vivanco
Located in the small town of Briones, Dinastia Vivanco is a complete wine tourism destination. There is a bodega and plenty of wine, but there's also a restaurant and a wine museum. And you won't want to miss any of them.
If you have enough time, you can book a tour for 11am, lunch at 12:30 and then spend a couple hours in the museum afterward, but you don't have to do all three. We skipped the tour and chose to enjoy a wine-tasting lunch, followed by the museum.
There is an audio guide that narrates the journey through the museum that is highly recommended. Check out the options for lunch. This is one of the only wine pairing lunches in the area.
Website: http://vivancoculturadevino.es/es/
Address: Carretera Nacional 232, 26330 Briones
Phone: +34 941 32 23 23
Bodegas Ysios
Architecturally, Bodegas Ysios is one of the most stunning winery buildings I've ever seen. It was designed by renowned architect Santiago Calatrava, as a symbol of the new Rioja. It's meant to mimic the rolling Sierra de Cantabria mountain range behind it.
Visiting Ysios includes a walk through the modern interior of the building, into the beautiful and sprawling modern cellar, along with a tasting of three of their wines in the upstairs tasting room.
From upstairs, you can look out the windows at the mountains. Even if you don't stop here for wine tasting, I highly recommend stopping for pictures. You do need an appointment to visit this winery.
Website: http://www.pernodricardbodegas.com/
Address: La Hoya Bidea, s/n, 01300 Guardia
Phone: +34 945 60 06 40
Eguren Ugarte
Located just outside the old town of Laguardia, Eguren Ugarte is a family-owned winery that was built with passion and dedication by Victorino Eguren Ugarte, and is carried on by the next generation.
The tour of the winery is absolutely fascinating and cannot be missed. You'll wonder through what seem like ancient underground caves where patrons of the winery can keep their personal stash of wine and stop by to enjoy it in the cellar.
Believe me, you'll be wishing you had your own private wine locker. It's really awesome in there. If you don't want to do a full tour, you can stop by for a tasting only. You can also reserve a lunch or dinner in their restaurant.
Website: http://egurenugarte.com/en/
Address: A-124, Km 61, 01309 Guardia
Phone: +34 945 60 07 66
Viña Real
Located just outside of Laguardia, Viña Real is part of a larger brand, Cvne, founded in 1920 to promote Rioja wines. The winery, designed by Bordeaux-based architect Phillipe Mazieras, is located atop the Cerra de la Mesa, with a fantastic view of the valley below.
It's a great representation of the Alavesa wineries, which are really starting to embrace modern architecture and gravity-based production.
Website: https://www.cvne.com/tp-bodega/cvne/
Address: Km 4.8, 01300 Laguardia
Phone: +34 945 62 52 55
Luis Cañas
Luis Cañas, located in the small town of Villabuena de Alava, is a family-run bodega that dates back to 1928. They own many acres of their own estate grapes, which leads to the specialized cultivation of their best wines.
It is among the top wineries in Rioja Alavesa and has won many International awards. It's distributed widely in Spain and other countries, as well, so it may be easier to find than other smaller-production wines when you return home. Tours are given daily with prior appointment.
On a side note, Luis Canas is located very close to our top recommended hotel: Hotel Viura. If you`re looking for a really great place to stay with a wine theme and very nice, modern rooms, definitely check it out.
Website: http://www.luiscanas.com/
Address: Carretera de Samaniego, 10, 01307 Villabuena
Phone: +34 945 62 33 73
Marques de Riscal
Another architecturally stunning bodega to visit is Marques de Riscal. The Luxury Collection hotel on the property in Elciego was designed by world-renown architect and is definitely the place to stay for a luxury experience.
The winery was founded in 1858 produces more than 3 million bottles of red wine per year, making it one of the oldest and one of the largest wineries in Rioja.
It can be overrun with tourists, but it's still worth it to take the tour of the old underground facility and see the hotel up close. There's also a Michelin-star restaurant on site.
Website: https://www.marquesderiscal.com/en
Address: Calle Torrea Kalea, 1, 01340 Elciego
Phone: (34) 945 180880
Ostatu
Located in Samaniego, Ostatu was founded in the 1960s and has been family run and operated ever since. The winery building is attached to a mansion that was once used as an Inn, and will once again in the near future (we would definitely recommend staying there, if possible).
Visiting Ostatu includes a tour of the production facility and an introduction to three of the bodega's popular wines along with an appetizer. Be sure to make an appointment in advance. This is isn't generally a place you can just walk in for a tasting.
Website: https://ostatu.com/
Address: Carretera de Vitoria, 1, 01307 Samaniego
Phone: +34 945 60 91 33
Bodegas Baigorri
Across the street from Ostatu is the towering glass facade of Baigorri, designed by architect Inaki Azpiazu, that stretches 7-stories underground. The facility was designed for vertical, gravity-based wine making and you can view the entire process from one floor — the floors are all open in the center so you can see each tier of the process. They also have an impressive barrel room.
Baigorri serves a multi-course wine lunch which most midday visitors take advantage of. Each course is served with one of their delicious wines. Plan to visit at 11am and stay for lunch at 1pm. If you're not staying for lunch, you'll taste a few of the wines following the tour. (Lunch is not offered every day, so check in advance.)
Website: http://www.bodegasbaigorri.com/
Address: 01307 Samaniego
Phone: +34 945 60 94 20
How to Get To La Rioja
La Rioja is located in the northern part of Spain, about 4 hours north of Madrid. The closest airport to La Rioja is in Bilbao, which is located at the north end of the Rioja valley. From there, it's easy to get around to all parts of the valley via car.
A great place to start your wine journey in Rioja is in Haro, where the historic wine houses are located. Continuing east will take you into Laguardia, a small, but charming walled town, and then to Logrono, the capitol city of the region.
If you fly into Madrid and rent a car, the journey will take you through another well-known wine region, the Ribera del Duero, which is one of our favorite wines to drink. After a stop off there to try the wines, it's just another short jaunt up the freeway to the beginning of the Rioja wine valley.
Don't be worried about driving in this area. Roads are well maintained and marked and there's often little to no traffic. Of course, you'll have to designate a driver who won't be drinking.
Plenty of tour companies run tours through the area, so if you're not into driving and scheduling visits yourself, you can easily get hooked up with a tour company and do it the easy way.
Where to Stay in La Rioja
When we visit La Rioja, we like to be right in the middle of the action so we can quickly and easily get to the wineries without having to do a lot of driving. But there are so many incredible places to stay in La Rioja ← That's our comprehensive list if you want to read all about the hotels listed below!
You can read more reviews or book directly using our affiliate links:
Touring around the wineries in the La Rioja wine region of Spain is one of our absolutely favorite things. It's one of the only places we've been back to, specifically because we loved it so much.
If you love Spanish wine, you should also check out the Ribera del Duero wine region, about 2 hours south of Rioja. Amazing wines there!
>> Book this Hot Air Balloon Flight over the vineyards of the Rioja Wine Country here.
CONCLUSION
La Rioja is one of our favorite wine regions to visit. The views of the vineyards is unlike anywhere else and the wine has a delicious way of tempting you to have just one more glass. We can't get enough of it.
Have you been there? What are your favorite bodegas in the Rioja wine region?
Like this post? Why not save it to Pinterest?
FOLLOW US on Pinterest, Instagram, Facebook for more great travel inspiration and tips.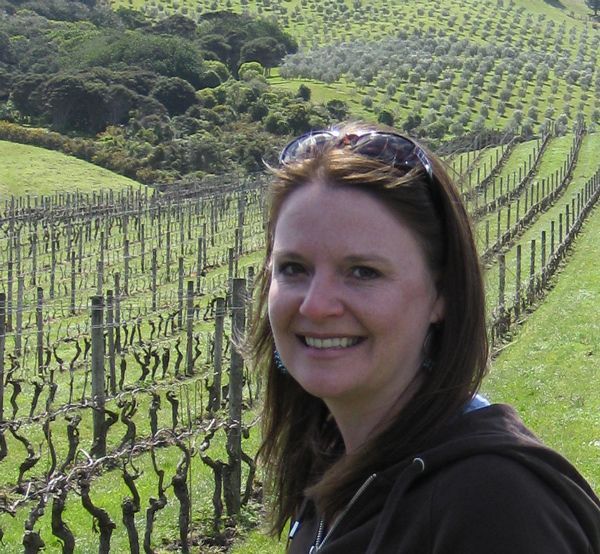 Laura Lynch, creator and writer of Savored Journeys, is an avid world traveler, certified wine expert, and international food specialist. She has written about travel and food for over 20 years and has visited 70+ countries.