As a wine enthusiast, I love to pick a wine region that I haven't yet explored and immerse myself in the flavors, aromas and terroir of the region. Mendoza, Argentina, is excellent for this, with its world-class wines, breathtaking views and burgeoning wine tourism.
While Mendoza wine tasting hasn't reached the ease of Napa Valley, getting around to the best wineries in the Mendoza doesn't have to be difficult.
The best way to see the entire region at your own pace is to hire a driver (this may be expensive, but is necessary) for three days and set out to visit up to four Mendoza wineries per day in each of the three wine regions, Lujan de Cuyo, Uco Valley and Maipu.
Each Mendoza wine region has a unique feel, but if you can't make it to all three, a day-trip to one or two will suffice. All of our suggested itineraries below have a good mix of modern, large commercial and family-owned wineries.
>> Learn more about the Mendoza Wine Region and where to stay when you're there.
Plan a Mendoza Wine Tour
If you'd rather not plan your own Mendoza Argentina wine tour, you can rely on the expertise of a guide or driver. We had a private driver who planned out the stops and the route for us, with our input on the wineries we wanted to visit. It's a great way to go, so you don't have to worry about driving and getting lost.
You can book a tour in advance. We think it's best to go with a private tour, but you can find group tours as well that cost less. Here are a few that we recommend:
Where to Go Wine Tasting
For your wine tasting pleasure, we have put together a list of 11+ Must-Visit Mendoza Wineries. Of course, there are hundreds more wineries you could enjoy in the area – from large producers to small family-run wineries. These are just a few of our favorites, broken up by region:
About 40 minutes south of Mendoza, this region is considered to be where wine began in Mendoza. Its elevation at an average of 3,000 feet above sea level makes its terroir very unique. Luján de Cuyo was also the first region to institute the AOC (Appellation d'Origine Controlée) for Malbec in 1993, which greatly advanced the wine industry in Mendoza.
⇒ Book a private tour to the Lujan de Cuyo wine region
Archaval Ferrer
Started by a group of friends in 1998, Archaval Ferrer is committed to producing small quantities of fine red wine. It's a small working winery and you'll witness that firsthand as you tour the internal workings of the winery, walking directly through areas that are integral to their production process. At the end of the tour, you'll stop for a barrel tasting in the cellar.
Winery Address: Calle Cobos 2601, Pedriel (5509), Mendoza, Argentina
Tel.: 54 9 0261-155535565
Reservations: online form
Ruca Malen
Ruca Malen takes visitors on a larger-scale journey through the winemaking process to see how modern techniques have been implemented. If you're lucky, you arrived here at lunch time to indulge in the highly creative five-course menu with wine pairings that's served in a sunny solarium with a unequaled view of the vineyards and surrounding mountains. They also offer an interactive blending class.
Winery address: Ruta nacional 7 km 1059, Agrelo, Mendoza, Argentina.
Tel.: (+54 261) 413 8909
Reservations: mendoza@bodegarucamalen.com
Vistalba
Bodega Vistalba is unique in that the winery was designed so that the whole winemaking process takes place using gravity, without the use of pumps. The tasting room is also underground. You'll have the opportunity to choose from many different wine tasting packages: Corte A, B or C. They also serve a tasting menu for lunch at their restaurant La Bourgogne.
⇒ If you're interested in visiting the wineries on a bike tour, sign up for this 6-hour bicycle tour through the Luyan de Cuyo region, starting at Vistalba winery.
Winery address: Roque Saenz Pena 3531, Vistalba, Mendoza, Argentina
Tel.: 54 (261) 498 9400
Reservations: info@bodegacruzat.com or use the online form on the homepage
Clos de Chacras
This boutique winery is housed in an architecturally restored 1920s building that establishes the feeling of old world charm when you enter. A tour will take you through the working winery and end with a tasting of the different levels of wine they offer, served alongside a cheese plate. You can also enjoy lunch or dinner here, or just grab a glass while you enjoy the outdoor seating.
Winery address: Monte Líbano 1025 – Mendoza Province, Argentina
Tel.: 54 261 496 1285
Reservations: reservas@closdechacras.com.ar; www.closdechacras.com.ar
Catena Zapata
The founding father of Catena Zapata, Nicola Zapata, arrived in Argentina in 1898 and planted the winery's first grapes in 1902. Since then, the Zapata family has passed the wine-making tradition through the generations and continues to produce some of the area's most outstanding wines.
Winery address: J. Cobos s/n, Agrelo, Luján de Cuyo, Mendoza, Argentina
Tel.: (54) (261) 413 1100
Reservations: Use the only form or call directly.
Casarena
On the cusp of Maipu and Lujon de Cuyo is Casarena Winery & Vineyards, named after the earth-toned stucco exterior of the winery, which opened in 2007 after a rebuilding of the original century-old family winery that was on the location. Casarena is open for tastings and tours Monday – Saturday with an appointment.
Their restaurant is also open for lunch with a reservation. It's a beautiful outdoor patio space that is perfect for a long lunch, while enjoying the high-quality wines of Casarena. We particularly like the Jamilla's Single Vineyard Perdriel Malbec.
Address: Brandsen 505, M5544BDK Luján de Cuyo
Tel.: + (54) 9 261 696 7848 / 156967848
Reservations: turismo@casarena.com
Located the furthest away from the city, about a 75-minute drive, Valle de Uco is the newest wine region in the area and is also one of the highest-altitude wine regions in the world, having some of its vines planted 4,000 feet above sea level. It's a longer journey to get there, but very rewarding, not only for the world-class wine, but the amazing views and incredible, modern architecture.
Book a tour to visit 3 wineries of the Uco Valley (including two we listed here!)
Prefer smaller producers? Take this Hidden Wineries tour in the Uco Valley – wineries include Laureno Gomez, Piedras Negra and Casa Petrini (lunch)
Salentein
A masterpiece of modern architecture, Salentein is built in the shape of a cross as a symbol of the area's religious roots and to increase production in the winery, both of which you'll learn about on the tour.
There are no better views of mountains and vineyards to be found in all of Mendoza. It is just stunning here, and the winery fits right into the middle of the vineyards. It is located at 4,000 ft in elevation, which in combination with the terroir, gives a unique expression to the wines.
Along with the fantastic views from the property and the stunning cellar that can house up to 5,000 barrels, Salentein also houses a gallery with exclusive collections of Argentine art, and a restaurant where you can stay for a lovely 3-course lunch.
Winery address: Ruta Provincial 89, Los Árboles, Tunuyán
Tel.: 54-02622-429-500
Reservations: www.bodegasalentein.com
Andaluna
Andeluna Cellars winery and vineyards are situated along the Andes Mountains, over 4,200 feet above sea level. Tour the state-of-the-art facilities before enjoying a glass of wine at the tasting bar, or a special tasting of their Reserve, Limited Reserve and Grand Reserve wines in the wine cellar. They have a great restaurant that serves a 5-course meal paired with your preferred tier of wine.
Winery address: Ruta Provincial 89 s/n, Distrito de Gualtallary. Tupungato, Mendoza
Tel/Fax: +54 2622 423 226 ext. 13
Reservations: turismo@andeluna.com.ar
Domaine Bousquet
The main objective of Domaine Bousquet — a small, family-owned winery — is to combine the European winemaking style (the family hails from France) with the cool climate and terroir of the Uco Valley. During the tour, you'll walk through the vineyards and visit the winery to learn the steps they employ to create such beautiful wines.
Then enjoy a tasting of all three lines of wine. Domaine Bousquet also has a lodge and cooking school for further exploration into the region. Gaia Restaurant serves a 4-course or 6-course lunch with wine pairings in the rustic and charming tasting room.
Winery address: Ruta 89 S/N Km 7, Tupungato, Mendoza, Argentina
Tel: +549 261 5320896
Reservations: turismo@domainebousquet.com
Maipu is the closest region to Mendoza city — a quick 15-minute drive — so if you're short on time, this is the region to visit. The main varietals produced in Maipu are Malbec, Cabernet Sauvignon and Pinot Noir, and this area is home to some of the largest names in the industry.
The mostly flat vineyards are located at around 2,600 ft in elevation. The sunny days and cool nights make for perfect conditions in which to grow intense fruit that results in full-bodied wines with great structure and tannins.
⇒ Book a wine tour in Maipu with lunch – visits include Familia Zuccardi, SinFin and Trapiche
Trapiche
While the Trapiche brand has been around since 1883 – one of the pioneers in Mendoza wine making, the building they occupy has a much different story. The original owners of the building, which was built in the early 20th century, sold it in 1970 and it was abandoned soon after. Trapiche acquired it in 2006 aiming to rescue and restore its original structure.
They recycled the interior and incorporated the latest technology and equipment for the production of their high-end wines. A tour of the facility exudes the historical qualities that make it unique, including the glass floor in the tasting room that gives a view into the barrel room below.
Trapiche owns 1,255 hectares of vineyards. Their wine has won many awards, beginning with the first in 1889. It's clear that they are a formidable competitor in this market, and because of that you probably recognize the label from home. Their wine is exported all over the world.
Winery address: Nueva Mayorga s/n street (M5522CHA), Coquimbito, Maipú
Reservations: Book a Tour on their website
Bodega Tapiz
The highlight of Tapiz is the horse-drawn carriage ride around the vineyards that is included in the tour. The vineyards are planted at 920 to 1,400 meters above sea level, and the abundant daytime sun and cooler nights create the perfect climate for production.
After the ride around the vines, you're welcomed inside the winery where you'll try samples straight from the fermentation vats and barrels.
Club Tapiz also has a hotel (Hotel Club Tapiz) and a restaurant that's open daily from 7am to 11pm. They have an ala carte menu and a multi-course menu served with Tapiz wines. Be sure to book in advance.
Winery address: Ruta Provincial 15 km 32, Agrelo, Mendoza, Argentina
Tel.: +54 261 496-3433
Reservations: http://www.bodega-tapiz.com.ar/
Familia Zuccardi
Familia Zuccardi is one of the most well-known wineries in Mendoza. In fact, it's more than just a winery. In addition to wine, they also produce olive oil, offer daily tours and and tastings, host cooking classes. Sabastian Zuccardi, the 3rd-generation winemaker at Zuccardi has been recognized as one of the top 10 winemakers in Argentina.
They also have a restaurant, and you should definitely plan to stay for lunch! The wine is fantastic and the experience is enriching and fun.
Location:Ruta Prov 33 km 7,5 | Fray Luis Beltran, Maipu M5531, Argentina
Tel: +54-261-441000
Where to Eat in Maipu
Casa de Campo
Not a winery, but Casa de Campo is a great spot for lunch. You'll find it packed with locals and very little English being spoken by the staff. What you will get is an authentic Argentinean meal at a great price. Ask your driver to help you order if necessary, or just go with the tasting menu, which will give you a fairly large portion of a lot of their famous dishes.
Restaurant address: Urquiza 1516 | Coquimbito, Maipu, Mendoza, Argentina
Tel.: +54 261 481-1605
Where to Stay in Mendoza
One of the best places to stay is right in the center of Mendoza city, where you don't need a car to get around. You can walk to many great restaurants and bars. However, one of our favorite hotels is on the outskirts of town, and I wouldn't shy away from staying there either, if you like something more quiet.
Click here for a comprehensive overview of all our favorite places to stay in Mendoza.
I'm pretty convinced you're going to love Mendoza. It's such a beautiful place to visit, even if you don't like wine, but if you do… you'll be in heaven!
Tours to Book:
Like this post? Why not save it to Pinterest?
FOLLOW US on Pinterest, Instagram, Facebook for more great travel inspiration and tips.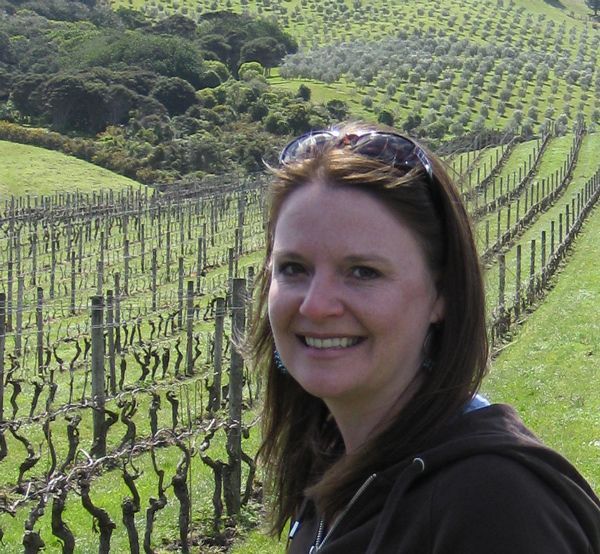 Laura Lynch, creator and writer of Savored Journeys, is an avid world traveler, certified wine expert, and international food specialist. She has written about travel and food for over 20 years and has visited 70+ countries.