If you're visiting Tuscany, chances are that you'll be stopping by Montepulciano, one of the cutest towns in Tuscany, with beautiful architecture, charming cobblestone streets, and many exceptional Montepulciano wineries to visit.
We've been to Tuscany many times and I would rank Montepulciano up there with the best small towns to explore. We wanted to check out the main sites in town, but also wanted to mix in stops at a few wine tasting rooms along the way. Turns out that's very easy. There are many.
Not only are there tasting rooms (the actual vineyards and wineries are mostly located outside of town), there are also plenty of wine bars where you can do tastings. So even if you don't get out into the countryside, you can try all kinds of wines coming from the region without leaving town.
Of course, I don't encourage skipping the countryside. The experience at the wineries themselves is way more magnificent and enchanting than the tasting rooms, but maybe a little of both would be the best way to go.
For that reason, I've listed the wine tasting rooms to stop at in the historic center first, then gone on to list the outlying wineries that you can visit in the region of Montepulciano.
Planning your trip to Montepulciano?
Where to Stay in Montepulciano:
Il Corso ⇒ "A beautiful place in the old city. The house was well maintained and had an old world charm to it."
Il Buonumore ⇒ "Excellent location in the center of Montepulciano. spotlessly clean, lovely host"
Best Tours and Experiences in Montepulciano:
About Montepulciano
You can park on the outskirts of town and walk in at Porta al Prato (one of the two main gates) to the pedestrian-only historic center where it's easy to spend a few hours walking around, admiring the buildings, popping into shops, and sipping wine.
It was in the 16th century that Montepulciano reached its most magnificent self, under the powerful Medici family. It's still showing off today with its ancient city walls and bastions. The heart of the city is one main long, wide street called the Corso, with alleys and narrow streets jutting out from there. A walk up the Corso will lead you to all of the wineries on this list.
About the Wine
Montepulciano produces two distinct types of wine: Vino Nobile di Montepulciano and Rosso di Montepulciano.
Vino Nobile di Montepulciano is a red wine made primarily from the Sangiovese grape, locally known as Prugnolo Gentile. The wine is required to be aged for a minimum of two years, with at least one year spent in oak barrels. It has a deep ruby color with aromas of dark fruit, leather, and tobacco, and flavors of black cherry, plum, and spice. Vino Nobile di Montepulciano is known for its complexity and elegance and is considered one of Italy's top wines.
Rosso di Montepulciano is also a red wine made from the Sangiovese grape, but it is aged for a shorter period than Vino Nobile di Montepulciano, typically six months to a year. It has a lighter body and is more approachable than its more famous counterpart, with flavors of red fruit and spice.
Both Vino Nobile di Montepulciano and Rosso di Montepulciano are produced in limited quantities and are highly regarded by wine enthusiasts around the world. It's an honor to be in the area that produces this special wine, and that's why we love wine tasting in Montepulciano.
Wine Tours
A great way to experience some wine tasting in Montepulciano is to go on a guided wine tour. If you want to get out of town into the actual vineyards, but don't want to drive yourself and make all the plans, you should book a group tour. We enjoyed this tour, which is 3 1/2 hours, with visits to two wineries in the Montepulciano countryside.
Book Here: Vino Nobile di Montepulciano Wine Tour – Meet the producers
Wineries in Montepulciano | The Best of Italy
Montepulciano is one of the best regions in Europe for wine. You'll not only get to try the wine from its origins, you'll also get to duck into ancient cellars and witness thousands of years worth of wine making. It's unique and special.
Just remember that Montepulciano receives many visitors and because of that, the experience at the tasting rooms isn't always up to par. I like to think of it as the tourist affect. Quality goes down when the masses come in. I'm only saying this to temper your expectations.
Map of Wineries Inside Town
Cantina Ercolani
One of the first wine tastings you'll come upon when you walk in the Porta al Prato gate is Cantina Ercolani. This family started diving into wine in the 1940s. They are not shy about ushering people in, and once you're in the tasting begins in earnest. They have wine, cheese, meats, vin santo, oil, truffles, salami and rosehip berries.
You can go on a cellar tour to their Underground City, and try the wine with other local products at the counter. They are also happy to help you ship anything home that you can't live without.
Contucci
At the other end of the Corso, near the second gate, Porta delle Farine, you'll find Contucci Winery. You can go on a self-guided walking tour of the cellar before you stop in for a wine tasting. It's not much, but you will get to see the barrels and aging process, in a very old cellar.
They pour a few free tastes in the cellar, or you can go upstairs to their wine bar and buy a glass. We didn't find the lower level wines to be anything super special, but the more expensive aged wines were great.
Talosa
If you don't want to go out to the winery location outside of town, Talosa has a historic cellar in Montepulciano, at Via Talosa 8. Talosa was one of the first wineries in Montepulciano to improve the quality of their wines to elevate the Vino Nobile di Montepulciano appellation to what it is today.
The Talosa Cellar dates back to the 16th century and visiting it is like stepping back time. They will organize guided tours and exclusive tastings by reservation only. You can book on their website. However, you can always stop in the shop to visit the historic cellar, taste and buy their products.
De' Ricci
Cantina De Ricci has a really cool 500-year-old underground wine cellar that you can visit. You can get to Cantine De' Ricci from two entrances at Via Ricci or Via di Collazzi. Via Ricci is located in the highest part of the city, near Piazza Grande and the cellar is accessed via a spectacular brick staircase. What lies ahead is even more magical. Be sure to book your tour ahead of time. The fee was around $30, but well worth it for the tour and tasting at the end.
Map of Wineries Outside Town
Avignonesi
Specialties: Vino Nobile di Montepulciano, Vin Santo, Occhio di Pernice
Avignonesi is a large, biodynamic winery in Montepulciano and one of Tuscany's finest. This organic wine producer prioritizes sustainable viticulture in an effort to preserve nature.
You'll love their wine tours, which offer premium affairs. Their "Cellar Door" and "Grand Experience" dining events are visitors' favorites for their mouth-watering platters and gourmet lunches.
The emphasis is on vastly enriching your wine knowledge. One of the best lessons detail how their highly revered Vin Santo (a dessert wine) is made.
Hours: March: Monday-Friday 10 am — 5 pm | April-October: Monday-Sunday 10 am — 6 pm | November-December: Monday-Friday 10 am — 5 pm
Location: Via Colonica 1, 53045 Montepulciano
Poliziano
Specialties: Poliziano Vino Nobile di Montepulciano Asinone DOCG
Thanks to Montepulciano vineyards and Poliziano, a thriving Carletti family-run winery, you can find the one-of-a-kind Asinone Vino Nobile di Montepulciano wines. They're rated among the best Italian red wines.
Poliziano winery tours are all about the science of making Vino Nobile di Montepulciano wines, particularly their Asinone — which you'll find in many local wine bars. The winery also produces crisp Maremma wines, loved for their fusion of blackberry, cherry, and white chocolate.
Hours: Monday-Friday 8:30 am — 12:30 pm and 2:30 pm — 6 pm
Location: Via Fontago 1, 53045 Montepulciano Stazione (Siena)
Poderi Boscarelli
Specialty: Vino Nobile di Montepulciano
Boscarelli is one of the most visited wineries in the Tuscany region. It has been making world-renowned wines since the 1960s, specializing in the pride and joy of Montepulciano, Vino Nobile.
Fuelled by a family's passion, the winery is traditional, rustic, unpretentious, yet endearing. A visit to Boscarelli is a real wine farm experience. Their star wine, the Vino Nobile, has been voted by the Wine Spectator as the 39th best wine in the world. They also provide delectable Merlots from Cortona's supreme vineyards.
Location: Poderi Boscarelli, Via di Montenero 24, 53045 Montepulciano (Siena)
Talosa
Specialties: Vino Nobile di Montepulciano, Vino Nobile Riserva
Grape varieties: Canaiolo, Grechetto, Merlot, Sangiovese
The Jacorossi family, through Talosa, has been on a mission to create the area's finest quality wines since 1972. And they've achieved that goal with Talosa.
Wine tastings take place in the 16th-century wine cellar. Elevate the Talosa experience and stay over in their superb countryside villa. You'll relax and enjoy a peaceful retreat in blissful surroundings.
Hours: 10:30 am — 7 pm daily
Location: Via Talosa 8, 53045 Montepulciano (Siena)
Icario
Specialties: Vino Nobile di Montepulciano, Rosso di Montepulciano DOC, Rosso Toscana IGT
Grape varieties: Cabernet, Merlot, Pinots Grigio & Nero, Sangiovese
This is one of the most exciting wineries to visit in Montepulciano because Icario brings together two wonderful worlds: wine and art. See, in addition to its 49 acres (20 hectares) of vineyard, the winery also has an art gallery.
The winery's beautiful B&B is ideal for couples seeking a romantic escape in one of the most enchanting Italian hideaways. Enjoy a wine tasting and a special lunch prepared with the best local products.
Hours: Monday–Friday 10 am — 1 pm and 2 pm — 6 pm | Saturday & Sunday Reservations only
Location: Via delle Pietrose 2, I-53045 Montepulciano (Siena)
Fanetti
Specialty: Vino Nobile di Montepulciano
Grape varieties: Canaiolo, Malvasia, Trebbiano, Sangiovese
This exemplary Montepulciano winery has been producing the best of Italy's classic DOCG-certified Vino Nobile di Montepulciano wines since 1921. Vino Nobile has helped put Tuscany and Italy on the map for its extraordinary wine production. When it is DOCG-certified, this means the highest quality is guaranteed.
This is why Fanetti, located on the scenic Tenuta Sant'Agnese Estate, prides itself on being an organic producer that takes every care to deliver A-grade wine in every single bottle. Wine tastings take place in the Fanetti wine cellars.
Hours: 10 am — 6 pm daily
Location: Cantine Fanetti, Tenuta S. Agnese di Fanetti Elisabetta, Via Antica Chiusina 15, 53045 Montepulciano (Siena)
Podere Della Bruciata
Specialty: Vino Nobile di Montepulciano
Grape varieties: Canaiolo, Colorino, Pugnitello, Sangiovese
Organic Montepulciano wine tasting is yours to enjoy at Podere Della Bruciata — the leaders in artisanal winemaking. They also make Tuscany's tastiest grappa, olive oil, seasonal jams, and vermouth.
Learn about the precise processes that go into their viniculture. Their methods ensure the highest standards. They are strict on manual harvesting and use natural yeasts (for conditioning). Their aging process uses large barrels and light toasting.
This sustainable-first winery makes around 25,000 bottles each year.
Hours: Not specified
Location: Via dei Platani SNC, Sant'Albino, 53045 Montepulciano (Siena)
Croce Di Febo
Specialty: Vino Nobile di Montepulciano
Grape varieties: Canaiolos Bianco & Nero, Mammolo, Sangiovese, Trebbiano
Croce Di Febo is Tuscany's Biodynamic Winemaking pioneer, blazing the trail with excellent organically produced wine. The winery is a family-run business that employs artisanal approaches in its processes.
On the low-key 10-acre (4-hectare) vineyard, pruning and harvesting are done by hand. After spontaneous fermentations, non-clarification, non-filtration, and limited sulfur use, the result is a clean wine free from chemical interference.
Property highlights include the Caveau, a wine "museum", the Amoremio wine shop, and the tremendous on-site villa.
Location: Via di Fontellelera 19/A, 53045 Montepulciano (Siena)
Vecchia Cantina Di Montepulciano
Specialties: Cabernets Franc & Sauvignon, Chardonnay, Merlot, Vin Santo
Grape varieties: Sangiovese
Vecchia Cantina Di Montepulciano winery is one of the oldest and largest in Tuscany that produces top-class, reasonably priced wines. The vineyard estates cover a massive 2471 acres (1000 hectares) from Tuscany to Umbria.
Montepulciano's rich soils make it ideal for cultivating quality organic winemaking grapes. Visiting Vecchia Cantina Di Montepulciano is an amazing experience for couples, friends, or large family groups. Make fun memories during an informative guided tour of the old wine cellars and taste the best bottle of "Prugnolo Gentile".
Location: Via Provinciale 7, 53045, Montepulciano (Siena)
Il Molinaccio Di Montepulciano
Specialties: Vino Nobile di Montepulciano DOCG, La Spinosa
Grape varieties: Sangiovese
Il Molinaccio Di Montepulciano is yet another winery celebrated for using organically cultivated grapes for winemaking. It was born when an old mill was revitalized into the now-successful winery.
If interested in a lengthier Montepulciano stay, add a few nights in the lavish guesthouse that offers elegant accommodations to your Italy itinerary. There's a saltwater swimming pool for refreshing dips and an on-site restaurant serving scrumptious locally-inspired meals. The wine-pairing dining experiences are a hit too.
Hours: Monday | Sunday 9 am — 5:30 pm
Location: Via Antica Chiusina 12, 53045 Montepulciano (Siena)
Feeling Adventurous?
Try a wine tour E-bike experience with wine-tasting at Boscarelli, Il Molinaccio Di Montepulciano, and other selected local wineries.
If you're based in the sister town of Florence but still want an exclusive Montepulciano experience, the wine-and-cheese-tasting guided tour is ideal. It includes a stop at a Montepulciano winery and is the perfect way to savor a taste of Montepulciano magic.
Tips for the Best Experience
Aim for your trip to marvelous Montepulciano to be an all-inclusive, best-activities-only getaway. These few tips will help ensure that happens:
Montepulciano wine tours are most exhilarating when the weather is at its finest. For this region, you'll enjoy a fantastic visit during spring (March-May), summer (June-August), and autumn (September-November). During these months, the landscape is picture-perfect.
If you're in the region for more than a week, make the most of your visit to one of the top attractions in Italy.
In addition to your Montepulciano winery tours, add strolls through the old town center and wine bar hopping to your itinerary. You can also visit Montepulciano's underground wine cellars.
Some wineries let you fill up samples to take home. Remember to bring your own bottles during your wine tasting.
When visiting a winery with accommodation, and if your budget allows, enhance the experience by spending a night or two. Most wineries have gorgeous villas with stylish rooms and modern amenities.
Tours are often offered in multiple languages, typically English, Italian, French, Portuguese, Spanish, or German. Make sure to specify when booking.
Make your visit to Italy's picturesque Montepulciano a trip filled with rich cultural activities and outstanding culinary experiences. One of the best ways to do that is a Montepulciano wine tour, tasting some of the most divine wines in the world.
Italy has so much to offer. Stunning holiday locations, magnificent historical landmarks, and delicious food are just some of what you can expect when you journey into its many gems.
Another Italian adventure is always around the corner, so grab our Italy travel guide when you're ready to explore more of this mesmerizing country.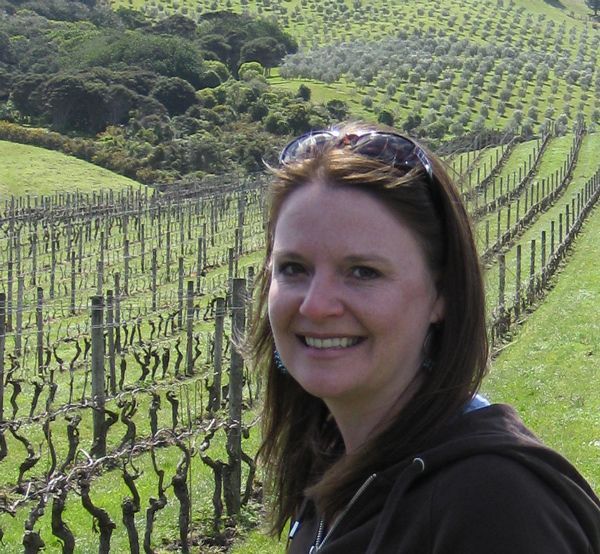 Laura Lynch, creator and writer of Savored Journeys, is an avid world traveler, certified wine expert, and international food specialist. She has written about travel and food for over 20 years and has visited over 75 countries.