Trying to decide on a vacation destination in the U.S. can be stressful. It needs to be somewhere everyone can enjoy, a place that has plenty of things to do and see, exciting tours to take, and it needs to have good affordable luxury accommodations. It might sound impossible to find all of those things in one spot, but there are dozens of awesome places to visit in the United States.
In fact, there are dozens of perfect places to visit in the United States that you should definitely consider when researching. We've been to many of these places ourselves and each of them has something unique and wonderful to offer.
The destinations on our list include major tourist attractions like Disneyland, big cities with amazing food like Chicago, and beach destinations with sun and sand like San Diego.
1. Disneyland, Anaheim, California
Obviously, Disneyland and the surrounding area is a perfect spot for a family or couples vacation. Not only will the kids love Disneyland, it can be an amazing place for adults as well. And it's super easy to plan because of all the options that are available.
Anaheim is the epicenter of your vacation to Disneyland, which is also very close to the beaches and cities, so if you don't want to spend your entire vacation with the mouse, you can build other activities into the itinerary, as well.
When we go to Disneyland, we always try to avoid major holidays and spring break, as that is when the park is most crowded, hot and expensive. See our full guide on when is best to go.
2. Maui, Hawaii
There are many great destinations to visit in Hawaii, but the islands we love best are Maui and Oahu. Both are easy to get to, have fantastic affordable luxury accommodations, and plenty of activities, like snorkeling, swimming with sea turtles, trying new delicacies like poke, hiking on volcanos, and going on excursions like whale watching.
The other great thing about Oahu and Maui is that the islands aren't exceptionally large, so you can drive around to the activities you want to do and see easily, circle the whole island, or even stay on different parts of the island so you can see it all.
In Oahu, the place to stay is right on the beach in Waikiki. The Hyatt Centric Waikiki Beach is one of the best resort hotels right on the beach, so is the Hyatt Regency.
In Maui, we generally choose to stay in the laid back Lahaina area. The Westin Maui Resort & Spa, Ka'anapali is very nice. The upscale Wailea area has many luxury resorts, like the Four Seasons, which is spectacular.
>> Check out these 10 Things to Do in Hawaii for a Unique Vacation.
3. Yellowstone National Park, Wyoming
Along with the other National Parks around the United States, Yellowstone National Park is a great getaway because it's absolutely packed with things to do, you can camp in the park or nearby, and it's pretty spectacular year round.
Activities in Yellowstone range from walking nature paths, hiking the various trails, watching the Old Faithful geyser erupt, keeping an eye out for wildlife, and just generally being one with nature.
Yellowstone National park is thought to be one of the few remaining intact eco systems other than in the state of Alaska. The land is virtually untouched by commercialization and with pristine land for the animals to thrive on, it's a thriving habitat.
4. Monterey, California
If you've never been to Cannery Row in Monterey, California, you absolutely must go. On Cannery Row, you'll find the world famous Monterey Bay Aquarium, which will captivate your soul with its world class inhabitants.
Just a short drive away is the stunning coastline and many fantastic, enormous beaches to explore and play on. One of our favorite things about the Monterey area is the abundance of great food. You can find the freshest seafood at restaurants like Sandbar & Grill and Schooners Monterey. It's also a major growing area for artichokes and garlic.
Some of the best beaches include Moss Landing, Lovers Point, Asilomar State Beach, and Del Monte Beach. You'll also want to save time for the 17-Mile Drive, scenic road that winds through Pebble Beach and Pacific Grove on the Monterey Peninsula. You won't believe the sights along the way. It's one of the prettiest drives in America.
Check out these 13 Best Cities in California to Visit.
5. Seattle, Washington
Many people think it rains all the time in Seattle, which would make it a less than desirable vacation destination, but that's not really the truth. In fact, the amount of rain in Seattle isn't that much. There just happen to be more cloudy days here.
During the summer months, Seattle is a very lovely place to vacation. See all the lovely things to do on a sunny day in Seattle. The sun is out until at least 10pm in the summer, giving you ample time to play. Some of our favorite things to do in Seattle are walking through Pike Place Market and trying all the products along the way, skipping rocks at the beach at Myrtle Edwards Park, riding the ferry to Bainbridge Island, and eating lots of clam chowder at Pike Place Chowder.
Expand your radius when visiting Seattle to include a visit to Rainier National Park, Snoqualmie Falls, and Bainbridge Island, where there are hiking trails and views for days. You might also want to hit up the Woodinville Wine District for some wine tasting.
6. Washington, DC
If you're looking for an educational, as well as fun and entertaining destination, there's nothing like a trip to the nation's capital. Here are 50 awesome things to do in Washington DC that are great year-round. The cherry blossoms in April should definitely be on your list, as well.
In DC, most of the main Smithsonian museums are free to get in, so you won't have to spend a fortune to see everything. Walking around the National Mall to see the monuments, and learning about the history of our nation along the way is a fantastic way to experience the capital.
Of course, there are lots of non-touristy things to do in DC, too. We love taking a hike on Roosevelt Island, going on a brewery tour, and heading out to the Loudon Wine Region for some wine tasting.
7. Philadelphia, Pennsylvania
It's no wonder this is a top travel destination in the United States, as it's also packed full of American history. There are nearly 30 museums, parks and activities that will keep you entertained for days.
Our favorite things to see are the Liberty Bell Center, Independence Hall, the Philadelphia Zoo and the Ben Franklin Museum. When you're done checking out all the historical sights, head to the Reading Terminal Market to indulge in local specialties.
No trip to Philadelphia is complete without a stop at Passyunk Avenue for a Gino's or Pat's Philly Cheesesteak. See our guide for all the best Philly Cheesesteaks and other food in town. There are also a lot of great craft breweries in Philadelphia.
Where to stay: Loew's Philadelphia Hotel
8. San Diego, California
Aside from gorgeous weather throughout the year, delicious food, and beaches galore, San Diego is diverse, safe, and great place to vacation. Located in the awesome Balboa Park is the award-winning San Diego Zoo with botanical gardens.
No trip to San Diego would be complete without a brewery trip or two. It's one of the best craft beer scenes in the country. Make a visit to Ballast Point, Stone, Green Flash, Coronado Brewing Company, and Karl Straus.
San Diego is a coastal city with a wide variety of seafood markets and restaurants. Freshness is key here, especially at Tuna Harbor Dockside Market and El Pescador Fish Market, where you can pick up fish straight from the boat.
San Diego has over 70 miles of beaches. One of the best is La Jolla Shores, where surfers, swimmers, beachcombers, and sunbathers flock throughout the year.
>>Read more about the activities you must do in San Diego.
9. The Grand Canyon, Arizona
Besides being one of the nation's most beautiful national parks, the Grand Canyon has gorgeous views, and many great opportunities for education, physical exercise, and curiosity.
Because this national park is so huge, it's necessary to plan a Grand Canyon road trip, in order to see it all – or at least the major aspects of it that you shouldn't miss. See our full Grand Canyon visitor guide.
The Grand Canyon has so many things to do. A lot of people just come for the views, but there are several hiking trails of varying difficulties so you can take a stroll and enjoy the surroundings. Take a mule ride to the bottom, walk on the Skywalk, go on a train ride through the valley, or a helicopter ride over the top.
10. Niagara Falls, New York
Niagara Falls is a stunning natural attraction that many travelers can't wait to see. Not only is it an incredible example of how nature and landscape collide, it's a destination packed with things to do and see, both super tourist and not so touristy.
Walk around the falls, or even stay at a hotel with a view of the waterfall. Take the Maid of the Mist boat ride up to the falls or take the Journey Behind the Falls tour, which lets you see the underside of the waterfall.
Just a few miles away from the falls is the town of Niagara on the Lake, which has some great opportunities for wine tasting, including the area's special Ice Wine.
11. Portland, Oregon
Portland is a sort of idyllic city with a bustling town center and peaceful surrounding neighborhoods, where environmentally locals hang out on the weekends, lots of independent shops and tons of coffee bars. It has a big city appeal, with a small city feel.
Portland is known as the City of Roses, so you must make a stop at the International Rose Test Gardens to see it first hand. Another popular feature in Portland is Powell's Bookstore. If you're into books, you must visit this huge independent bookstore. You'll also want to save time for a day trip out to Multnomah Falls and Hood River, where you can drive the Fruit Loop and visit craft breweries.
Be sure to visit Salt & Straw for wacky ice cream flavors and Voodoo Doughnuts inventive creations. Walk around downtown for cute shops and awesome architecture. Don't forget to cross one of Portland's famous bridges while you're there!
12. Austin, Texas
When you travel to Austin, you'll experience a vibrant city deeply rooted in self-expression, ever-evolving music of all genres, and the pride of a unique southern history. Austin is not like the rest of Texas and they embrace the slogan "Keep Austin Weird", which ensures its unique and refreshing vibe.
There is always something to do in Austin. From live concerts, to great dining, to parks and outdoor attractions Austin has so many things to offer for every member of the family. Take advantage of the wonderful city, and explore every bit of it while you're there.
13. New Orleans, Louisiana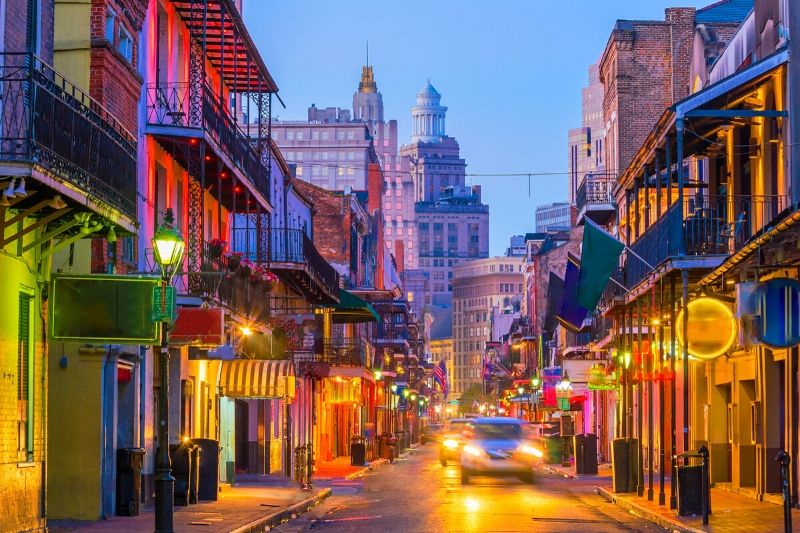 New Orleans is unlike anywhere else in the United States. There's always something going on. Whether you're there to party in the French Quarter, try some great food or famous New Orleans cocktails, or to seek out the Jazz music that makes New Orleans famous – it always delivers.
New Orleans is known for Mardi Gras, Bourbon Street, world-class attractions like the National WWII Museum, trendy areas like Bywater and Marigny, and famous New Orleans foods.
If it's your first time, you must stop at Cafe du Monde or a beignet and Pat O'Brien's for a Hurricane. After that you can wander around Magazine Street for shopping, lunch, and art galleries, take a boat ride on the Mississippi, and check out the Museum of Art.
14. Boston, Massachusetts
Exploring Boston can be filled with history lessons, sightseeing tours, and food tastings. There's so much to do and appreciate in this eclectic city! It has amazing architecture, and beautiful views from the harbor especially at sunset.
There are so many great restaurants to try, but make sure you get a taste of the Italian cuisine there. Cannolis and pasta are a must if you're in Boston! Also check out the many market's you'll find in the city, such as Quincy Market.
15. Disney World, Orlando, Florida
Disney World is probably the #1 top family destination in the United States. I saved it to last because you already knew it would be on the list. This is definitely a vacation you really have to save for though, because getting tickets for the family to the parks can be very expensive.
If you want to stay at one of the park's resorts, you need to book well in advance, and plan ahead for things like character breakfasts and early entry to the park, which often come along as perks. Orlando is so much more than just Disney World.
There are a dozen theme parks and water parks to visit in Orlando, along with other attractions, like Epcot, Universal Studios, and Islands of Adventure.
CONCLUSION
These are some of the best family vacation destinations spots in the United States. If you haven't been to any of these, we highly recommend visiting. They are all very easy, but super exciting spots to visit.
Like this post? We'd love for you to save it on your Pinterest board to share with friends.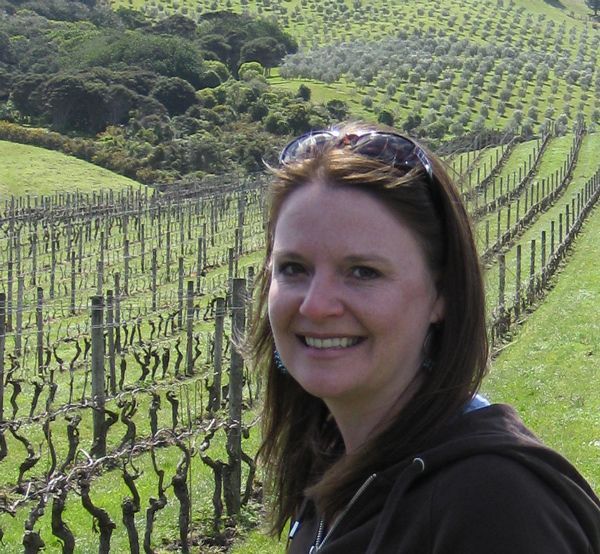 Laura Lynch, creator and writer of Savored Journeys, is an avid world traveler, certified wine expert, and international food specialist. She has written about travel and food for over 20 years and has visited 70+ countries.