The most difficult thing about buying gifts is knowing what the recipient might actually like as a gift. You want it to be meaningful and show that you care what their hobbies and interest are, but sometimes that's just not so easy.
I can't help you with what to get everyone on your list, but I can definitely help you find the perfect gift for the world traveler in your life. I can pretty much guarantee that anyone who loves traveling will love these gifts for world travelers, whether they've been on the go for 20 years or are just setting out on their first backpacking trip around Europe.
Everyone needs a great travel backpack and a Kindle to streamline their packing and entertainment needs. And if those items don't fit the bill, travelers love showing off their trips, so picture frames and that awesome scratch off map will definitely make them smile.
» Want more? Check out all of our travel product reviews, plus see these great gifts for travelers and gifts for wine lovers.
Great Gifts for Travelers
I've always loved these scratch-off maps. For a traveler, there's nothing more exciting than visiting a new country, but being able to scratch it off on the map and display your progress just adds to the fun! This map allows you to display the map prominently on a wall, or roll it up and store it in the protective case. It measures 24″x17″.
The travel map includes a scratch tool, microfiber cloth, adhesive stickers, 20 push pins and clothing bag.
These stone world map coasters make a perfect addition to any travelers home. This set of 4 coasters are made from a super absorbent stone material that will soak up any condensation from the glass so it won't stick to the coaster.
I love these coasters because they're an understated design with a gray scale map that suits a lot of different decor, so they make a great gift for anyone.
A few weeks ago, we were grabbing our luggage at the carousel when a lady in front of us grabbed our bag and started walking off with it. We had to chase after her to point out that she'd grabbed the wrong bag. Our luggage tags had come off the bags in transit.
This suitcase luggage tag will make it easy to identify your luggage from the sea of black bags – especially if you order the colorful ones! Plus, they're made to withstand the harsh treatment of luggage handling.
With all of the changing and diverse luggage regulations out there, it's hard to keep up with the allowable weight limit. This digital scale is a great gadget for any traveler. Weigh your bag before leaving home, then carry the scale with you to make sure you didn't overfill your luggage for the return trip. It has a compact, lightweight design so it won't take up any precious space.
The worst part about taking a travel pillow with you is carrying around a travel pillow. With this pillow, you can flip it inside out and turn it into a cuddly bear. This is a win-win, really. Who doesn't want a bear to cuddle with that doubles as a pillow for the plane? It comes in black and brown. There are also other animals like a dinosaur, a panda and a dog.
The Scrubba wash bag is a savior for when you can't pack much or want to keep your luggage light. Now you can wash your clothes on the go, without having to maneuver everything around in a hotel or hostel sink. The bag has dozens of little scrubbing nodules inside that scrub your clothes clean. It weighs only 5 ounces so it's easy to take along with you whenever you need it.
This backpack is perfect for a slightly longer trip when you still want to pack light and be able to carry everything in a backpack. It can be use it for trips of 7-12 days in length that don't require a broad wardrobe. So much fits into it in an organized and compact fashion. The back is sturdy but not inflexible, so it's comfortable to carry and it meets standard luggage restrictions for airlines.
I can no longer travel without these eBags. They've made our packing so much more organized. They really compress clothes so you can pack twice as much. I used to shove my clothes directly into the backpack, but everything quickly became unfolded and messy.
Now, everything stays in a neat stack and there's no chance of things falling out at inopportune times. We both have our own color for when we share a backpack. Use them once and you'll never go back to any other way of packing. I use the medium size the most because it fits nicely in the backpack.
Two mediums or one large can be put into the main compartment together. The large bag works best for suitcases. They also have shoe bags that will keep your shoes from making everything else dirty. See our full post on how to choose the best packing cubes.
Long hours on a plane are so much more bearable when we have a tablet on which to watch whatever movies and TV we want. You could even listen to an audiobook or play games. The Fire comes in different sizes and capacity. We like the HD10 and 16 GB is enough storage space for a couple movies.
You can also put games and music on the Fire, check your email, and read books. But if you plan to do all that, you might need the 32 GB version. ⇒ Check prices and read reviews on Amazon.com.
The Canon PowerShot is a good compact point-and-shoot camera for those of us who don't want to learn the complicated dials and settings of a DSLR, or carry around bulky photo gear.
It has great stability and resolution in low light, plus a 40x optical zoom and bluetooth pairing capabilities, with WI-FI. It takes 4K Video and 4K Time-lapse movies and has a 3.0-inch Tilt-type LCD.
Having a dedicated adventure camera along on your travels helps capture the moments when a regular camera or heavy photography equipment just isn't going to work, like when rappelling down a mountainside or white water kayaking. HERO9 Silver captures 5K Ultra HD video and 20MP for photos.
It has 1080p live streaming, a webcam, and built-in stabilization. It's a fun and easy way to capture high-quality video of your journey.
I am always amazed when I see people on airplanes still lugging around actual, physical books. Why would we do that anymore, when there is the Kindle?
The paperwhite is the perfect solution to carrying around heavy books. You can use it everywhere, for up to a month without charging, and you can carry around as many books as you can fit on it, or download books on the go.
Now that we've all gotten used to having our Echo home device around, it's hard to leave home without it. Now there's a portable version, Echo Auto, that you can take with you on car trips, that's designed to be played in the car.
Connects to the Alexa app on your phone and plays through your car's speakers via auxiliary input or your smartphone's Bluetooth connection.
Conclusion
Hopefully with this list you won't have to struggle to find the perfect gift for the world traveler on your holiday list! If you need any more ideas, check out this additional list of gifts for travelers. And if you have a perfect gift for travelers that didn't make it on the list, share it with us in the comments.
Like it? Pin it to your Pinterest board!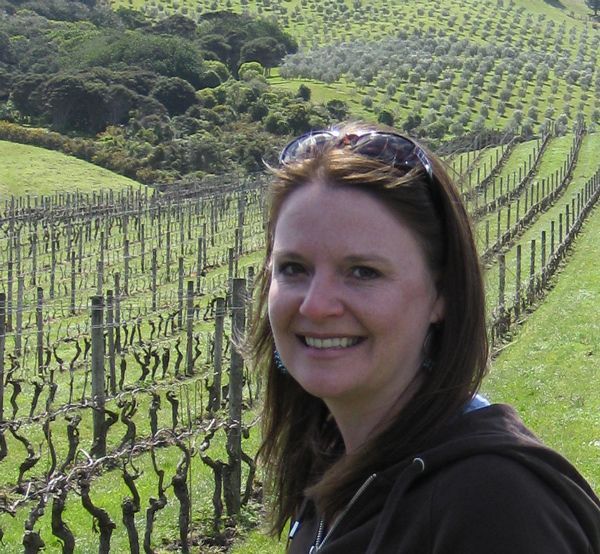 Laura Lynch, creator and writer of Savored Journeys, is an avid world traveler, certified wine expert, and international food specialist. She has written about travel and food for over 20 years and has visited 70+ countries.