Japan is a country full of unique and interesting destinations and fantastic cities to visit, not least of which is Osaka. As Japan's third-largest city, it's a destination that most travelers to the country are eager to visit and explore.
If you're traveling to Japan, Osaka is a city not to be missed. Osaka is a lively port city packed with interesting architecture, an incredible street food scene, buzzing nightlife, and cherry-blossom trees that bring color to the city in the spring.
Not sure what to do in Osaka while you're there? We've got the perfect 2-day Osaka itinerary for you. This 2-day itinerary in Osaka ranges from exploring a traditional Japanese castle through to sampling the city's best eats on Dotonbori Street, to riding a giant Ferris wheel. Need more? We have a lot of helpful guides to make your Japan travel planning easier.
If you have more time to spend, you can go on a few of these fantastic day trips from Osaka to surrounding areas, like Nara, Kyoto, and Kobe.
Japan Itineraries
If you have longer to spend in Japan, you can expand this itinerary to any length you wish.
Need a Japan Rail Pass? The Japan rail pass is a virtually all-you-can-use travel pass that tourists can buy for a specific duration (7, 14 or 21 days). You can use it on pretty much any train, at any time, without the hassle of purchasing tickets in advance. ★ If you're ready to buy your pass, you can get them quickly and easily from this website.
Where to Stay in Osaka
Don't have time to do hours of research on Osaka hotels? Don't worry, we've been there and we know. Book this hotel!
Book a Tour
🍣 We've included lunch and dinner options for your 2 days in Osaka below, but another option is to book a cooking class with a local.
When Is the Best Time to Visit Osaka?
The best time to visit Osaka largely depends on what you're looking to experience. If cherry blossoms are on your bucket list, aim for late March to early April.
The weather is mild, but the city gets crowded. Fall, specifically October and November, offers pleasant temperatures and colorful foliage without the tourist throngs you'll find in spring. Summer can be hot and humid, and winter is chilly but manageable.
Each season has its merits, but spring and fall strike a good balance between weather and crowd levels.
How to Get to Osaka
The two main airports serving the city are Kansai International Airport (KIX) and Osaka International Airport (ITM). KIX is the go-to for international flights, while ITM primarily handles domestic traffic.
From Kansai Airport, you have multiple options to reach the city center. The JR Haruka Limited Express train is a convenient choice, taking about 50 minutes to arrive at Shin-Osaka or Osaka Station. Alternatively, you can opt for the Nankai Airport Line, which is slightly cheaper but ends at Namba Station, south of the city center.
If you're arriving from another city in Japan, like Tokyo, taking the Shinkansen (bullet train) to Shin-Osaka Station is quick and efficient, typically taking about 2.5 to 3 hours. Once you're in Osaka, the subway and local trains make it easy to explore the city's various districts.
How to Get Around in Osaka
You've got a variety of options. The subway is the most efficient, and the signs in English make it easy even for first-timers.
Local JR (Japan Railways) lines are useful for certain routes. For example, the JR Osaka Loop Line circles the central part of the city, making stops at several key attractions like Osaka Castle. It's covered by the Japan Rail Pass if you happen to have one.
If you're exploring districts like Dotonbori or Namba, walking is often the best way to soak in the local flavor. These areas are compact and pedestrian-friendly, filled with shops and eateries that you'll want to take your time exploring.
Amazing Pass
Consider grabbing an Osaka Amazing Pass for unlimited subway and bus rides. This pass is a lifesaver, even if you're only spending two days in Osaka. It offers unlimited use of the subway and bus system, along with free or discounted entry to numerous attractions like the Umeda Sky Building and Osaka Castle. If you're planning to see multiple sights in a day, this pass can offer substantial savings.
JR Rail Pass
You might also be wondering if a Japan Rail Pass is necessary for a trip to Osaka, and to that I would say that it depends on if you're only visiting Osaka, or if you plan to visit other cities as well. It can be purchased for 7 days or 14 days, and that's when it becomes advantageous. If you're only visiting Tokyo and Osaka for instance, those two trips would cost less individually.
A Japan Rail Pass (JR Pass) isn't strictly necessary if you're just planning to stay within Osaka. The city has a robust public transportation network, including subways and buses that are not covered by the JR Pass.
Osaka Itinerary: Day 1
Here's a map of your first day in Osaka:
Morning: Start the Day Like a King
Start your Osaka itinerary with a visit to the historic Osaka Castle, which is an ornate building that was first constructed in the year 1583 for General Toyotomi Hideyoshi, who was once the most powerful man in Japan after unifying the country in the 16th century.
The castle has since undergone several restorations and it's the city's main historical landmark. It's surrounded by a traditional moat, and if you're visiting in the spring, you'll see cherry and plum-blossom trees in their full glory.
Try to be there right at 9am to beat the crowds and make sure you have time for the rest of the activities in your first day. With just two days in Osaka, you'll really have to make use of every minute.
Hours: 9:00 to 17:00 (entrance until 16:30); extended hours during various holidays and special exhibitions.
Fee: 600 yen
Directions: Enter through the Otemon Gate. Closest train stop is Tanimachi 4-chrome Station on the Tanimachi or Chou lines.
Sumiyoshi Taisha Shrine
Take the Osaka Loop Line from Morinomiya Station to Tennoji Station, then get on the Hankaidenki-Uemachi Line at Tennojiekimae Station and get off at Sumiyoshitoriimae station. It takes about an hour.
Sumiyoshi Taisha is an iconic Shinto shrine, famed for its unique Sumiyoshi-zukuri architecture that's free from outside influences like Chinese design elements.
As one of Japan's oldest shrines, it exudes an atmosphere of ancient spirituality. The site is best known for its Sorihashi Bridge, often referred to as Taiko Bridge, a dramatically arched wooden structure that offers an excellent backdrop for photos.
You'll want to walk along the gravel paths that connect its various halls and pavilions. Admire the vivid vermilion and green hues of the main hall. The shrine is surrounded by a scenic park that features ponds filled with koi fish, making it a tranquil spot for leisurely strolls.
Hours: Open from sunrise to sunset. The main hall, where you can buy talismans or make offerings, usually opens at 6:00 am and closes around 5:00 pm. Keep in mind these times can vary based on the season or special events, so it's a good idea to check ahead of time.
Lunch at Kuromon Market
Kuromon Market is packed with cheap eats and stalls selling quirky trinkets. Head to the market for lunch and sample traditional Japanese dishes, such as a hot bowl of ramen, tempura or fresh sushi. Kuromon has become known as Osaka's kitchen because many home cooks as well as professional chefs get their supplies there.
It's fun to walk through and sample various things, but you can also find restaurants to sit down for lunch. This is a good time to try Takoyaki, if you haven't already. There is a stall making the fresh octopus dough balls about halfway through the market, called Takoyaki Wanaka.
It's one of the most famous takoyaki makers in Osaka. Stop by to watch them fill the little bubbles with batter and cook them until they turn golden brown.
Once you've finished lunch, it's a great place to stock up on souvenirs and gifts. While the main focus of the market is on food, there are tons of other shops selling clothing, trinkets, home goods, etc. It'll keep you busy for a while.
Hours: 9am – 6pm
Directions: 3-minute walk from Nippombashi Subway Station
Afternoon: Shopping in Shinsaibashi
Now you're fully fueled-up, it's time to do some shopping. Head to the Shinsaibashi shopping center, which is filled with retail and department stores. Shinsaibashi is a fashion central for Osaka, so you'll find all the major brands represented here.
The roofed shopping arcade extends for 1/3 mile and contains somewhere around 180 stores. It can get rather crowded on the weekends. But if you're a shopper, I doubt that will stop you.
Hours: Roughly 10am to 9pm
Directions: Enter at the southern end just across the Ebisubashi Bridge opposite the famous Glico Man sign. Namba Subway Station is 5 minutes away. When you reach the northern side, you're very close to Shinsaibashi Station.
Dinner and Drinks: Dotonbori Street
The Minami District is where Osakans go to have a good time. The district, in particular the Dotonbori area, is packed with neon lights, bars and restaurants. Dotonbori Street is pretty dead during the day, but it livens up at night when everyone comes out to enjoy the plethora of food options.
We like to start walking around the area around 5 or 5:30pm. You'll need some time to consider your options. You can wander around and stand in various lines to order bits of food all along the street. Start at one end and just eat your way through. That's probably my favorite way to tackle Dotonbori.
But there are many sit down restaurants too. Head for dinner at Nishiya, which serves udon noodles, or try a bowl of ramen noodles at the popular chain Ichiran Dotonbori. You'll find the best Okonomiyaki at Mizuno. Don't let the long line scare you off. It moves rather fast.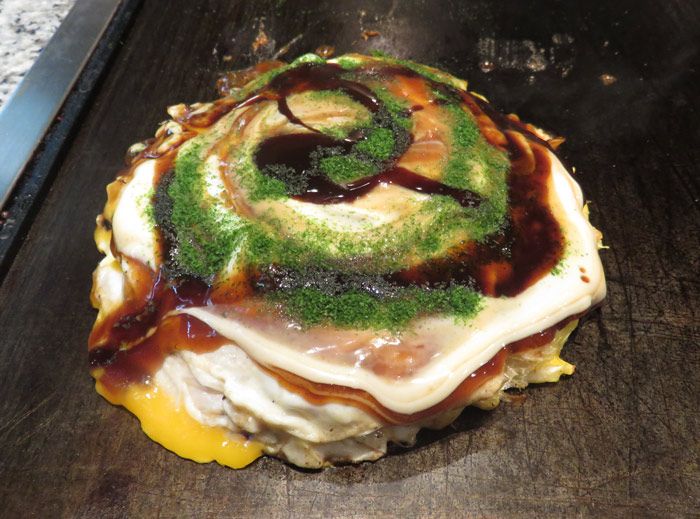 Finish the night at CinqueCento, which is a lively bar that draws a big crowd of both locals and expats. In addition, if you want to try best izakaya food and drink in Osaka, try this Osaka Bar Hopping Food Tour. You'll get to experience authentic Osaka food at local izakaya bars that travelers normally couldn't find.
Osaka Itinerary Day 2
There is a bit of traveling around on day two, so plan to take the train!
Morning: Get Fishy
Start the day at the impressive Osaka Aquarium, called Kaiyukan, which is one of the world's largest. At the aquarium you can see a large range of sea creatures found in the nearby Pacific Rim, including a variety of sharks, otters and jellyfish in the 15 enormous tanks that each represent a different area of the Pacific Rim.
The aquarium takes about 2.5 hours to walk around. They have many permanent displays to explore, plus a few interactive displays. It's a great way to spend a morning. Get tickets in advance here.
Hours: 10am to 8pm
Fee: Adults – 2300 yen, children – free to 1200 yen (depending on age)
Directions: Get off at Osakako Station on the Chuo line (approximately 30 minutes from center)
Next: Ride the Ferris Wheel
After you've visited the aquarium, head to nearby Osaka Bay, where you can ride the giant Tempozan Ferris Wheel, which stands over 350-feet tall and 100 meters in diameter, and gaze at the port and surrounding city. The ride takes about 15 minutes.
Now that there are Ferris Wheels all over the world, it might not seem that exciting, but this is one of the world's largest Ferris wheels and you can see for a long distance from up here.
Hours: 10am to 10pm
Fee: 800 yen
Direction: 5 minute walk from Osakako Station – located right next to the Aquarium)
Lunch: Tempozan Marketplace
By now you've probably worked up an appetite. Head to Tempozan Marketplace, which is located between Osaka Aquarium and the Tempozan Ferris Wheel.
You'll find cheap street food stalls and a variety of Japanese and Western options in the food court. Try an iconic Osaka dish like grilled squid, kushi-katsu (deep-fried skewers), and okonomiyaki (savory pancake).
Hours: 11am – 8pm (some restaurants open to 9pm)
Afternoon: Kita and Umeda
Kita (also called Umeda) is the northern downtown business core of Osaka. There are many restaurants and bars, as well as shopping centers and parks in this area. Since there are so many things to do, you'll want to arrive in this area with plenty of time to check everything out.
The Umeda Sky Building is one of the tallest and most unmissable buildings in Osaka. It's actually two buildings that are connected by a sky bridge. You'll understand the attraction when you see it. At the top there is an observation deck called Kuchu Teien Observatory, which means "Garden in the Sky". Open 9:30am to 10:30pm. Adults 1500 yen, child 700 yen.
Tenjimbashi-suji Shopping Street – If you thought the Shinsaibashi arcade was long, this one is the longest arcade in Osaka. Lots of shopping to be done there.
Hep Five is another shopping and dining center, but it has a ferris wheel on top (7th floor). It's a very similar ride to the Tempozan Ferris Wheel, but I think this one is even more fun.
At night the city of Osaka lights up with flashing billboards and neon lights. One of the best places to see the lights is in the Umeda area.
Directions: Get off at Osaka Station on the Osaka Loop Line. Walk northwest about 7 minutes to Umeda Sky Building.
Dinner: Sake and Matsusaka Beef
You can't visit Osaka without experiencing both the sake and the Matsusaka Beef. The best place to try both is at the M300 Sake Bar just at the start of Dotonbori Street. Be forewarned, you must make a reservation for this place. It's incredibly popular.
You can walk in for sake tasting and sit at the bar downstairs. This is how we initially came across this restaurant. You can pick and choose which sakes you'd like to taste from their extensive menu, or do a flight tasting. It's a great way to spend an hour if you need a break from walking and sightseeing.
When you see the food passing through the bar to the restaurant upstairs, you'll wish you had a dinner reservation. They serve only the best Matsusaka beef and Wagyu here. You can order a set range of beef, which comes as raw slices on a plate, and you cook them yourself over the small grill at your table.
Each table is in its own room with a door, which makes it very unique and fun. We also very much loved the Matsusaki beef sushi they serve. I would go back there in a heartbeat. It was sooooo good.
Directions: 5 minute walk from Namba station. Located on the street just behind the Dotonbori Leica man sign.
Where to Stay in Osaka:
One of my favorite hotels is the
Osaka Marriott Miyako Hotel
. It is conveniently located for transportation, so you can easily get around to the top sights in Osaka and beyond. It's got an insane view and really comfortable rooms. ⇒ Read reviews of the Osaka Marriott on
Trip Advisor
.
Guided Tours of Japan
The tour company we recommend, Japan and More, offers fully escorted, small group and private tours of Japan. The company is run by Japan travel specialists, Becki and Shawn, who have over 20 years of experience living, working, and traveling in Japan. They know where to go, what to see, and how to get there.
They are Americans who know Japan, understand Japanese culture, and speak the language. They take care of every detail. Their group tours book fast! There is limited availability, so it's best to secure your place as soon as possible. The cost of the tour includes all accommodations, transportation, entrance fees, some meals, and pre-departure help and advice.
Osaka Money-Saving Tips
Being budget-savvy in Osaka doesn't mean skimping on the experience. Here are some money-saving tips to make your yen stretch further.
Osaka Amazing Pass: This pass is a lifesaver. It offers unlimited use of the subway and bus system, along with free or discounted entry to numerous attractions like the Umeda Sky Building and Osaka Castle. If you're planning to see multiple sights in a day, this pass can offer substantial savings.
Eat Street Food: Dotonbori and Kuromon Ichiba Market are great places to try local Osaka favorites like takoyaki and okonomiyaki without breaking the bank. Plus, the experience of eating street food adds to the city's charm.
Off-Peak Travel: If possible, travel during the shoulder seasons like late autumn or early spring. The weather is still pleasant, but accommodations and attractions may be less expensive than during peak seasons.
Use Free Wi-Fi: Osaka provides free Wi-Fi in many public spaces, which can save you money on data roaming charges. Look for the "Osaka Free Wi-Fi" or "Japan Free Wi-Fi" networks.
Frequently Asked Questions
What are the must-see attractions in Osaka if I only have 2 days?
If you've got just 48 hours, prioritize a visit to Dotonbori for a taste of Osaka's nightlife and street food. Osaka Castle is another must-see, offering a blend of history and panoramic city views. Finally, make some time for Kuromon Ichiba Market where you can sample fresh produce and regional dishes. These spots give you a solid grasp of what Osaka is all about in a compressed timeframe.
Is it possible to experience Osaka's food scene in two days?
Absolutely, but you've got to be strategic. Osaka is known as the "Kitchen of Japan," so make sure you try takoyaki (octopus balls) and okonomiyaki (savory pancake) at local stalls. For sushi and sashimi, head to a reputable spot like Endo Sushi. Two days are enough to get a taste, but you'll likely leave craving more.
What's the most efficient way to get around Osaka for a short visit?
Osaka has an extensive public transportation system, but if you're pressed for time, the subway is your best friend. Grab an Osaka Amazing Pass for unlimited rides and some free attractions. Walking is also quite doable within certain districts like Dotonbori and Namba. Stick to these methods and you'll maximize what you can see and do.
CONCLUSION
Once you've spent some time in Osaka, you'll understand why we love it so much. From the food to the views, the shopping, the nightlife, it's a fantastic city to visit, and fall in love with. We hope you've enjoyed this 2-day Osaka itinerary. Let us know if you have any questions before going there yourself.
Like this post? Why not save it to Pinterest?
FOLLOW US on Pinterest, Instagram, Facebook for more great travel inspiration and tips.