Thailand is a stunning country with a rich history, known for its delicious cuisine, sandy beaches, natural landscapes, and beautiful architecture. Given everything that Thailand has to offer, it's hardly surprising that so many people choose to travel there each year. After all, it's known as the Land of Smiles.
We've been to Thailand a number of times and can attest to just how much there is to see and do. You look at the map of this small country and think it'll be easy to get around to everything, but it's quite spread out, so a lot of pre-planning is actually necessary to make sure you see more than just one location.
Read on for our 2-week itinerary In Thailand for first timers. This is the exact itinerary we followed the first time we went to Thailand and it was a fantastic trip that we'll always remember.
The itinerary covers the Central, Southern, and Northern regions of the country, providing a diverse range of experiences suitable for families, couples, or solo travelers.
We will be recommending our favorite places to stay, eat, and explore so that you, too, can enjoy the ultimate Thailand experience.
Heading to Thailand? Read about the floating markets of Bangkok and see our Essential Travel Guide to Bangkok. You can pack out your itinerary with these great things to do in Bangkok.
How Long to Stay in Thailand
If you want to experience as much as possible in Thailand, you should plan to stay for at least 2 weeks, because you'll want to cover more than one region in Thailand and getting from one area to another will require a flight or a long train ride, which will really eat into your exploration time.
If you only have one week to spend, you can still see a lot, but it won't allow you to cover nearly as much ground as you would in 2 weeks. You'll have to sacrifice some of the things you want to see, skip a destination, or really pare down how much time you spend in each city.
No matter how long you plan on staying in Thailand, one thing that can really enhance your traveling experience is learning the language. Not only can you get around easier, you can also strike up conversations with locals and learn a lot about the local culture, traditions, and customs, and maybe discover some new places that are not that touristy.
There are many ways to learn Thai before you embark on your trip, one of the most convenient being learning by using a language application that allows you to set your own pace and time.
You should definitely make an itinerary before you set off. A well-built itinerary will help you make the most of the time you have. If you're not sure where to start, no worries, because we've done all the work for you!
Thailand Itinerary: An Overview
As we already mentioned, there's a lot to do and see in Thailand, but that doesn't mean you should rush through each stop on your itinerary in an effort to check off as many things as possible.
Instead, we recommend taking the time to truly relax so that you can actually enjoy and experience everything.
If you want a varied introduction to Thailand that allows you to experience the country from different perspectives, we recommend prioritizing the cities of Bangkok and Chiang Mai before spending the rest of your vacation time relaxing around the islands or beaches of Southern Thailand – either Phuket or Koh Samui.
With 2 weeks to spend, we recommend this schedule:
Bangkok: 2-3 days
Chiang Mai: 3-5 days
Phuket or Koh Samui: 5-7 days
Remember that transiting between each city will take a day, between getting to and from the airport, or taking a train or bus.
Exploring Thailand: Where To Begin
Ultimately, where you begin your exploration of Thailand is up to you – and, in some cases, up to your flight schedule.
In many cases, visitors will fly into the Suvarnabhumi airport in Bangkok, which makes the capital city a logical place to start. I also like to start in Bangkok because it's the most bustling city you'll visit and will take all your energy to navigate. Start with the craziest place first and end with the most relaxing.
However, if you'd like to start your 2 weeks in Chiang Mai or Phuket instead, you can get transfer flights directly from Bangkok to either of those, without leaving the airport. You can then return to Bangkok later.
The flight between Bangkok and either destination takes just a little more than an hour. If you're stopping in Bangkok first, you'll need an hour and a half to get back to the airport from the city, so build that in to your timing.
When To Travel To Thailand
Before we start to discuss what you should put on your itinerary for your trip to Thailand, one of the most important decisions you need to make is when you will schedule your visit.
You may already have an idea of when you would like to go to Thailand, but if you haven't based this decision on research regarding the climate, we recommend taking the time to read this section before you book your flights.
To be clear, you can visit Thailand all year round. It just depends on the kind of weather you'd like to experience while you're there, which may be shaped by the types of activities you intend to take part in.
Cool Season
Between the months of November and February, the climate in Thailand is fairly cool. During the cool season, Thailand's weather is more pleasant because the humidity levels drop. In fact, contrary to what you might expect, Thailand's cool season is the most popular time for tourists because the climate is more bearable for most people. This is the time to go if you plan to be fairly active during your time there.
Hot Season
Alternatively, if you absolutely love hot, humid weather and intend to spend most of your visit relaxing on the beach, you might prefer to go to Thailand during the hot season, which runs from March until May.
While the humidity and heat definitely aren't for everyone, many people find it enjoyable when coupled with the breeze from the sea and the relaxing atmosphere of the beach.
Green Season
If your favorite type of scenery involves lots of greenery, you might consider traveling to Thailand between the months of May and October. This is known as the green season in Thailand because this is when the climate is at its rainiest.
The advantage of going to Thailand during this time is that the countryside looks lush, but most people choose to avoid booking a trip during these months because of the downpours.
The downpours typically don't last long and they are usually broken up by periods of sunshine, during which you can do everything you would normally do during the other seasons.
Your 2-Week Thailand Itinerary
Bangkok: 2-3 Days
The fast-paced city of Bangkok is a great place to start your adventure. You'll be wowed from the second you arrive. Try to keep it together. You're going to need all our wits about you to get around.
You might be tired and hungry after your flight, so one of the first things we recommend doing is taking advantage of the many incredible street food options Bangkok has to offer.
Try this tour: Bangkok by Night: Temples, Markets and Food by Tuk-Tuk
DAY 1
Victory Monument
As soon as you drop off your luggage at your hotel, head straight to the Victory Monument area, which is such a great spot for street food because it's one of Bangkok's main transportation hubs. You'll find all kinds of food in this area. Just walk around and try anything that looks good.
Temple of Dawn (Wat Arun)
Wat Arun, also known as the Temple of Dawn, sits majestically on the west banks of the Chao Phraya River and represents the mythical Mount Meru with its four surrounding towers. It's one of the most impressive temples in Bangkok and offers a great view from the top.
Check before going to make sure. It's typically open from 8 or 9 am to 4:30 or 5:30 pm. You can purchase tickets at the gate or in advance online. The price is 50 baht for visitors.
Grand Palace (Wat Phra Kaew)
The Grand Palace has been the official residence of the Kings of Siam (Thailand) since 1782. The complex contains numerous buildings and pavilions, one of the most prominent being the Temple of the Emerald Buddha, called Wat Phra Kaew in Thai, along with Phra Ubosot or The Chapel of the Emerald Buddha.
There is a strict dress code that must be followed for entrance. It includes no sleeveless shirts, shorts, tight pants, torn pants, or mini skirts. It's best to dress as conservatively as possible, so you're not turned away.
Tickets cost 500 baht for foreigners and can be bought onsite or online in advance. The ticket gets you to access to Wat Phra Kaew and Queen Sirikit Museum of Textile, which is located within The Grand Palace compound.
» Try this tour: Amazing Bangkok Tour : Royal Grand Palace, Wat Phra Kaew and Wat Arun (SHA Plus)
The Reclining Buddha (Wat Pho)
Wat Pho is home to the impressive Reclining Buddha who almost doesn't fit within the confines of the building. There are 394 gilded Buddhas and over 1000 Buddha images contained within the surrounding four complexes — one of the largest and oldest temples in Bangkok.
Wat Pho is open to visitors from 8 am to 5 pm. The entrance fee is 100 baht. It's a good idea to combine this visit with the Grand Palace, as they are only a 10-minute walk apart from each other. You'll need to dress conservatively for your visit here, just as for the Grand Palace.
Visit a Sky Bar for drinks and dinner
The best way to get a bird's eye view of Bangkok is to visit one of the rooftop bars that have sprung up around the city atop some of the high-end hotel towers. The trend was started by Moon Bar, located on the 61st floor of the Banyon Tree Hotel.
Now there are many, including the Sky Bar on the 63rd floor of the Lebua State Tower (pictured above), Red Sky on the 55th floor of Centara Grand, or for a slightly cheaper, less clubby environment, try Cloud 47 on the top of the United Center office tower.
We think the Sky Bar is unbeatable. The drinks are very expensive, but the view is incredible. You can also have dinner up there if you're willing to pay the price. I recommend going up at 5pm when it opens to get the best chance to stand at the bar. If it gets full, they limit entry. You don't need a reservation to go up there and it's rarely crowded at 5 pm.
DAY 2
Jim Thompson House
The former home of American silk producer and art collector Jim Thompson, the complex is made up of various traditional Thai houses and structures that Thompson saved and rebuilt on his property, each exquisitely maintained as they were when Thompson lived there.
There is also an extensive collection of Southeast Asian art on display throughout the houses. Plus you'll learn about the mystery surrounding Thompson's disappearance. The house is open every day (including public holidays) from 9 am to 6 pm.
The fee is 200 baht (100 baht for under 22, children are free). You don't need a reservation to visit, just show up and you can have a look around. There are tours scheduled throughout the day that you can join to learn more (highly recommended).
These are given in English, French, Chinese, Japanese, and Thai. You can easily walk to the Jim Thompson House from the Phaya Thai station, or have a tuk-tuk take you there.
Bangkok Art & Culture Center
Just around the corner from the Jim Thompson House is the Bangkok Art & Culture Center. The museum features a large collection of artworks by both Thai and international artists. The reasons to go include gorgeous architecture, three full floors of unique exhibitions, lots of boutique stores, craft stores, and cute cafes.
The center is open Tuesday to Sunday from 10 am to 8 pm. Free entry to exhibitions, except for special events.
Siam Paragon
Now would be a good time to go shopping, since you're right next to the largest mall I've ever seen. Siam Paragon is a shopper's paradise, but it also has loads of entertainment options, like a movie theater, a bowling alley, tons of restaurants, cafes, and dessert shops. It's just one piece of a bigger complex with IconSiam, CentralWorld, and CentralPlaza WestGate.
Located next door in the Siam Kempinski Hotel is the Sra Bua by Kiin Kiin restaurant. Inspired by its sister restaurant, Copenhagen's Kiin Kiin, by world-famous Chef Henrik Yde-Andersen, Sra Bua is one of Bangkok's original purveyors of modern, innovative Thai cuisine. It's a real treat if you want to get fancy.
Petchaburi Soi 5
About a 20 minute walk from Siam Paragon is another street food center you should check out for a much cheaper dinner than you'll get a Sra Bua. This spot is in the Phaya Thai neighborhood, between Siam and Victory Monument.
There are dozens of street food stalls here to choose from so just find your favorite dish or try something new. Optionally you can look for P'Aor, which has the best Tom Yum Goong and Tom Yam Kung/Phla in the city.
DAY 3
The floating markets are one of my favorite highlights of Bangkok and it gets you outside the city to see some unique things that you can't see anywhere else. The tour I recommend is 6 hours long, so it will take most of the day.
Bangkok Floating Markets
Many unique floating markets can be found just outside of Bangkok. One easy way to see a bunch of them is to take the Offbeat Floating Markets Tour by Bangkok Food Tours. On a full-day trip outside the city, we visited three floating markets (Tha Kha Floating Market, Bang Noi market, and Amphawa floating market) plus the Maeklong Train Market and tried dozens of new foods along the way.
A guided tour is the best way to see the markets. You can reach them by car, but it won't be the easiest driving for a foreigner. A tour typically lasts half or a full day and they help you discover the best things within each market. These aren't the only floating markets, though.
» Book a floating markets tour here (6 hours, visiting 2 markets)
Chinatown
If you can handle more markets, then you should head to Chinatown for your evening meal. Bangkok has a very vibrant Chinatown, mainly located along Yaowarat Road, but stretching arterial for many blocks. Expect to be awed by the maze of closely packed shops that carry everything you could imagine. It's literally a cornucopia of "stuff".
During busy times, you can barely walk through the crowds, and in the evening, people descend on the main street to sample the abundant street food. If you're wanting to sample lots of street food in one location, this is a great place to do it, but don't expect to find much there during lunch.
Manohra Dinner Cruise
If you'd rather have a quieter, more relaxed dinner after all the crazy of the floating markets, then I highly recommend the Manohra Dinner Cruise by Anantara Bangkok. You'll meet at the Anantara to board the ship. Then you'll be served a really delicious and filling dinner as you float along the river. The sights and the food make this very much worth it.
Where to Stay in Bangkok
Some of my favorite places in Bangkok are along the riverside. It's a very convenient area for getting around and there are fantastic hotels in that area. Siam is the most central location for tourists looking to do the main tourist activities.
Sukhumvit has a more local feel and is closer to some of the street food destinations for dinner. We recommend the following hotels in Bangkok:
Chatrium Hotel Riverside
4.5-star luxury hotel on the river, with 5 restaurants and a full spa, plus free wifi.
Siam Kempinski
5-star hotel with a spa, located near the Siam Paragon Mall, incredibly great for walking.
Sheraton Grand Sukhumvit
Very nice 5-star luxury hotel with 7 restaurants, in Sukhumvit. Close to easy transit.
Where to Eat in Bangkok
Bangkok has no shortage of great restaurants. You really don't have to go far to find something good, and while there are some top restaurants you might be tempted to book at, you really don't need to go out of your way for something, because there is good food everywhere. That being said, below are a few of our favorite places to eat and drink in Bangkok.
Note: One of the things I regret the most from my first trip to Bangkok was booking a lot of high-end restaurants that get international acclaim. They were good, but you can find so much amazing and cheap food that it's just not necessary.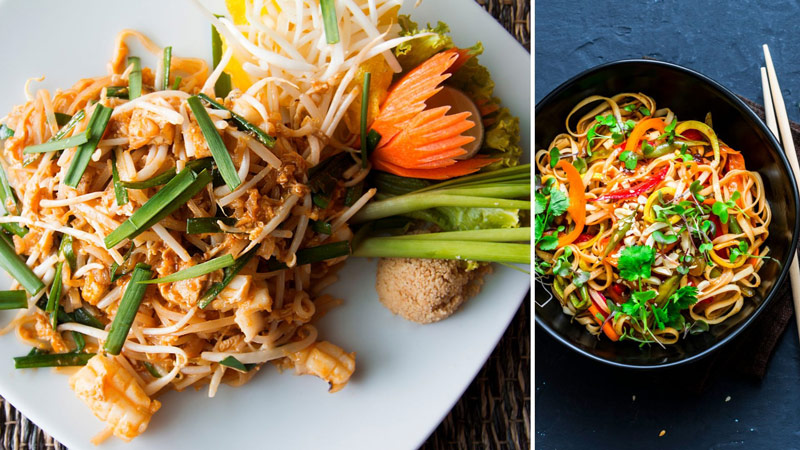 Enjoy a luxurious dinner cruise on the Manohra riverboat
Thip Samai restaurant for the best Phad Thai in town
P'Aor, which has the best Tom Yum Goong Noodles
Victory Monument or Chinatown for some of the best street food options
Raan Jay Fai for the iconic crab omelet (featured on Chef's Table, which hasn't done it any favors)
Prachak Pet Jang for its famous Chinese-style roasted duck
Somtum Der for the best Som Tam
Jack's Bar on Wat Suan Phlu Alley – best dive bar with a view (very much worth it)
For high-end dining:
Chiang Mai
Chiang Mai is a highly cultural city where you can learn a lot about the country's history. There's also no shortage of incredible restaurants to sample local cuisine, and if you ever get tired of the city, you can easily get to the mountains or the countryside via public transportation.
If you're going to make Chiang Mai part of your Thailand itinerary, we recommend staying for at least 3 nights and to make sure one of those nights is a Sunday, so you don't miss the amazing Sunday night market.
Day 1 – Visit Temples
There are more than 300 temples in the city of Chiang Mai, so you won't have time to see them all, but we recommend fitting in as many of the most noteworthy temples as you can during the morning of your first day.
A few temples you should definitely try to see if you can include:
Wat Phra Singh
Wat Chedi Luang
Wat Phan Tao
Wat Chiang Man
Wat Sri Suphan
If you only go to one temple during your time in Chiang Mai, it has to be Wat Phra Singh. This is probably the most well-known temple and one of the most visually impressive. Wat Chedi Luang complex in the middle of the Old City is a definite must-see.
» Try this tour: Chiang Rai Temples Small Group Tour: White Temple, Blue Temple & Black House
Enjoy A Thai Massage
After spending the day walking around temples, you'll probably be feeling the need to re-energize your body. Luckily, when in Thailand, this definitely doesn't have to mean heading back to your hotel room.
Instead, you should go to one of many locations in Chiang Mai that offer the unique and ancient practice of Thai massage.
During a Thai massage, a masseuse will guide you into various stretches and poses with the aim of strengthening and healing your body. It's entertaining at the very least, though it can be a little painful, and somewhat relaxing too. Go in with the right expectations and you'll enjoy it.
Watch A Muay Thai Boxing Match
The most affordable, popular stadiums are Thapae Boxing Stadium and Loi Kroh Boxing Stadium. There's also the Chiang Mai Boxing Stadium, which charges more for the higher-quality seats.
Even if you're not usually much of a sports person, we're confident you'll enjoy an evening watching Muay Thai. It's the most popular sport in Thailand, and in addition to being fast-paced and exhilarating to watch, the atmosphere and cheering make for a fun-filled and memorable event.
Day 2
Wat Phra That Doi Suthep
For Wat Phra That Doi Suthep, it's worth dedicating an entire morning. You might also hear this temple simply referred to as 'Doi Suthep', which is the name of the mountain on which it is located.
The fact that the temple is on top of a mountain is the main reason why we recommend saving this landmark for the morning of day 2 rather than trying to fit it in with the other temples.
This temple is the most-visited, most famous, and most highly revered temple in Chiang Mai. To get there, visitors either get a private tour (this is a good one) or hop in the back of a red songthaew for the twisting ride. Once you're dropped off by the temple, the final leg of the journey requires you to climb 309 steps up to reach the 600-year-old golden chedi at the top. It's worth it once you get there!
Try A Thai Cooking Class
Why not learn how to bring the fresh, aromatic flavors of Thai cuisine home with you by taking a cooking class in Chiang Mai? There are plenty of Thai cooking schools in Chiang Mai, so you can do your own research and choose the one that best fits your budget.
We personally recommend the Thai Akha Kitchen, which has an open air kitchen and where you can learn more about the different flavors used in Thai cuisine before receiving step-by-step instructions for preparing delicious Thai food. You'll also get to visit the market to pick out the ingredients. It's one of the best things we did in Chiang Mai.
Chiang Mai's Street Markets
To end a busy second day in Chiang Mai, take your time to peruse the city's vibrant street markets. Visiting the street markets of Chiang Mai is about more than just purchasing souvenirs and sampling excellent food for budget-friendly prices. Street markets are a pillar of Thai culture, so this is yet another way of immersing yourself in the country.
You can visit the street markets throughout the week, but the largest market is open on Sunday night, so plan your itinerary accordingly if you want to see these.
» Try this tour: Small-Group Chiang Mai Evening Street Food Tour
Day 3
The Sticky Waterfalls
The Sticky Waterfalls are not technically in Chiang Mai, but they're only 50 kilometers away at Jedsee Fountain Forest Park, so it would be a mistake to visit Chiang Mai without seeing this natural landmark.
Officially called the Bua Tong Waterfalls, these waterfalls are easy to climb due to the friction-generating mineral deposits over the rocks.
This is usually a half-day excursion. You can book this highly-rated 4-hour tour.
See The Ladyboy Cabaret
A ladyboy cabaret show is an absolute must when you're visiting Chiang Mai. If you're not familiar with the term 'ladyboy', in Thailand, it is used to refer to men who present as beautiful women.
Get yourself a ticket to the Chiang Mai Cabaret in advance of your trip to ensure you get a good seat because these shows are very popular.
Days 4 And 5
Doi Inthanon National Park
If you're still feeling energetic and ready for adventure after your 3 packed days in Chiang Mai, go on a full day tour to Doi Inathon National Park, which is just an hour and a half out of Chiang Mai.
This national park is a haven of natural beauty, including Thailand's tallest mountain, several breathtaking waterfalls, nature trails for hours of trekking, and many other cultural activities to enjoy.
Elephant Sanctuaries
While many elephant centers throughout the world are not ethical, Chiang Mai is home to genuinely ethical elephant sanctuaries such as Thailand's most famous sanctuary, the Elephant Nature Park.
Many elephant parks advertise themselves as ethical sanctuaries, but if they offer elephant rides, elephant-made artwork, or you see a lot of baby elephants with no mothers in sight, the chances are, the 'sanctuary' is not what it presents itself as.
Note: Before visiting an elephant sanctuary anywhere in Thailand, please do your research to verify the ethical status of the operation.
Where to Stay in Chiang Mai
The best area to stay in for first timers in Chiang Mai is the Old City. This area is right in the center of the city and near many of the temples and sights, you're going to want to see. It's Chiang Mai oldest and most culturally distinct and still retains the moats and walls of the ancient Lanna capital.
The three places we recommend staying are:
Tamarind Village – Tamarind Village is a unique and charming boutique property right in the middle of historic Chiang Mai, surrounded by ancient temples and shopping streets. It's named for the 200-year-old tamarind tree at the property.
Phra Singh Village – Located near Phra Singh Temple with an outdoor swimming pool and lovely rooms, plus a complimentary afternoon tea. Well located on a side road near the Sunday walking street.
Shangri-La Chiang Mai – If you want a more modern type of hotel, the Shangri-La is very nice, but located outside the city walls, so it's a bit farther away.
Where to Eat in Chiang Mai
The best place to eat is at the street market stalls. You don't have to plan anything, just walk around and stop where you see or smell something good. This is by far my preferred way to eat in Chiang Mai.
You can get a wonderful, affordable sit-down meal at the Khao Soi Khun Yai, which does some of the best Khao Soi (a Northern Thai chicken-based dish with egg noodles and a curry broth) in Chiang Mai.
Huen Phen Restaurant also serves possibly the best Khao Soi in Chiang Mai. It's located close to Wat Chedi Luang, for your temple exploring day.
Ginger & Kafe is a more high-end restaurant that combines a modern bistro theme with authentic Thai cuisine.
For a mid-range dining experience, we highly recommend Dash Teakhouse.
If you take a cooking class, you will eat a huge meal while you're there.
Southern Thailand Beaches
Now that you have explored two of Thailand's major cities, it's time to slow down and unwind amongst the natural beauty of Southern Thailand.
While you may want to spend a lot of your time in Southern Thailand relaxing on the beach (and there's nothing wrong with that!), there are still plenty of things to do!
The first thing you'll need to decide is which beaches and islands you want to see while you're there.
If you want to experience some of Thailand's marine life, we recommend the Mu Ko Chumphon National Park islands. Specifically, Ko Ngam Yai, Ko Ran Ped, Ko Langka Jiew, and Ko Ran Kai are great for diving and snorkeling.
For those who would like to stay active during their Thai beach vacation, there's the opportunity to try Muay Thai at Koh Samui. You can also find golf courses at Pattaya or Hua Hin.
Families visiting Southern Thailand may wish to choose locations such as Phuket, Krabi, or again, Ko Samui.
There are even some lesser-known beaches like Khanom that are great for family-friendly vacations.
If your idea of a good Thai beach vacation is more on the luxurious side, you could travel slightly to the East to find Ko Kood island, which is located on the South-East coast.
This island is home to the luxury Soneva Kiri Resort. Alternatively, there's the Paradee Resort, which is located on Ko Samet.
If you're looking for somewhere a little quieter and more off the beaten track, consider traveling Southwest to the Andaman Coast, where you can find the especially tranquil Trang Islands.
Alternatively, you can go even further southward and visit Ko Bulon Leh.
Where I Recommend Staying
There are two resorts I would highly recommend considering when you're deciding where to stay. With so many hundreds of great resorts, it really has to be up to you what type of experience you want, but these two resorts are special and I want to recommend them.
Sri Panwa Resort
We stayed at Sri Panwa Resort for 4 days a few years ago. It is truly the most beautiful resort we've ever stayed at and that's saying a lot because we've been to over 75 countries and stayed in hundreds of high-end resorts.
Sri Panwa is located in Phuket in the Cape Panwa area. It's a luxury resort with luxury pool villas that overlook the ocean. They are simply gorgeous. It really doesn't get any better than this. You will definitely not want to leave your villa while you're here. Be sure to book the 1 bedroom pool villa.
Breakfast is included in the price and you can eat your other meal in the resort as well, but we really loved going down to the waterfront in town to poke around and find great cheap meals at Sawasdee. We'd bring back take out food and heat it up for lunch the next day.
Banyon Tree Koh Samui
The Banyon Tree Samui resort is also very nice, with Royal Banyon Ocean View Pool Villas that you must see to believe. The resort is located among a lot of beautiful beaches you can visit.
The villas are exceptionally well appointed and you can soak in the serenity in a really gorgeous and private location. The villas are all nestled among the trees along the private bay in Lamai.
It's truly a blissful spa escape, with bespoke dining offerings, locally-infused experiences, a personal villa concierge, and unparalleled views.
What to See in Southern Thailand
The South contains many beautiful beaches and islands in the Gulf of Thailand and the Andaman Sea. The most well-known tourist destinations in the area are Phuket Province, Ko Samui, Ko Phi Phi, Ko Lipe, and Ko Tao.
One of the top activities is visiting Thailand's many beaches by boat, going snorkeling, diving, and doing a bit of partying. You can have a chill vacation where you don't really leave your resort, or you can explore around as much as you can during the day.
Here are some things to explore:
Patong is the must-see spot with the largest resort atmosphere.
Check out temples like Wat Chalong and Wat Laung Pu Supa as well as the white marble Big Buddha statue.
In Koh Samui, explore the islands of the archipelago of Mu Ko Ang Thong National Park and visit Ko Wua Talap where you can have a seafood dinner and explore the Buaboke Cave.
Ko Pha Ngan is also home to Than Sadet-Ko Pha Ngan National Park.
Krabi and Phuket is called Phang Nga Bay, and it is one of the most breathtaking destinations in all of Thailand.
The coral reefs surrounding the Similan Islands are considered to be the best diving spot in all of Thailand.
Ko Phi Phi is made up of six islands located off the mainland coast of Krabi. Ko Phi Phi Leh is perhaps the most popular because it served as the backdrop for the film The Beach.
Tips For Your First Visit To Thailand
When visiting any country that has a culture different from your own, it's very important to do your research beforehand and find out all the do's and don'ts, as well as general guidelines for keeping your tourism ethical, respectful, and responsible.
The good news is that Thailand is a country that is usually very welcoming to visitors from other cultures. So, as long as you are respectful toward Thai culture and people, and learn the basic rules of Thai etiquette, you shouldn't have anything to worry about.
If you're going to visit any temples during your stay in Thailand, you should:
Ensure that your clothing covers your shoulders and knees
Remove your shoes before entering the temple (the same goes for entering another person's home)
Never climb, sit on, or otherwise treat with irreverence any images or statues of Buddha (you also shouldn't take any Buddha image out of the country)
Do not touch or directly hand any object to a monk, inside or outside of a temple
When entering or leaving a temple (or a house), do not stand on the threshold. Instead, step over it. This rule is related to the Thai belief that guardian spirits reside at the raised thresholds of buildings and should not be disturbed
You should also learn about the customary Thai greetings before you visit the country. The key things you need to know are as follows:
One of the most common greetings in Thailand is the wai, which involves putting your palms together and raising your hands up underneath your chin. If you see someone greet you in this way, be sure to return the gesture and smile.
Smiling, in general, is something you should aim to do while in Thailand, both as part of a greeting and to communicate good intentions
There are also some more general social and cultural rules you should be aware of before you arrive in Thailand. These include:
In Thai culture, the concepts of sanuk and 'mai pen rai' are important. 'Mai pen rai' basically means not to worry about little things, whereas sanuk is the idea of prioritizing enjoyment in all that you do. So, when you're in Thailand, make an effort not to let small inconveniences irritate you, especially not visibly
Leading on from the previous point, calmness is highly valued in Thailand. Raising your voice, especially in anger, is not considered appropriate, so be sure not to do this
Don't gesture with your feet as this is considered rude
Always treat Thai currency with respect (which involves not handling money with your feet at any time). Disrespecting Thai money is considered a mark of disrespect towards the Thai royal family, and there are laws against this
In Thailand, touching another person's head (with certain exceptions as a mark of familiarity) is considered disrespectful because the head is seen as sacred
Aside from etiquette, you should bear in mind that certain things that are legal in the United States or United Kingdom are not legal in Thailand.
Some of these things, such as e-cigarettes, are quite unexpected, so make sure to do your research on Thai law before you travel.
Health Precautions
You should also take precautions when it comes to your health in Thailand. Luckily, most Thai pharmacies employ English-speaking staff, but it's always best to avoid a trip to the doctor or pharmacist in the first place.
Staying hydrated at all times is very important considering the heat, and you should, of course, apply sunscreen regularly. This is necessary even if the weather is overcast.
While malaria is not a health concern in most regions of Thailand, it's still a good idea to wear mosquito repellent during your stay. After all, you don't want to spend your entire vacation feeling itchy. Around February-March, there will be a lot of mosquitos.
If you have a prescription for medication, make sure to get a certificate from your doctor indicating that you need these medicines for health reasons since drug laws in Thailand are strict.
If you are flying to Thailand from another country with even stricter laws on drugs (Dubai, for example), you'll need to take additional precautions and consult with authorities about what you can and can't bring into the country.
Frequently Asked Questions
Is Thailand An Affordable Country To Visit?
If you're traveling on a budget, the good news is that Thailand is very affordable. It's a little more expensive compared to countries such as Cambodia and Laos, but overall, you can enjoy an affordable travel experience in Thailand.
Is Thailand Safe?
Yes, Thailand is safe. In fact, it's one of the safest places you can visit in the whole of Southeast Asia. While there is some social unrest in some areas of Thailand, you can avoid these places and stick to more tourist-friendly areas, where crimes are very rare.
The only thing to bear in mind is that the law in Thailand is likely to be quite different from the law in your home country, and if you don't do your research before traveling, you may unknowingly find yourself in legal trouble.
Why Is Thailand Famous?
Thailand is known for many things, including its beautiful tropical beaches, delicious food, historical and cultural landmarks such as ancient temples, and amazing nightlife.
All of these things make Thailand an ideal vacation destination, on top of the fact that the locals are very friendly and welcoming.
Can I Wear Shorts In Thailand?
Yes, you can wear shorts in Thailand, but make sure to wear something that covers your knees (as well as your shoulders) when entering any temple in the country as uncovered knees and shoulders are seen as a mark of disrespect in these sacred places.
What Language Is Spoken In Thailand?
The official language of Thailand is Thai. Most people in Thailand speak Thai, but many of the locals also understand and are able to speak English, especially in major cities and tourist areas like Bangkok.
Final Thoughts on Visiting Thailand for First Timers
If you're planning to visit Thailand, start by deciding whether the climate during the cool season, hot season, or green season appeals to you the most.
Once you have planned the timing of your vacation, work out whether to start your 2 weeks in Bangkok or take an extra flight from Bangkok to Chiang Mai for a more relaxed start to your travels.
Once you have explored the cities of Chiang Mai and Bangkok, we recommend taking some time to soak up the sun on one of the many islands or beaches in the South of Thailand, where you can enjoy an active, slow-paced, or luxury beach vacation!
This is an incredible country with so much to do, so make sure to make the most of your time there whilst also remembering to embody the Thai concept of sanuk during your stay.
Like this post? Why not save it to Pinterest?
FOLLOW US on Pinterest, Instagram, Facebook for more great travel inspiration and tips.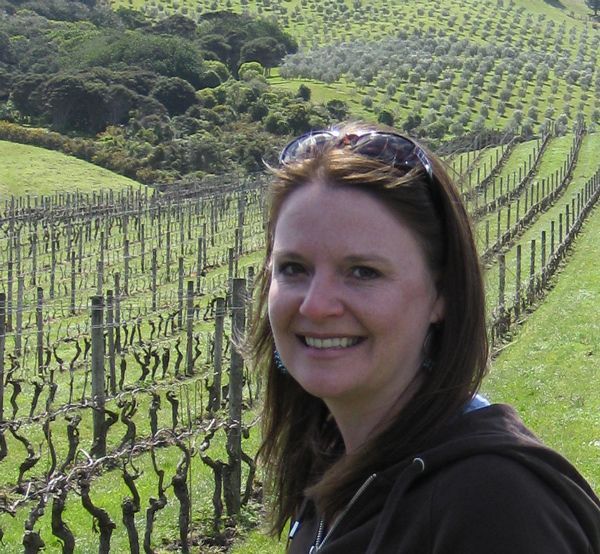 Laura Lynch, creator and writer of Savored Journeys, is an avid world traveler, certified wine expert, and international food specialist. She has written about travel and food for over 20 years and has visited over 75 countries.