It's no secret that I love traveling for food. And by that I mean intentionally seeking out the foods and dishes that make a place unique. The food you encounter in another country might even be some of the best food you've ever eaten.
I've come across some really incredible food in my travels, but there are a handful of dishes that I can solidly say have left a lasting impression and that I would return for in a heartbeat. You know the ones I'm talking about — those dishes that you wistfully long for, that make your mouth water just thinking about, and usually that you can't seem to recreate at home, no matter how many times you've tried.
Those are the dishes that I'm talking about. The ones that are worth traveling the world for. I've asked my fellow travel bloggers to help me compile a list of 25 dishes worth traveling the world for, so you can see what deliciousness you may be missing out on, and where you should be making plans to visit. Enjoy!
By the way, if you love this post, you'll want to pick up our FREE ebook: 101 Dishes to Travel the World For
Foods to Travel For (& Drool Over)
Kaesespaetzle (Germany)
This warm, cheesy, gooey meal is one for the books. Spaetzle is homemade German pasta with a texture that resembles dumplings or gnocchi. While German supermarkets sell it already made, restaurants will make it by hand, which is really the way to do it. The pasta-like dumplings are baked with cheese for a gooey and rich dish.
See more dishes you should try in Germany
Napoletana Style Pizza (Naples, Italy)
Easily one of the most popular Italian food, this pizza hails from Naples, but has spread throughout the world because of its mass appeal. It has a soft and fluffy base that is cooked in a wood-burning oven with toppings like fresh tomato sauce, mozzarella, and basil.
Depending on where you go for pizza, you'll find all kinds of different toppings. From adding a multitude of toppings to sticking to the authentic no-trimmings vibes of a margarita, pizza in Italy is just an unbeatable experience. Italian pizza styles are often determined by their region, with Napoletana being the most popular.
See more dishes you should try in Italy.
Steak Tartare (France)
Steak tartare is a meat dish made from raw ground or finely minced beef. It is usually mixed with onions, capers, pepper, Worcestershire sauce, and other seasonings – or with those seasoning served on the side so you can mix them yourself – with a raw egg yolk on top of the dish. You can most often order steak tartare as an appetizer, but also sometimes as a main dish.
This is one of my favorite French dishes, but there are dozens more, like street crepes, pain au chocolate, and Macarons. Read about all the other favorite dishes from France.
Empanadas (Argentina)
Empanadas are made and eaten all over South America, but the ones you find in Argentina are the ones I love the most. These tasty little pockets of dough stuffed with all different kinds of toppings are the stuff of dreams.
They are crispy on the outside, being baked or fried, and the filling is hearty – with things like ground beef, egg, olives, and onions. Eaten by hand, they go down fast and make for a fantastic casual lunch or a snack when you're needing a bit of energy.
Learn how to make empanadas at home.
Cevapcici (Bosnia)
For me, the Cevapcici is one of those foods that are extremely dangerous: once you take a bite, it's hard not to become addicted to it. Cevapcici is basically minced meat in the form of sausages, traditionally eaten in the Balkan region of Europe. It originated in Bosnia. Its addictiveness is so great that there is a famous Austrian song about how awesome cevapcici is.
Leche de Tigre (Peru)
I fell in love with Leche de Tigre the first time I tried it. I've never encountered something so flavorful before. It was like all of the flavors of Peru were blended together in one delicious glass. And that's not far from the truth. Leche de Tigre is the juice left over from the making of ceviche.
You take raw fish, toss in some lime juice, chilies, onions, salt and pepper and you let it marinade until it's "cooked" by the lime. The leftover juice is then served in a glass with shrimp and various other garnishes. It sounds a little weird, perhaps even unappetizing, but I promise you it's insanely delicious.
» See all the other dishes in Peru we fell in love with.
Bun Bo Nam Bo (Vietnam)
This dish is made with fresh raw veggies, fried onion, bean sprouts and topped with roasted peanuts that give it a delicious crunch. The beef is soaked in sugar, fish sauce, pepper and seasonings. All of this is mixed with a simple sauce of fish sauce, sugar, lemon and chili. Everything in this dish perfectly compliments each other. I'd go back to Hanoi just for this.
Gyoza (Japan)
Gyoza in Japan are handmade and are a thing of perfection. It takes a lot of time, skill, and great ingredients to make the perfect gyoza, but you can find amazing gyoza all over Japan. When you arrive at a gyozaria in Japan, you sit down and order your gyoza by the half dozen.
They then go through a very traditional process of steaming and frying the gyoza to perfection, right in front of you. The dumplings come out perfectly soft and chewy, with just one side being charred on the grill. They're the perfect bite, bursting with flavor.
Learn how to make gyoza at home.
Dim Sum (China)
If you've ever been to China and watched Dim Sum being made at a restaurant, you'll never see it in quite the same way again. The little dumplings are so meticulously made that they are practically a culinary masterpiece. A dim sum lunch often consists of dozens of trays of steamed buns, dumplings and rice noodle rolls that contain various ingredients.
Each tray contains a different type of dumpling and they're all so steamy and wonderful. Some of the dumplings are even created in the shape of the ingredient they were filled with, like little fish and chickens! There's nothing like a freshly formed dumpling.
Tarta de Almendra (Almond Cake) – Spain
After spending nine months eating it while studying abroad, I can attest to the deliciously good Tarta de Almendra, or almond cake, which is exclusively found in northwestern Spain in the Galician territory. With St. James' cross outlined in powdered sugar, this nutty treat is a perfect pair with a cafe con leche or even a giant class of milk.
You won't find this recipe anywhere else in the world, but you will find it lining every bakery's walls in the city of Santiago de Compostela, where supposedly lie the bones of St. James deep inside the iconic cathedral.
Pilgrims come from all over Europe, most walking for hundreds of miles in remembrance of St. James' pilgrimage as he preached the gospel, just to taste this cake. Okay maybe that's not true, but it sure makes for nice motivation! You can find very do-able recipes for this cake all over the internet, but to taste a true masterpiece, you must visit Santiago de Compostela.
Calamari and Cuttlefish Risotto (Croatia)
This black, unusual looking dish, called crni rižot in Croatian, translates to black rice. It's a mix of calamari and cuttlefish made into a wonderful creamy risotto.
It can be found all over Croatia, but it traditionally comes from the coastal areas of Croatia. This dish has an super-intense seafood flavor and smell and is not for those who don't absolutely love seafood! Here's the recipe
Fregola con Arselle (Sardinia)
I have yet to find food that is as good as the one I can get back home in Sardinia. Many are the specialties and everyday dishes I miss when I am away, but I know there is one I won't be able to find even in the best Italian restaurants overseas, and which I can only have when home: fregola con arselle.
It is a regional dish of Sardinia, which is best enjoyed during the summer months, when the ingredients used to prepare it are at their best. Fregola is a traditional kind of pasta made of semolina, water, and salt. Ingredients are mixed together, then rubbed between the hands to give it it a round, rough shape.
Whenever I am traveling, I crave for fregola with clams (arselle), which is cooked in a light broth made of local fresh tomatoes, parsley and garlic and only the best Sardinian clams. Only the best ingredients should be used when preparing it. Thus, when I want to spoil myself and eat a delicious fregola, I either opt for a nice local restaurant and never mind about the bill, or I ask my mother, who is a wonderful cook, to prepare it for me. Super-tasty.
Jamon Iberico (Spain)
Jamon Iberico is one of the world's true delicacies. It is one of the foods you must try in Spain. The ham comes specifically from black Iberian pigs that must meet a rigorous standard to be labeled Iberico. There are several levels of greatness that can be achieved, culminating with the Jamon Iberico de Bolleto, for which the pigs are fed a diet of acorns.
Regardless of all the standards and practices it takes to produce, it's one of the best foods I've come across in my travels. Eating a slice is like eating butter. It's rich and salty and practically melts on your tongue. It may be expensive, but it's worth it for the happiness it will bring to your mouth.
Kladkaka and Chockladbollar (Sweden)
Two dishes I keep recommending and even have recipes on my blog in case I miss them too much are kladkaka and chockladbollar from Sweden. Both are delicious rich chocolate treats, easy to make and won't fail to impress.
The first is basically a brownie cake, only much more chocolatey and super moist. You will be in chocolate heaven. And one piece will definitely not be enough. If you order to eat in, you will even get a splash of whipped cream and ice cream. The Swedes know how to treat you well!
The second dessert is more like a praline filled with crispy sugar crystals and oats with fine coconut flakes on top. Have it with your black coffee in one of those beautifully Scandinavian cafes that overlook the quaint little cobblestone streets and colorful houses.
In any case, you should have both for fika, which is an amazing lifestyle concept in Sweden (it is basically a very social coffee break) and since it takes place twice a day, you will have a chocolate filled schedule.
Belgian Waffles (Brussels, Belgium)
The variety of toppings for waffles is bound to leave you utterly confused and wanting to try out all you can! For sure, you can have waffles anywhere in the world, but my waffle experience in Brussels is just unforgettable.
After checking out all the toppings on offer, my friend and I decided to go for one mainly with strawberries, chocolate sauce, ice cream. Let me tell you that the waffle we received was huge. It was a good thing we didn't order two, as it would have been too much to eat at that time. It was extremely delicious though!
Doner Kebab (Turkey)
One of the most ubiquitous foods in Turkey is the doner kebab. You can find it roasting on a spit almost anywhere – at a street vendor, at curbside cafes and even at major restaurants. It's practically Turkey's national dish.
It's served in various different ways and can be made of lamb, beef, lamb and beef or chicken. Our favorite version is called Donor Durum, which is wrapped in lavaş and stuffed with lettuce, onion and tomato. The meat is so spicy, tender and juicy. It's something I could eat over and over again.
Surströmming (Sweden)
I had to travel to the north of Sweden twice to finally try Surströmming! I traveled all the way to Skelleftea, a wonderful town in Västerbotten, to have fermented herring.
The herring is caught in April/May and is then kept in strong brine for several months. Back in the day the fish was kept in large wooden barrels and one could only buy it from local producers. Nowadays tinned Surströmming is available in most shops up North.
Surströmming's smell is very strong (due to the acid) and it kind of smells like rotten egg. Not pleasant 😉 and that's exactly the reason why Swedish people have their Surströmming outdoors in the summer. They make sandwiches which consist of Swedish thin bread, potatoes, tomatoes, onions, sour cream and of course Surströmming.
Francesinha Sandwich (Portugal)
The Francesinha sandwich is not an ordinary sandwich. It's incredibly indulgent and more than enough to feed two hungry people. You take two slices of thick bread (it has to hold up to the saucy ingredients!) and pack the sandwich full of cheese and at least three types of meat, which is usually ham, a thick slab of steak and linguiça.
The sandwich is then topped with more cheese before being placed in the oven to get all ooey gooey and crunchy. Then a thick tomato and beer gravy is poured over it and it's topped with a fried egg. You won't believe your eyes when it's delivered to the table. It's so messy that it has to be eaten with a fork and a knife.
See other foods you must try in Portugal
Ajiaco Soup (Bogota, Colombia)
This delicious soup is a hearty and healthy meal. The weather in Bogota is quite chilly and a bowl of ajiaco soup is the perfect mid-day meal to warm your belly and taste buds. The soup is made with chicken, guascas herb, corn on the cob, peppers, potatoes, and a swirl of cream on top, along with side servings of rice, avocado, and capers. The flavor combination is super tasty.
I love that this soup is such a well-balanced meal of protein, carbs, and fat – the perfect energy replenishment while walking around and exploring historical Bogota. I would travel back to Bogota Colombia just to have my fill of ajiaco soup once again and I recommend this marvelous dish to anyone traveling to Bogota.
See other foods you must try in Colombia
Sichuan Spicy Dumpling Soup (Chengdu, China)
Chengdu is the center point of spicy food in China. We ventured into many mom and pop noodle and dumpling shops for 11 RMB (not even $2 USD), steaming bowls of dumpling soup. Some of the dumpling soups were so hot and so spicy that your mouth would go numb. I'm not even joking.
You would get feeling back about 5 minutes after leaving the restaurant. Being the glutton for punishment that I am, I couldn't get enough! This bowl pictured is a pork dumpling in a spicy chicken broth (divine in it's own right), topped with mushrooms and chicken bites.
Blinis (Helsinki, Finland)
Blinis are a kind of pancake from Russia that, because of the Russian domination era in Finland, are really famous in Helsinki and around. They are served with many different toppings that go from fish row to sour cream, salmon, onions and much more. They are to-die-for and definitely a reason to travel to Finland during winter. Blinis are available in January, they call it "Blini Season".
» See more foods to try in Finland.
Poutine (Canada)
Who doesn't love a perfectly crispy, hot-from-the-fryer french fry? In Canada, they manage to take the humble fry and elevate it to near cult status by adding melted cheese curds and silky gravy. If it's done right, the gravy doesn't drown the fries and make them soggy, it just glazes the top so you can scoop up all the gooey deliciousness and shove it into your mouth.
Poutine originated in Quebec City, but it's now a much-loved dish throughout Canada and can sometimes even be found on menus in the United States, although to really experience poutine done right, you absolutely have to travel to Canada for it.
Hyderabadi Biryani (Hyderabad, India)
A trip to India is never complete without diving into its rich food. And a foodie who craves for Indian cuisine can never end his or her journey to the country without relishing the Hyderabadi Briyani. So if you have ever imagined a dish that actually fits the phrase 'mouth-watering' in reality, the hailed Biryani from the city of Hyderabad is certainly that this-is-it dish.
A mix of basmati rice, chicken, saffron, Indian spices, yogurt and onions, the recipe is known to be as old as the Mughal Empire in India itself. Not only Hyderabad locals go gaga over the dish, but people from every other state in India itself can never finish a trip to the city without flipping over this extra special dish.
Prepared in two distinguished types – Kachchi gosht ki biryani and Pakki biryani, the difference comes from the marinating technique and duration, but for first timers trying both is always a winning bet. Having a royal legacy of its own, the Hyderabadi Biryani is a must-try while in India and taking back a parcel is certainly another worthy ritual.
See other tips for eating in India.
Brazilian Barbecue Meat
When you go to Brazil you must eat at a churrascaria, which is an all-you-can-eat restaurant. Rio de Janeiro has some of the best churrascarias. They serve different types of barbecued meat, which is sliced on your plate by servers who walk around the restaurant with selections of meat.
Types of meat you can feast on include beef and pork sausages, fish, chicken, pork, lamb, crocodile, and wild boar. If you're a vegetarian don't worry, you can try out the wide range of salads served at these Brazilian grills. Try their grilled pineapple. I am sure you will love it.
See more foods you must try in Brazil
Roast Goose (Hong Kong)
The roast goose is a dish you simply have to try while in Hong Kong. This is a dish that's synonymous with Hong Kong. It's served here like no where else in the world, and it's so delicious that you'll probably wish to come back just to taste it again.
This type of goose is marinated in a blend of a myriad spices (that are being kept secret as there are sometimes even twenty!), then roasted using charcoal until it's crispy golden. The roast goose a la Hong Kong is eaten with its skin, which makes the whole experience even better. You feel the skin melting in your mouth, producing the most succulent taste.
One of the best restaurants where you could try this dish is called Yat Lok, which serves the best roast goose according to many. It's also a Michelin Star restaurant, which proves the quality of the food.
See other foods you must try in Hong Kong
CONCLUSION
If you're into cooking at home, check out our Global Gourmet series that focuses on a recipe from a specific country so we can try making some of these delicious recipes at home. What foods have you found around the world that you think are worth traveling for? Share them in the comments so we can find them too!
Like this post? Why not save it to Pinterest?
FOLLOW US on Pinterest, Instagram, Facebook for more great travel inspiration and tips.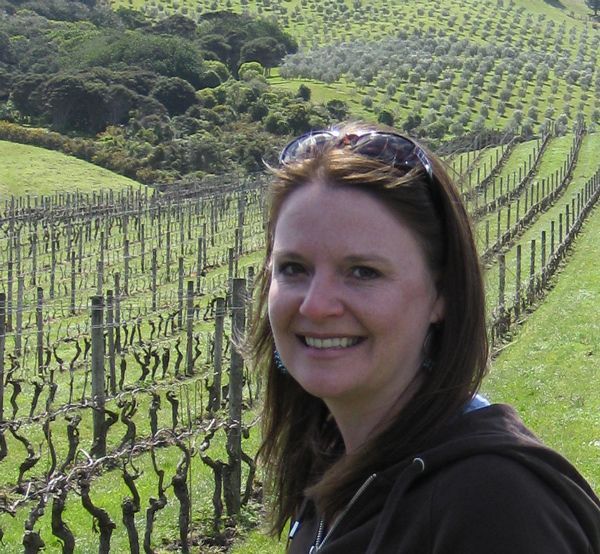 Laura Lynch, creator and writer of Savored Journeys, is an avid world traveler, certified wine expert, and international food specialist. She has written about travel and food for over 20 years and has visited over 75 countries.