Most first-time visitors to Paris will want to send their time seeing the top sights like the Eiffel Tower, Montemarte, the Louvre… Those are the visions we all have of Paris, and it would be a huge shame not to see them while you're visiting.
We've been to Paris many times and I still think the best way to truly discover the city is to get all the top tourist attractions out of the way in a 3-day Paris itinerary, then if you have more days, you can spend another 3 or more digging deeper into the different arrondissements of the city to find the hidden gems.
» You might like 26 Food and Drinks you Must Try in France and these Sublime Hotels With a View of the Eiffel Tower.
To that end, we have put together what we think is the perfect 3-day Paris itinerary for first timers, so you can see it all in a short time. Whether you only have a short time in Paris, or you'd like to take things slow and stretch this to a 7-day trip, you are free to shrink and expand the schedule to fit your needs.
Check out our shorter itinerary, if you only have one day in Paris. This itinerary is focused on the best of Paris sights, the well known Paris landmarks and attractions like the Louvre Museum, the Orsay Museum, the Eiffel Tower, the Notre Dame and many other must-see sights, and of course we always include food stops in our itineraries!
» We've also created a guide specifically for foodies so you can find all the great foodie things to do in Paris. Going elsewhere in Europe? Here's our 2-week Europe itinerary.
Need more help with your plans? Check out our Shortcut Travel Guide to Paris, with all the best things to do and see in one spot.
Things To Know Before You Go
Paris is a huge city with many different neighborhoods (called arrondissements). If you want to make it easy on yourself, stay near the center of the action in either 1, 2, 5 or 6. We highly recommend the Grand Hotel du Palais Royal.
You can expedite your schedule by taking the hop-on-hop-off bus to get to the major attractions. If you mark the sights you want to see on the map, you can get around the city fairly efficiently on the bus.
We recommend purchasing skip-the-line tickets when available. Standing in long lines can really wreck your schedule. If you buy skip the line tickets, you can walk past the crowd and get right in.
It's always best to make reservations for any restaurants you are set on going to. Paris is busy all the time and you don't want to be disappointed by being turned away.
Your Paris Itinerary
Sights You'll See Notre Dame, Seine River Cruise, Pantheon, Luxembourg Gardens, Rue Mouffetard Market
First Stop: Notre Dame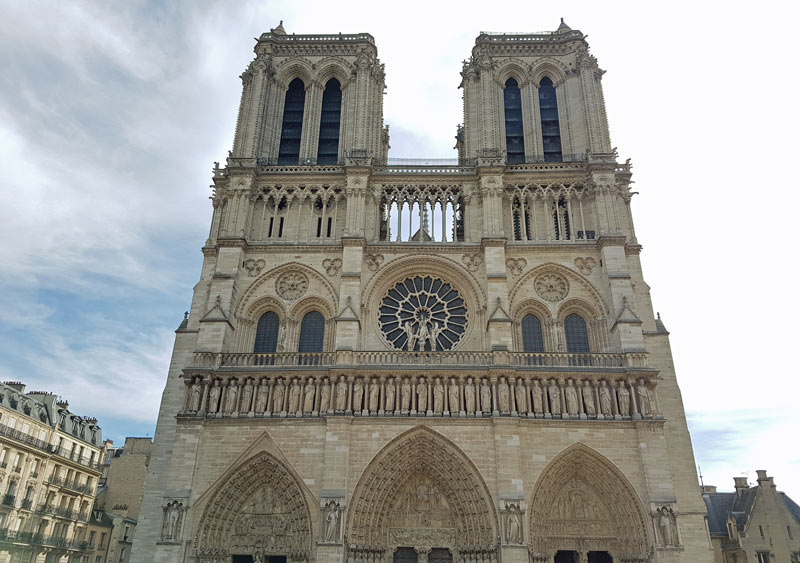 Notre Dame is a great first stop on your itinerary, because it's so majestic and it instantly makes you feel like you've arrived in Paris. The architecture is simply incredible.
Unfortunately, you can't currently go into Notre Dame due to the fire that destroyed sections of it. But you can still see it from afar. When you leave, walk along the south side of the river to see all the book sellers along the sidewalk.
Stop Two: Seine River Cruise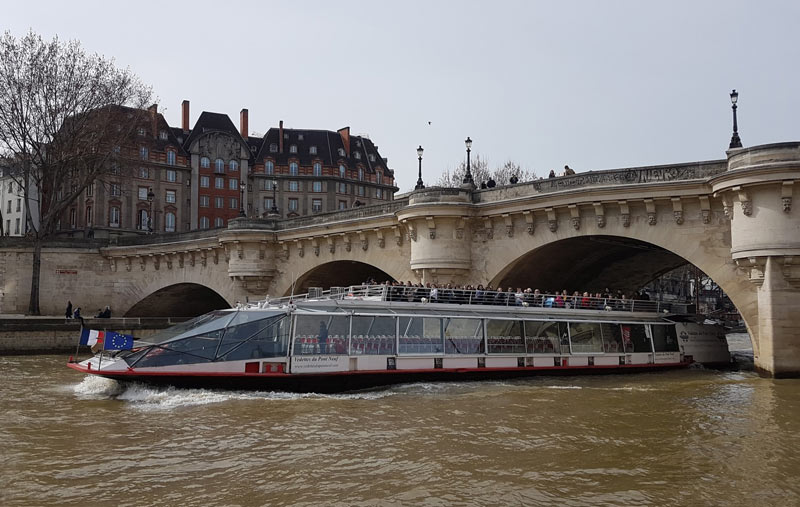 Flowing right through the center of Paris is the River Seine. Going on a river cruise will is a fantastic way to see the sites and be introduced to the interesting architecture along the banks of the river.
The cruise takes about 1 hour and passes by top sights like The Louvre, the Eiffel Tower, Notre Dame, and many more. The cruise is round trip, returning to the departure point.
There are two cruise lines you can go on: the Vedettes de Pont Neuf and Bateaux Parisiens. The Bateaux Parisiens Seine River Cruise is included in the Paris Pass.
You can also do a 2-hour Champagne cruise, if you have a little extra time.
Book in Advance: Bateaux Parisiens Cruise Quick Entry Ticket (from the Eiffel Tower stop)
Cost: 10€-20€ – depending on the cruise
On a side note, if you have time to actually visit the Champagne wine region, we highly recommend it. It's only a 45-minute train ride from Paris.
Stop Three: Pantheon
The Paris Pantheon is an iconic church located in the Latin Quarter that you can't miss as you walk by. It was originally built as a church dedicated to St. Genevieve but it's now a mausoleum housing the remains of some prestigious French citizens, like Victor Hugo and Marie Curie.
You can take a self-guided tour inside the building and up into the tower. There are also guided tours that you can prearrange.
Book in advance: Panthéon Admission Ticket and Self-Guided Tour

Stop Four: Luxembourg Garden
Jardin du Luxembourg, it's called in French. The gardens are located in the middle of the 6th arrondissement. It's a great place to stop for a break, or to admire the French and English gardens, fruit trees, pond and other features of the 25 hectares of gardens.
Stop Five: Rue Mouffetard Market
You've worked up a big appetite while walking around Paris, seeing the sights. Now it's time to feast your eyes and feed your stomach. Rue Moffetard is a narrow street filled with food. There are fruit and veg stands, but also tons of street food options, tourist shops, restaurants, bars, crepe stands.
You definitely should only go there on an empty stomach! I highly recommend picking up a crepe from one of the street stands. Nutella and banana is my favorite.
Sights You'll See Arch d'Triomphe, The Avenue des Champs-Élysées, Eiffel Tower, Wine Tasting at O' Chateau
Stop One: The Avenue des Champs-Élysées
The famous shopping street of Paris, where you'll find all the high-end fashion shops, is called the Avenue des Champs-Élysées. If you're a shopper, or just like to be immerse in the world of glamour and fashion, you must take a stroll down the avenue.
It's actually rather long, so you might want to look up particular shops you're interested in before deciding where to go.
Stop Two: Arch d'Triomphe
One of the most recognizable monuments in Paris, the Arch d'Triomphe stands proudly at the center of the Place de l'Étoile, at the western end of the Champs-Élysées.
You can walk around the monument and see the intricate detail that was carved into it's exterior, but you can actually climb up inside the Arch too. There are 40 stairs leading to the top that you can climb to get the view.
To get to the monument, you may think you have to cross all that busy traffic on the circle, but you don't (read: can't/shouldn't). There is an underground tunnel on the Avenue de la Grande Armee side of the circle.
Book in Advance: Skip-the-Line Arc de Triomphe
Cost: 8€ for adults, children under 17 free.
Hours: From April 1 to September 30: 10 a.m.-11 p.m. From October 1 to March 31: 10 a.m.-10:30 p.m.
Stop Three: Eiffel Tower
One of the main reasons people fall in love with Paris before ever even visiting is the Eiffel Tower. There's something captivating and romantic about it. It's probably the first thing you want to do when you arrive in Paris. I certainly couldn't wait to see it.
If you have time, be sure to pick up a baguette, cheese and wine to enjoy a little picnic on the lawn while you're there. Since this is one of the most popular things to see in Paris, you sometimes need to be strategic in your timing and planning.
I've been there when there were absolutely no lines to get in, and when there was a line that snaked so far into the distance that I couldn't even find the end. Typically, all peak travel times will have a line to get in – that's all summer. At other times are less likely to have lines.
If you want to take the elevator up, that section will have the longest lines. You can also take the stairs up and that line is often much shorter, or even none existent. It's only 1,710 stairs up to the first platform, after all! You can then purchase a ticket to take the elevator to the 2nd floor.
Book in Advance: Second Floor Priority Access with a Guide
Cost: Tickets vary in price from 10€ (stairs to 1st floor) to 25€ (lift to the top).
Hours: 9am to 12:45am
Stop Four: Wine Tasting at O'Chateau
Located in the 1st Arrondisemment, O Chateau is one of those places you never want to leave. The wine list is extensive, the bartenders are helpful and welcoming, and the space just feels so cozy and nice. When you've finished your sightseeing for the day, it's the perfect spot to pop into for a wine tasting, a snack and glass of your favorite French wine, or even for a full 4-course dinner.
⇒ Read more about this wine bar and the wine tasting dinner we had there. If you're interested in learning more about French wine, we suggest taking a day trip to Bordeaux from Paris.
Location: 68 Jean-Jaques Rousseau
Hours: 4pm-midnight. Closed on Sundays
Sights You'll See Louvre Museum, Tuileries Gardens, Fromagerie Donard, Sacre Coeur, Montmartre, Moulin Rouge
Stop One: Louvre Museum
There are many reasons the Louvre is one of the most visited museums in the world. It's also the largest art museum. If you want to see the Mona Lisa, plus many other unmissable and iconic pieces such like the Venus de Milo and masterpieces of the Renaissance, you'll have to save time for a stroll through the Louvre.
Be forewarned, the museum is incredibly large, with many different exhibits and sections to see. You may need to grab a map and plan out your course, in order to see the things you want. I'm fairly certain it would take you a week or more to see everything.
The best plan of action is to arrive right when it opens and spend up to 3 or 4 hours looking around. Then leave for lunch.
Book in Advance: Louvre Museum Skip the Line Access Guided Tour
Cost: 17€ quick entry (purchased online), 15€ at the door.
Hours: Open daily from 9h to 18h except Tuesdays, open til later on Wed and Fri.
Stop Two: Tuileries Garden
Located between the Louvre and the Place de la Concorde in the 1st arrondissement, is the Tuileries Garden which is packed full of sculpture, trees, pathways and plenty of grass to relax on once you've spent the morning walking through the Louvre.
The garden was built in 1564 by Catherine de' Medici. It was originally the gardens of the Tuileries Palace, but in the 1900s, it became a public park for everyone to enjoy. It's also a great place for a picnic!
Location: Place de la Concorde, in the 1st Arrondissement
Hours: Open from 7am. Closes at 7:30 in winter, 9pm in spring and fall, 11pm in summer.
Stop Three & Four: Sacre Coeur Basilica and Montmartre
One of my favorite sights in Paris is the Sacre Coeur Basilica. It looms in all its glory atop the tallest point in Paris, at Montmartre. The basilica was built in the 1800s and consecrated in the early 1900s after WWI. You will have a great view of the city from the area surrounding Sacre Coeur.
For an even better view, head inside and go up inside the dome for a 360-degree view of the city. There is also a crypt inside you can visit. Once you're done looking around the basilica, make sure you save time to wander around Montmartre.
It's one of the oldest and most interesting neighborhoods of Paris and has many little streets to get lost along. Of course, there's also a lot of tourist shops and scam artists to avoid, but if you can manage to look past all that you may see just why this area is so beloved.
Cost: Admission to the Basilica is free and there's a free audio guide you can download to augment your visit. Tickets to dome and crypt are 8€ for adults
Hours: Open from 6am-10:30pm every day. The dome is accessible from 9am-7pm in the summer and to 6pm in the winter
Stop Five: Moulin Rouge
If you have time in the evening and are interested in a little entertainment, put aside your disdain for touristy things and go to see the Moulin Rouge. It was created in 1889 and has become the most popular caberet show in the world.
The scene is set in belle époque style, with elaborate design, costumes and music. You can enjoy a gourmet French meal while you watch the show, complete with Champagne! It's a great way to spend an evening in Paris.
Hours: There are 3 shows each evening, at 7, 9 and 11pm. The dinner show is at 7pm only.
Location: 82 boulevard de Clichy, Montmartre – La Chapelle – 18e Arrondissement
Cost: Tickets vary from 80€ to 220€, depending on which day and show you want. Dinner tickets are more expensive. Note that proper dress is required. Suit and tie is recommended. No shorts, sportswear, flip flops are allowed.
Where to Stay in Paris
Hotel La Tamise – Esprit de France
4-star hotel with a bar and free wifi, located in the 1st arrondissement.
Lyric Hotel Paris
Comfortable 4-star hotel with and indoor pool and free wifi, located in the 2nd arrondissement.
Saint James Paris – Relais et Chateaux
5-star luxury hotel with a spa and free wifi, located in the 16th arrondissement.
Tours to Book:
CONCLUSION
We know you're going to love this 3 day Paris itinerary. It's a great way to start enjoying the city. If you can make it through all of these top sights to see in Paris, you'll be ready to tackle the next layer of interesting thing to do in Paris.
As we've found from multiple trips over the years to Paris, there are many layers you need to peel back to fully appreciate this wonderful city.
Quick. Check these necessities off your prep list!
Like this post and want to save it for later? Pin it to your Pinterest board!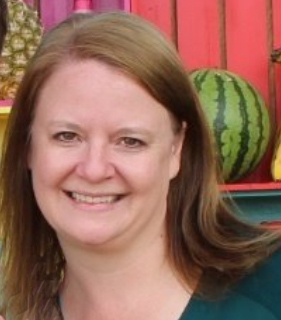 Laura Lynch, creator and writer of Savored Journeys, is an avid world traveler, certified wine expert, and international food specialist. She has written about travel and food for over 20 years and has visited over 75 countries. Her work has been published in numerous guidebooks, websites, and magazines.