Killarney is located in County Kerry in the southwest of Ireland. It's a destination along the Ring of Kerry drive. It's also home to the Killarney National Park, which was the first national park in Ireland. So you can see why it's a top destination for travelers to visit in Ireland.
The cute town center is well set up for tourist and there are many hotels, ranging from hostels to 5-star. There are plenty of things to do in Killarney, from shopping to hiking, but one of my favorite things is just walking around the city center.
You might find Killarney to be a bit touristy. The shops on the main drag clearly cater to tourists, but that is because it sees many visitors, year round. Embrace it. Love it for what it is – a cute and charming Irish small city.
» Also read our guide to day trips in Ireland's Ancient East, and the best road trips around Ireland.
Planning Your Ireland Vacation
Many of the country's most beautiful sights, like the Cliffs of Moher, the Ring of Kerry, or the Dingle Peninsula, are in rural areas. Public transportation can be sparse in these areas, so consider renting a car. However, remember that driving is on the left in Ireland! I recommend booking through DiscoverCars.com to get the best rate.
Most travelers spend about a week in Ireland. If you have more than 7 days to spend, you'll be rewarded with the ability to spend more time in each destination, so the route will feel more relaxed, and you'll have time for more activities.
Ireland can be quite wet and cold, particularly in the winter months (October to February). However, summer and autumn can be pleasantly warm. Spring, particularly May, is one of the best times to visit. Each season offers different experiences, so consider what you want to do and see in Ireland before you plan your visit.
Top 10 Things to Do in Killarney
1. Killarney National Park
Killarney National Park is a great place for outdoor adventures. You can hike the many trails, take a boat trip on one of lakes, see some of the islands, and maybe even spot some of the red deer that, in Ireland, can only be found in the park.
The park really is one of the most beautiful and admired national parks in the world. It was the first national park established in Ireland, in 1932. The park itself is part of the popular Ring of Kerry drive, with some of the main points of fascination being the magnificent views of the Lakes of Killarney and Black Valley.
It's also home to the tallest mountain in Ireland – Carrauntoohil, at 3,406 feet – and the popular Torc Waterfall.
2. Walk Around Town
Killarney is the second largest tourist destination in Ireland, so the town caters to tourists with its many souvenir shops, restaurants and bars. There are only a couple of streets, so it's easy to navigate and it always feels quite lively.
You can make a day of walking around the small city center, and have a fun evening at one of the many lively bars along the strip. We enjoyed an evening of delicious cocktails at John M. Reidy. It's a huge sprawling bar with lots of outdoor space in the back.
3. Visit Ross Castle
You can take a tour of the 15th-century tower and gardens on Lough Leane, one of the three lakes around Killarney. It is considered to be a typical example of a stronghold of an Irish Chieftain during the Middle Ages.
Aside from the castle, you can also embark on a boat ride or cruise from Ross Castle. And there's a wonderful walking look trail that takes you past some of the world's oldest copper mines and open mine shafts, some of which date back to 2400 BC.
4. Visit Muckross House
This is a popular attraction in Killarney, so you'll want to plan to arrive early, so you can get tickets, especially during the busy summer season. The house is located about 6km from the town center. The Muckross House was built in 1843 and is a great example of Tudor architecture.
The house itself was a private residence until 1932, but was then donated to Ireland and is now open to the public for tours. The house is only one of the attractions. There's also a large garden, abbey, and traditional farm. The tour of the inside of the house is the highlight of the visit.
You can sign up for an hour-long guided tour that starts every 30 minutes during high season.
Tickets cost €9.25 for adults and €6.25 for children ages 13 to 18 (children 3-12 are free). Hours vary by season so be sure to check their website before you go.
5. Ring of Kerry
As previously mentioned, Killarney is a stop along the Ring of Kerry. If you have time to add the Ring of Kerry drive to your itinerary, you won't regret it. The drive is 125 miles and takes at least 5 hours, more with stops. If you don't have time for the whole drive, you can embark on parts of it that are nearest to Killarney.
Typically Killarney is the starting point for the ring drive. We highly recommend Ladies View, one of Irelands best known panoramas. It's a 25-minute drive from Killarney, and you'll pass Muckross House and the Torc Waterfall on your way.
The name of this place comes from the pleasure expressed by Queen Victoria's Ladies-in-Waiting on their visit here in 1861. You'll find that a lot of things were named for or after Queen Victoria. If you want to go a little farther along the ring road, you can also make stops at Molls Gap.
6. See Torc Waterfall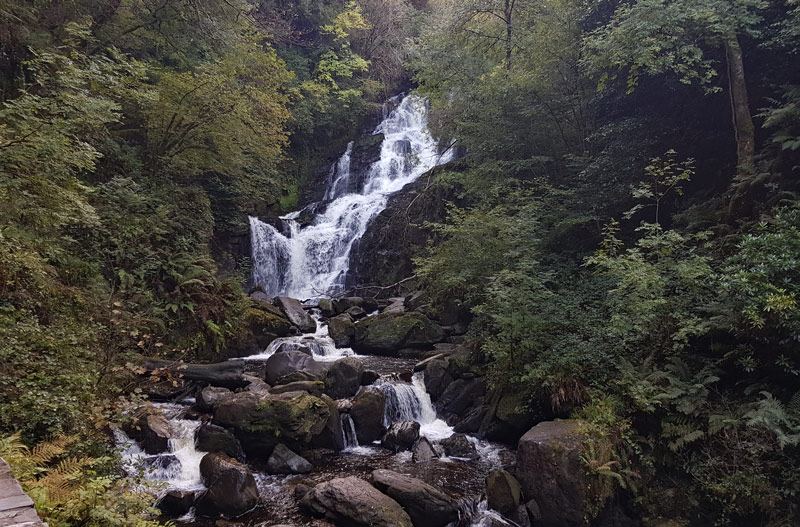 Just a quick 5 mile drive outside the city is the base for a walk up to the impressive Torc waterfall. It's a not-too-strenuous hike up the path to the base of the waterfall. If you're a photographer, you'll particular love this place.
The scenery that surrounds is stunning. Something to remember is that Torc Waterfall is at its best just after a lot of rainfall. In the summer and fall, it will likely have less impressive levels of water.
7. Gap of Dunloe
The Gap of Dunloe is a scenic and historic mountain pass in the Wicklow Mountains in Ireland. It was originally used as a trade route and dates back to at least the Middle Ages.
The road leads past Lough Tay and into the dramatic scenery of the Gap of Dunloe, a narrow mountain pass in County Kerry, and on to Valentia Island off the coast of Kerry.
It's a lovely place to visit, but if you want to hike it, be warned: It's not the easiest hike in Ireland. The Gap of Dunloe is about 10 miles long, with an average width of about 100 yards. It's a popular tourist destination for day-trippers from Killarney, but it takes at least three hours to hike from one end to the other.
8. Ladies' View
One of the most picturesque places to visit near Killarney is Ladies' View, with a lovely look at the views down to Killarney and the lakes of Killarney.
Ladies' View is a scenic spot on the Ring of Kerry in County Kerry, Ireland. This panoramic view overlooks the town of Killarney and the lakes and mountains beyond. The view from this spot is said to be one of the most beautiful in Ireland.
9. Killarney Falconry
If you're looking for something unique to do, then a falconry experience with Killarney Falconry is perfect. It's an unexpected and unforgettable experience where you get to be with these trained wild birds in the forest. During the experience, you'll get to learn all about these wonderful creatures, hear about wild prey, and learn how to release your own hawk or training the hawk to catch prey.
No experience is necessary and the lessons you're given are a great introduction to falcons, their way of life, and the training they receive. It's meant to be a fun and memorable time.
10. Killarney House & Gardens
Killarney House, built by Valentine Browne in the mid 1720s, as a stable block for the mansion built next to it, has been carefully restored to its former glory and is a great starting point for visiting Killarney National Park. You can visit the interior of the house and see the exhibits and you can walk around the gardens as well. Combine this with your visit to Muckross House and Ross Castle.
Where to Eat in Killarney
You may be thinking that all you're going to find to eat in Killarney is over-boiled beef stew, but that is a very outdated notion. Killarney, like most of Ireland these days, is full of great dining options.
Here are a few recommendations:
Fish & Chips: Quinlan's Seafood
Fine dining: The Park Restaurant
Easy, on the go deli & bakery: Jam
Best cocktails in town: John M. Reidy
Where to Stay in Killarney
I highly recommend staying at the Killarney Park Hotel. It's the only 5-star hotel in the city center, and you really can't beat it for luxury and convenience. It was the most comfortable hotel bed I've found in a long while.
The service is fantastic. Breakfast is wonderful. And it's right in the city center. As they put it so eloquently on their website, "Old-world elegance meets modern day luxury in the family-owned Killarney Park Hotel".
⇒ Read reviews of the Killarney Park Hotel on Tripadvisor.com.
CONCLUSION
Killarney is a cute little town that makes a great base for seeing so many other things in the southern part of Ireland, so we think it's not to be missed on your travels. If you've been and have some recommendations to share, please do so in the comments.
Like this post? Why not save it to Pinterest?
FOLLOW US on Pinterest, Instagram, Facebook for more great travel inspiration and tips.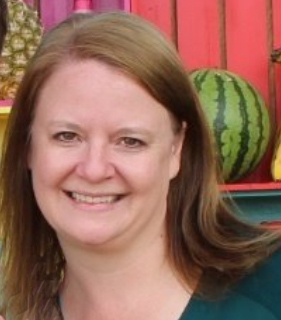 Laura Lynch, creator and writer of Savored Journeys, is an avid world traveler, certified wine expert, and international food specialist. She has written about travel and food for over 20 years and has visited over 75 countries. Her work has been published in numerous guidebooks, websites, and magazines.