There are numerous reasons to spend a week exploring southwest England. You'll be mesmerized by luxury castle hotels, fed well by talented chefs serving stunning food, and enthralled by adorable towns all along the way. It's an incredible region to discover, especially for first-timers.
We think spending a full week in the area is necessary to see all the highlights, keeping in mind that there are long distances to drive in order to get out to the farther reaches. Our 7-day southwest England itinerary will cover all the parts we think you must see, and includes some of the best hotels we've ever stayed in.
In case you aren't familiar with the southwest of England, it is one of nine official regions of England. The largest in area, it covers 9,200 square miles and encompasses the counties of Gloucestershire, Bristol, Wiltshire, Somerset, Dorset, Devon and Cornwall, as well as the Isles of Scilly.
See more:
How to Get to the Southwest of England
If you're traveling internationally, it's more likely that you'll need to fly in to Heathrow and rent a car from there (I always use Discovercars.com for rental cars to get the best deals); the drive to Bath is only about 1.5 hours. You can also take the train from London, if you don't want to drive, but I don't recommend it because to get around the area easily, you'll need a car.
The most efficient way to arrive in the heart of the southwest is to fly into Bristol, England. It's a smaller airport than Heathrow, and will put you right where you need to be.
Southwest England: 7-Day Itinerary
You're going to quickly realize that there are more places to go and things to see in the southwest of England than you could possibly cover in a year, much less one week. As with any great destination, you have to pick and choose the activities that fit your vacation style.
For us, that often includes eating at top restaurants, checking out the beer and wine scene, staying at remarkable hotels and exploring cities and towns along the way.
This 7-day itinerary covers most of the counties in the region, with stops in:
Bath
Bristol
Newquay
Fowey
South Brent
Castle Combe
The daily layout of the trip looks like this, but you can arrange it however suits you. It does involve a bit of driving, so we set out the itinerary to keep the driving to a minimum each day.
Day 1: Arrive in London, drive to Stonehenge
Day 2: Explore the city of Bath
Day 3: Explore the city of Bristol
Day 4: Drive to Cornwall and explore Newquay
Day 5: Drive through Cornwall on the way to Devon
Day 6: Drive to Dorset and explore
Day 7: Drive back to London or Bristol to depart
The hotels we suggest are all unique and remarkable places to stay in the affordable-luxury to luxury price range. We found that each place has a range of room prices to fit your budget, and are more affordable than you might think.
You can substitute other hotels (and we'll provide alternative suggestions), but I highly encourage you to book at the recommended hotel, because they are a big part of what makes this itinerary so special.
Day 1: Arrive in London (rent a car)
Stonehenge
I'm happy to report that Stonehenge really is as impressive as it looks in pictures. Dating back at least 4,500 years, Stonehenge was not something that was built over a short span of time. In fact, it was likely built up and added to continually over thousands of years, as the rituals of the people and ceremony it was used for evolved.
Perhaps we'll never really know the real history behind the construction of the monument, but you will definitely get a glimpse into the theories and evolution of the area at the Visitor Center.
→ Check out our tips for visiting Stonehenge.
It's just over an hour's drive from both Bristol and Heathrow airports. Plan to spend about 2 hours exploring the area and looking through the exhibits. There is a downloadable audio guide that you can use to explore the area. If you don't have a data plan or local SIM card, you'll need to download it in advance when you have wifi. Bring headphones!
Stay at Lucknam Park Hotel
Set in an 18th-century Palladian mansion on 500 acres, Lucknam Park Hotel is only 10 miles from the city of Bath. A true 5-star country estate, Lucknam Park not only delivers on luxury, it also hits that elusive mark that typical 5-star hotels don't often reach, which can only be explained as the "it" factor.
You can tell from the moment you drive up to the house that your expectations will be exceeded. Lucknam Park also has a Michelin-star restaurant that is an absolutely must. Check in by 5pm to be prepared for the cocktail hour in the lounge before indulging in a multi-course chef's menu.
Alternative hotel: Brooks Guesthouse in Bath is located within walking distance of the main attractions in town. If you prefer to be closer to the action, it's a comfortable choice that feels more like home.
Day 2: Explore the City of Bath
Bath, England, has the ability to charm you from the very second you arrive and engulf you with its vast history. The Georgian architecture prevalent throughout the city is one of its most-significant features, along with the historic Roman Baths and towering Bath Abbey.
You can easily spend 2 days in Bath exploring and enjoying the many restaurants. Top activities include walking through The Roman Baths, stopping for afternoon tea at The Pump Room, soaking in the thermal waters of the Thermae Bath Spa and enjoying a delicious dinner at The Circus Restaurant or The Raven pub.
Be sure to see these attractions in Bath:
Bath Abbey
The Roman Baths
Thermae Bath Spa
Pulteney Bridge
Fashion Museum
→ Check out our extensive 2-day itinerary in Bath for full details. Here's a video of Bath to entice you.
Stay at the Manor House Hotel in Castle Combe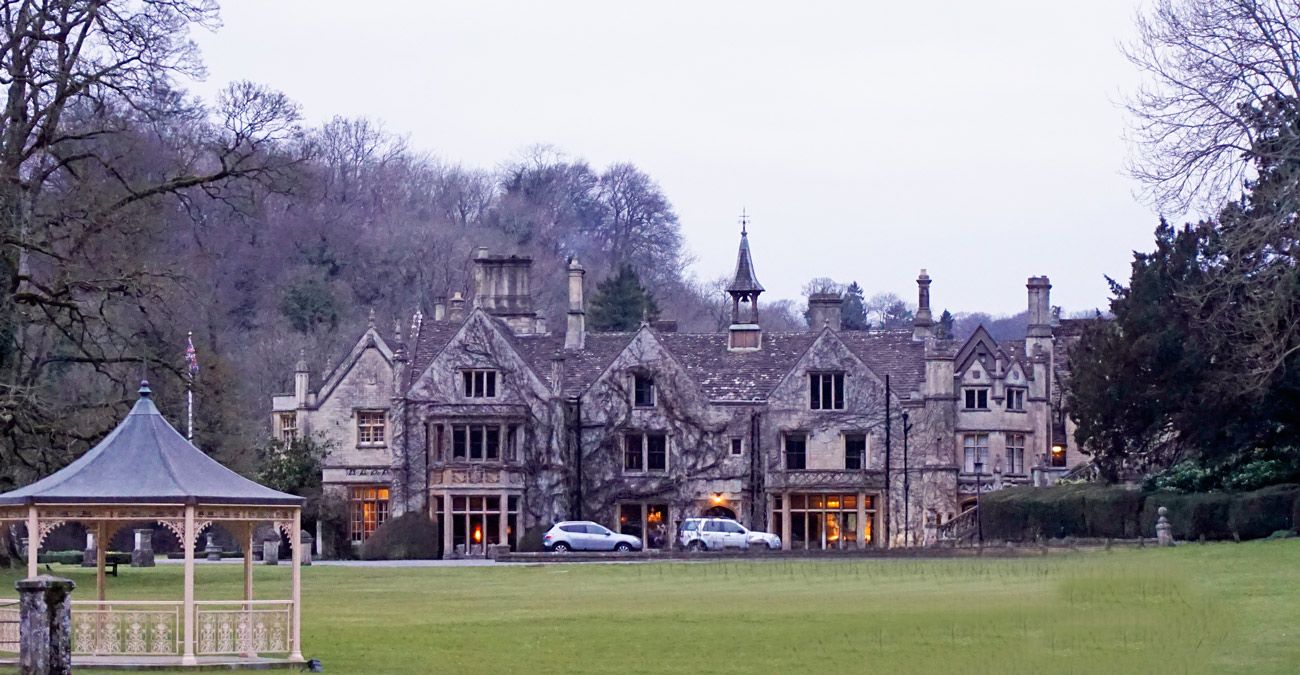 You could spend a second night at Lucknam Park, but a move to the stunning Manor House Hotel in Castle Combe is well worth the effort. The grounds are breathtaking and the hotel exudes luxury through and through. Our suite was beautiful. There are no other words.
Each suite is individually designed and unique. You will really feel like you're staying in a castle. Even the walk down the hallway to the suite is enchanting. The only thing we wished was that we'd spent more than one night here. Whatever you do, be sure you book into the restaurant for dinner (see below).
The evening begins with cocktails in the elegant lounge, where you'll place your dinner order before moving into the dining room.
The Bybrook Restaurant, located in the hotel, has a Michelin star and will surely wow you. The dining room is beautifully decorated. The chef, Robert Potter, and his crew artfully create seasonal dishes using local ingredients and each dish can be paired with the perfect wine.
It's a meal you won't forget. Open for dinner from Sunday to Thursday from 6:30pm – 9:00pm and until 9:30pm on Friday and Saturday.
Day 3: Explore the City of Bristol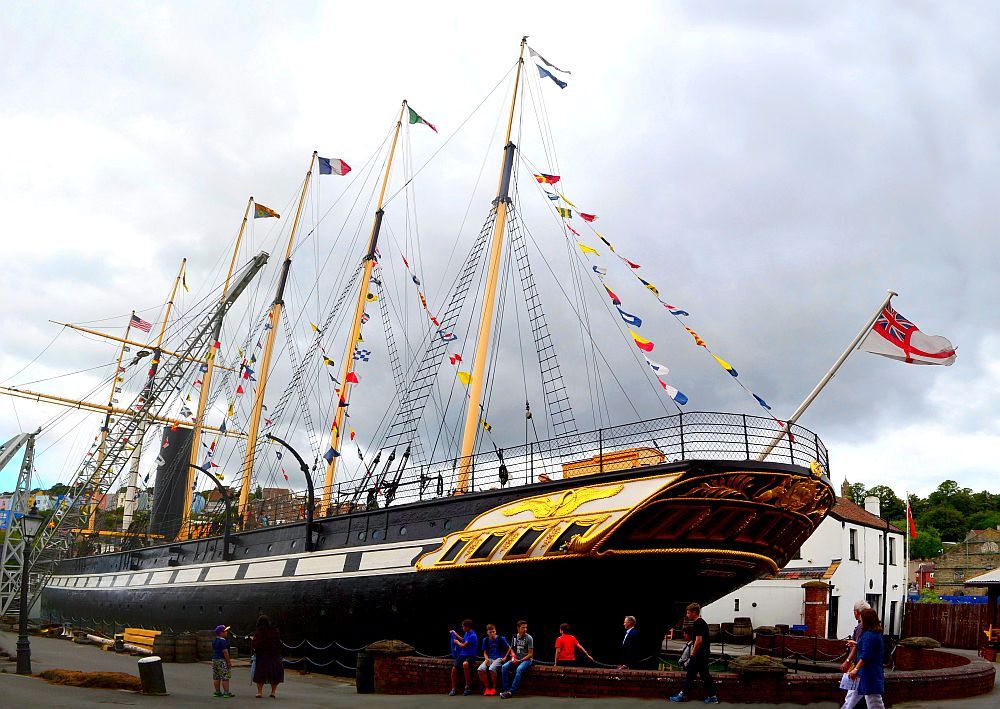 Bristol is located along the River Avon and the old industrial port is now home to lively restaurants and museums. There are a lot of great museums and cultural areas of the city to walk around. If you arrive there with a rough plan, you'll be able to get around to everything you want to see in just two days in Bristol.
Here are a few of our favorite activities in Bristol to get you started: Go on a Bristol Street Art Tour, walk around the harbourside, see the SS Great Britain, learn about Bristol's history at M Shed, eat lunch in the harbourside area.
Be sure to see these attractions when visiting Bristol:
Brunel's SS Great Briton
Cabot Tower
M Shed
Bristol Museum & Art Gallery
Cabot Circus
Harbourside Area
→ Check out our post on how to spend your time in Bristol for more information.
Stay at Thornbury Castle Hotel
Thornbury is the only Tudor Castle hotel in England. It was once owned by King Henry VIII, after he took it from his cousin whom he'd declared a traitor and ordered beheaded. Thornbury Castle Hotel has a long and storied past and it's one you'll want to discover for yourself.
» Book your stay at Thornbury Castle.
Located just 25 minutes from Bristol, on the edge of the Cotswolds, sharing meticulously landscaped grounds with the extraordinary St. Mary's Church just a few steps away, Thornbury Castle Hotel will be one hotel you will never forget. Each room is uniquely designed with modern conveniences, while retaining the historical details and allure.
You can choose to stay in the Duke's bedchamber, where King Henry and Anne Boleyn slept in, or the grand Tower Suite, that can only be reached by a 77-step spiral staircase. You'll also want to save plenty of time for pre-dinner cocktails and dinner at the restaurant.
Day 4: Drive to Cornwall and Explore Newquay
Cornwall is great for its relaxed atmosphere and, of course, its beaches. It's a great place to go and spend time with the family, switch off those devices, and just enjoy time together.
This particular shot is taken from close to the open air Minack Theatre, close to Land's End, although my favourite stretch of the Cornish coastline is at Bedruthan Steps further north."
Cornwall stretches down along the north, west and south leg of England. It covers a lot of territory, many gorgeous beaches and cliffsides, and dozens of little towns that are worth exploring. With only a week, you obviously can't see it all, so we recommend getting on the freeway and heading straight down to Newquay on the north coast.
There are some truly fantastic views in this area of Cornwall, including the Bedruthan Steps, which you'll find just north of Newquay. While you're there, here are a few more things to do in Cornwall.
When you stop at the Bedruthan Steps, make sure you save time for cream tea at the Carnewas Tea Rooms. It has been family-owned and operated for more than 40 years. The scones are made fresh multiple times per day. The clotted cream, which is amazing, is locally made, along with the jam.
We were served four enormous scones, fresh from the oven, along with a cup full of strawberry jam and clotted cream. The instructions in the menu kept us from making the terrible mistake of spreading the cream on first and the jam on second. In Cornwall, the only appropriate order in which to dress a scone is jam first, cream second.
Being a beach destination, Newquay has many water-related activities to enjoy, like fishing, surfing, and paddleboarding.
You can take the surf rider train around town to see the attractions like the Newquay Zoo or Blue Leaf Aquarium. Or visit one of the many adventure parks nearby, like the Zorbing Park or Holywell Bay Fun Park. It's easy to spend a day – you'll likely want to spend a week!
Stay at the Fistral Beach Hotel
Perched up on the hillside in Fistral Bay, the Fistral Beach Hotel & Spa has a commanding view of the ocean, and even better it's an adults-only hotel. It's very close to the beach for a morning or afternoon walk and only 2 miles from the town of Newquay.
Get a room with a view and hang out on the balcony to enjoy the stunning view. The room includes a large tub, and the hotel has a fantastic spa, as well as a nice modern bar to enjoy. The restaurant also has a fantastic view and serves great food. We had fish and chips and a plate of chicken wings that were really tasty.
Day 5 – Leisurely Drive Through Cornwall
There are some other fun things to do in Cornwall, so we recommend stopping off at a couple of places on the drive from Cornwall to Devon. One of these activities is The Lost Gardens of Heligan – the most popular botanical gardens in the UK.
For the small entrance fee, you can wander around 200 acres of gardens in many different styles, and even visit the iconic sculptures: The Giant's Head, Mud Maid and Grey Lady.
It's easy to spend a full day at the gardens, but if you keep your visit to a couple of hours, you'll have time to visit the seaside town of Fowey. It's not a big place, but during the tourist season, this little town is a great stop along the way to Devon.
Park the car and have a look around at the shops, hop on a boat ride around the port, and have a cream tea at one of the restaurants. You'll be able to see it all in a couple of hours.
If you'd like to stay a night in Fowey, The Old Quay House is the perfect place to park yourself for the night. They even have a lovely restaurant and views to match. After leaving Fowey, head to Devon, where you'll find the most charming hotel you've ever seen – the Glazebrook House.
Stay at Glazebrook House Hotel
I have never felt as welcomed or as dazzled as at the Glazebrook House Hotel in Devon in the UK. The extremely well-curated design of the two-year-old hotel, combined with the inspired Alice in Wonderland-themed rooms, and the hospitality of the owners makes this not only a truly remarkable hotel, but a memorable one as well.
» Book your stay at Glazebrook House Hotel.
Exquisite and impeccably designed surprises reveal themselves around every corner of the house. Hospitality is second nature for all of the employees at Glazebrook House. You'll never feel more at home than here.
The staff of talented chefs have designed a menu that is nearly impossible to choose from, given the many great options. We ordered as much as we thought we could eat, and I still wanted to order more.
Day 6: Drive to Dorset and Explore
From the Glazebrook House, it's just about a 1-hour drive to the first stop in Dorset. I asked my fellow travel bloggers to share their thoughts on the best places to visit in Dorset and two popular destinations were mentioned – Charmouth and The Durdle Door.
Stop 1: Charmouth
The sleepy village of Charmouth on the Dorset coast is often overlooked due to its neighbouring big brother Lyme Regis. Lyme Regis with its unique sea front, slopping hills filled with Georgian shop fronts is a popular place for filmmakers and holiday goers alike.
I, however, prefer Charmouth – otherwise known as the Jurassic capital of England. Its beach is famed for towering sandstone cliffs and fossil discoveries many of which are now housed in the British Museum. The beach is so prolific in fossils that if you take a spade and bucket down you are more than likely to find something.
On the beachfront there is a centre dedicated to helping tourists and enthusiasts find a fossil, which if you have never hunted for fossils is a great resource.
During the summer months there is a weekly trash and treasure market in a field at the end of the village – it is more an excuse for everyone to get together and eat ice cream and buy 5 t-shirts for a Pound, but it is a lot of fun and a great chance to meet the locals.
The rest of the time you can usually meet the locals rambling along one of the many beautiful walks that circle in and around the village… usually stopping at a blackberry patch.
Stop 2: Crab House Café in Weymouth
Situated in a breathtaking part of Dorset looking out over Chesil beach and the Isle of Portland is The Crab House Café. They have their own Portland Oyster beds just a stone's throw from the restaurant. It's a fantastic place to stop for lunch.
Stop 3: The Durdle Door – the Jewel of the Jurassic Coast
Durdle Door is probably the most famous place to see in Dorset. It's an arch carved by the sea in the cliffs, creating the illusion of a door towards the infinite of blue behind it.
What makes it more special is the fact that it's not easy to get to it. From Lulworth Cove, where the parking is, you have to climb a hill of stairs and then follow the path up and down the cliffs for about 20 minutes until you will finally reach it.
You can reward yourself with an ice cream from the mobile parlor on top, and then go down to the beach.Durdle Door is best experienced at sunset. I like to go there and just relax on the beach, see the sun going down and the sky changing from blue to orange and then red, letting the night take over.
It's a beautiful place to meditate. You can also take a stroll on the beach but remember to research the tide times, as the end gets all covered by the sea at high tide. If you feel fit, you can hike the cliffs from Durdle Door all the way to Weymouth. It's a wonderful experience in a sunny summer day.
Stay at the Summer Lodge Country House Hotel
The award-winning Summer Lodge Country House Hotel is a truly luxurious five-star country house hotel. The property sits within glorious countryside in the picturesque village of Evershot. It was voted 'No.1 Hotel in The UK' and 'No.2 in Europe' in the Condé Nast Traveller Readers' Choice Awards.
» Book a stay at the Summer Lodge Country House
Alternate Hotel: If you're enjoying the Jurassic Coast too much to leave, you'll want to stay at Mortons House Hotel, a 16th-century Elizabethan Manor House Hotel in the village of Corfe Castle in the Isle of Purbeck.
Day 7: Drive back to London or Bristol to depart
Unfortunately, that's the end of our 7-day southwest England itinerary. It's time to return home. If you have a later flight, I recommend sticking around the Jurassic Coast in Dorset for as long as you can, soaking up the beautiful views. Heathrow airport is about 2.5 hours drive and Bristol is 1.5 hours.
Don't forget to leave plenty of time to return your rental car and get through security! Like this post? Please add it to your Pinterest board and share it with your friends!
A big thank you to VisitBritain for hosting our stay at these incredible hotels. See all the coverage of our trip to the south west of England. (As always, all thoughts and opinions expressed in this post are my own honest reflection on our travel experiences.)
Like this post? Why not save it to Pinterest?
FOLLOW US on Pinterest, Instagram, Facebook for more great travel inspiration and tips.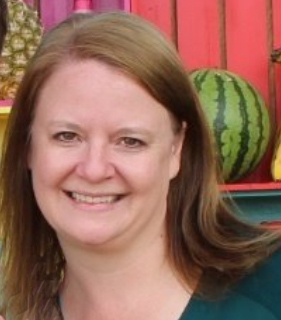 Laura Lynch, creator and writer of Savored Journeys, is an avid world traveler, certified wine expert, and international food specialist. She has written about travel and food for over 20 years and has visited over 75 countries. Her work has been published in numerous guidebooks, websites, and magazines.