Asia is a stunning tapestry of ancient civilizations with diverse landscapes, gleaming skyscrapers, sprawling metropolises and gorgeous beaches. It's also one of the most intriguing destinations for travelers from the United States, because it's an undiscovered land for many of us.
If you're planning to spend some of your vacation time on an Asia vacation, you'll want to start exploring all the possibilities and options.
We have loved traveling to Thailand and Singapore the most out of the options we've listed below, but Vietnam and India have a loved place in our hearts too. This is due to the multitude of great experiences and delicious food that build lasting memories.
Here are seven incredibly spectacular travel destinations in Asia that we know you'll love. It's time to start planning your dream trip to Asia!
Destinations You Must Visit in Asia
Indonesia
Bali, in Indonesia, is more than just pristine beaches and spectacular temples. It is a mosaic of breathtaking mountains, vast rice fields, sacred rivers, magical waterfalls, and fascinating culture. Whether you are looking for profound spiritual enlightenment, endless parties, topnotch surfing sites, or satisfying culinary experience, this world-renowned tropical island has something to offer.
You will never lack for luxurious accommodations in Bali, from exquisite resorts perched in tranquil and lush highlands to ultra-exclusive hotels set on cliffs overlooking the immense blue ocean to quaint villas built in the traditional Balinese style.
Like its innumerable attractions, Bali has a plethora of food choices – from the simple to the complicated. These include mi goreng, fried noodles served with vegetables, pork, chicken or seafood; sate ayam, skewered chicken marinated in spices, barbequed, and usually served with peanut sauce.
There's also the babi guling, roasted pork stuffed with coriander seeds, lemongrass, chilies, black pepper, and ginger. After a hearty meal, it is time to explore the unique wines in Bali. Try Arak, a type of distilled liquor traditionally made from sugarcane.
Tours to book:
India
India can be perplexing and frantic, but it exudes an appeal that surprises, amazes — and, inevitably, draws you back. A luxury holiday in India radiates a magnetic pull with its captivating heritage, bustling bazaars, sophisticated cities, fiery sunsets, exceptional boutique hotels, and delightful cuisines that are distinctly Indian.
Just like many countries, India has a diversity from north to south, east to west, that changes rapidly. If you visit North India, you'll see and experience cultural differences from South India. This is why a train journey through multiple regions can be the best way to go.
You'll want to learn a bit about eating in India before you go. From breakfast staples to sugary desserts, the region never runs out of sumptuous and unforgettable dishes. For breakfast, try dosa, paper-thin crepes made of fermented rice-and-lentil batter, usually eaten with sambar (hot lentil soup) and coconut chutney; idlis, steamed rice cakes; vada, crispy, deep-fried, savory donuts.
Tours to book:
Vietnam
Vietnam is home to alluring landscapes, vibrant culture, bittersweet history, warm-hearted people, and the world-famous Pho. There is more to Vietnam than food, however the country's cuisine does make Vietnam a popular destination not only for adventurous travelers but also for food enthusiasts.
Vietnam is known for its beaches, rivers, Buddhist pagodas and bustling cities. Hanoi, the capital, is a great place to go for food lovers, while Ho Chi Minh is always full of energy and excitement. Halong Bay is one of Vietnam's top tourist draws thanks to its unique limestone peaks.
The best place to find great food in Vietnam are at bustling street markets, roadsides cafeterias, and nondescript-looking restaurants. Be sure not to miss Banh Mi, a baguette filled with meat, pate, cucumber, coriander, pickled carrots, and radish, combined with chili and mayonnaise.
Try Bun Cha, a dish of vermicelli noodles dipped into bowls of ground and whole pork soaked in a sauce made of fish sauce, sugar, and vinegar. Vietnam's wine culture may not be as extensive as its cuisine; however, it does have a few remarkable locally made wines.
» Experience the Wonders of a Fabulous Mekong Delta Cruise.
Tours to book:
Thailand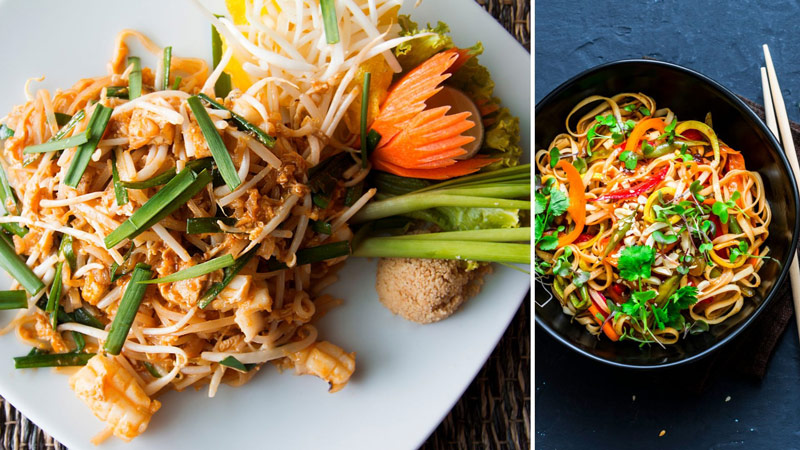 Whether you're a first-time traveler or a seasoned backpacker, you can never go wrong with Thailand. The country is abundant with splendid beaches and amazing natural wonders, but it also has a wide array of luxury hotels and a pulsating nightlife.
Bangkok is a great starting point for any trip to Thailand. One of the biggest attractions in Thailand is, arguably, its incomparable cuisine. It offers such a wide variety, the options seem infinite, from tom yum goong (shrimp soup) to tom khai gai (chicken in coconut soup), som tam (green papaya salad) to yam talay (seafood salad), and pad thai (Thai style fried noodles) to pad see eiw (thick noodle dish). And the best place to experience the street food is in Bangkok.
After the bustling city, you'll want to unwind a little in Chiang Mai where culture and history will sweep you off your feet. You'll also want to take a cooking class, and attend the Sunday market, which is one of my favorite markets in the world.
Finally, no visit to Thailand is complete without a stop in Phuket. You can have a very quiet and relaxing or luxury experience in Phuket, or you can party all night on the beach in Patong.
Tours to book:
Sri Lanka
Sri Lanka has been dubbed the Pearl of the Indian Ocean, and rightly so. Not only does it feature ancient temples and forts, picturesque coastline, lush jungles, and verdant tea plantations, it also has its fair share of luxurious boutique hotels, superb beach and mountain resorts.
It may come as a surprise, but Sri Lanka has all the makings of an ideal luxury holiday destination. You can stay at the Galle Face Hotel in Colombo and sip tea as you watch the sun set over the Laccadive Sea. Take a stroll along Galle Fort, a UNESCO-protected site, famous for its colorful streets, curious cafes, swanky bars, and amazing view of the sunset atop the fort walls.
Make sure you experience a wildlife safari in one of the country's national parks, or relax at a gorgeous beach in Sri Lanka's southern coast. A luxury trip to Sri Lanka is incomplete if you don't indulge in its flavorful cuisine.
Curry paired with rice is Sri Lanka's quintessential dish, so it's unsurprising that all kinds of curry – from dahl to chicken to jackfruit – are available in almost everywhere in the country. Being an island, Sri Lanka has an excess of seafood. Be sure to try its barbequed fish, prawns, lobsters, and crabs.
Tours to book:
Philippines
Comprised of 7,107 islands, The Philippines is often associated with pristine beaches and postcard-worthy islands. But the country is more than just a conglomeration of beautiful beaches and idyllic islands. It is a hoard of stunning landscapes, diverse wildlife, rich heritage, thriving cities, rustic countryside, and resplendent festivals.
Philippine cuisine may not be as well known as that of Thailand or Vietnam. However, it deserves recognition for creatively infusing European, American, and Asian influences.
Philippine cuisine unapologetically combines unfamiliar flavors that result in unpretentiously delicious, albeit often unhealthy, dishes. Take, for instance, the world-famous lechon, the iconic adobo, the heart-warming sinigang, and the exotic balut.
The cuisine is not for the faint of heart, literally and figuratively. It is, however, a gastronomic adventure worth undertaking. Like its cuisine, Philippine wines range from ordinary to downright odd, from tuba, the country's oldest recorded alcoholic drink, to coffee wine, the first in the world, to mango wine which is known for its fruity aroma and smooth flavor.
» See more things to do in the Philippines
Tours to book:
Singapore
Singapore is a tiny country with enormous opportunities to offer. From old temples and historic ports to green spaces and lively hawker centers to cultural events and impressive skyscrapers, this island country provides visitors with copious prospects to discover.
The city is sprawling with world-class eats that cater to every palate. It boasts of 44 Michelin rated establishments, including three-star restaurants Odette and Les Amis. Those who want to explore Singapore's food scene like a local will not be disappointed with the country's vigorous and impressive hawker food culture.
The hawkers of Singapore feature Chinese, Indian, and Malay specialties that serve chicken rice, chili crabs, various curries, rojak, and satay.
On top of this, Singapore hosts an array of festivals that draw food connoisseurs from around the world. These events include the Singapore Food Festival, the Singapore Cocktail Festival, the World Gourmet Summit, and The GREAT Wine and Dine Festival.
Tours to book:
Cambodia
Cambodia is a land of incredible contrast. Thick forest, mountains and pristine rivers compliment amazing white beaches. When you get down to it, however, travelers know Cambodia for two things, Angkor Wat and the capital city of Phnom Penh.
The highlight of Cambodia is visiting Angkor Wat, an architectural masterpiece constructed in the jungle in the early 12th century, surrounded by hundreds of other temples. These are the sacred remains of what was once a bustling center glorifying the Khmer kings. It's stunning. There is no other word for it. It's one of those places you must see in your lifetime.
Tours to book:
Japan
Japan is full of mesmerizing landscapes, incredible sights and – my favorite – amazing food! Tokyo is the capital city and home of the Imperial Residence and Emperor's Palace. It's where most tourists start their journey.
Here are the top destinations we recommend visiting in 10+ days in Japan: Tokyo, Hakone, Osaka, Kyoto, Nara, Hiroshima and Miyajima, and Kamakura. If you have less time to spend, Tokyo, Osaka, and Kyoto should top the list. See our 7-day and 14-day itineraries for Japan.
While Japan is very easy to get around and well suited for independent travelers, it can be difficult to do it on your own due to the language barrier, difficult train schedules you'll have to navigate, and different foods and customs you'll come across.
A pre-planned tour won't give you the same freedom to do what you want, but it is completely planned out for you and you will always have a guide along to help you with anything you need.
Tours to book:
Taiwan
Taipei, the country's booming, vibrant capital remains steeped in Chinese, Japanese and native Taiwanese cultures. Some of its most impressive sights include the Grand Hotel, topped by the largest Classical Chinese roof in the world, the Shihlin Night Market, the Chiang Kai-shek Memorial with the National Theater and Concert Hall located directly across from each other on the grounds.
Alishan, a mountain resort located in the center of Taiwan, is a wonderful contrast to fast-paced Taipei. The high elevation mountain air is cool and clean and will reinvigorate travelers. A popular day trip is Tailuge (Taroko Gorge), considered one of the natural wonders of the world.
Due to its geology, Taiwan has a high concentration of natural hot springs. Since ancient times, the residents of Taiwan have believed that the island's hot springs have rejuvenating characteristics.
Hong Kong
They call Hong Kong the 'City of Life' because it has always been so vibrant and full of energy. It's a city that's both exotic and cosmopolitan making it a perfect destination for first time travelers to Asia.
Being a former British colony, there's enough English signs and people able to speak the language there to make it a user friendly place. At the same time, it's foreign enough that tourists will definitely feel that they are not on a typical beach vacation.
Hong Kong is a contrast of old and new. There are old temples and monasteries scattered throughout. But there is also that gigantic modern skyline of tall skyscrapers that will make most North American cities appear small.
Nathan Road is lined with shops, restaurants, nightspots and cheap places to eat and stay. With over 9,000 restaurants, dining in Hong Kong is also an exciting experience. The best way to taste many Hong Kong specialties is to take a food tour. There are all types of international cuisine but of course, the Chinese fare is what most visitors come here for.
Tours to book:
China
China is a magical country full of old and historical sights and many wonders. There is no other country that has sights as fantastic as the Great Wall of China and all of the old places where the monks used to live thousands of years ago. Add to all of this beauty the supreme glory that is the scenery and you have a place that dreams are made of.
For a first time trip, flying into Beijing where you can see the Great Wall of China, over to Xian to see the terracotta warriors, and ending in Shanghai is a great way to see a lot. This trifecta of destinations in China gives a great overview of the country, especially if you don't have a lot of time to spend.
While I don't usually travel on group trips, I felt like China was one of those places that it might be necessary, or at least beneficial, since I don't speak the language. It was definitely the right choice and I would highly recommend traveling China in a group.
Tours to book:
CONCLUSION
Try one of these great Asia destinations for your next holiday or vacation. There are so many wonderful things to see in each place! Have you been to these places or want to add another to the list? Share it in the comments!
Quick. Check these necessities off your prep list!
Like this post? Why not save it to Pinterest?
FOLLOW US on Pinterest, Instagram, Facebook for more great travel inspiration and tips.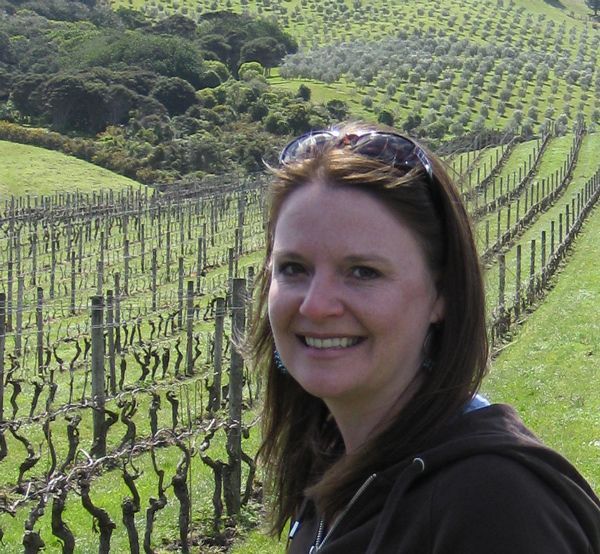 Laura Lynch, creator and writer of Savored Journeys, is an avid world traveler, certified wine expert, and international food specialist. She has written about travel and food for over 20 years and has visited over 75 countries.