Located just about an hour drive south of Melbourne, the Yarra Valley is one of the most popular wine regions to visit in Australia. You'll see why once you arrive in this gorgeous valley, with soft rolling hills full of plush vineyards, sprawling wine estates, and gorgeous views for miles.
There are over 80 wineries in the Yarra Valley, which means you're going to have to narrow it down and be a bit picky with the ones you choose to visit. You can easily spend 3-5 days touring wineries, but you'll likely run out of steam before you reach the vast majority.
We've collected the notes and photos we took during our week in the Yarra Valley so we can pass that info along to you and make your journey through these lovely vineyards as perfect as possible. So here is our suggested itinerary for the Yarra Valley wineries to visit.
» Looking for more Australia wine region information? We've been everywhere! Check out our guides to McLaren Vale, Adelaide Hills, Barossa, and Margaret River.
7 Great Wineries to Visit in Yarra Valley (plus a brewery!)
Yering Station
Location: 336 Maroondah Highway, Healesville 3777 VIC
Yering Station was Victoria's very first vineyard, established in 1838 by the Ryrie brothers. It's still a family-run business, now owned by the Rathbone family.
The tasting room is housed in the original winery building dating back to 1859. When we were there, it was adorned with funky art and had plenty of space to elbow in for a tasting (though strangely now seating).
Yering Station is also a wonderful place for a relaxing lunch. The restaurant is stunning with floor to ceiling glass windows and a magnificent view of the Yarra Valley.
Details: Walk-in tastings are welcome. Private bookings are required for groups of 10 or more. Open 7 days, 10am to 5pm. Restaurant is open for lunch 7 days a week. Reservations are essential.
Website
TarraWarra Estate
Location: 311 Healesville-Yarra Glen Rd, Healesville, Victoria 3775
First you'll want to stop by the TerraWarra cellar door to have a tasting of their wines, so you know what you want to drink with your lunch at their restaurant. The tasting room is very modern, built into the side of a cliff, surrounded by the 28-hectare vineyard.
You'll enter through a heavy wooden door that is is fitted into a large curved rock wall. Inside, the vibe is calm and tranquil, with a long tasting bar where you can sidle up for a taste of one of their cool-climate grape varietals – including chardonnay and pinot noir, as well as shiraz, merlot, and others. 
After walking around the beautiful estate and having a wine tasting, be sure to settled in for an indulgent degustation tasting menu at the restaurant. The view through the mostly glass-enclosed restaurant is fantastic.
Details: Walk-ins are welcome for tastings. Open Tuesday-Sunday, 11am – 5pm. Bookings can be made by calling 03 5957 3511 or online here.
Website
Payten & Jones Wine
Location: 3 Lilydale Road, Healesville, Victoria 3777
This is a unique one that I think its essential for a Yarra Valley tasting session, to get a different perspective from the larger, more commercial wineries.
Theirs wines are a little different because they choose to have minimal intervention in the process, which means not a lot of filtering or refining. They're a bit edgy, which can be a great thing if you like natural wines and something a bit more fringy.
You can stop in for a tasting without a reservation, but it's seated tastings only at the moment. They also have a bar with cocktails and other drinks besides wine if you just want to pop in for a chat.
Details: Sunday-Thursday, 10:30am to 5:30pm and Friday-Saturday until 8:30pm
Four Pillars
Location: 2A Lilydale Rd, Healesville VIC 3777
I didn't realize Four Pillars was an Australian brand until we drove up to it in Yarra Valley. We've had Four Pillars gin in London before, so it was pretty exciting to be able to stop into their tasting room. It's directly across the road from Peyton & Jones, so it's a no-brainer.
The tasting room is a super modern space, which was once a timber yard. You can try all of styles of Four Pillars gins on a tasting paddle with tonic, so you can design-your-own negronis or ginger mules (gin and ginger beer). Plus you absolutely have to try their Shiraz gin, which is amazingly good.
The staff is so welcoming and they're happy to walk you through the tasting, tell you all about the gins, and give recommendations for how best to enjoy them. It's a very fun experience.
Details: Walk-in tastings available. Open Sunday to Thursday 10:30am – 5:30pm and Friday to Saturday 10:30am – 9pm.
Website
Giant Steps
Giant Steps was started in 1997 by Phil Sexton in order to make Chardonnay and Pinot Noir that highlighted the region's character and terroir. It has been named one of the Top 100 Wineries in the World by Wine & Spirits Magazine US for each of the last six years. So you know there's something special there.
During our visit, we were able to pop into the barrel room for a tasting of their range of estate vineyard and single vineyard wines. We then sat down in the main restaurant area for a flight and some nibbles.
Location: Level 1, 314 Maroondah Hwy, Healesville
Details: Cellar door is open daily from 11:00 am – 4:00 pm. Seated tastings are available by reservation. Make a booking here.
Website
Innocent Bystander
Location: 316-334 Maroondah Hwy, Healesville, Victoria 3777
You'll want to head to Innocent Bystander at the end of the day so you can enjoy everything they have to offer. You can start off with a tasting of their wines at the bar, then sit down for dinner in the main restaurant seating area. Don't miss a chance to try their artisan pizza and tasty paella.
For tastings, they offer a variety of choices including self-guided tasting paddles in the restaurant, as well as wines by the glass, or you can book a seated tasting with a wine guide who will walk you through the tasting. Be sure to try their Moscato and Pinot Noir.
Details: Seated tastings are $10pp from 12-5 pm, seven days a week. Make a reservation in advance.
Website
Coldstream Brewery
Location: 694 Maroondah Hwy, Coldstream VIC 3770
If you don't stay at Innocent Bystander for dinner, I'd highly recommend going to Coldstream Brewery for a meal. It'll be a great way to change up the flavors for your palate after a day of wine tasting. And their food is fantastic.
Along with your meal, you can get a tasting tray of their beers, which were all pretty good. It's a good place to unwind and spend some time away from the wineries, before you head back out to do it all again tomorrow.
Conclusion
A visit to the Yarra Valley is such a great idea, believe me. You're going to love the beautiful landscape, the lush rolling hills, and all the tasting options. You really need to spend at least two days to do it justice. There are so many great places to go wine tasting in the Yarra Valley, plus have winery lunches, so don't short change yourself on time!
Quick. Check these necessities off your prep list!
Like it? Share it on Pinterest.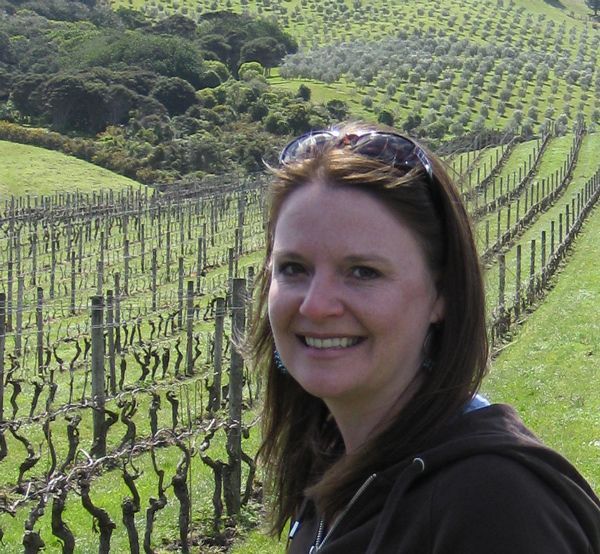 Laura Lynch, creator and writer of Savored Journeys, is an avid world traveler, certified wine expert, and international food specialist. She has written about travel and food for over 20 years and has visited 70+ countries.