For those times when home has turned hectic and you need a serious break from the norm to just indulge yourself and relax the stress away, give one of these top 10 tropical islands a try for an exotic beach vacation you'll always remember.
Even if you're not a self-proclaimed "beach bum", it's really hard to pass up a relaxing vacation on a tropical island, especially if it comes with all-inclusive beach drinks and a lounge chair directly facing the ocean.
» See a preview of some incredible beach destinations.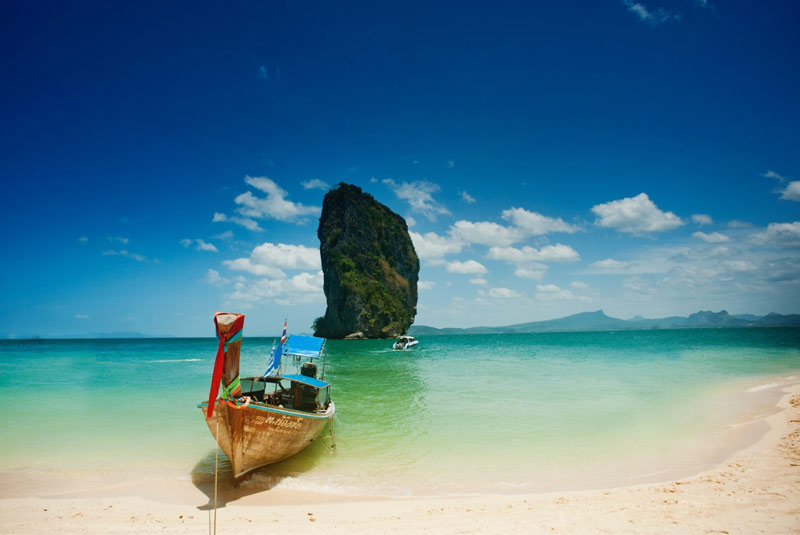 Along with the destination, we've given recommendations on where to stay. Many of these resorts have overwater bungalows, private pools, deserted beaches and many great restaurants and bars to check out. You won't need to lift a finger because you'll have a personal butler to take care of everything. It doesn't get any more relaxing that this!
Want more beaches? Check out these articles: Best British Virgin Islands Beaches, Best Jamaica Beaches, Best Thailand Beaches
Top Exotic Beach Vacations
1. Bora Bora, French Polynesia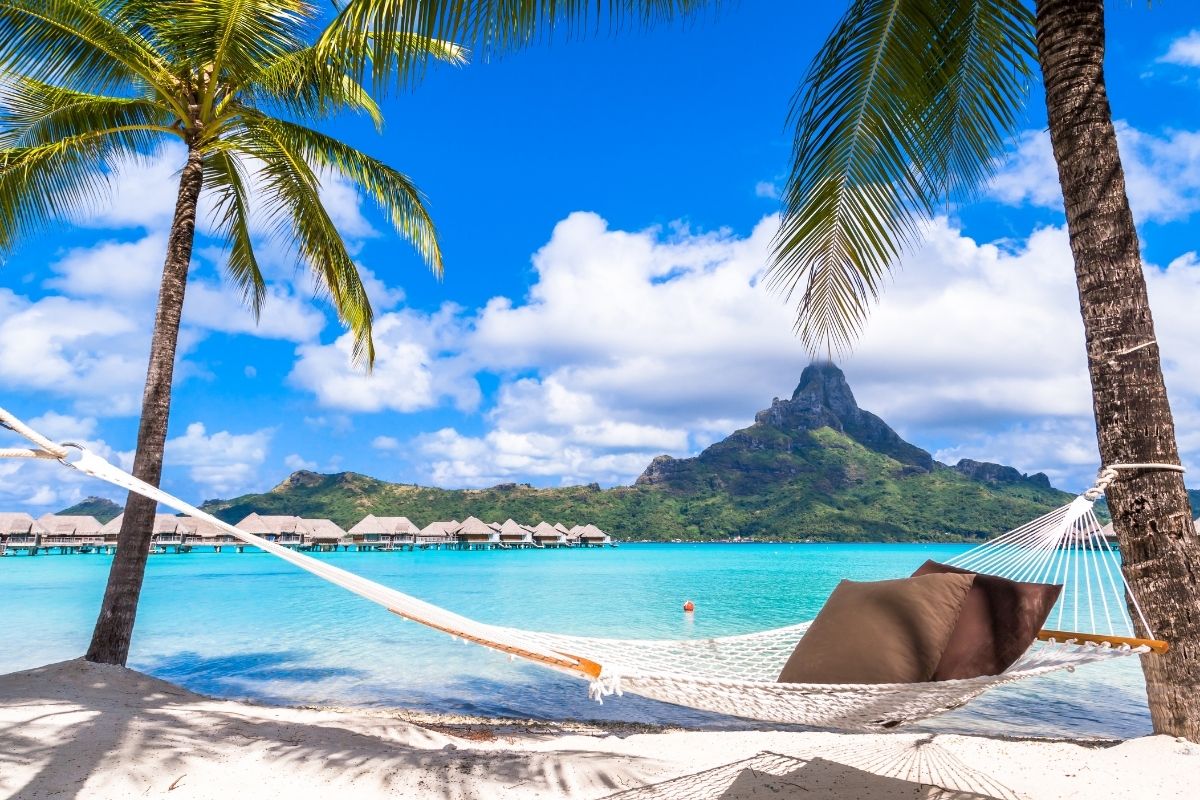 Bora Bora is definitely in the running for most beautiful island paradise in the world. You can reach the island in just under an hour flight from the main island of Tahiti. When you see the beautiful turquoise waters and swaying palm trees, you'll know you're in the right spot for serious relaxation.
Bora Bora is lush and tropical with perfect white-sand beaches and emerald waters teaming with colorful fish. Luxury resorts and spas dot the island with overwater bungalows and thatched-roof villas, making it the island of your dreams.
In case you're thinking that a Bora Bora holiday only involves laying around on the beach or remaining at your resort the whole time, that's not the case at all. There are tons of fun things to do in the area, from scuba and snorkeling to jet skis, parasailing, and private picnics.
★ Where to Stay: Four Seasons Bora Bora – This is one of the most beautiful and romantic resorts we've ever stayed at. » Read reviews on Trip Advisor or book on Expedia
Tours you may enjoy:
2. Phuket, Thailand
Spectacular scenery, stunning tropical sunsets and warm blue sea surrounds the island of Phuket, in Thailand, one of the most popular beach destinations in the world. You'll find a range of experiences and accommodations to fit your budget in Thailand – the prices are also some of the most affordable in the world.
Vibrant nightlife and partying carries on in Patong Beach, while remote romantic hideaways can be found not far away. Explore outlying islands like Ko Phi Phi, made popular by the movie The Beach, or relax in high class at one of the ultra-plush all-inclusive resorts that line the coast.
★ Where to Stay:
Sri Panwa Resort – We stayed here in a private bungalow overlooking the water. It was simply amazing. By far the most incredible place we've ever stayed. I don't think it gets better than this in Thailand. » Read reviews on Trip Advisor or book on Expedia
Tours you may enjoy:
3. Fiji Islands
In the heart of the South Pacific, Fiji, famous for its white sand beaches, crystal clear waters and unspoiled natural environment, is made up of more than 300 small islands. The perennial favorites are the Mamanuca and Yasawa island groups, just north of Fiji's main island, Viti Levu.
There you will find a kind of paradise you can't find anywhere else. Snorkeling and diving, relaxing in the shade of a palm tree, and feeling the soft sea air drift by while sipping on a fruity umbrella drink — it's heavenly.
With so many islands, there are a lot of different experiences to be had. If you stay on the main island, you won't find the white sand beaches of the further out islands, but you also won't have to charter a speed boat or plane to get there. The smaller islands have less to do, being more remote, but they offer a peace and tranquillity you won't believe.
★ Where to Stay: Tokoriki Island Resort » Read reviews on Trip Advisor or book on Expedia
Tours you may enjoy:
4. The Maldives
The Maldives, located in the middle of the Indian Ocean, are one of the world's most celebrated tropical havens. Here is where you'll find unrivaled luxury, where every resort is its own private island, and where prestigious and luxury brands compete to provide the most indulgent luxury you'll find in the world.
There are more than 1200 islands in the Maldives, and many of them have a resort with an incredibly beautiful, powder-soft beach. One of the top activities in the Maldives is diving, and you can imagine why. Check out these top Maldives dives for inspiration.
The islands are very remote – perfect for a romantic and completely unplugged vacation. We stayed at Kandima Maldives, which is a spectacular resort on a private island with amazing white sand. Read more about it here. It's a great retreat that has accommodations to suit your style.
Remember that you'll have to include transportation to the island in your budget and that can be very expensive, from $500 to $1000 per person round trip.
★ Where to Stay:
Tours you may enjoy:
5. Seychelles
Made up of 115 islands spread through the Indian Ocean, the Seychelles is a dreamlike setting with stunning beaches. There are three main islands — Praslin, La Digue and Mahé — plus a plethora of smaller, outlying islands to visit and each has its own character.
The beaches here are the best in the world, backed by lush tropical jungle and lapped by crystal-clear waters. The rock formations are massive and smoothed by time.
The best part about the Seychelles is that it's not overrun with tourists and maintains its local charm, though there are quite a few International hotel chains and luxurious hotels to stay at.
The Seychelles is a great choice for a romantic vacation, whether it be your honeymoon or anniversary. It's an exotic and unique destination. And it has year-round sunshine, so there's really no bad time to visit, however the weather is best in April, May, October and November.
★ Where to Stay:
Tour you may enjoy:
6. Grand Cayman
Seven Mile Beach on Grand Cayman Island is a long crescent of coral sand beach on the western end of the island. It's one of the clearest and bluest stretches of water you'll ever see. Seven Mile Beach is known for its incredible beauty, and even though it's not exactly seven miles (more like 4.5), vacationers flock to its developed coastline in troves.
You can spend your days lounging at a resort right on the beach, go to nearby Stingray Island to swim with the stingrays, or go snorkeling with the turtles. There's lots of rum to try, or you can take a drive around the entire island in a day and check out all the hidden beaches.
And if you're looking for a more peaceful vacation, away from the crowds, just head to the eastern part of the island where there are less crowded resorts and lots of small, lovely beaches to hang out at.
★ Where to Stay: Grand Cayman Marriott Beach Resort » Read reviews on Trip Advisor or book on Expedia
Tours you may enjoy:
7. St. Lucia
Home to many alluring features, like the towering and dramatic Piton mountains, volcanic beaches and rainforest waterfalls, it's no wonder St. Lucia makes it onto the list of most incredible beach destinations. It's also home to one of the most talked about and high-end hotels, the Jade Mountain Resort.
St. Lucia really has it all. The views are second to none. It has volcanic beaches, reef-diving sites, luxury resorts and fishing villages. There's a rainforest and dramatic waterfalls to hike to in the interior of the island. What more could you want?
★ Where to Stay:
Tours you may enjoy:
8. Santorini, Greece
One of the Cyclades islands, Santorini's distinctive beauty has been captured on film and in paintings. Its submerged caldera, towering cliffs, whitewashed buildings and romantic beaches rejuvenate your senses and put you in the mood for love.
The Red Beach of Santorini is unlike any other in the world. Its mesmerizing red cliffs and dark red sand look striking against the blue waters. The town of Oia is one of the most iconic and beautiful locations on the island. It is where all the incredible mountainside photo are taken that you've been drooling over.
Check out the many things to do in Santorini. For us, the wine tasting tour was a highlight. Athens to Santorini is around 45 minutes by flight or you can take a ferry.
★ Where to Stay:
Katikies Hotel in Oia – This is one of the most beautiful hotels overlooking the caldera with a private pool and indoor spa. » Read reviews on Trip Advisor or book on Expedia
» Read about other amazing romantic Mediterranean islands in this post.
Tours you may enjoy:
9. Turks and Caicos Islands
If you're looking for miles of tropical beach that seem to stretch into the skyline, beautiful lush gardens and tropical landscapes that will mesmerize you, then Turks and Caicos should be on your radar. There are 40 islands in total, though only eight of them are inhabited.
If you're a diver, you may already know that the longest reef in the world can be found here. It's the ultimate dive destination for snorkelers and scuba enthusiasts with a 14-mile barrier reef on Provo's north shore and a dramatic 2,134-meter underwater wall off Grand Turk island.
For non-divers, you'll find great restaurants, shopping, and beautiful resorts in Grace Bay Beach. For excursions, you can visit secluded beaches, uninhabited cays, snorkeling reefs and great nature sites. The baches are some of the best in the world.
★ Where to Stay:
Beach House – a 5-star luxury, adult's only, all inclusive resort » Read reviews on Trip Advisor or book on Expedia
Tours you may enjoy:
10. Mayan Riviera, Mexico
While this is not a tropical island, it is one of the most beautiful beaches in central America, so it made the list anyway. Located on the northeast corner of the Yucatan Peninsula in Mexico, the Mayan Riviera offers stunning Caribbean views, powder-fine sand, warm azur water to swim in and some of the best all-inclusive beach resorts in the world.
You'll find incredible snorkeling and diving just off the coastline, and a plethora of adventure sports and activities, not to mention a very active nightlife. There are dozens of Mayan archaeological sites, like Tulum and Chichen Itza, as well as hidden underground cenotes to explore.
★ Where to Stay:
El Dorado Casitas Royale » Read reviews on Trip Advisor or book on Expedia
We also love the Palace Resorts in Cancun.
Tours you may enjoy:
11. Bali, Indonesia
Bali is perpetually at the top of the list as a honeymoon spot, because of the amazing views of volcanic mountains, iconic rice paddies, beaches and coral reefs. To the south, the beach city of Kuta has exciting bars and nightlife, while Seminyak, Sanur and Nusa Dua are the most popular resort towns, where you'll find incredible villas with private pools, spas, and beach huts for long, lazy days.
Another reason Bali is a great honeymoon destination is because of the resorts. You can find a really affordable eye-poppingly gorgeous resort with a view into the tropical forest and a personal pool for a lot less than in other parts of the world. If you're ready to stay holed up in your room (and what honeymooner isn't), then you can enjoy paradise for less here.
Of course, we also love the food. Indonesia has some really fantastic cuisine and you can enjoy it even at the resorts.
★ Where to Stay:
Anantara Seminyak Bali Resort 5-star hotel » Read reviews on Trip Advisor or book on Expedia
Tours you may enjoy:
CONCLUSION
As you can see, there are many tropical islands to choose from for your next exotic beach vacation. Can you think of any other place you'd rather be right now than at one of these tropical islands?
I think I could move in at one of these resorts and never leave! Where are your favorite island destinations?
Like this post? Why not save it to Pinterest?
FOLLOW US on Pinterest, Instagram, Facebook for more great travel inspiration and tips.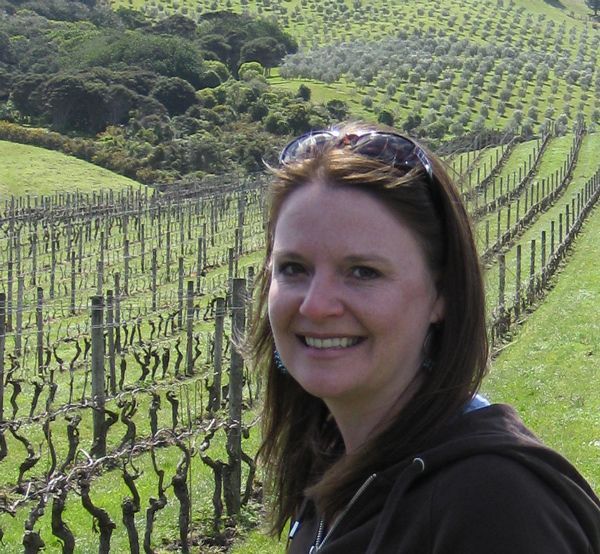 Laura Lynch, creator and writer of Savored Journeys, is an avid world traveler, certified wine expert, and international food specialist. She has written about travel and food for over 20 years and has visited over 75 countries.