Oregon has some wonderful things to offer foodies, from Portland's local products to the Columbia River Gorge breweries that span from Portland all the way over to the eastern corner of Oregon. Now I'm going to introduce you to the Hood River Fruit Loop, a cornucopia or fruit and veggie stands, breweries, wineries and food stands along the Columbia River Gorge, just south of Hood River, Oregon.
I grew up in Oregon and I'm always excited to extol its virtues to anyone who will listen. If you haven't visited Oregon, you're truly missing out on one of Mother Nature's best designs.
Whether you're taking a drive along Oregon's 101 coastline, hanging out in downtown Portland or driving along the insanely gorgeous Columbia River Gorge, you'll be rewarded with sweeping landscapes, mountains and trees, plus fruit orchards, vineyards and fertile farmland.
What is the Hood River Fruit Loop?
You may not immediately think of Oregon as a place of great bounty, but it is, and no where can you better see and experience the true bounty of Oregon's fertile lands than on the Fruit Loop near Hood River, Oregon.
The loop is a 35-mile-long scenic drive that takes you from the town of Hood River and back again, as you loop south through pear orchards, vineyards and family farms. You'll want to stop off dozens of times along the route, so while 35 miles doesn't usually take that long to drive, you'll need to count on at least 4-5 hours, possibly more, to even scratch the surface.
Driving the Fruit Loop
Most people visiting the Fruit Loop from out of town are coming from Portland. It's only about an hour away, so even if you're just in Portland visiting for a few days, you can easily make this day trip. The best times to visit are from May to October, when the fruit and vegetables are at their peek and the roadside stands are full of beautiful produce.
One important note before you set out – make sure you pick up a Fruit Loop Map so you know where all the stands are located and so you have a sense of direction when you lose service on your phone. You can pick up a map at any of the stops along the way, or at just about any hotel or business in Hood River. Here's an online version of the map.
Stop 1: Multnomah Falls
Our first stop along the way from Portland to Hood River is always Multnomah Falls. The falls drop 620-feet in total among two different steps.
It's the tallest waterfall in Oregon and the second tallest in the nation. During the early spring months, the falls are at their peak dumping a tremendous amount of natural spring water and snowmelt and producing powerful plumes of mist for visitors to admire. It's a quick stop to make – just pull into the parking lot and walk a short distance to the falls. You can also climb up a ways on a paved path to the bridge that spans the middle step of the falls. Or you can continue up on the trail about a mile to the top of the lookout.
Location: Between Corbett and Dodson on Interstate 84
Opening Hours: Open seven days a week from 10 am-5 pm.
Cost: Free
Stop 2: Bridge of the Gods
If you're coming from Portland on the Washington side of the gorge, you'll need to cross over into Oregon, and the best place to that is at the Bridge of the Gods. You'll pay a $1 toll to drive across the short suspension bridge. It's an incredible view from the bridge!
If you've seen or read the book Wild: From Lost to Found on the Pacific Crest Trail by Cheryl Strayed, you will recognize the Bridge of the Gods as the culmination point of her trip. Even if you're already on the Oregon side (coming from Multnomah Falls, you can stop off at the Bridge of the Gods for a picture before heading onward.
Location: Spans the Columbia River between Cascade Locks, Oregon, and Washington state near North Bonneville. 4 miles upriver from the Bonneville Dam.
Stop 3: Marchesi Vineyards & Winery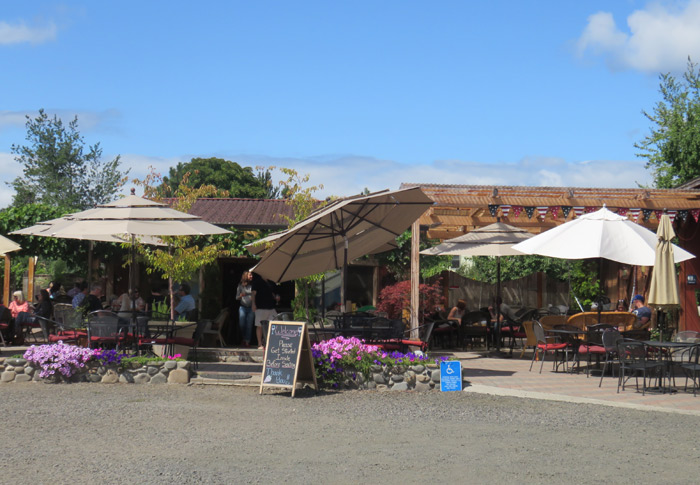 There are dozens of wineries to choose from in this area, so why did we skip the others along the way and head straight for Marchesi? Because Marchesi has everything you want in a winery. It has a beautiful patio and garden area to sit and sip your wine.
It has a top-notch wines (unlike a few that we tried in the area) and it has delicious food to go along with your sips, like the heaping plate of freshly sliced meat and cheese.
Location: 3955 Belmont Dr, Hood River, OR 97031
Phone: (541) 386-1800
Check their website for hours
Stop 4: Apple Valley Country Store & Bakery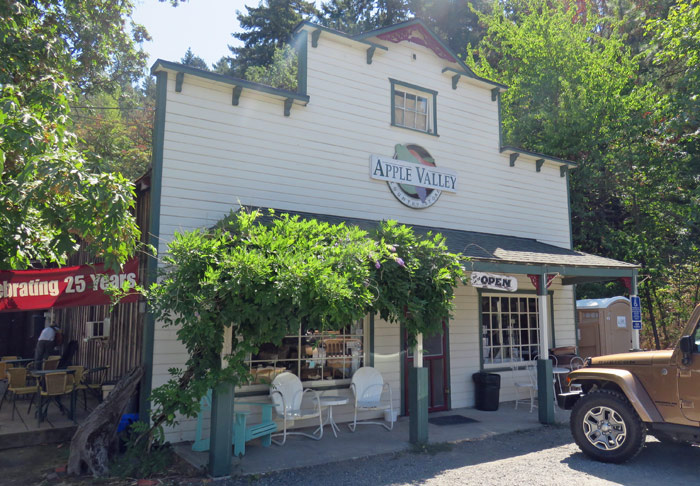 We were given a heads up at the winery that Apple Valley Country Store had huckleberry milkshakes. If you don't stop for one, you're truly missing out. Along with local berries, you'll find fresh and frozen fruit pies to take home, dozens of types of jams, jellies and spreads that you can taste before buying, lots of fresh picked fruits and all the knick-knacks you expect to find at a country store.
On some summer weekends, there's a BBQ going on outside where you can get some really tasty pork ribs, sandwiches and sides. Eat under the trees at the picnic tables with LIVE music in the background.
Stop 5: Apple Valley BBQ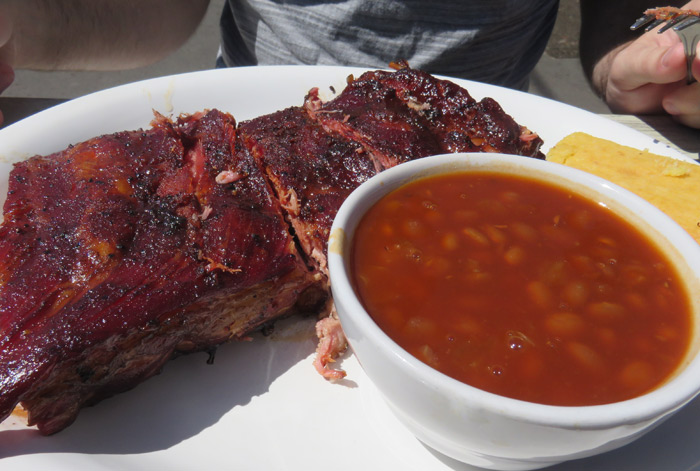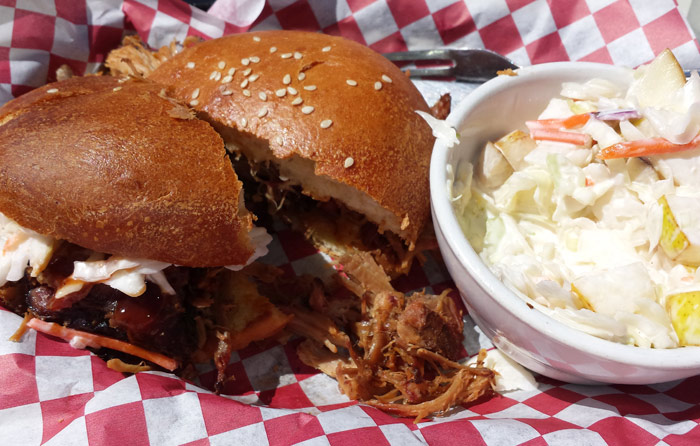 If you didn't get a chance to stop for BBQ at the Apple Valley Country Store, there's another opportunity in the town of Parkdale. Apple Valley BBQ is located right along the main road, across from the historic train station.
The menu is extensive and the BBQ is really good. We ordered a plate of ribs and a pulled pork sandwich with a side of BBQ baked beans and coleslaw. Everything was very tasty, and the portions were large. You can choose to sit inside or at the picnic tables outside.
Stop 6: Solera Brewery
In Hood River, there are a hundred and one amazing views of Mt. Hood that you can admire from just about every bend in the road, but one of the best views can be found from the outdoor beer garden at Solera Brewery.
Solera is a small craft brewery specializing in unique and creative small batch beers, like apricot wheat, a sour wheat and a cider-infused ale. They also serve food – a good selection of soup, salad and sandwiches. The atmosphere is laid back and easy going. It's a great place to grab a beer midway through the Fruit Loop and just enjoy the nice weather and the great view.
Stop 7: Draper Girls Country Farm
This is your go-to stop for fruit. At the farm, you can pick the fruit yourself straight off the tree, or you can just pick up a bagfull that's already been picked. They have many varieties of cherries, peaches, nectarines, pears, prunes and apples. On busy weekends, they have a bunch of varieties of fruit cut up in bowls to try before you buy – but believe me, you'll want to buy one of everything.
We were lucky enough to try a dozen or so varieties of peaches while we were there. I didn't even know there were that many! It's the perfect little country store, packed with local products – jelly and jam, meat products like lamb and goat, and other kitschy items to purchase.
Location: 6200 Hwy 35, Parkdale, OR 97041
Phone: 541-352-6625
Stop 8: Wy'east Vineyards & Winery
By this point in the journey, you definitely need to stop for another glass of wine! The Wy'east Vineyards is the perfect place to do that. It's a small, family-owned and operated winery. The name derives from the Multnomah Indian tribe's name for Mt. Hood, Wy'east.
The tasting room has a lovely patio off to the side that is shielded from the parking lot and the road. You'll want to park yourself in one of the relaxing chairs and spend an hour or so tasting wines or sipping on a glass of their Chardonnay or Pinot Noir.
Stop 9: Hood River Breweries
While you might stop off at a few more of the fruit stands along the road back, we think the best way to end your tour of the Fruit Loop is at the Hood River Breweries located in the town of Hood River. The Breweries of the Gorge organization is made up of 10 breweries in and around Hood River. If you find one of their brochures (you can print one here), you can take it along with you to the breweries.
If you visit at least 8 of the 10, getting a stamp on your passport, you'll receive a collector pint glass at the end. We had a great time going around to each of the breweries and seeing what they had to offer.
All of them have taster trays so you can get a sample of each beer without having to indulge in a full pint. And to our surprise and enjoyment, they all have food as well. Some of our favorites were Full Sail, Pfriem and Backwoods Brewery.
Frequently Asked Questions
How long does it take to drive the Hood River Fruit Loop?
The Hood River Fruit Loop is approximately a 35-mile (56 kilometers) loop, and driving it without stops could take 1 to 1.5 hours. However, most visitors make several stops along the route to enjoy the orchards, taste fresh fruits, sample local wines, and explore the charming farm stands and scenic viewpoints.
With multiple stops and leisurely exploration of the area, allocating a half-day to a full day for the Hood River Fruit Loop is recommended.
How do I get to Hood River Fruit Loop?
To get to the Hood River Fruit Loop, you can follow these general directions:
1. Starting Point: Identify your starting location, which could be from Hood River, Oregon, or any nearby city or town.
2. Hood River: If you are starting from Hood River, the Fruit Loop is easily accessible. Hood River is a popular gateway to the Fruit Loop, and many of the loop's stops are just a short drive away from the town.
3. Car: The most convenient way to explore the Hood River Fruit Loop is by car. You can use a GPS or mapping application to navigate to the various stops along the loop. The loop is well-marked with signs, making it easy to follow the route.
4. Address: You can enter "Hood River Fruit Loop" or the specific addresses of the farms, wineries, or farm stands you wish to visit into your GPS or navigation app.
5. Public Transportation: While public transportation options like buses or trains are available in Hood River, they may not directly connect to all the stops on the Fruit 6. Loop. Renting a car or using a taxi or rideshare service would provide more flexibility for exploring the loop.
6. Tour Companies: Some tour companies in Hood River offer guided tours of the Fruit Loop, which can be a convenient option if you prefer not to drive yourself.
7. Map and Information: Before heading out, it's a good idea to check online for a map and information about the Hood River Fruit Loop. You can find resources on the official website or from local visitor centers.
Remember to check the opening hours of the farms and attractions you plan to visit, as they may vary depending on the season. Enjoy your visit to the beautiful Hood River Fruit Loop and savor the local produce and wine flavors!
What is the fruit loop in July for the Hood River?
In July, the Fruit Loop in Hood River, Oregon, is at its peak season for fresh fruit and agricultural activities. July is a fantastic time to visit the Fruit Loop, as many fruits are in season, and various events and activities are available for visitors to enjoy
READ ALSO: The battle between Portland and Seattle breweries
CONCLUSION
These are only 10 stops along the official Fruit Loop. But there are dozens of others to stop at, but even making it to these 10 is a full day of adventure, so this is a good place to start! Have you been to the Hood River Fruit Loop? Tell us what your favorite places are to stop along the way.
Pin it for later!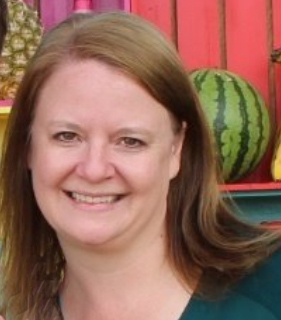 Laura Lynch, creator and writer of Savored Journeys, is an avid world traveler, certified wine expert, and international food specialist. She has written about travel and food for over 20 years and has visited over 75 countries. Her work has been published in numerous guidebooks, websites, and magazines.