Do you know where to find the best Seattle pizza? This topic was brought up and hotly debated at my supper club last month. We've all got our preconceived notions of where to find the best pizza in Seattle, but what are those notions based on? Shouldn't pizza greatness be measured somehow to ensure each pizza is receiving the same level of scrutiny?
We came to the conclusion that there's only one way to know for sure who makes the best pizza and that is to embark on a Great Seattle Pizza Quest ourselves, armed with an ironclad method for evaluation. So this past Saturday, we took to the road for an epic journey that would challenge the limits of our pizza-consuming abilities, but would give us peace of mind in knowing once and for all who makes the best pizza in Seattle. I will share the results of our quest here, along with the (not very) scientific method we used for determining overall greatness.
Also check out our Great Seattle Burger Quest.
How to Measure Greatness
Behold, the Pizza Quest Rubric. My supper club friends, Mike and Ann-Li (the ones who initially raised the best Seattle pizza question), found this pizza rubric spreadsheet on Serious Eats that we decided to use as our method of ranking. It covers the all-important criteria of crust, sauce, cheese, toppings, oven and overall impression.
The Rubric takes into consideration things like the fanciness of the cheese, the freshness of the tomatoes used in the sauce and whether the oven reaches a high enough temperature. We asked these questions at each place to make sure we could accurately score them.
There were also two categories that got altered along the way to better fit our mission. We decided that in order to measure all pizzas equally, they had to have the same toppings, and because our rubric measured for things like bufala Mozzarella vs Fior de Latte Mozzarella, we decided it had to be Margherita pizza. That was our first bad decision, but we'll get to that later. Since we chose Margherita, the "toppings" category didn't apply, so we added atmosphere instead. I have also changed the overall impression to convey overall taste.
Where Should We Go?
We decided to include 6 of our own top favorite pizza restaurants in the quest, 4 of which were also featured on an Eater Reader's Choice list in 2014, so we were pretty confident in our choices for this first round. I say first round because after we realized our great mistake of choosing Margherita, we knew we would have to start the quest over again at a later date in order to measure greatness with any accuracy. So, there will be a round two, featuring these same 6 restaurants' most popular pizza – whatever that may be.
We visited these six restaurants, in this order, beginning at 4:30pm and ending at 10:30pm on a Saturday afternoon.
Delancey –  415 NW 70th St
Ballard Pizza Company – 5107 Ballard Avenue Northwest
Veraci – 500 NW Market St
Flying Squirrel – 8310 5th Ave NE
Tutta Bella – 4411 Stone Way North
Via Tribunali – 4303 Fremont Ave N
Delancey
We were trying to keep an open mind about all of the restaurants we were about to rank, but for some reason Delancey kept coming up as everyone's front runner when we told our friends what we were doing. Nick & I hadn't been to Delancey before, so we weren't sure what to expect except that it was probably going to be super delicious if we trusted our friends' opinions at all.
We arrived right at 4:30pm, opening time for Delancey, because we were warned of the long wait that builds up the moment the doors are open. I'm glad we did because, while we were the first ones in the door, there were enough people behind us to fill up the entire, albeit small, dining room. We received incredibly fast service since we were the first ones in. Our overall impression of the restaurant was very favorable. We liked the wine racks in the back and they were playing good music.
The Pizza
We all loved the crust. It was crisp and chewy, had good blistering and bubbling along the edges without too much char. There was a good amount of cheese spread out evenly. The sauce tasted very fresh, there were crispy pieces of basil scattered around, and a good amount of high-quality olive oil on top. So it was good in theory, but we all agreed that the cheese had no flavor and the whole thing just needed a little more seasoning or salt. I also prefer fresh basil, as it adds more flavor. Overall, we liked it but it just needed a boost of flavor.
The Rating
Crust: 5
Sauce: 3.5
Cheese: 3
Oven: 4
Atmosphere: 4
Taste: 4
Ballard Pizza Company
Ballard Pizza Company is another spot I hadn't been to prior to the quest, so I wasn't yet aware of the handicap situation I put it in by choose it. Unfortunately, they don't have a wood-fired oven, so there was no way for them to receive high marks in the oven category. We really should have picked a different place for it to be a fair race.
The atmosphere at Ballard Pizza Company is what kept it in the running. The walls are brick and the tables are heavy wood. There is a row of pizzas by-the-slice just behind the counter and the crust is being tossed and twirled in the air above. It's just what you want a pizza place to feel like. Plus it smelled amazing in there.
The Pizza
Unfortunately, the Margherita-style pizza just isn't Ballard Pizza Company's strong suit. When the pizza was set on the table and we saw how dismal it looked in comparison to the other, more-robustly topped pizzas around us, we realized the err of our ways. We hadn't taken into account the fact that some of the places we chose would naturally excel at the Margherita, while others would clearly not. From the start we had given a handicap to at least half of the places we were rating. However, because we were already well into the day, we had to keep going with our original plan. Thus, Ballard Pizza Company gets fairly low ratings. The crust was extremely crispy and didn't waiver under the toppings, but it tasted a little off and didn't have a pleasing texture. There was very little cheese and the sauce was spread only around the outside ring, so it was incredibly dry. There was fresh basil spread over the top though, so that was nice. We think it was overcooked. They told us they leave it in the oven for 12 minutes.
The Rating:
Crust: 2
Sauce: 3
Cheese: 2
Oven: 1
Atmosphere: 4.5
Taste: 2
Veraci
Veraci makes some of the best pizzas I've ever had, so it had to be included in the quest. However, it was also one that didn't fit the Margherita expectations. We know they make a really fantastic cheese and pepperoni pizza, but we never considered if they could handle the Margherita with class. They do have an incredibly hot wood-burning oven that usually delivers a really awesome crust, though, so high marks for that!
This was the only restaurant we went to where no one ordered a drink because we didn't want to stick around that long. They have a bunch of posters up on the walls depicting Italy, so they're trying, it just didn't work for us. The place is always busy though, so they're clearly doing something right. It's just not the cleanest place around.
The Pizza
For some reason, the pizza we received this time just wasn't up to the usual standard. I've had some really outstanding slices from Veraci, but what we received just wasn't great. While I like a little bit of char on a crust for extra flavor, this one was just burnt. If you didn't eat the edges, the main part of the crust was still very good and chewy. The sauce was the most flavorful of the day. It had a seasoning in it that boosted the flavor up a notch. The cheese was weird. It wasn't cut uniformly, so there were chunks that were almost 1/4-inch thick and it was strangely chewy instead of stringy. We were also a little curious about the fact that there was no basil on the pizza. Did they forget to add it, or is that the way they serve their margherita pizza? I guess we'll never know.
The Rating:
Crust: 4
Sauce: 4.5
Cheese: 3
Oven: 4.5
Atmosphere: 2
Taste: 3.5
Flying Squirrel
A few weeks ago, Nick & I went on a Georgetown neighborhood food crawl and that is where we tried Flying Squirrel pizza for the first time. We loved it. So I was pretty excited to try it again. I admit I was a little worried that they too would suffer from the Margherita issue.
This time we were at the Maple Leaf location, which doesn't have as good of an atmosphere as the one in Georgetown. It's a bit rundown and ragged. The service, though cheery, was extremely slow. It took at least 15 minutes just to clear a table for us so we could sit down.
We gave it high marks for the super cute logo!
The Pizza
Turns out they did a pretty good job with the Margherita pizza. The cheese was evenly distributed and there was plenty of it. It was shredded mozzarella though, so that lost it some points. Also, we found out that the oven is not wood-fired, so they lost all their points in that category too. The sauce was fresh and flavorful. There was ample fresh basil. And they included fresh sliced tomatoes, which added a nice freshness to what might have been an otherwise boring pizza. The crust was decent, but without the heat of the wood, it wasn't blistered or smoky tasting like the others.
The Rating:
Crust: 3.5
Sauce: 3
Cheese: 2.5
Oven: 1
Atmosphere: 2
Taste: 3
Tutta Bella
I admit I didn't have high hopes for Tutta Bella. We'd been once before to a different location and weren't particularly wowed. We were assured though that the experience we'd had was not the norm, so we were happy to give it another try. The biggest thing Tutta Bella has going for it is their certification as a Neapolitan pizzeria. They also have a DOC certified version of a Margherita on their menu, which would hopefully guarantee higher-quality ingredients.
The atmosphere was slightly marred by a girl's soccer team gathering that was taking place nearby, but if I zenned that out of my mind, I could imagine it being a decent atmosphere for a pizza place. It fell somewhere in the middle.
The Pizza
So we ordered the special DOC version of the Margherita and I was really expecting it to be well above the others in taste and appearance, but that wasn't the case.  The crust was good — chewy and crispy with some blistering and a bit of char, but as you can see from the photo, the toppings all slid to the center, and the outside was left with a lot of bare crust. The cheese wasn't spread evenly, so there were two slices with no cheese at all. And the basil was haphazardly thrown on so it was practically useless. This was only the 2nd place to put olive oil on the pizza though, and I appreciated that. Despite the aesthetics of the pizza, it had a really good flavor and the quality of the ingredients did stand out. They just need to work a little harder at creating a consistent pizza.
The Rating:
Crust: 3.5
Sauce: 4
Cheese: 4
Oven: 5
Atmosphere: 3.5
Taste: 4
Via Tribunali
Here we are at the last location. Like Tutta Bella, Via Tribunali also has a DOC version of the Margherita and it falls directly in line with the principles laid out on our rubric, so we were expecting great things here.
When you walk in the door you're greeted by a brick wood-fired oven with a roaring fire inside. The rest of the ambiance was fantastic as well. They have a small bar tucked into the back of the restaurant with a gothic chandelier overhead, heavy wooden booths that divide up the tables for a little romance and the lighting is very low (almost too low to read the menus!). It feels warm and cozy. Good thing it wasn't a hot summer day or it would have been too warm and cozy.
The Pizza
When the pizza was delivered, there was a collective gasp at the table. You could tell just by looking at this pie that it was far superior to the others. Even that beautiful pie at Delancey couldn't beat out this one. The sauce was so evenly distributed The cheese looked creamy and soft. There were huge leaves of fresh basil spread evenly. Olive oil was drizzled generously and then there was that grana padana sprinkled on top that totally sealed the deal. The crust was about as perfect as we could expect. It was slightly charred, blistered and crispy, but the center was flexible and chewy. It was perfection.
The Rating:
Crust: 5
Sauce: 5
Cheese: 5
Oven: 5
Atmosphere: 4.5
Taste: 5
And the winner is:
The clear winner of the Great Seattle Pizza Quest – Margherita Style is Via Tribunali, by a landslide. Second place goes to Tutta Bella. Third goes to Delancey. Fourth goes to Veraci. Fifth goes to Flying Squirrel. And last place goes to Ballard Pizza Company.
It's not over though! There will be one more round, where we order each place's best seller. After that round, we'll calculate the totals from both and determine an OVERALL winner.
If you're in Seattle and looking for great food, don't miss our top 12 best restaurants in Seattle list.
Save time and money with the Seattle CityPass
(Disclaimer: This post contains an affiliate link.)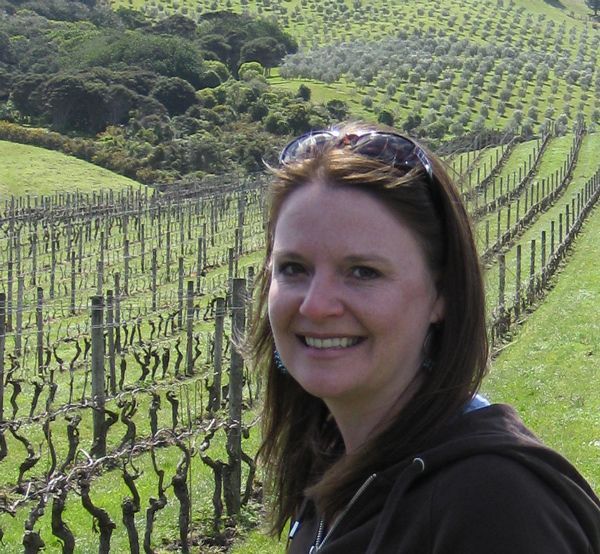 Laura Lynch, creator and writer of Savored Journeys, is an avid world traveler, certified wine expert, and international food specialist. She has written about travel and food for over 20 years and has visited 70+ countries.