When visiting Madrid you don't want to miss the vibrant tapas scene and a chance to taste all the delicious Spanish food and drink that's available to you in the city. One of the best ways to discover all of these delicacies is on a Madrid tapas crawl, so get your stomachs and your walking shoes ready!
Whether you've tried Spanish tortilla, champiñones a la plancha, and albóndigas before or not, you are in for a true gastronomic delight.
Madrid has one of the most vibrant and plentiful tapas scenes in Spain and you can find just about every popular Spanish dish in the tapas bars that are packed into the streets of Madrid.
Believe me, there are many, many tapas bars. The only struggle you're going to have is choosing between them all. Don't worry, we'll help!
All you need to enjoy a tapas crawl in Madrid is a plan of action, an empty stomach, and a sense of adventure. Oh, and a bit of cash will help as well, though it won't cost much.
Want more info to plan your Spain trip? Check out our Spain travel guide and these informative posts:
What Are Tapas?
At their most basic, tapas are small plates of food that are served alongside a drink in a bar. Typically, you order a drink and get at tapa to go with it for free. Keep ordering drinks and you'll keep receiving food. However in many bars in Madrid, tapas no longer come for free (more on that later). Often, tapas are consumed while standing at the bar or a nearby standing table. You won't receive table service – you order at the bar.
There are so many variations of tapas that it would get silly if I tried to list them all here. Let's just say that you can try dozens of different Spanish specialties as tapas – from cheese, to cured meats, to a plate of pulpo (octopus) or gambas (shrimp). Tapas bars tend to stick with the traditional, well loved dishes, and they throw in a few creative dishes now and then.
For more information on what you'll eat, see our favorite tapas listed below.
⇒ Did you know: tapas also come in the form of pinchos (see our favorite pinchos crawl in Logrono, Spain) and pintxos (read about the famous San Sebastian pintxos).
What is a Tapas Crawl?
Now we get to the fun stuff! A tapas crawl is where you start at one bar, order a drink, taste a few tapas, then move on to the next bar and do the whole thing again. Groups of friends partake in this tradition frequently. It's a great way to catch up with friends, or to spend an afternoon trying all the incredible dishes you have on your Madrid "to-do" list when you're visiting.
To really do it right, you should plan to visit at least 3 bars on your tapas crawl. How many more you do depends on how much stomach fortitude you have.
» Want to discover more food in Madrid beyond the tapas crawl? See this post for more information on what to eat in Madrid.
How to Participate in a Madrid Tapas Crawl?
There are two great ways to embark on your Madrid tapas crawl. Which version you choose is entirely up to your preference. You can take a guided tapas tour with one of the many companies out there offering tours. Or you can devise a plan of your own and head out there to discover the best tapas bars in Madrid on your own.
Go On a Guided Food Tour in Madrid
There are many companies in Madrid that offer a daytime or evening tapas tour in Madrid. These tours meanders through the backstreets of the city, and introduce you to fantastic old bars and modern tapas gems that you probably wouldn't have found yourself.
Throw in a bit of history, a ton of delicious food, copious amounts of wine and cider, and you're guaranteed to have one of the best evenings you'll spend in Madrid.
There are many benefits to taking a Madrid Tapas Tour. One of the best benefits is having a professional foodie as a tour guide.
Madrid has such a rich food culture that it really takes a professional eater to know it well. That's why we highly recommend going on a tapas tour in Madrid. You won't have to look for the best places yourself and you'll have a much more diverse experience.
⇒ Going to Barcelona too? Read about a tapas and wine tour we loved in Barcelona.
Choose Food Tours That Suit Your Interests
While many of the Madrid tapas tours leave from the famous Bear & The Strawberry Tree statue in Puerta del Sol, they all take different paths around the city and include different stops. If there's something in particular you want to be included on the tour, like local beer or wine, you can pick a tour that caters to your interests.
Here are a few options that offer variety:
Keep in mind that some food tours include food and some don't. If the price for a tour is low, it may be because you're expected to pay for the food you eat during the tour in addition to the ticket price. Be sure to read the fine print to be sure what is included.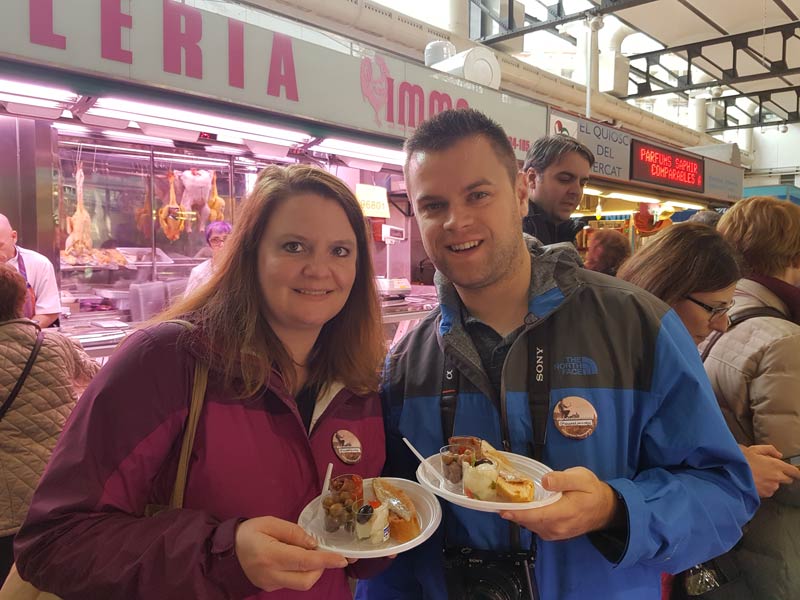 Plan Your Own Madrid Tapas Crawl
The other option is to plan your own Madrid tapas crawl. If you're comfortable with your Spanish or aren't bother by having to point at things you want to eat, there's no reason you can't build your own tapas crawl.
We suggest starting out in Puerta del Sol. It's a very central location in the city and near to all the bars we recommend hitting up. See the map below for the stops we recommend:
Taberna Tempranillo: Basque pinchos (usually bread with toppings)
Casa Lucio: Huevos Rotos
Casa Toni: Mollejas (lamb sweetbreads)
La Casa del Abuelo: Gambas al Ajillo
Museo del Jamon: Jamon and queso
Chocolatería San Ginés: churros and chocolate
What Tapas to Order in Spain
As we mentioned above, there are many different tapas to order. When you enter a bar, the menu will generally be written on a chalkboard behind the bar. The first thing to do is order your drink. If the bar gives free tapas, they'll give it to you now. If they don't give you anything, you'll need to order what you want from the menu.
If you're going to make it to 3 or more bars on tapas crawl, don't order too many tapas at the first bar. It's always tempting, but there will be plenty of time for that. Look around and see what everyone is eating and order that.
Remember to order your drink first! We always go for a Spanish wine or sidra, which is a hard apple cider. It's very tasty and it gets served from a great height above your glass, so you can enjoy the show.
If the bar serves free tapas, you'll receive it with your drink. If you don't get one, you can then order your own from the menu.
Keep in mind that "tapas" are just small plates – so they can be just about any food imaginable, just in a small portion. If you'd rather have more substantial plates, you can order full-sized "raciones" or half-sized "medias raciones" at most bars and restaurants.
Larger plates include things like lamb sweetbreads, steak, and mushrooms, champiñones a la plancha (mushrooms), and albóndigas (meatballs).
If you order half portions, you can try a lot more things, so that's always part of our plan, and likely what you'll do on a food tour.
Our Favorite Tapas
Jamon Iberico
Jamon Iberico – a dry cured ham made from Iberian black pigs – is one of my favorite things in Spain. In Madrid, there are many Jamon shops, like Museo del Jamon, where you can try any grade of jamon you want, including Jamón Ibérico de Bellota. They also have cheese and other meats to try.
Tortilla Española
Spanish tortilla is easily my second favorite tapa in Spain. It's not similar to Mexican tortillas, so don't be surprised when a potato omelette arrives. The dish at its purist is just egg and potatoe, but you may find a variation that has onions, or een other ingredients.
Gambas al Ajillo
Madrid has a lot of great seafood, flown in directly from coastal areas of the country, like Galicia and Andalucia. Be on the look out for gambas al ajillo, pulpo ala galega (octopus) and Calamares fritos (fried calamari).
Patatas Bravas
I've eaten so many plates of patatas bravas. It's such a simple dish – just fried potatoes topped with a tangy tomato sauce and aioli – but it's so good I can't help myself. You get a different presentation nearly every time you order it though, so that mixed it up a bit.
Croquetas
A popular snack all around Spain, croquetas are small fried balls of gooey goodness. They often contain mashed potato, cheese, and variations of meat or fish filling. It almost doesn't matter what's in them. They're always delicious.
Huevos Rotos
Another simple, but delicious egg dish is Huevos Rotos. It consists of soft fried eggs in olive oil, with potatoes and chorizo. You mix it all up and it's incredibly satisfying.
Anchoas
Anchovies are a popular tapa in Madrid. They are often served very simply, with just olive oil. You'll also find them paired with green olives and/or artichokes. Don't shy away from these little tasty morsels. They're spectacular.
Churros & Chocolate
Madrid has a lot of great seafood, flown in directly from coastal areas of the country, like Galicia and Andalucia. Be on the look out for gambas al ajillo, pulpo ala galega (octopus) and Calamares fritos (fried calamari).
Helpful Spanish to Know for Ordering
Vale (

Okay or Yes)

Quisiera uno de esos (I would like one of those.)

Una copita de vino tinto/blanco por favor (

A glass of red or white wine, please.)

Una caña por favor (

A small beer, please.)

No entiendo (

I don't understand.)

Gracias (

Thank you.)

La cuenta por favor (

The bill please.)
Tours to Book:
Frequently Asked Questions on Going on a Madrid Tapas Tour & Spanish Food
How does a typical tapas tour work?
A tapas tour usually involves visiting multiple bars to sample different tapas and drinks. You might be guided by a local expert who shares insights into Spanish cuisine and culture. Some tours include historical information about the neighborhoods you visit.
Can I join a tapas tour without a reservation?
It's recommended to make a reservation, especially during peak times or if you're in a large group. Some popular tours may fill up quickly, so planning ahead ensures you secure a spot.
What drinks are typically served with tapas?
Common drinks to pair with tapas include beer, wine, and vermouth. In Madrid, it's also popular to order a "caña," which is a small draft beer. Sangria is another classic choice.
What is the significance of jamón (cured ham) in Spanish cuisine?
Jamón, especially Jamón Ibérico, is a prized and iconic Spanish cured ham. It's often enjoyed thinly sliced and is a key element in many tapas. The unique flavor comes from the special breed of pigs and the curing process.
CONCLUSION
There are many ways to enjoy the fantastic food options in Madrid. A tapas crawl is just one of our favorite ways to do it. You'll definitely feel like a local if you choose the bars above, where the locals go. It's a fun and exciting way to experience the culture and the cuisine at the same time.
Like this post? Please share it on your Pinterest board so others can find it too. Thanks!
(Disclaimer: This post contains affiliate links for which we may receive a small commission.)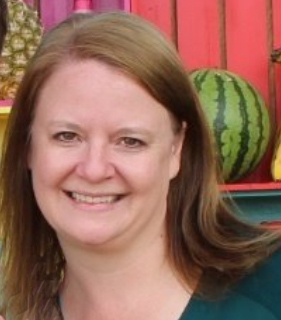 Laura Lynch, creator and writer of Savored Journeys, is an avid world traveler, certified wine expert, and international food specialist. She has written about travel and food for over 20 years and has visited over 75 countries. Her work has been published in numerous guidebooks, websites, and magazines.