Welcome to the fourth edition of Savored Journeys' City Discovery Series. There are so many fabulous cities around the world that I haven't yet had the pleasure of visiting and that are on my travel radar and I feel they should be on yours too.
Since I haven't had the pleasure of visiting these cities in person, we'll discover them together through links to popular blogs, online guides and travel sites.
There is a wealth of information out there and I've drawn it together in this series for you to explore and enjoy. If you see something missing, or have a blog post of your own to add to the list, let me know!
If you haven't already, check out the others in the series – The Best of Stockholm Sweden and The Best of Amsterdam and The Best of Sydney.
Without further ado, I give you…
Abu Dhabi, UAE – United Arab Emirates
Getting to Know the City
One place I've always wanted to go, but haven't yet had the chance is Abu Dhabi, UAE. The ultra oil rich capital of the United Arab Emirates is located 2 hours south of Dubai, and is almost as much of a modern marvel of a city as Dubai has become. Modern, luxury buildings are springing up all over the city, adding to its already cosmopolitan vibe. So which is better? Dubai or Abu Dhabi? Edgardaily.com gives 20 reasons why Abu Dhabi is better than Dubai, one of which is a better taxi to human ratio, for what that's worth.
Something I just learned is that expats make up about 80% of Abu Dhabi's population. ExpatArrivals.com tells us about the culture shock you're probably in store for when arriving in Abu Dhabi, and while it's must more important for expats to be aware of these things, visitors should also take note that this is a strict Muslim country with customs and laws that should be closely adhered to. "Dress and behaviour should be modest, buying and consuming alcohol requires a licence."
If you've been to a Middle Eastern country before, you're probably already aware of the daily call to prayer that will likely startle you out of a deep sleep in the morning. It's also quite crowded at popular attractions and throughout the city there are typically traffic jams, long queues and hordes of people.
What to Do in Abu Dhabi
The city's two main attractions are the extremely opulent Emeriates Palace Hotel and the almost unbelieveable Sheikh Zayed Mosque, which is one of the world's largest and most extravagant places of Islamic worship. Check out World of Wanderlust's quick guide to visiting the mosque.
According to YourAmazingPlaces.com's list of Top 15 Attractions in Abu Dhabi, other things to see are Abu Dhabi Corniche – a 4-mile-long promenade, the Yas Viceroy – one of the area's beautiful hotels, and Ferrarri World, where you can ride fake Ferrari's around a rollercoaster track, among other things.
Of course one of the best ways to see the attractions of a city before you go is to watch other traveler's videos. Here is one by Tripfilms that walks you through the Abu Dhabi, UAE, Must Sees in a short 4-minute video.

National Geographic has a list of 10 Cool Things About Abu Dhabi and #3 is this: Cheetahs, hyenas, Arabian oryx, and thousands of other animals running wild on Sir Bani Yas Island, once a royal hunting preserve. A trip to Yas Island will definitely make it onto my itinerary!
I feel like a lot of people end up taking a couple of days to see Abu Dhabi, UAE, while they're in the area visiting Dubai. If that's the case, you might find this post by Chronic Wonderlust helpful: 24 hours in Abu Dhabi: 5 Things to So, 5 Things to See and 10 You Can Skip. Or try this layover guide.
Where and What to Eat in Abu Dhabi
If you thought beauty in Abu Dhabi stopped at the architecture, you were wrong. The city is full of opulent, extravagent restaurants to fit the lifestyle. Check out TheCultureTrip.com's Food Lover's Guide to Abu Dhabi's 10 Best Cultural Restaurants. You can expect to find all manner of International cuisine, plus a good number of Michelin-star restaurants to suit your rich palette. This article suggests 5 traditional foods you must try while in Abu Dhabi. They are Stuffed Camel, Al Harees, Shawarma, Al Machboos and Hummus.
You might find some of those delicacies at one of the places on this list of five foodie finds compiled by The Wandering Educators.
One of my favorite things to do in a new city (or any city for that matter!), is check out the street food. Local blogger My Custard Pie did all the hard work for us and bring us this awesome post about seeking out street food in Abu Dhabi.
Of course, you can eat in Abu Dhabi without breaking the bank and budget travelers will be glad to see this list of places where a party of 2 can eat for under DHS100 (@$30US).
Nightlife in Abu Dhabi
"The consumption of alcohol is ONLY legal for non-Muslims in Abu Dhabi within licensed restaurants, pubs, clubs, or private venues." That means if you want to have a drink or participate in the nightlife in Abu Dhabi, you need to know where to go. TheCapitalList.ae has an up-to-date list of places to check out.
If you're looking for a quick list, here are Top 10 Bars in Abu Dhabi by YourAbuDhabiGuide.com.  They point out that while some hotels are dry and don't offer alcohol in their restaurants and bars, most do, so you won't have a difficult time finding a place to hang out for a beer or a drink and to check out the vibrant nightlife around the city.
Of course, nightlife doesn't have to just refer to partying and drinking a club all night. There are other things to do in Abu Dhabi at night. At the top of my list is walking around the city to see the lights and how the buildings are lit up in the darkness. That's when you'll see amazing light shows, like the one featured above.
Have you been to Abu Dhabi? Do you have a blog post you'd like to add to the mix? I'd be happy to add more! And I'd love to hear about your experience in Abu Dhabi. Tell us about it in the comments.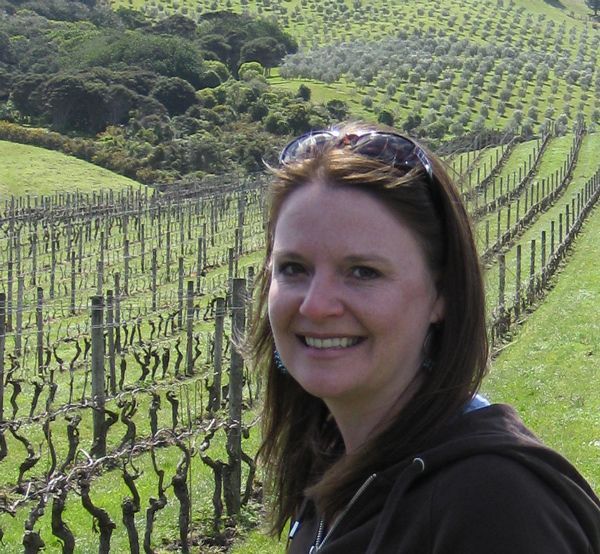 Laura Lynch, creator and writer of Savored Journeys, is an avid world traveler, certified wine expert, and international food specialist. She has written about travel and food for over 20 years and has visited 70+ countries.