Perhaps the best time to visit Iceland is not when you must wear three layers of thermal underwear in order to keep warm, but I prefer to think it's the absolute best time to see Iceland in its true form.­­­­
Iceland in winter was not a typical choice for us. I'm generally disinclined to vacation in cold weather. But when prices are low and crowds are even lower, I wouldn't pass it up. Thus, we overstuffed our carry-on backpacks with gloves, hats, scarves and aforementioned thermal underwear, and we set off on an Icelandic adventure.
Tip: Iceland is a great Christmas getaway!
You're probably thinking that visiting Iceland in winter is pretty dreary and restrictive, and that can definitely be true. You can't go everywhere you probably want to go. The roads are icy and sometimes impassable. The waterfalls might even be iced over, but if you're willing to explore a colder, icier version of Iceland, then you'll love it.
Not only are tours and hotels less full in winter, you'll surely find a fantastic deal on airfare and hotels. Reykjavik is less crowded and it's easier to get on tours. It might not be easier to drive in the winter, but a rental car is still pretty necessary.
»See our Reykjavik Travel Guide for more information.
How to Do Iceland in Winter
Prices for flights to Iceland in winter can be astoundingly low ($480 for a direct return flight from Seattle – the norm is almost twice that much), as can hotel rates, and there are all manner of pre-packaged trips to be had this time of year.
As I mentioned, the crowds are much smaller than during warmer months. The combination of all of these things led to a very satisfying trip. It's really a no-brainer to travel during the shoulder season.
Here is an Iceland winter road trip itinerary, if you want to head out of the city. Or you can do as we did and stick around Reykjavik and take tours to see the Golden Circle and other point so interest.
I found that most flights are of the red-eye variety and land very early in the morning in Reykjavik, which leaves you with a couple of options.
We chose to go straight to our hotel because we wanted to change into warmer clothes, drop off our suitcases, get some breakfast and spend the first day exploring the city.
Check out our 4-day itinerary for Reykjavik to get started.
Another popular choice is to go directly to the Blue Lagoon for a few hours of soaking, since you often can't check in to your room that early. We were just too tired upon arrive to really enjoy the Blue Lagoon, so we opted to hit it up on the way back to the airport. That worked out much better for us. Here's all you need to know about visiting the Blue Lagoon.
Check sites like Expedia and Skyscanner for deals, which are generally very easy to find to Iceland in winter. I'd recommend starting to look around November and keep your eye on the deals until something you like comes up. We also found some great deals on Groupon and Living Social. Another popular option is to try to book Iceland as a stopover on a longer journey (to Ireland or Scotland perhaps?).
Here's our guide to booking free stopovers.
What to Pack
Iceland is very cold in the winter. The temperatures can drop as low as 14 F (-10 C) and rise as high as 50 F (10 C). You'll need to be prepared for any weather, especially colder temps that require better winter gear.
Always be sure to pack the following:
Where to Stay in Reykjavik Iceland
Many visitors to Iceland start their trip in Reykjavik, which we highly recommend. It's a fun city, with plenty of things to do, and nice places to stay. Here are our favorite places to stay in Reykjavik.
Hotels:
For more choices, check out these Hotels in Reykjavik, Iceland
What to Eat & Drink in Reykjavik
The food in Iceland holds many surprises and adventures for the typical American who has never tried such exotic delicacies as minke whale, puffin, reindeer or langoustine.
We were in foodie heaven in Reykjavik. I don't think I've encountered so many incredible eating options in such a small radius before. We were bummed that we didn't have more time to partake. (Read more about food & drink experiences in Iceland).
Our first foodie stop was SÆGREIFINN (Seabarin) where we indulged in the local's favorite lobster soup and a skewer of monk fish. Both were delicious and warmed us right up for the next foodventure – the famous Bæjarins Beztu Pylsur hotdog with "the works". The "works" simply means ketchup, mustard, onions and a special roumalade with relish. It sounds pretty awesome.
Even Bill Clinton stopped by for a dog once (and his picture is hanging proudly at the stand). Also the line at the stand was winding down the road at 11am. But, sadly, I didn't really see what all the fuss was about. I mean, it was okay. The dog did have a nice snap to it. But the best hotdog in Europe?
For dinner, we had an early reservation at Grillmarkadurinn (Grill Market). I am still thinking about that dinner, and that's a pretty remarkable statement. Hands down the best bread and butter service ever. You can see from the picture that our camera even thought the bread out-shined the trio of reindeer, langoustine and whale sliders we ordered as an appetizer.
They have a chef's tasting menu, as most places in town do, which looked pretty amazing, but we had our sights set on specific menu items so we went a la carte. For our main courses, we chose the Tenderloin of Horse (which I realize some people may be upset by – but being that we were in a different country and had never had the occasion to try horse before, we had to embrace the moment; you only live once), and Grilled Lobster with champagne sauce.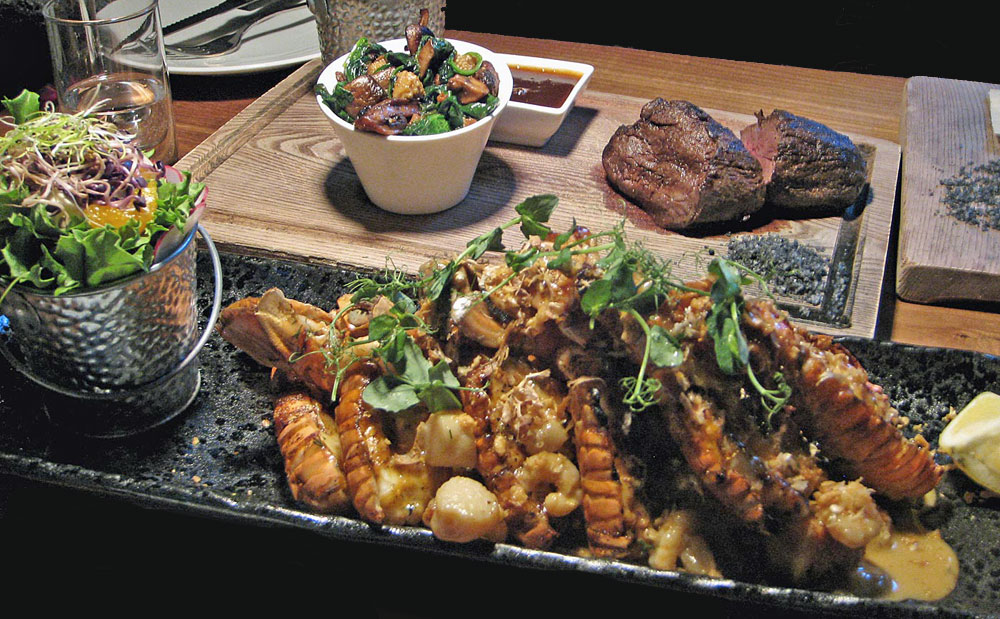 If you're into beer, make a stop at MicroBar, inside the Center Hotel, which supports local breweries and offers the largest selection of unique, imported beer choices in Reykjavik. We got a taster board of all the current tap offerings and enjoyed them all very much.
Next stop was Tapas Barinn for a late-afternoon snack. After looking at the menu, we wished we could order a dozen items. I would highly recommend this place. It's tiny inside, and it gets packed immediately upon opening, but it's definitely worth it to try small amounts of such unique and delicious Icelandic dishes.
Food tours you may enjoy:
What To Do in Iceland in Winter
It is true that you can't get around to all the awesome things that Iceland has to offer in the winter, but you can still do quite a bit. If you've based yourself in Reykjavik, tours and excursions are an easy way to see as much as possible without having to drive yourself around..
Northern Lights
This natural phenomenon of electrically charged particles from the sun entering the earth's atmosphere is said to be at its peak from September to March and is coming off an 11-year peak of activity.
We were intent on seeing the lights, and braved the subzero temperatures on a small group bus tour for the privilege. The bus tour isn't much for comforts. They do what they can to find a perfect spot where the lights are visible, but sometimes it's just a matter of waiting and hoping.
If you're serious about getting a good glimpse at the Northern Lights, I suggest taking a very good camera and brushing up on your manual settings. What you can see with the naked eye is not as impressive as you may hope.
Golden Circle Tour
We really enjoyed the Golden Circle tour around the southern part of the island. While this is a really touristy thing to do, and would be better done at your own pace in a rental car, it was a good way to get a peak at some of Iceland's natural wonders without having to drive in blizzard-like conditions.
We suggest this express tour (which is actually 7.5 hours long) that covers all the top spots. The tour included stops at the Gullfoss waterfall, Geysir geothermal area and Thingvellir National Park, where the American and Eurasian tectonic plates are pulling apart at a rate of a few centimetres per year.
Blue Lagoon
On our last day in Reykjavik, we stopped off at the Blue Lagoon on the way back to the airport. Since we weren't flying out until 5pm, we had all day to enjoy the facility. It takes about an hour from Reykjavik to get to the Blue Lagoon and you'll want to be there early to avoid the crowds that form in the afternoon.
As part of our pre-booked arrangements, BusTravel picked us up at 9am for our transfer. When arrived at the Blue Lagoon, we were very glad, once again, that we are light packers. There was a giant line to check your larger suitcases at the main gate, which we avoided.
→ Buy Blue Lagoon tickets in advance here.
Although the Blue Lagoon is decidedly a tourist attraction and it's not one of the amazing natural thermal pools that Iceland is so famous for, it is still a fun activity to do in Iceland, especially in the winter. You can spend as much time there as you like, swimming in the pools, taking advantage of the sauna and spa, and even indulging in a luxurious meal at Lava Restaurant.
Explore Ice Caves & Glaciers
The ice caves and glaciers in Iceland are a magnificent sight to see and there's no better time to see them than in winter. You can get on a guided tour to venture into the ice caves. We recommend one that goes to an ice cave under Katla Volcano.
The Katla Ice Cave is truly unique. The ice cave is located in Kötlujökull Glacier which is an outlet glacier of Mýrdalsjökull Glacier.
The view inside the Ice Cave is truly spectacular the combination of the colors of the ice, you will get the chance to see some amazing black ice as well as some blue ice features.
Snowmobiling
Snowmobiling is a fun activity to do in Iceland during the winter. You can even take a tour to somewhere really cool, like the Langjokull Glacier for a day to snowmobile around the area and see the glacier.
Many of the areas that you'll need to access to do proper winter sports are blocked off to regular traffic during the height of winter, but you can still access them with a guide in a 4×4 vehicle, so the best way to get involved in winter sports like snowmobiling is on a guided tour.
Book a tour here:
Ice Climbing and Glacier Walk
If you're up for a real adrenalin pumping adventure, then ice climbing and glacier walks will be right up your alley. The Sólheimajökull glacier-walking tour is a great option.
Harnessed up for safety, climb the vertical crevasse walls of the Sólheimajökull glacier with your guide and admire the spectacular scenery you find. Follow frozen routes over the mighty glacier, peer down into huge crevasses, and put your ice axes and crampons to good use on the icy terrain. Enjoy personal attention from your guide on this small-group tour, limited to 12 people.
Reykjavik Food Walk
I'm always a fan of eating where ever we go. It's a great way to experience the culture through food, to learn what culinary influences there are, and to have a great time. You can go on an organized Reykjavik Food Walk.
On the tour, you'll visit a variety of Reykjavik eateries from restaurants to food trucks, and sample a selection of traditional dishes and street food favorites including Icelandic cheeses, lamb, homemade ice cream, and the famous Icelandic hot dogs.
As an added bonus, you'll walk by many of the top sights in town like Hallgrimskirkja, the Harpa concert hall, and Parliament House.
Tours to Book:
Conclusion
Iceland can be a very rewarding place to visit in the winter, as long as you're prepared for the cold. I wouldn't hesitate to book a trip to Reykjavik in the winter months. It's a fun city, no matter when you go!
Pin it for later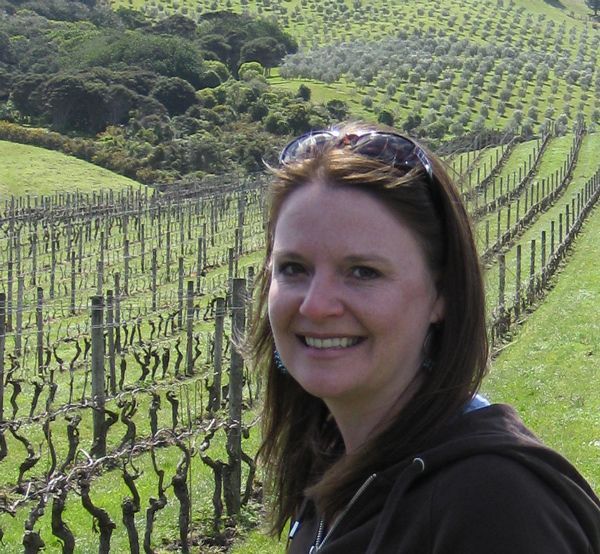 Laura Lynch, creator and writer of Savored Journeys, is an avid world traveler, certified wine expert, and international food specialist. She has written about travel and food for over 20 years and has visited over 75 countries.