There's something particularly special about afternoon tea in England, whether it's being served in a traditional tea room in England or in your own living room in the United States. Perhaps it's those little sandwiches filled with cream cheese and cucumbers or the excitement of being served a multi-tiered tray full of goodies. Whatever the case, it's always a fun experience and one you should seek out while visiting London.
While living in London and touring around England, we've had ample opportunities to enjoy afternoon tea (and cream tea) in all kinds of styles – from the grand Champagne afternoon tea with a view at the Shard to a whimsical Mad Hatters Afternoon Tea experience, to a very modern cocktail paired tea. No matter what you're looking for, there's a chance to experience it in London.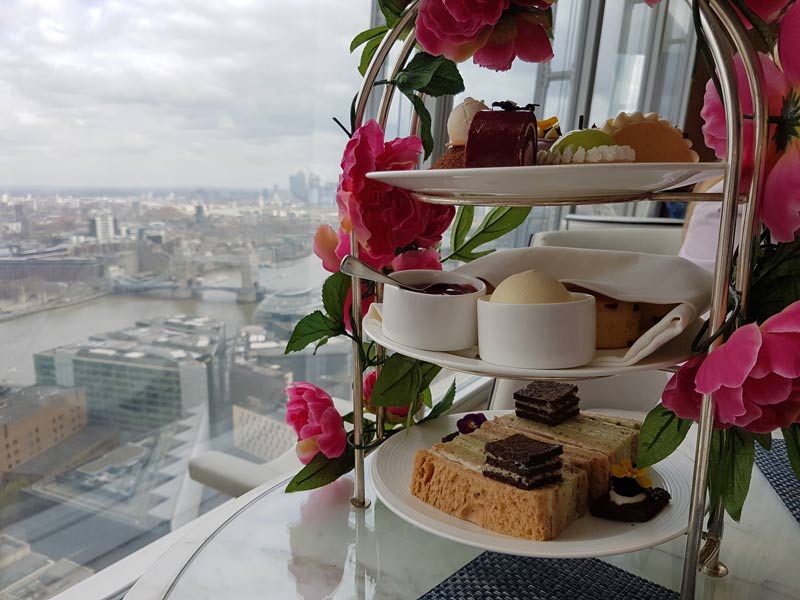 In this post, we'll share with you the history of afternoon tea, the differences in styles, how to serve it, where to go for afternoon tea in London and throughout England. And for those who make it to the end of this post, you'll be rewarded with our best scones recipe so you can make it at home.
Planning your trip to London?
Where to Stay in London:
Best Tours and Experiences in London
» If you're looking for more help planning your trip, here's our guide to traveling in England, our Essential Travel Guide to London, and How to Spend One Day in London.
The History of Afternoon Tea
As you might have suspected, afternoon tea has more to do with tiding you over for dinner than a celebratory ceremony, as we tend to view it today. In the mid 17th century, Anna, the 7th Duchess of Bedford, is said to have invented afternoon tea as a way of relieving her afternoon hunger.
At that time, it was typical to only eat breakfast and dinner, so by midday the duchess needed something to eat. She then began inviting her friends to join her, and it became a popular practice. Today, we tend to view afternoon tea as a celebration, or a treat, usually while on vacation or as a special occasion.
What is Afternoon Tea like today?
Afternoon Tea is usually reserved for a special occasion in the United States, but that's not the case in England. It's a fun activity to enjoy with friends, but it's also still viewed as a sort of afternoon pick me up. It's typically served from noon to around 4pm in many hotels and upscale restaurants, as well as tea rooms.
Afternoon tea consists of a very traditional arrangement of pastries, scones and finger sandwiches on a three-tiered tray, along with a pot of tea.
The scones come with jam and clotted cream, which you can spread on the scones as you like. You'll find out below more about how to layer these toppings, depending on where you are in England.
When you go for afternoon tea with a group of people, there will be enough items on the tray for everyone. The price is always based per person. Prices range depending on the quality and popularity of the place you go, but it's rarely under £20 – usually closer to £40.
What is Cream Tea?
Prior to traveling in Cornwall, in the southwest of England, I was not aware of the term cream tea, nor had I ever had it, so I wasn't sure what to expect. As it turns out, cream tea isn't just tea with milk. It's a lower-key variation of afternoon tea with just tea, scones, clotted cream and jam. No three-tiered tray, mini-sandwiches, or sweets.
Where to Go for Afternoon Tea in England
In London, there are hundreds of places you can go for afternoon tea. What you settle on should be based on the type of experience you want to have. There are high-class, white glove experiences, Champagne teas, cocktail teas, garden teas, fancy hotel teas, and unique themed experiences.
I've narrowed it down to our 4 favorite afternoon tea experiences in London below. Each offers something a bit different and unique.
The Shangri-La Hotel at the Shard London
You can't miss the opportunity to have afternoon tea in London at the Shangri-La Hotel at the Shard. Not only will you have one of the best views in the city from the 35th floor Ting Lounge, you'll have the chance to sample some of the delicious pastries made in house.
The afternoon tea spread at the Shangri-La is always a treat. They have over 30 teas to choose from and you can add a glass of Champagne to make it an extra special occasion. Coupled with that view, it's one of the best afternoon teas in London.
Details: Book Here, £59 per person or £69 with a glass of Veuve Clicquot. 12pm – 4pm (Mon – Sun) last seating at 4pm.
⇒ Read about more fun foodie things to do in London.
Afternoon Tea at The Rubens at the Palace
This is the quintessential British Afternoon Tea at The Rubens at the Palace, overlooking the Royal Mews of Buckingham Palace. It doesn't get any more magical than this for first-time visitors to London. The pastries, sandwiches and scones are all top notch.
If you're visiting Buckingham Palace as part of a day of walking around the sights in London, you can stop here for a traditional afternoon tea, a bottomless Champagne tea, or an afternoon tea picnic in the park.
Details: Click here for more details on all the options and to make a booking. Address: 39 Buckingham Palace Rd. Read reviews
Afternoon Tea at London Bridge Hotel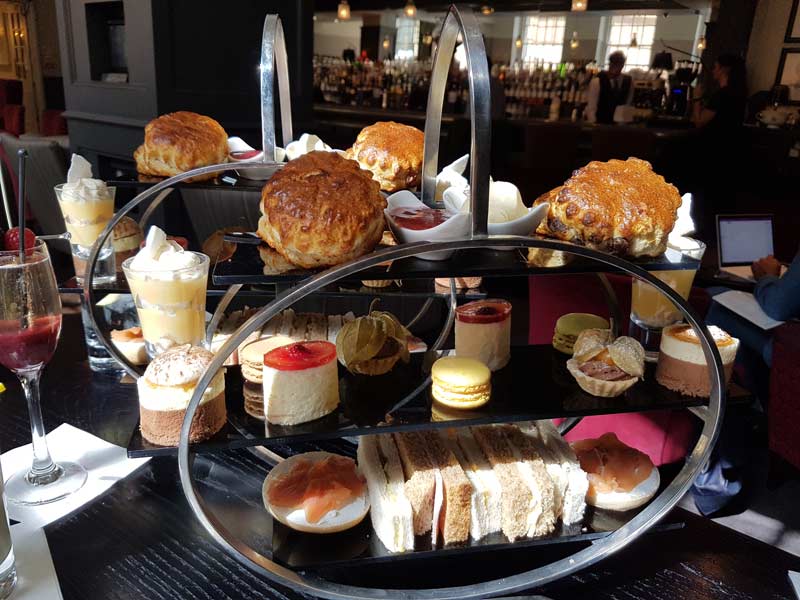 For a more casual modern afternoon tea experience, with great food, and the opportunity to have a glass of Champagne and some cocktails along side, go for the afternoon tea at the Quarter Bar in the London Bridge Hotel. It's one of the best, least fussy afternoon teas I've had in London.
You'll get a selection of perfectly presented finger sandwiches, freshly baked scones with clotted cream and strawberry jam, and a selection of melt-in-the-mouth pastries with your tea, and it's a very affordable £25 per person.
Details: Book Here. You don't have to be a guest of the hotel to book here.
Charbonnel et Walker Afternoon Tea at May Fair Hotel
The May Fair Edition Charbonnel et Walker afternoon tea is a creation in partnership with the renowned chocolatiers, known for using only the finest couverture in their coveted truffles and chocolate.
This is definitely the afternoon tea experience for chocolate lovers, because the tray is filled with it: chocolate scones, flourless chocolate and orange cake, doughnuts with chocolate sauce and tiramisu with chocolate shavings, accompanied by a tempting assortment of Charbonnel et Walker truffles.
Details: Book Here, available from 2:30pm-4:30pm. £35 per person or £45 with a glass of champagne
Afternoon Tea Outside of London
Just about every city and town in England has numerous opportunities for afternoon tea. Below are a few of our favorite experiences.
The Pump Room Restaurant in Bath, England
Most visitors to England will take at least a day trip to Bath, particularly as it's less than 2 hours on the train from London. In Bath, you can't pass up the opportunity to have afternoon tea at the ever-popular Pump Room, located right beside the roman baths in the center of town.
The Pump Room is housed in a beautiful Georgian building dating from 1795. You feel almost like you're part of that fashionable Georgian society when you dine there. They don't skimp on the "delights" part of afternoon tea at The Pump Room. The beautifully arranged tray includes the obligatory scones with clotted cream and raspberry jam, an array of finger sandwiches and a pot of salmon creme with toasts, plus a top layer that is crammed full of sweets.
If you want to have afternoon tea or lunch at the Pump Room, be sure to make a reservation in advance. At popular times in Bath (which seems to be always), it might even be best to book a few weeks or more in advance.
Details: Book Here. Reservations are only taken Monday-Friday, and Sundays for brunch and lunch only. The Pump Room Champagne Tea is £36.50 per person.
Our Favorite Place for Cream Tea in England
Carnewas Tea Room
The adorable Carnewas Tea Room is located at the Bedawan Steps, part of the National Trust for Places of Historic Interest or Natural Beauty, a conservation society in England. It has been family-owned and operated for more than 40 years. The scones are made fresh multiple times per day. The clotted cream, which is amazing, is locally made, along with the jam.
When we arrived at the Carnewas Tea Rooms at the Bedawan Steps in Cornwall, we were in for a treat – and the rare occasion to learn a new eating custom. Cream tea takes its name from the iconic clotted cream that is spread copiously on top of the warm and flaky scones.
We were served four enormous scones, fresh from the oven, along with a cup full of strawberry jam and clotted cream. The instructions in the menu kept us from making the terrible mistake of spreading the cream on first and the jam on second. In Cornwall, the only appropriate order in which to dress a scone is jam first, cream second.
In other parts of England (read: anywhere except Cornwall) you would put the cream on first and the jam on second.
Open for most of the year (with exception of the winter months), Carnewas Tea Rooms is a small and inviting brick house with room for only 50 or so people inside, and maybe 60 outside. If our visit was any indication, it is always packed full of locals and visitors who have come from near and far for the opportunity to sink their teeth into one of those tasty scones.
Details: Call (+44) 01637 860701 to book. Carnewas Tea Rooms is open from February half term to the end of November, every day 10.30 – 5.00pm
Making Our Own Afternoon Tea
Up for the challenge of making your own afternoon tea? I wasn't completely sure we could make our own afternoon tea, but it wasn't nearly as difficult as I thought. I can make the finger sandwiches with no trouble, but I hadn't ever made scones and to be honest, I'm not much of a baker. But it really wasn't difficult, so I encourage you to make your own at home.
We participated in an afternoon tea cooking class, but they have all kinds of classes available. The lovely Judy Dain runs the cooking school and she makes the learning fun and easy – despite all the whipped by hand that is necessary to make the Victoria Sponge and shortbread cookies we made.
Judy taught us everything we needed to know about making scones and put our minds at ease about baking up the goodies that form the perfect afternoon tea.
After the 2-hour class, we sat down to an afternoon tea made entirely by us. It was gratifying to be eating our own home-baked scones, so I wanted to share the Vaughan's Cookery School scone recipe with you, so that you can make them at home, any time you feel like it!
Details: Book a cooking class at Vaughn's Cookery School. Devizes, Wiltshire, England.
It's really pretty easy! Try it at home and see what you think. The only issue we have is getting the clotted cream, since it's not as prevalent in the United States, but you can find a substitute in mascarpone cheese or by whipping your own cream.
Yield:

8 large scones
Scones
Scones are the perfect vessel for jam and clotted cream.
Ingredients
250 g plain flour
10 g baking powder
50 g butter
25 g sugar
pinch salt
150 ml buttermilk
Instructions
Sieve flour, baking power and salt into bowl.
Rub butter into flour to form crumbs
Add sugar (also add fruit/cheese at this stage if required)
Mix buttermilk into dry ingredients until soft dough is formed. Do not overwork.
Press or roll out on floured board to 2cm depth
Cut out scones, being careful not to twist cutter.
Place on greased baking tray. Brush milk or eggwash on top.
Bake at 220C (430F) in preheated oven for 12-15 mins until golden brown.
CONCLUSION
Whether you decide to take a trip to London or somewhere else in England to try afternoon tea, or you stay at home and make your own, I know you're going to love the experience! Tell us about your favorite afternoon tea experience in the comments.
Like this post? Why not save it to Pinterest?
FOLLOW US on Pinterest, Instagram, Facebook for more great travel inspiration and tips.
See all the coverage of our trip to the south west of England.
(As always, all thoughts and opinions expressed in this post are my own honest reflection on our travel experiences).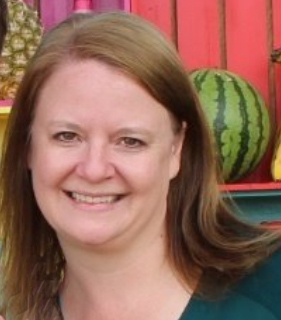 Laura Lynch, creator and writer of Savored Journeys, is an avid world traveler, certified wine expert, and international food specialist. She has written about travel and food for over 20 years and has visited over 75 countries. Her work has been published in numerous guidebooks, websites, and magazines.