Note: Due to current circumstances, some information may be outdated. Please check official websites before you travel. Be advised this article may have links to products we make commission from.
In a city like Athens, where dozens of Greek specialties hide in tiny local neighborhood restaurants and bakeries, you need the help of an in-the-know food tour to really get the lay of the land and ensure that you try all the best foods. We recently went on the food tour with Greeking.me, a local company that offers a comprehensive Athens food tours among other great Athens tours.
Athens is somewhat of a confusing city with many clusters of neighborhoods and dozens of side streets. If you were to navigate it yourself, you may find it difficult to understand. If we had done it on our own, we certainly would have gotten lost, which would no doubt lead to some interesting food discoveries, but we wouldn't have tried nearly as many Greek specialties as we did with the help of greeking.me and their awesome 4-hour Athens for Foodies tour.
The tour starts at Syntagma Square. A short history lesson is in order to start the tour off right, with some knowledge of the past that has defined the culinary landscape in Greece. Early migration introduced various cuisines to the area and defined the spices and techniques that make Athens' food unique.
⇒ Looking for somewhere to stay in Athens, Greece? Try NEW Hotel Athens. We loved it.
Arrive Hungry!
You absolutely must arrive at the tour with an empty stomach and be ready to eat, eat, eat. They don't mess around. The time allotted for the tour is used to the maximum, with as many as 15 food samples, as you walk through popular areas and up-and-coming neighborhoods with dining options lining the streets.
You won't regret booking this Athens food tour. By the time the tour ends, you'll feel like you've begun to conquer the list of things you must eat in Greece.
Foods We Tried on the Tour
Here are a few of our favorite things that you can expect to taste on the tour.
Koulouria
One of the first foods you see upon arriving in Athens is koulouria, the pretzel-like bread rings with sesame seeds being sold by vendors all over the city. This breakfast and snack food is a must-try in Athens. It's slightly sweet and heightened by the taste of the sesame seeds.
Cured Meats and Dolmadies
One of my favorite stops was at a cured meat shop that has been around since 1922. Famous for its pastrami and charcuterie, this incredible meat shop also has cheese and finger foods like dolmadies that it serves to customers who wish to take a seat at the few tables scattered throughout the store. The pastrami was delicious and unique.
Loukoumades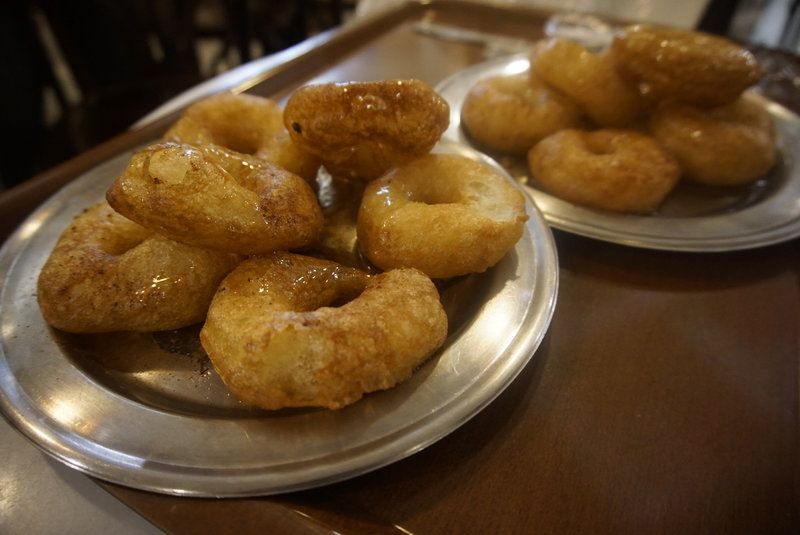 For the sweet tooth, the tour features some of Athens great pastries and puddings. We tried an incredibly creamy baked rice pudding and a crispy honey-drizzled donuts called loukoumades that are from an original recipe used as far back as the first Olympic Games in 776BC, when they were given as a prize to the victor.
Pork Ribs
Once we had the sweets out of the way, we got on to more serious eating with some of Athens best grilled pork chops and fries, which came along with some really good garlic bread.
Moussaka and Soutzoukakia me hilopitaka
No foodie tour is complete without a walk through the local food market – which in Athens is a very local, fresh meat butchery and fish market. There is a restaurant tucked away inside the meat market that sells all sorts of traditional dishes, like Moussaka and Soutzoukakia me hilopitaka, which is like the Greek version of pasta and meatballs.
Our last stop was at a sidewalk eater in the popular Psiri neighborhood, where you'll find a bunch of attractive-looking restaurants and bars. It was here that we had our first cup of Greek coffee, much like Turkish coffee, but less roasted.
Booking a Tour with Greeking.me
The tour lasts at least 4 hours and when you sit down for coffee, you'll realized how full you've gotten over the last few hours. Dinner won't be necessary.
When in Athens, we highly recommend setting up a tour with Greeking.me and getting to know the shops and areas for yourself. They also offer many other tours (including city tours and even dancing lessons). They offer both group tours and private tours.
(We were invited by Greeking.me to experience their tour, however all opinions expressed here are our own.)