Most visitors to Greece will visit at least one of the Greek Islands during their trip. It would be a shame to visit Greece and not experience the incredible beauty and hospitality of Santorini, Mykonos, or Crete. But if you're planning this journey, you may be wondering how to get to the islands.
We are going to give you all the info you need on how to take the Athens to Santorini ferry in this post. Taking the Greek Island ferries is not the fastest way to get to many of the major islands, including Santorini and Mykonos.
There are direct flights to the major islands that leave from Athens regularly. For instance, you can catch a flight from Athens to Santorini on a number of different airlines for around or under €80 round trip and it takes about 1 hour.
However, when you factor in the cost to get to and from the airport and the waiting time prior to the flight, it can quickly start to feel less like a vacation and more like a hassle. That's why many travelers prefer to take a ferry between the islands instead.
Another major reason people resort to taking the ferry is because many of the smaller islands don't have airports and ferries are the only way to travel between them. That's not the case with Santorini, though.
Are you planning your trip to Athens?
If you're traveling to Athens, ensure you have lodging and tours booked ahead of time! Below are some of our top picks to help you plan!
Where to Stay in Athens:
The Pinnacle Athens (5-star luxury hotel, amazing views from rooftop terrace)
MET34 Athens (In Syntagma Square, breakfast included)
Athens Gate Hotel (Opposite the Temple of Olympian Zeus, free breakfast)
Best Tours and Experiences in Athens:
Acropolis Museum + Acropolis tickets (Skip-the-line entrance to the museum)
The Athens Pass (Acropolis museum, Acropolis & Archaeological Sites: Combo Ticket, and city tour audio guide included)
Tickets for Athens Bike Tour: Ride and Bite (2.5 hour bike ride, including food)
How to Take a Ferry to Santorini
Keep in mind that the Athens to Santorini ferry is not super fast. The journey takes anywhere from 5-9 hours, depending whether you choose a speed boat or a conventional ferry.
The slow ferry is an economical way to get between Athens and Santorini and it's also a fantastic way to see the sights as you travel and to make the most of your time in Greece.
Believe me, I've flown between Athens and Santorini and I saw nothing from the plane window until we were about to land. Mind you, you'll also see nothing from the high-speed ferry, as you're not allowed to go out on the deck during travel.
How to Book the Athens to Santorini Ferry
The Athens to Santorini ferry (and return) operates daily and tickets cost anywhere from €20 to €76. You'll want to buy your tickets as soon as possible, especially if you're traveling in the summer season, because the most popular boats fill up fast.
That being said, you don't have to buy tickets online before you arrive, but if you're like me and want to have the peace of mind it gives, you should do so. The schedule for these island ferries changes frequently, and varies based on season, so you need to be especially careful when reading schedules to figure out ferry times. I wouldn't necessarily trust just any schedule you find online, as it might be old or outdated.
If you show up at the terminal expecting to get on a ferry, you might find it doesn't exist anymore. There are multiple ferry companies competing for your business. The Athens to Santorini ferry route (which services the Cyclades Islands) is currently operated by five different ferry companies.
Blue Star Ferries is one of the most comfortable journeys and they operate their crossing up to 16 times per week. Anek Lines only goes two times per week.
Zante Ferries goes three times per week. Sea Jets goes three times per day.
And the Hellenic Seaways ferry is available as many as seven times per week.
In order to navigate the ferry system smartly, we think it's convenient to use an online booking service like Ferry Hopper to book your ferry tickets. It's just like booking a flight. Search for your dates and you'll be given all the options to choose from.
If you need to take a car with you on the ferry, be sure to search for tickets with car. We don't recommend taking a car. It gets expensive fast, plus you can always rent a car in Santorini if you need one.
⇒ Book your ferry tickets here. Or you can use the ticket booking engine right here to find your tickets:
Which Ferry to Choose
You may be a little confused by the various options of ferries from Athens to Santorini. There are multiple ferry companies: Seajets, Hellenic, Blue Star, Aegeon Pelagos and Golden Star are the main ones, but there are many others.
The best way to know what type of ferry you're booking is to look at the time it takes to get there. As you can see from the table above, there are journeys that take 4:50 and journeys that take 9:15.
This has more to do with the speed of the boat than the number of stops it makes along the way, as most ferries make at least a few stops enroute to Santorini.
Traditional Ferries
Each company operates several types of ferries. There are traditional ferries, which hold a lot of passengers (sometimes up to 2,500), plus vehicles. These can take as long as 7-14 hours, depending on how many stops they make. They have regular row-style seating, as well as higher-end cabins, plus a restaurant and bar, and some areas of the deck that you can visit outdoors.
These boats are cheaper than the speed boats, and they have a few other pros over the faster options. You can actually go outside if you want, there is more space on the boat to walk around – it feels more like an actual sea cruise, and they don't sway in the weather like the smaller boats.
On the Blue Star ferry that takes 7 hours 25 minutes, there are quite a few seating options to choose from. These vary in price.
Deck is the cheapest ticket. It doesn't give you an assigned seat, rather allows you to sit in any of the common areas on deck or in the economy lounge.
Lounge Seat is only €5 more and gives you an assigned seat in the rows in one of the lounges.
Business Class Lounge gives you a set in the first class lounge with great views, big couches and a bar.
4-bed Cabin with shower and WC
Double Bed Cabin is located in the front of the boat and is larger than the other cabins and has a porthole.
Speed Ferries
Hellenic, Seajets, Golden Star and Aegean Speedlines all offer high speed service. The speed ferries carry a lot less people – usually around 300-500. They will get you to Santorini much faster than the bigger boats, but there are some trade offs.
Generally the smaller, fast boats have less space (especially when all the tickets are sold), and in bad weather they can rock a lot (or even get cancelled), so don't take a small boat if you get sea sick easily. They also don't allow passengers to go outside. It won't be as "fun" of an experience on the speed boat.
On the Seajets Champion Jet 1 boat that takes 4 hours 50 minutes, there are several different seat arrangements. Each of these tickets goes up in price by €10.
Silver Seat gives you a regular numbered seat assignment in the lower level of the boat.
Club Class Seat gives you a seat assignment in the upper level of the boat.
Platinum Seat gives you a seat in the Platinum lounge, which has less seats.
Getting to the Athens Ferry Terminal
In Athens, the port that most of these commercial ferries goes out of is called Piraeus and is located about 10 km south of Athens city center. There are two other ports in Athens where ferries leave from: Rafina and Lavrion.
It is much less likely that your ferry will leave out of one of these terminals, but be sure to double check the ticket before you purchase it. You can get to the ferry terminal very easily from both the airport and city center, by using one of these modes of transport:
Taxi: It's always quickest and easiest to take a taxi, but it will cost more than other modes of transport. Taxis from Athens city center to the Piraeus port are around €25 during the day and €38 at night and it takes about 30 minutes. From the airport, a taxi will cost €58 during the day and €65 at night and it takes about 40-60 minutes.
Welcome Pickups: We like to pre-book a transfer service, so we know someone will be waiting for us at the airport and we'll be able to go directly where we want without delay. With Welcome Pickups, you can book a private transfer for the same price as getting a taxi from the line.
The prices above for taxis are the same as for Welcome Pickups. The drivers are skilled, English-speaking and will monitor your flight for delays. It's the clear winner. Book your transfer in advance here.
Metro: The green line of the metro will take you from the Athens city center (from Omonoia square) to the Piraeus port in about 25 minutes for approximately €1.40 (current prices). From the airport, you will need to take the blue line to Monastiraki station, then transfer to the green line, which takes you directly to the port.
Uber: Greece does have Uber, so if your preferred method of transport is Uber, you're in luck. Once you arrive, be aware that the port area is rather large and it can be difficult to find your way around. All ferries to Santorini depart from Port Gate Ε7.
With that in mind, you can check this online map to see where to go. The port you will arrive in is called Thira (in Santorini).
Tips for Traveling on the Athens to Santorini Ferry
If you get sea sick at all, make sure you choose seats at the back of the ferry. It will make the journey more bearable for you.
Arrive at the port at least an hour before departure to be sure you don't get left behind, or get in the back of the line, especially if you don't have seats booked.
Book in advance to get the times and seats you want (especially in high season.
The high-speed boats have a bathroom and a bar, but not much else. You can take your own food on board.
Motion sickness pills will help – be sure to take them before you board.
Connecting from Santorini to Another Cyclades Island
Since Santorini is so easy to get to from Athens, it is the perfect starting point for island hopping. You'll love the jaw-dropping views from Oia and all the delicious Greek food and Santorini wine. It is not far from Santorini to the other Cyclades islands.
For instance, a ferry ride from Santorini to Mykonos takes about 2.5 hours and costs around €30-67. You can also get from Santorini to Crete (1.5-3 hours) or Naxos, Paros, Milos, or Koufonisia via ferry. Don't forget to check your route and book your ferry tickets before you go.
You can use this service to book multi-leg journeys that will take you between many of the islands, if your plan is to island hop. Of course, you can also just get the Santorini to Athens ferry return when you're done sightseeing on Santorini.
If you've already bought you ferry tickets in advance, you'll just need to arrive at the Thira cruise port at least an hour in advance of your sailing and get on the boat. If you haven't booked tickets in advance (which we do not recommend), you should get there in plenty of time to buy the tickets. It can get really super busy, so you risk the chance of not being able to get a seat on the sailing you want.
CONCLUSION
No matter which Greek island ferry you want to take, you can book them all through this useful tool. It will make all your Greek Island hopping much easier to plan and organize.
Like this post? Why not save it to your Pinterest boards?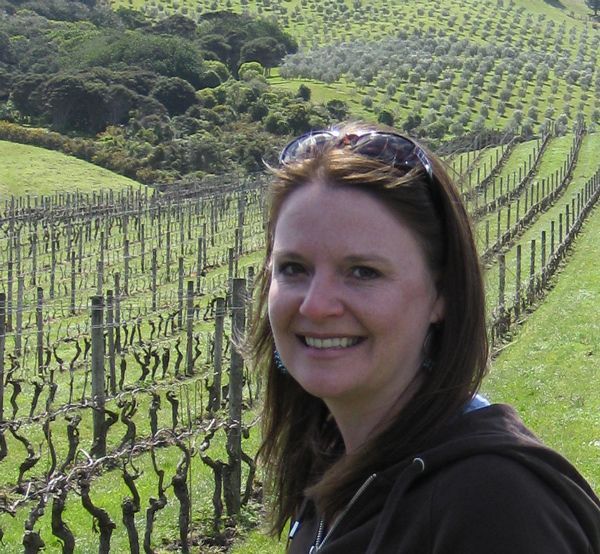 Laura Lynch, creator and writer of Savored Journeys, is an avid world traveler, certified wine expert, and international food specialist. She has written about travel and food for over 20 years and has visited 70+ countries.