Destination dreaming. That's what I call it. Those times when I'm bored and I start looking up awesome places just to picture myself somewhere else. It's actually one of my favorite pastimes.  Whether you're a seasoned traveler who's been all over the world or you rarely leave your hometown, you probably daydream about far off, exotic and beautiful destinations where you wish you were, rather than where you are. We all do it.
I'm going to make your day dreaming a little easier today. I've compiled a list of 30 awesome places around the world where I'm confident you'd rather be right now.
These destinations were chosen by myself and some of my favorite travel bloggers, who have been to these places themselves and can unquestionable say that you would rather be there right now. Let the destination dreaming begin:
Awesome Places You'd Rather Be Right Now:
1. Watching the brilliant sunset in Fiji
Betsy Wuebker of PassingThru.com: We'd rather be on the Coral Coast of Fiji, sipping a cocktail and watching the show Mother Nature puts on every night before she goes to bed. People say South Pacific sunsets are the best in the world. It's not hard to argue with that when you see the sky on fire, reflected in the reef's shallow sea. It's a double whammy. The best part? It'll happen all over again tomorrow. Fiji isn't where happiness is pursued, Fiji is where it is lived.
Find Betsy on Facebook: https://www.facebook.com/pages/PassingThrucom/110487609609
2. Floating in a pool in Cancun
One of my favorite and easy destinations for beach vacations is Cancun. The weather is great year-round (though quite hot in the middle of the summer), so you can always spend plenty of quality time in the dazzling pools that so many of the large all-inclusive resorts are known for. This pool can be found at the Valentin Imperial Maya resort in Playa de Secreto, about 20 minutes south of Cancun, on a quiet stretch of beach, where you can get away from it all and just relax poolside with a frozen cocktail.
3. Admiring waterfalls in Mauritius
Heather Cole of Conversant Traveller: For me it's Mauritius. Not for the beaches (we didn't even visit those, gasp!), but for the lush interior of the Black River Gorges National Park in the south-west of the island. This 272-foot waterfall at Chamarel is the single reason we decided to make a 'slight' detour on our way to South Africa last year, and it's every bit as stunning in real life as it is in the photo! Famed for being the 'best' waterfall in Mauritius, the Cascade Chamarel of the St Denis River is surrounded by lush jungle vegetation against an impressive mountainous backdrop. We loved having it to ourselves whilst all the other tourists were lounging on the beaches, and even better…just down the road there is a sugar cane rum factory where you can spend the afternoon sampling the goods. Bliss!
Find Heather on Facebook: https://www.facebook.com/theconversanttraveller
4. Sunbathing in Meteora, Greece
Anna Faustino of Adventure in You: When you say Greece, the first thing that comes to mind are gorgeous beaches and clear waters, rolling hills, and stunningly picture perfect islands. Meteora in Greece was a place that pleasantly surprised me. I stumbled upon it as I was flipping through the pages of my Lonely Planet book, trying to figure out a way to get to Italy. Despite only seeing a tiny photo, I was instantly enchanted and soon found myself on a bus heading towards the majestic mountains of Meteora. These high rock pinnacles have about 24 monasteries built on top and are truly a marvel to look at. I hiked towards the top and stopped at this one point where I did nothing but gaze in marvel and complete awe! I was thankful for that moment where I knew I was meant to travel and explore this big beautiful world.
Find Anna on Facebook: https://www.facebook.com/adventureinyou
5. On the lake in New Zealand
Jen Seligmann of The Trusted Traveller: Have you ever visited a place so incredibly beautiful you just can't bear to drag yourself away from it? That was me on my visit to Lake Matheson on New Zealand's South Island. The one and a half hour walk around one of New Zealand's most picture perfect lakes takes you through ancient forest and offers views of the surrounding mountains from various viewing points around the lake. The showstopper though is the sight of Mt Cook, New Zealand's tallest peak, and it's reflection (on a calm day) on the lake. After a few hours spent walking, taking in the view and trying to capture that perfect reflection shot on my camera, it was a difficult task to try and drag myself away and onto more beautiful New Zealand's sights.
Find Jen on Facebook: https://www.facebook.com/TheTrustedTraveller
6. In Cappadocia, Turkey
Ania of HitchHikers Handbook: Cappadocia, Turkey, is one of those places you just MUST see in your lifetime! It is truly exceptional and looks stunning in all seasons! Located in the heart of Turkish Central Anatolia, this UNESCO World Heritage Site lies on a high plateau (above 1000 metres) and it's dotted by thousands of spiky volcanic rocks, with the highest of these jaw-dropping geological phenomena rising up to over 3000 metres! The site is also a real treat for all history buffs as there you will be able to explore several underground cities interconnected by tunnels, which were used by early Christians to hide from Persian and Arabic invaders in the 6th and 7th centuries. Don't miss the Göreme Open Air Museum which contains more than 30 rock-carved churches and chapels with some superb Byzantine frescoes from the 9th-11th centuries. And have I mentioned that you can see all that from above on board of one of the numerous hot air balloons floating above the breathtaking volcanic landscape? And if you don't like flying, you can cheaply hire a moped and whizz around the entire area to ensure that you visit all the beautiful sites.
Find Ania on Facebook: https://www.facebook.com/HitchHikersHandbook
7. Sailing into the sunset in South Africa
Inma Gregorio of A World To Travel: So many! But if I have to choose just one right now after facing my laptop for hours in my Spanish base, that would be Durban, South Africa! I enjoyed a so epic time there that it is usually the first one that comes to my mind. Its stunning location by the ocean, the friendliest locals I have ever came across, and its hip vibe make it my perfect place – the one I know I want to go back as many times as possible in this life. Are you with me?
Find Inma on Facebook: http://www.facebook.com/aworldtotravel
8. Walking around Copenhagen
Annemarie Strehl of Travel on the Brain: I would rather be in Copenhagen right now. Why? Because now is the best time to visit Scandinavia and you won't believe how happy people are when the sun is out. Seeing all these people having coffee in cute cafes, biking from park to park or just enjoying a fresh breeze by the harbour can only boost your happiness levels. It is also much more fun than freezing in deserted alleys, trying to get a glimpse of the little mermaid or change of guards at the palace. I tried and trust me, it's not great. My absolute favourite place is Nyhavn with its colourful houses and the old-fashioned boats. Another little gem is the park next to Rosenborg, which keeps the crown jewels safe. It is a beautiful little piece of exact gardening (pretty much English) and has a statue of the famous author Hans Christian Andersen at its centre. More Danish than this is hard to find.
Find Annemarie on Facebook: http://www.facebook.com/travelonthebrain
9. Enjoying an Island Paradise
Anne Apostol of www.girlchasingsunshine.com: El Nido in Palawan, Philippines is one place I consider special and sacred to me. My first visit in 2012 was nothing but breathtaking memories of a rekindled love in this island paradise. So I asked myself, can I ever really go back? Can I relive the magic? Can I come back and still have that overwhelming feeling in my heart? I'm happy to know that on my fourth visit to the island this year, I'm still on a high note about El Nido. Different moments in time, different travel buddies, different experiences, but it's the same pumping amazement for the place.
El Nido's magic and beauty did not fade in my eyes. Nothing compares to the soulful beauty and impressive landscape of the town, the scenic beaches, the enchanting lagoons, and islands. I guess when a place grows on you, it will be forever stuck in every part of your wanderlust being. El Nido is wicked. It did just that to me. And because of this, I know that no matter how far I go, my wandering feet and my restless heart will always lead me back to this little corner of paradise. Until then, I can't wait!
Find Anne on Facebook: http://www.facebook.com/girlchasingsunshine
10. Strolling along Ipanema Beach
Rio de Janeiro has some of the most well-known, iconic beaches in the world – Copacabana Beach and neighboring Ipanema Beach among the best of them. Ipanema is always alive with people having a good time, drinking Caipirinhas and enjoying the white sandy beach. There are designated areas along the beach where you can go if you like to surf, play soccer on the beach or just lounge in the sun perfecting your tan. And if you like to party, this is definitely the place you want to be!
11. On the beach in Cuba
Carolann & Macrae of One Modern Couple: No matter where we travel, one of the places we always go back to in our minds is the beautiful island nation of Cuba. From the first time we set foot on the white sand beaches of Santa Maria, to our last visit as we looked out onto the turquoise waters of Varadero, we knew this was a paradise we wouldn't forget. Added to the incredible, unforgettable beaches is a country with a fascinating culture and truly warm and kind people. Taking some time away from the water and venturing into the cities takes you back into another time with classic, vintage cars and a variety of architectural styles including colonial and Moorish influences. The music and dancing, the food and history and the Cuban people themselves will grab hold of your heart and mind and have you returning time and time again, whether it be in person, or as you recall the memories of your time there.
Find Carolann & Macrae on Facebook: http://facebook.com/onemoderncouple
12. Atop a rock cliff in Greece
Katelyn Michaud of Diaries of a Wandering Lobster: I'd go back to Meteora, Greece in a heartbeat. Greece is a beautiful country known for its ancient ruins and its collection of islands. Greece has many secrets, including the little town of Meteora situated 5 hours northwest of Athens. During the 8th century monks journeyed from all over to Meteora where they built monasteries on top of massive rock cliffs. Some monks even decided to live as hermits in the many caves relying on the kindness of the locals to feed and water them. Today you can visit 6 of the remaining monasteries via hiking trails or bus. I highly recommend visiting a couple of the active monasteries and hanging around one of the lookout points during sunset for one of the most beautiful and unique sunsets you'll experience in your life.
Find Katelyn on Facebook: www.facebook.com/diariesofawanderinglobster
13. On an island in the Philippines
Ana Sánchez Granado of Ani Anywhere: I am now living in Istanbul and I have to admit I wouldn't like to live anywhere else, this is my favorite city and I absolutely love it here! However, during summertime Istanbul gets really hot and very often I find myself daydreaming of tropical beaches in Southeast Asia. Even though Istanbul has a couple of beaches, they are not as nice as the beaches I visited in the Philippines earlier this year. This is why I would rather be in the Philippines right now! When I visited the country for my first time, I couldn't believe my eyes and totally fell in love with its people and its stunning crystal-clear waters and white-sand beaches. This is Helicopter Island, a remote island close to El Nido (Palawan). If the picture is this kind of surreal, imagine this beach live. I really wish I were swimming there right now…
Find Ana on Facebook: https://www.facebook.com/anianywhere
14. Soaking up the ambiance in India
Will Hatton of The Broke Backpacker: Mysterious ruins, chaotic piles of boulders and emerald green paddy fields; Hampi might just be my favourite place in all of India. This backpackers mecca is the perfect place to unwind with a banana lassi and a tikka masala; simply chill out, soak in the ambience and explore the many rock-cut temples on foot or by motorbike. If your feeling ambitious, awaken early and trek to the imposing 'Hanumans Temple' for a sunrise unlike any you have ever seen before.
Find Will on Facebook: http://www.facebook.com/thebrokebackpacker
15. On the southwestern coast of Turkey
Natalie Tanner of The Educational Tourist: Right now I'd rather be in Kusadasi, Turkey! This relaxed seaside town is on the southwestern coast of Turkey where the water really is turquoise. Shop, dine, or rent a boat for a relaxing day out in the warm waters of the Aegean. Whether dipping your toes in the ocean, or sitting poolside enjoying the ocean breeze in your hair, this lovely spot is amazing. If you are feeling more energetic, hire a taxi to visit the nearby ancient ruins of Ephesus. Kusadasi has something for everyone!
Find Natalie on Facebook: https://www.facebook.com/pages/The-Educational-Tourist/1416585078553312
16. Floating in a pool in Bali
Sharon Gourlay of Where's Sharon: There is so much to love about Bali, from the beautiful beaches, to the luscious interior, to the friendly locals, to the yummy food, but why do I wish I was in Bali right now? It's because of the pool villas. One of the best stays we have ever had is in a fabulous pool villa surrounded by rice terraces in Bali. This accommodation option is easy to find in Bali and the best part is that they are very affordable. You can find month-long rentals of a great pool villa with a cleaner for less that US$50 a night. This is the perfect way to relax, unwind and just enjoy life. Thanks to how compact Bali is, it is also very easy to explore the rest of the island while still coming home to a beautiful place every night. That's my idea of paradise!
Find Sharon on Facebook: https://www.facebook.com/wheressharonandfamily
17. Learning History in Myanmar
Erin Tracy of Traveling Thru History: The place I'd rather be right now is Bagan, Myanmar. My great passion is history and ruins and since Bagan is just COVERED in ruins, this is my favorite place in the world. There are over 3,000 temples around Bagan and the three days we spent there were amazing. You can climb up to the top of the taller temples and see dozens of ruins dotting the land all around you with even more that are beyond your field of view. The best part is in the evening when you climb a temple ruin to watch the sunset. It's simply magical.
Find Erin on Facebook: https://www.facebook.com/travelingthruhistory
18. At the Badlands in South Dakota
Jennifer Melroy of Made All the Difference: The stars have started to rise in Badlands National Park, South Dakota. I have set-up my photography equipment just outside of the Cedar Pass campground amphitheater. I am going to photograph the Milky Way over some Badlands. I take a test photo. I check the photo on my screen. My photo has a green tinge. I double check my settings and make a couple of changes. The next picture has the same result. I close my eyes. It is the middle of the summer and I am watching the Aurora Borealis over the Badlands. As the night progresses, they get more visible.
Find Jennifer on Facebook: https://www.facebook.com/MatDifference
19. Touring the Golden Circle in Iceland
Jessica Buck of Journeys with Jessica: If you're looking for a unique and adventurous holiday destination then Iceland should be high on your wanderlust list. From thermal spas, stunning volcanic landscapes and one of the most powerful waterfalls in Europe, Iceland really does have it all. I stayed in the beautiful capital city of Reykjavik last November and had the most incredible break. The highlight of my trip was The Golden Circle Tour which comprises of an all day excursion to the South of the country taking in three stunning landmarks; the geological site of Thingvellir National Park, the naturally powerful Strokkur geyser that shoots boiling hot water 30m into the air every ten minutes throughout the day, and the breathtaking Gullfoss waterfall which runs 105ft deep. With so much to see and do there's no excuse not to add amazing Iceland to your bucket list!
Find Jessica on Facebook: https://www.facebook.com/journeyswithjessica
20. Touring through breathtaking New Zealand
Stephanie Bounds of Breaking Bounds: Where I Would Rather Be…. New Zealand! I first traveled to this voluptuous country earlier this year and immediately fell in love. Everyone was welcoming, friendly and laid back. It took a while to get there. Originally I booked a two-month trip to New Zealand but ended up postponing and going the following spring for two weeks instead. It was at that time that I backpacked solo around the North Island, meeting fun and interesting people, exploring unique attractions and, my favorite of all, tubing through the Waitomo Glowworm Caves. I cannot wait to see what the magical country has in store for me this time.
21. Exploring stunning Ecuador
Mark and Camille from 365traveldates: Sitting here in Washington state rather than Ecuador is a bitter sweet feeling. After an abrupt necessary changes of plans we left Ecuador – the Galapagos, the volcanoes, the Amazon, it's birds and animals – a bit earlier than expected. We shot over to Otavalo for incredible markets, festivals, crater lakes, and Kichwa culture. We hit Quito before the Pope shut down the city and explored the stunning Old Town. A short bus ride out of the city and we were birding in the little town of Mindo. Then we went to Banos for some adventure – touring waterfalls, jumping off bridges, and swinging at the end of the world. As a last weekend we visited Puerto Lopez where we saw dozens of humpbacks and blue-footed boobies on Isla Del Plata. The people were gentle and kind. The weather, being so near to the Equator, was predictable. The food was cheap, left you super full, and was super delicious.  The scenery was absolutely striking as we bused through the gorgeous Andes mountain range and through various beaches. We'd rather be in Ecuador, but we'll settle for home even if just for a bit.
Find Mark and Camille on Facebook: http://facebook.com/365traveldates
22. Relaxing on Tioman Island in Malaysia
Hana LaRock of Hana LaRock Writing: I'd rather be in Tioman Island because it's the only place in the world that makes you feel like you literally own this island. With a small cottage whose doors open right onto the sand, there really is no better place to relax and appreciate the beauty in the world than here. The water is so blue, filled with the most colorful fish, and the island is full of cute little restaurants and bars to grab some Malay food before going for a swim. If you come here, you'll never want to leave. Tioman is Malaysia's best kept secret and a great getaway from the hustle and bustle of the mainland. Take a motorbike around the whole island in just a few hours, go snorkeling, or simply just take in the views. But whatever you do, don't take it for granted-it's truly a hidden treasure.
Find Hana on Facebook: https://www.facebook.com/HanaLaRockWriting
23. In the French Alps
Dalia Lourenço of Getting Close To: Argentière is a village near Chamonix in the French Alps. With its amazing views, it entices tourists to try out a number of outdoor activities like skiing, alpine walking and mountaineering.  You can find yourself surrounded by lush greenery and  snow at the same time – it's the best of both worlds. Apart from the jaw-dropping view Argentière has to offer, hikers can also look forward to reaching a resting place in the mountain called La Refuge. Here you can meet other hikers or savour the moment on your own, staring out onto the mountain and feeling one with nature. The view and the experience of Argentière were what made me really fall in love with hiking and it's on my list of places I think back to when I would rather be somewhere else!
24. Discovering Pai, Thailand
Nestled in the Mountains in Northern Thailand, three hours from Chiang Mai via a winding road, is Pai. As soon as I discovered Pai, I fell in love. Pai is a small, hippy town that attracts the arty, the creative, and the spiritual. In Pai you'll find Thai Rastafarians, punks making music and handmade jewelery. This tiny town comes alive in the evening with market stalls serving delicious street food from all over the world, and selling all numbers of treasures to adorn your body with. But Pai is really about the natural beauty surrounding it. Everywhere you turn you see emerald green rice paddies amongst the mountains. Via a moped you can get to the nearby waterfalls, hot springs, and temples.
25. In Donegal, Ireland
Lance and Laura Longwell of Travel Addicts: Often overlooked for areas closer to Dublin or Galway, Ireland's Northwest coast in County Donegal is truly the most beautiful part of the island.  For us, Donegal is where we'd rather be right now.  For visitors to Ireland who make the trek to this rugged and beautiful land, Donegal is a place they will always cherish.  We'd give anything to be back exploring Donegal, sleeping in a romantic castle hotel, wandering the Wild Atlantic Way, visiting the highest sea cliffs in Europe at Slieve League and dining on fresh fish and gourmet cuisine.  If we could be anywhere right now, Donegal would it!
Find Lance & Laura on Facebook: http://www.facebook.com/TravelerAddicts
26. At the Warner Bros. Studios in London
Heesun & Sharon at MeWantTravel: Currently, I'd rather be at the Warner Bros. Studio Tour London – The Making of Harry Potter (in London, UK). London itself is wonderful to visit. Little things like seeing people reading books and newspapers on the tube (their public transport system) motivates me to read and write more. And of course, I'm a huge Harry Potter fan.  Last time I went back in November 2014, I found myself in awe of the world J.K. Rowling built – it was amazing seeing the actual props and sets used in the movie and fully realizing the millions of lives the author touched. As a content creator, it always helps to stay inspired by people we deem our heroes. That's why I would love to go back right now, to get my creative juices flowing!
Find Heesun & Sharon on Facebook: https://www.facebook.com/mewanttravel
27. On the dock in Aswan
Milosz Zak of Egyptian Sidekick: This is a rather unusual place, a place of transition, of anticipation. You stand and wait amongst the many trinkets offered for sale while your boat is made ready to take you back in time, to the island of the goddess Isis at Philae one of Egypt's most southern outposts. Flanking the inlet are brightly coloured Nubian dwellings, partly electrified, partly true to their rustic, old-world allure. This place is not just a place, it is a moment of emotion.
Find Milosz on Facebook: https://www.facebook.com/EgyptianSidekick
28. Visiting a Mosque in Iran
Clemens Sehi of Anekdotique: This is a really memorable place of my last trips to the wonderful country of Iran: the giant Jame Mosque in Isfahan. What makes it so special was the incredible atmosphere. It was all silent. The only thing to hear were birds flying in the courtyard and the murmur of people sitting down to pray, while I was wandering around in the huge yard breathing in the aura of the mosque.
Find Clemens on Facebook: facebook.com/anekdotique.com
29. Playing on the beach in Boracay
Andrew Tolentino of Dish Our Town: The Island of Boracay is famous for its White Beach. It's a beautiful stretch of sand and the clearest water imaginable. Further out is Diniwid Beach, the less pristine, wilder sister of the White Beach. The terrain changes, becoming less flat, more verdant, and it's here that you find the Boracay that is less congested by tourists and enjoyed by its inhabitants.
Not too long ago, whenever I was encountered by a younger Filipino person, they would respectfully call me "kuya", which loosely translates into "big brother". While walking the Diniwid Beach, the kids playing a pick-up game of soccer inadvertently kicked the ball toward my direction, and I, in turn, naturally took the pass and shot it toward the goal. One of the kids easily defended my mere efforts of scoring, and respectfully said, "Thank You, Sir". I have now been upgraded to "sir". I must be getting older. I walked away, joining my wife and child who were ahead of me, with a big smile on my face. I'm glad I experienced such beauty before I got too old.
Find Andrew and Brenda on Facebook: https://facebook.com/DishOurTown
30. Lounging on a rooftop in Thailand
If there's one place we've been that far exceeded my expectations, it was Sri Panwa Resort in Cape Panwa, Phuket in Thailand. Not only was it the most romantic resort we've ever stayed it, the views were out of this world. One afternoon, we sat on those plush pillows enjoying a cocktail while watching the sunset from this incredible infinity-pool surrounded lounge called Baba's Nest. Easily the most dramatic and stunning place I've ever watched a sunset from.
That's your daily dose of destination dreaming! I hope you've found some travel inspiration in these awesome places. Tell us where you'd rather be right now!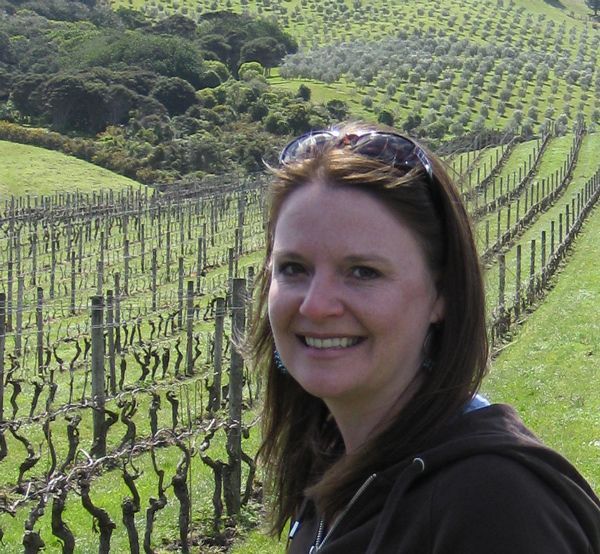 Laura Lynch, creator and writer of Savored Journeys, is an avid world traveler, certified wine expert, and international food specialist. She has written about travel and food for over 20 years and has visited 70+ countries.