Germany is home to some of the most stunning natural landscapes and landmarks you've ever seen, from the majestic Black Forest to the fairytale castle of Neuschwanstein. You might not know as much about these places as other destinations you're considering, but in our opinion, it's well worth a visit to Germany to see some of these incredible sights. 
In today's guide, we're going to be introducing you to 17 of the most beautiful places in Germany, so come along for the ride and discover some of Germany's loveliest locations! If you are planning on spending some time in Germany then you will want to read through this 7-day Germany itinerary.
Visiting other destinations in Germany? Check out our guide to traveling in Germany that includes information on many popular destinations like Berlin and Munich, plus Oktoberfest in Munich. Going outside of Germany? Here's our Europe travel guide.
Discover These Beautiful Places In Germany
1. The Black Forest
The Black Forest is one of the most well-known locations in Germany, and that's partly because it's also one of the most beautiful (although that's not the only reason).
It's easy to underestimate the size of the Black Forest with its dense black fir trees and lakes such as the lake Titisee, but it spans a huge area, from Baden-Baden to Offenburg.
This evergreen forest truly feels like something out of a fairytale, which in a sense, it is!
The Black Forest actually inspired some of the settings found in the famous collection of fairytales written by the Brothers Grimm.
2. Lake Königssee
We just mentioned that you can see the lake Titisee on your adventures through the Black Forest, but another stunning lake you should try to see during your time in Germany is Lake Königssee.
Lake Königssee is located just on the border between southeast Germany and Austria, and it's one of the country's most famous lakes because it's not only the deepest but also the cleanest.
Many people, tourists and locals alike, agree that Lake Königssee is Germany's most beautiful lake – or Alpine lake, at least!
Since Lake Königssee is in the Bavarian region of Germany, which is known for its beauty, visiting this lake also provides the opportunity to take in some of its delightful natural surroundings.
3. Rothenburg Ob Der Tauber
One of the most popular tourist destinations in Germany, Rothenburg ob det Tauber is a historic city that draws crowds of visitors each year with its cobbled streets and terracotta roofs.
The gate to the city looks like it belongs in a fairytale (a common theme among Germany's most beautiful places, and we will see) and the architecture hails back to medieval Europe, so walking through Rothenburg ob der Tauber is quite the experience for anyone who loves history.
Another reason why Rothenburg ob det Tauber is so popular with visitors to Germany is that it's located on the Romantic Road, which spans 250 kilometers through some of the most naturally beautiful parts of Baden-Württemberg and Bavaria.
4. Neuschwanstein Castle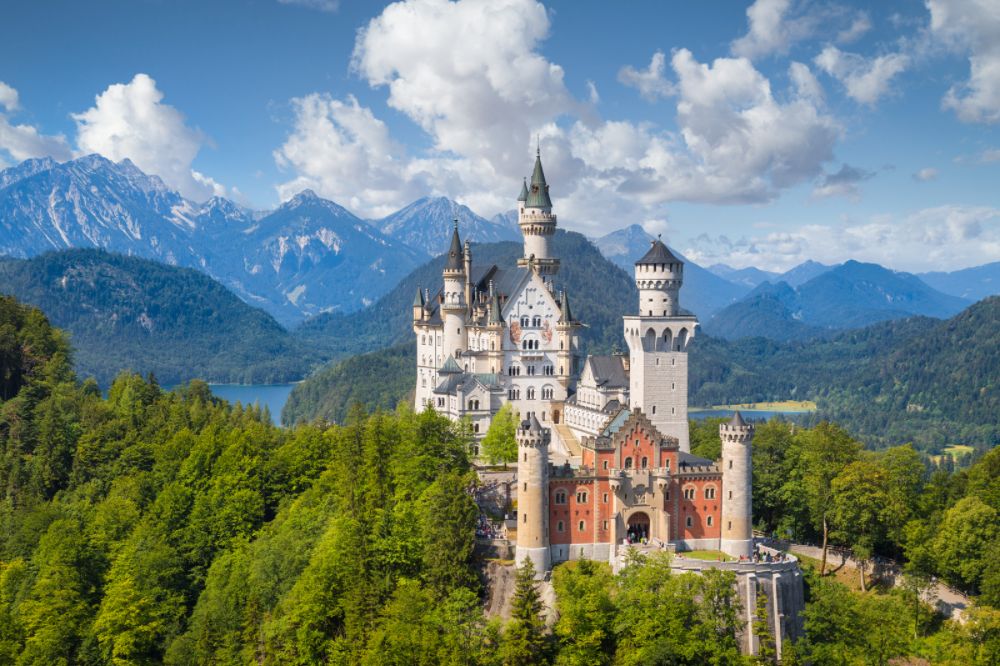 There's no shortage of beautiful castles in Germany. In fact, no fewer than three castles have made our list of the top 17 most beautiful places in the country.
However, if you're going to visit just one castle during your time in Germany, we think it should be Neuschwanstein.
Again, as with Rothenburg ob der Tauber, the appeal of Neuschwanstein Castle is its fairytale-esque design.
A fun fact about Neuschwanstein Castle is that it inspired the design for the iconic Disney castle, and we can definitely see the resemblance!
Neuschwanstein Castle was home to Ludwig II of Bavaria during the 19th century.
» Take a tour: Neuschwanstein and Linderhof Castle Day Trip from Munich.
5. The Rhine Valley
If you ask anyone familiar with Germany to name some of the most beautiful places in the country, one of the answers you're likely to get straight away is the Rhine Valley.
The Rhine Valley is an Alpine valley that passes through the Rhenish mountains.
The lake itself is gorgeous and tranquil, but the surroundings, which range from hills covered in forests to imposing cliffs, vineyards, and Gothic architecture make this setting truly splendid.
In fact, the area in which the Rhine Valley is situated (between Koblenz and Bingen) is known as a UNESCO World Heritage Site because of how many castles still stand there.
6. Eibsee
You might not have heard of Eibsee before, but once you've seen photographs of this peaceful Bavarian lake, we think it will be high on your list of places to see in Germany.
Part of the appeal of Eibsee as a lake is how clear the waters are. The lake itself reflects the Alpine scenery and makes for absolutely stunning photographs.
However, visiting Eibsee lake. isn't just about taking in the view. You can also go fishing or kayaking, or even swim in the calm, clean waters.
Alternatively, once you've seen the lake, you can go and explore the tranquil town of Eibsee, which is an excellent retreat from the busy city.
7. Bamberg
You might hear Bamberg referred to as 'the Rome of Germany', and that's because of the city's historic architecture.
If you want to see why Bamberg has been named a UNESCO world heritage site, you should head to the Old Town, where you can see buildings (including the cathedral) dating all the way back to the 13th century!
The River Regnitz passes through Bamberg, as do many streams, making Bamberg the ideal city to spend a day simply observing the surroundings from the comfort of one of the city's plentiful beer gardens (the perfect opportunity to try some authentic German beer)!
8. Quedlinburg
Quedlinburg may not be as well-known as some other towns in Germany such as Heidelberg or Rothenburg ob der Tauber, but it's definitely the place to go for vibrant colors, historical buildings and amazing scenery.
Quedlinburg is yet another UNESCO World Heritage Site, and unlike some of the other UNESCO sites on this list, it has a relatively small population of 24,000.
This means that it's an ideal place to stop and catch your breath if you'll be visiting several major cities during your time in Germany.
Speaking of major cities, Quedlinburg is not far from Munich, so if you're heading to Munich for Oktoberfest, Quedlinburg should definitely be on your itinerary.
9. The Moselle Valley
If you planned a trip to Germany with the intention of sampling some German beer and wine, the Moselle Valley is another place to add to your list of destinations.
Not only is the Moselle Valley home to some romantic vineyards and equally romantic traditional taverns, but you can also see some beautiful castles and picturesque villages in this area of south-western Germany.
The Moselle Valley has also been an integral part of German history for over 2000 years due to its diverse influences when it comes to culture, so you can learn a lot from a day in this area of Germany, too.
10. Bavarian Forest National Park
We've mentioned Bavaria a couple of times already throughout this guide, and that's because so many of Germany's most beautiful places are within the Bavarian region.
This includes the famous Bavarian Forest National Park, which is well worth a visit if you enjoy spending time in nature.
The Bavarian Forest National Park is Germany's oldest national park, which makes it interesting from the outset.
It's a wild and rugged forest, made even more so by a storm in 1983 which caused significant damage which officials declined to have repaired to maintain the natural environment.
Not only does the Bavarian Forest National Park provide some enchanting views, but it's also a great place to spot some unusual wildlife, from the three-toed woodpecker to the pygmy owl!
11. Sylt
Sylt doesn't get as much attention as some of the other beautiful places in Germany because it's not directly on the mainland, although the island is connected by a causeway to the rest of the country.
This island is one of the Frisian Islands, and its natural beauty has been maintained by its relatively solitary location.
From Frisian-style houses to beaches that look like they should be on postcards, Sylt is the perfect destination for a peaceful day trip and one of Germany's best-kept and most beautiful secrets.
12. Mittenwald
If you're going to be passing through Garmisch-Partenkirchen during your stay in Germany, you should make a point to visit Mittenwald.
Mittenwald is nestled between the Bavarian alpine peaks, but the mountainous scenery isn't the only reason Mittenwald is considered one of the most beautiful places in the country.
The architecture of this picturesque town includes cobbled stone streets, old churches, and buildings painted in a rainbow of colors.
Additionally, Mittenwald is the perfect destination for music lovers because one of the town's claims to fame is its manufacture of stringed instruments, mainly cellos and violins.
If you want to learn more about Mittenwald's connection to the music scene, the Mittenwald Violin Crafting Museum should be at the top of your itinerary.
13. Wurzburg Residence
Wurzburg Residence is a Baroque palace that was built starting in 1720, although the building task was so immense that construction was not completed until 1744.
Those twenty-four years of building were definitely worth it, though, because the French-style architecture and stunning gardens have marked this palace as one of Germany's most beautiful places.
Not only that, but Wurxburg Residence carries huge historical significance since its construction was ordered by Prince Bishof of Wurzburg Johann Phillip Franz Von Schonborn.
14. Ramsau
Yet another beautiful Bavarian location, Ramsau is a quaint, picturesque village located in the Bavarian alps. With a population of just 1,800, this is a peaceful, hidden gem of a town.
There might not be as much to do in Ramsau compared to some of the larger towns and cities on this list, but you won't get bored of exploring this village.
Not only is it the home of Watzmann mountain (the third tallest mountain in the country), but you can spend hours just strolling through the streets and taking in the gorgeous alpine setting, stopping at some of the town's cozy taverns and restaurants on your way.
15. Lichtenstein Castle
Lichtenstein castle, located in the Swabian Jura of southern Germany, is one of the most famous castles in the whole of Germany, and you only have to look at it to see why it's earned this reputation.
Not only does the Gothic Revival architecture look like an image from a fairytale, but this fairytale is one you can experience first-hand because the castle is open for public visits despite being privately owned.
The castle was built in the 1840s, but it was recently restored in 2002 so it looks as good as it did when the bricks were first laid in the 19th century.
16. The Harz National Park
In addition to the Bavarian Forest National Park, we think that everyone who visits Germany should consider going to the Harz National Park.
This forest looks genuinely enchanted, and the folklore surrounding this part of Saxony-Anhalt and Lower Saxony helps to maintain its mysterious and magical ambiance.
Whether you choose to take a stroll through the forest or ski down the mountains (Harz National Park is home to Brocken, which is the tallest mountain in the north of Germany) you'll have plenty of opportunity to see the local fauna and flora, especially the numerous butterfly species.
17. Hohenschwangau
Another stunning castle, Hohenschwangau is indisputably one of the most beautiful buildings in the whole of Germany, so it takes the final spot on our list.
Like Neuschwanstein Castle, Hohenshwangau dates back to the 19th century, and it's considered one of the most visually appealing castles in the country not just because of its architectural features but because of the surrounding area, in which you can see forests, lakes and mountains all within the same view.
Conclusion
This is by no means an exhaustive list of all the beautiful places in Germany.
If we could, we would have added dozens more because there's seemingly no end to both the natural and architectural beauty that Germany has to offer.
With that being said, we hope that you've managed to take some travel inspiration from our top 17 beautiful places in Germany and that you'll be able to see at least a few of them when you next visit the country!
Like this post? Why not save it to Pinterest?
FOLLOW US on Pinterest, Instagram, Facebook for more great travel inspiration and tips.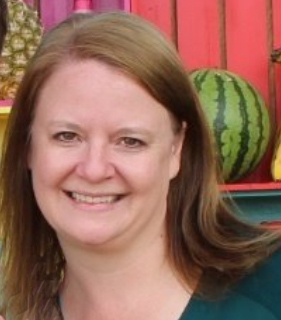 Laura Lynch, creator and writer of Savored Journeys, is an avid world traveler, certified wine expert, and international food specialist. She has written about travel and food for over 20 years and has visited over 75 countries. Her work has been published in numerous guidebooks, websites, and magazines.