Thailand and beaches go hand in hand. A visit to Thailand will no doubt lead you to admire and experience some of the best beaches in the world. In order to help you include the best beaches in Thailand in your travel plans, we've created a list of the 10 best beaches to visit in Thailand.
From the palm-fringed stretches of lush and exotic beaches on Koh Phi Phi to the popular shores of Phuket, make sure you add at least one of these beautiful spots to your itinerary.
No matter where you're planning to go in Thailand, you won't be far from the beach. You'll want to create an itinerary that allows you to spend some time on the gorgeous white sand, and soaking up the beach culture. Be sure to check out our beach packing list to make sure you pack everything you need.
Heading to Thailand? Read about the floating markets of Bangkok and see our Essential Travel Guide to Bangkok. You can pack out your itinerary with these great things to do in Bangkok.
1. Railay Beach, Krabi Island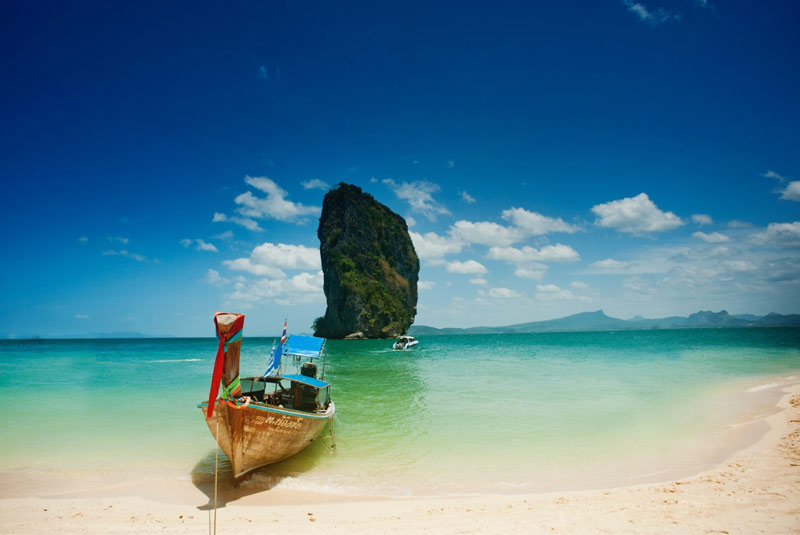 If you want to reach this beach the only mode of transport is by boat. Imagine being surrounded by waters on all sides on an isolated island. That's Railay beach for you. What's even better? You get to also do a bit of rock climbing, in case you are looking for something more than chilling by the beach.
Apart from that there are options of deep water diving, snorkeling and of course a gorgeous scenery to admire of the small islands by the horizon. You have a good mix of limestone cliffs, thick jungles and Instagram worthy beach here – nothing to disappoint you in anyway.
2. Lamai Beach, Koh Samui
Even though the beaches in Koh Samui are mostly packed with tourists, Lamai is the ideal beach for someone who is looking forward to swimming in clear blue waters at the same time wanting to relax by a beautiful scenic view.
Apart from the blueish water, you will also get to enjoy canopies of palm trees. While the southern part of the beach is always busy, the northern end serves you with beautiful rocks.
The best way to explore this beach is by renting a motorbike. The night scene here is foot tapping with the shacks and bars turning it into party hubs which is why it attracts so many tourists.
» See 25 other fun things to do in Koh Samui
3. Haad Rin, Koh Phangan
If you are a party animal and a full moon party echoes in your head at the very mention of Thailand, this is the best beach for you. It is located on the island of Koh Phangan. It has increasingly become a party hub for young travellers who dance the night away until dawn.
Apart from the popular full moon parties, you will find all the happening parties on this beach almost everyday of the week. This also makes it very popular among backpackers as there are a number of budget stays and hostels in here too. Being located on a peninsula gives you the luxury of enjoying pretty sunrises as well as sunsets from this island.
4. White Sand Beach, Koh Chang
This beach in Koh Chang will give you a jaw dropping sandy cove of silky soft sand along with a dense range of palm trees in the background. As much as it is popular for its scenic presence, it is also vibrant in its nightlife.
This spectacular beach allows you to enjoy the waves of the warm waters and then settle into good music in the happy hours of the evening. As you slip deeper into the night you can also enjoy firewalkers doing stunts, enjoy a romantic candle light dinner by the waters and under a clear sky.
There are no tall buildings around the beach because of a national park status given to the beach which gives you a panoramic view of the entire beach. You are surely in for a treat!
5. Sunset Beach, Koh Lipe
Looking for a bohemian getaway along the tropics? This beach is ideal for you. Unlike most other beaches, this one's quiet and as the name suggests, it gives you a beautiful view of the sunset from here. In the backdrop of the beach is a line of colourful and vibrant resorts and bungalows.
It is located on the border of Thailand and Malaysia and is a relatively smaller island which makes it secluded. So if you look forward to spending time on a beach with solitude, you will be satisfied to your heart's content.
The clear blue sky, the turquoise blue waters and the soft white sands is so appealing along with the silence around that the sound of the waves and birds chirping will be crystal clear to your ears and you won't complain one bit.
There are not too many homestays and resorts on this beach but the ones which are there will provide you with the right kind of comfort, we assure you on this.
6. Long Beach, Koh Lanta
As the name suggests, it is a long beach, in fact one of the widest beaches in the whole of Thailand. What makes it exotic is its unique shape and the view of the horizon. The beach is filled with restaurants and there aren't any sharp rocks on it.
If you are a backpacker and look for a budget stay along with lip smacking cheap food, this beach is your go to destination in Thailand. The beach is so long that in the evenings you could choose whether you want to party the night away or enjoy time alone or with your loved one depending on how far you want to socially interact.
You have to take a ferry trip to reach this island as there is no airport in close proximity.
7. Kata Beach, Phuket
This beach is located on the south of Karon beach which is comparatively more crowded. It is more relaxed and away from the hustle bustle of the nearby Patong beach as well.
Here you will find some of the most beautiful resorts of Phuket. Spectacular range of palm trees, beautiful clear waters and warm sands is what makes Kata one of the most gorgeous beaches of Thailand. If you are enthusiastic about snorkeling the northern part of the beach is ideal for you.
There are local marts from where you can rent gears for your diving expeditions. If you want to enjoy sunsets or sunrises on this beach, we suggest you drive to the popular viewpoint located between Nai Harn and this beach – you will be left astonished.
Also to mention, every year Kata Beach arranges a Phuket Vegetarian Festival which draws in large crowds, which mostly celebrates a range of delicacies made with Tofu.
8. Patong Beach, Phuket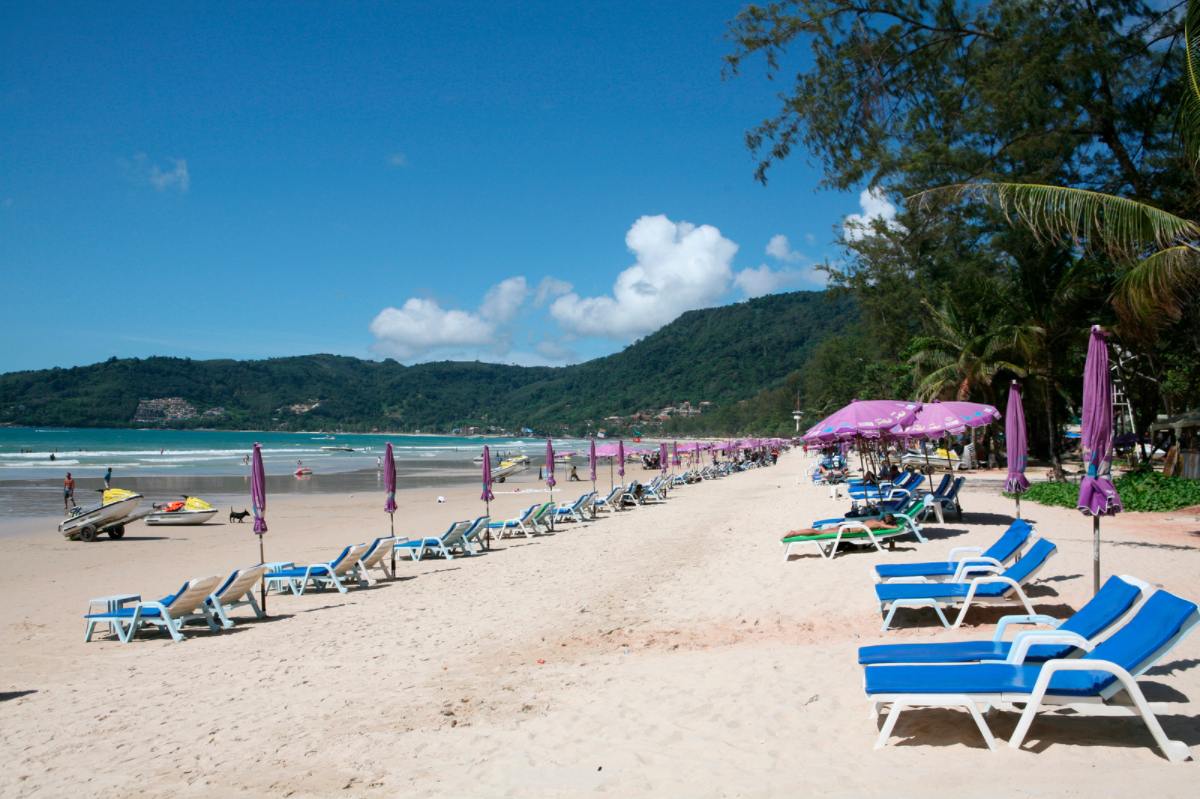 Patong beach can also be called the unofficial party hub of Phuket. It is vibrant, colourful and is thronged by tourists almost all throughout the year. If you are someone who looks for something more than just enjoying sunsets from the beach, you can blindly choose this beach.
It is filled with nightclubs, bars, restaurants ranging from very expensive ones to budget ones depending on the kind of partying you want. The beach is approximately 2.2 miles and you will find all kinds of adventurous attractions ranging from parasailing, jet skiing and also local shopping. Like we said, everything you want is all in one beach.
Needless to say it could be crowded since it is one of the most popular beaches of Thailand, but if you are a party animal and love social interactions and also want to explore all kinds of water sports, this beach will fulfill all those wishes of yours.
9. Koh Libong, Trang
One of the most unexplored paradise of Thailand is Koh Libong island. It does not attract too many tourists as the only mode of reaching this beach is by boat but if you are expecting to spend cosy time with a loved one, look no further. The water here is so clear that you can almost see fishes swimming in it.
This beach also inhabits the endangered dugongs. If it is something that interests you, you can ask the manager at your hotel to arrange an excursion by boat so that you can enjoy the rare sight of them grazing by the clear waters.
There's nothing much to do on this island but we assure you, you won't get bored because there's a very relaxing vibe to the atmosphere here and sometimes you need that so that you truly enjoy the idea of escape.
You could stroll by the empty beach, enjoy a book by the waters or click pictures with less crowd in the background. Further, the curries here are to die for and to add to that the sunsets here are unmatched.
10. Maya Bay, Kho Phi Phi
This is a must visit beach in Thailand which boasts of some of the highest cliffs and the clearest waters you can swim in. There are 100 meters high cliffs on three sides of the island and the main beach is about 200 meters long. If you go underwater diving here you will discover colourful corals and exotic fishes.
In fact the whole of the bay is a reef in itself. It is one of the most popular tourist destinations in Phi Phi. It is advisable that you visit this beach any time between November and April. The waves get a little rough during monsoon.
From snorkeling to diving in clear turquoise waters to chilling in a shack and enjoying a beer you have nothing more to ask for. Whether you are going with friends or travelling solo this beach is safe and ideal for all.
The main attraction to this beach is that Leonardo DiCaprio's movie The Beach was shot here and most of the tourists who are aware or it come here to get a feel of being in a place where their favourite actor had filmed in.
CONCLUSION
Thailand is the perfect example of a tropical paradise and this is why it is a must in every traveller's bucket list. Whether it be the cool breeze by the waters, the soft white sands or the canopies of palm trees very rarely would it be that the beaches of Thailand would disappoint you.
The icing on the cake is that you can choose from so many options depending on whether you want to party, chill, spend time in solitude or make for a romantic getaway with your partner or even have a gala time with your family – you have a plethora of options.
From solo travellers to backpackers, these 10 beaches of Thailand will welcome you to stunning coastlines like no other.
Like this post? Why not save it to Pinterest?
FOLLOW US on Pinterest, Instagram, Facebook for more great travel inspiration and tips.