This article has links to products and services we recommend, which we may make commission from.
Traveling in Europe is a bucket list destination for people who dream of visiting castles, walking on romantic cobble stone streets, eating pasta in the Italian countryside. If you're looking for inspiration for your own European vacation, our list contains both the best major cities to visit in Europe, plus a few equally fabulous smaller city that you many travelers don't think to consider.
With so many cultures, languages, and cuisines in such close range, you can make a very diverse vacation in Europe by visiting the major cities, or — better yet — getting a little further from the typical tourist destinations to immerse yourself even more.
We personally love visiting the big cities, but we've also explored the smaller locations and often feel like the experience is even better in the smaller cities and countryside.
>> If you're looking for a great 2-week Europe itinerary, here's one that includes many of these bucket list cities.
Quick. Check these necessities off your prep list!
Travel insurance: Roam Right has reliable coverage at a reasonable price.
The right luggage can make or break your trip. These hard-sided suitcases come in 2 sizes, with spinner wheels and TSA-approved lock.
Renting a car? The Rentalcars.com app lets you search and compare offers. Don't forget to check if you need an International Drivers License.
So, let's dive in.
Our Favorite European Destinations
Paris, France
Who doesn't love Paris? It's been called many things by travelers, like The City of Lights, the most romantic city on earth, the food capital of the world, etc. I think it's all of those things, but most of all Paris is what you make it. Have you explored Paris yet? If not, you should add it to your vacation plans this year!
The best part about Paris is that it's seemingly packed full of surprises. You can go to the major attractions, climb the Eiffel Tower and eat crepes all day, or you can push all that tourist stuff aside and explore the less touristy aspects of Paris, of which you'll find many.
» See our shortcut travel guide to Paris for all the best hotels, neighborhoods, things to do, and places to eat and drink in the City of Lights.
Rome, Italy
Rome is a city that will capture your heart the moment you arrive. It's incredible to see so much history packed into one place, and so much of it is scattered right in the middle of a modern city. There's really no where else like it.
You'll want to spend days wandering around the Roman ruins in the forum, eating all the great Roman food, getting lost in the maze of streets, and looking in awe upon the Colosseum.
Do keep in mind that Rome is a very popular tourist destination, so hotels, tours and activities fill up and sell out quickly. This is one city where it pays to plan ahead. Don't wait until the last minute to secure tickets for things you want to see like the Sistine Chapel and the Colosseum.
If you're planning a trip to Rome, we've got you covered with our essential travel guide to Rome: an informative and helpful infographic that will give you a quick peek at all the top things you should plan to do in Rome, where to stay, how to get around, and most importantly – what to eat in Rome!
Porto, Portugal
Home to dozens of Port wine producers, Porto, Portugal, is a fantastic place to visit if you're a wine lover, but even if you're not into that, you'll find plenty of fun things to do in Porto. It's one of our favorite places in Portugal.
Porto is an incredibly picturesque city, set along the western coast of Portugal, about a two-hour train ride from Lisbon. There are two halves to the city, divided by the beautiful Duoro River: the city of Porto lies to the north, while the historic Port city and all of the Port wine houses are in Vila Nova de Gaia, which lies to the south. To get a full feel for the city, you really need to visit both.
One of the main reasons people initially consider going to Porto is because of the Port. If you're a wine lover, you absolutely must take some time to visit the Port houses. Used entirely to store aging wine and welcome visitors, there are literally dozens of Port houses along the banks of the river and up into the hillside.
Dublin, Ireland
Dublin is a great destination for travelers, especially from the United States because it's such an easy destination to travel to. Not only do they speak English, it's easy to find a million things to do in the city, and you really don't need a car to get around. If you choose to leave the city, out in the countryside the roads get a bit windy and narrow, but are well-marked.
There are many reasons why people love spending time in Dublin. The old churches, the Guinness Storehouse, Dublin Castle, the lively Temple Bar neighborhood, just to name a few. That also means that it can get quick packed in the city. You need to have a good game plan for what you're going to do and how.
I always recommend getting the Dublin Pass, because it will help you see the most things in the shortest amount of time, and while saving tons of money. It comes with a free ride on the Hop On Hop Off bus, which is the easiest way to get to all the top sights, plus free entry to the Guinness Storehouse and many more attractions.
» See our shortcut travel guide to Dublin for all the best hotels, neighborhoods, things to do, and places to eat and drink in this lovely Irish city.
Vienna, Austria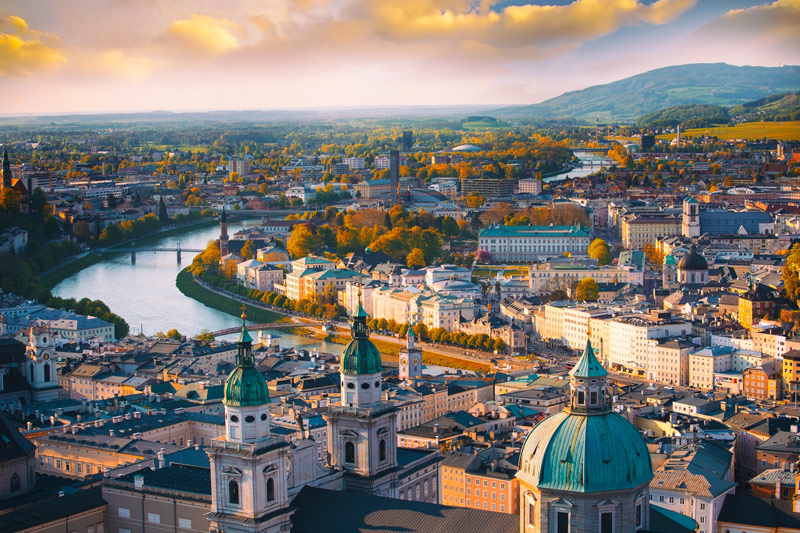 Vienna is a city with a ridiculous amount of history. The home of the waltz, Habsburg Palaces and an unrivaled musical past, it's simply overflowing with culture and excitement. Walk for an evening through the cobblestone streets in the center city and you can almost hear a famous composer at work.
In fact, many of the walking areas are lined with small orchestral ensembles playing their way through the evening. Elbowing in on their act, of course, are those unique artist who dress in a period piece and then stand in one position for what seems time eternal.