Japan is a country that boasts the contrasts of new and old in perfect harmony. In some cities, like Kyoto, you'll find yourself exploring the ancient Shinto and Buddhist temples, while in others, like Osaka, you'll be left in awe of the futuristic skyscrapers and amazing food options.
Although the experiences may vary from city to city, one thing is for sure – you'll find rich culture, tradition, and incredible food in all of them.
From cherry blossom viewing to izakaya hopping, the below list will take you on a journey to the 10 best cities to visit in Japan.
Japan Itineraries
If you have longer to spend in Japan, you can expand this itinerary to any length you wish.
10 Best Cities in Japan for Tourists
Japan caters to all travelers, from solo adventurers to large groups. There is something magical for everyone to discover in the diverse cities of Japan. So, let's take a look at the best Japanese cities to visit.
1. Tokyo
This wouldn't be a list of the most popular Japanese cities without Tokyo being at the top. Tokyo is a thriving city with an energetic buzz of people roaming the neon-lit streets. This metropolis brings modern pop culture and unique fashion trends like no other, making it one of the most popular cities in Japan.
While you'll have the bright and futuristic skyscrapers to gaze at (they're especially beautiful in the evening), you'll also be exposed to a historic side of the city. Experience a Tea Ceremony in Tokyo at Hamarikyu Gardens and then wander the cobbled streets and find an old-style bar to have a drink. Foodies should follow our 3-day itinerary to the sights and tastes of Tokyo.
Other interesting places worth visiting are the Tsukiji outer market, Meiji Jingu Shrine, and the Skytree. There is so much to see and do in Tokyo that it is worth spending a few days in Tokyo. If you are looking for a place to stay, the Tokyo Marriott Hotel is a wonderful option.
Tours we recommend:
2. Kyoto
Known for its long list of UNESCO World Heritage Sites, Kyoto was once the ancient capital of Japan and dubbed as one of the most beautiful cities in the country. The city oozes charm and culture with over 2,000 shrines and numerous Zen gardens around the city.
Kyoto is one of the best places to visit in Japan and it's not hard to see why. There are temples all over the city to see, you can join in a traditional tea ceremony, eat your way through Nishiki Market, and wander through Arashiyama Bamboo forest – a must-see when visiting the city and a great way to do it is with a customized rickshaw tour.
In the district of Gion, you'll find Geishas walking along streets populated with wooden houses. In the area, you'll have the chance to experience kaiseki ryori (traditional Japanese cuisine) and ochaya (teahouses).
» See our full 3-day guide and itinerary for Kyoto. Also see these day trips from Kyoto to extend your trip.
Tours we recommend:
3. Osaka
Calling all foodies – Osaka is renowned for its food scene and love for all things delicious. So, you're in for a culinary adventure from both the excellent restaurants and varied street food options. It's also centrally located and a great base for different day trips.
Unfortunately, the city was largely destroyed during WWII and you won't find as many historical sites as you do in some of the other must-visit cities in Japan. However, Osaka, which feels more like a small town with its rural Japanese charm, has a lot to offer.
One of the not-to-miss attractions is the gorgeous 16th-Century Osaka Castle. You can either explore the grounds up close or hop on a Gozabune boat and admire the fortress from the water.
You also must make time for an evening wandering around Dotonbori street, where you'll find a mecca of food stalls. Try the kushikatsu – deep-fried skewers of meat or vegetables – at Daruma with its huge signboard of an angry-looking man. Try Chibo, a restaurant specialized in Okonomiyaki. And try takoyaki at Kukuru.
» See our full 2-day guide and itinerary for Osaka. Also see these day trips from Osaka to extend your trip.
Tours we recommend:
4. Yokohama
Yokohama is Japan's second-largest city and despite being less than 30 minutes away from Tokyo (on the bullet trains), it's a bustling metropolis of its own. Situated on a bay, Yokohama is home to a large foreign community.
You'll find the international influences in the architectural styles and culinary experiences. One of the most interesting attractions in the city is the Ramen Museum. Here you can learn everything there is to know about this noodle, and of course sample every type you can imagine.
After you've filled up on ramen, head to the Kirin Beer Village. Here you can partake in a free tour of the brewing facilities as well as enjoy a free tasting at the end! There's no better way to end off a day exploring the streets of Yokohama.
Tours we recommend:
5. Sapporo
Sapporo is a top city to visit in Japan for winter activities. It's famous for its many ski resorts that offer skiers perfect powder snow conditions as well as night-skiing activities.
The Sapporo Snow Festival, which happens at the beginning of February, is also an exciting thing to see. Sculptors from across the country carve ice statues and castles. These ice sculptors are illuminated at night with bright lights, making for a magical winter wonderland setting.
In town, stroll around the Historical Village of Hokkaido and don't miss the Ishiya Chocolate Factory. Their white chocolate specialty is to die for.
Tours we recommend:
6. Nara
This is one of the best cities in Japan for tourists looking for historic sites and cultural experiences. The walkable city is populated with shrines and temples that showcase stunning Japanese architecture and art. The surrounding rolling hills also make for a picturesque backdrop to the city.
The most impressive attraction in Nara is the Great Buddha statue located within the Todai-ji-temple, a UNESCO World Heritage site. Once you have explored the temple, head to Nara Park, where over 1000 friendly deer roam freely (this is also a great spot for cherry blossom viewing in season).
If you want to take a day trip from Kyoto it will take you less than an hour to travel there on a high-speed train. However, if you want to immerse yourself in all this small town has to offer, spend a night at the Marriott Hotel Nara.
Tours we recommend:
7. Kobe
Kobe is situated in a picture-perfect location with the sea on one side and the Rokko Mountains on the other. Great activities in the city include visiting the Kobe Fashion Museum and the Maritime Museum, which highlights the importance of the sea in the city's development.
The all-marble Jain Temple is a sacred and religious sight worth visiting. After you have marvelled at the temple, climb the Kobe Port for panoramic views of the city. It's particularly beautiful at dusk when the sun starts to go down and the city lights begin to twinkle.
For adventure seekers, Mount Rokko is the perfect place for an afternoon hike. End off your day of adventures with a Kobe beef experience, arguably the best meat you'll ever taste.
Another great activity, especially for food and drink lovers, is to visit the many sake breweries just outside of Kobe in Nada. See our full guide to the sake breweries.
Tours we recommend:
8. Fukuoka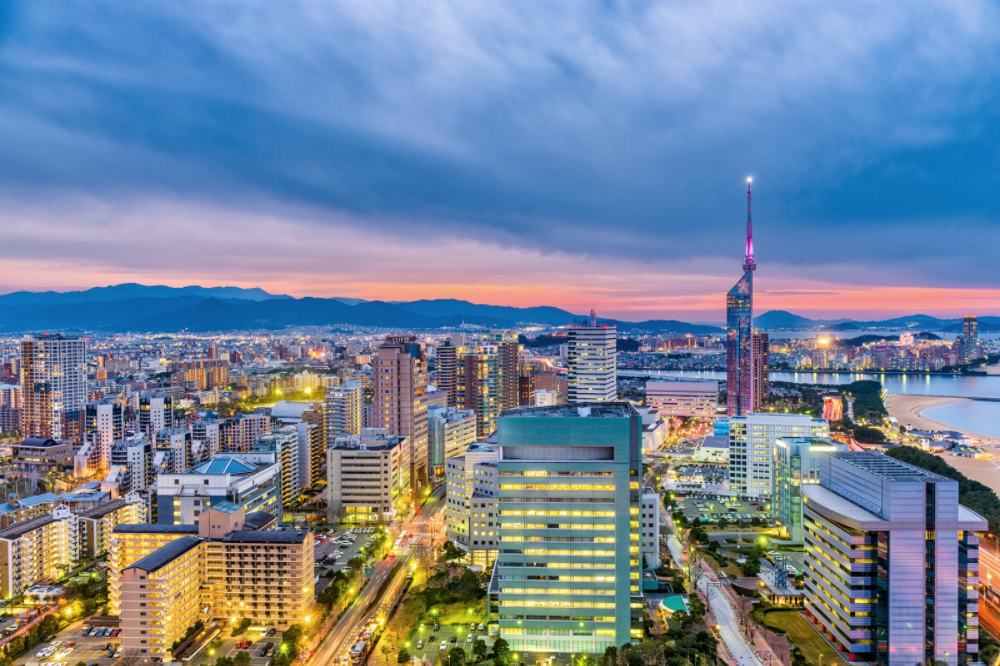 Fukuoka is home to Japan's largest shopping center, Canal City Hakata. With over 250 stores, cinemas, a theatre, a games center, and even its own canal running through the center – there's something to keep everyone entertained.
Outside of the mall, you'll find Momochi Seaside which is a park and artificial beach next to the Fukuoka City Museum. Grab a bite to eat at one of the many restaurants that overlook the 'sea'.
Japan's largest sitting Buddha statue can be found in the Tochoji Temples and is an iconic monument worth seeing.
For the outdoorsy, Fukuoka is also surrounded by stunning mountains perfect for hiking. Mt Hiko and Mt Shiouji are particularly beautiful trails.
Tours we recommend:
9. Hiroshima
Hiroshima is worth a visit even if just to pay your respects at the Peace Memorial Park and Museum. Here you can learn more about the Atomic Bomb that flattened almost the entire city in 1945 and see the chilling ruins of the Atomic Bomb Dome. If you'd like to see it with a guide, a walking tour is the best option.
The city has been remarkably reconstructed and is now a modern bustling metropolis of its own. In the heart of the city, you'll find Hiroshima Castle. It's covered in ornate wood and black lacquer and is really something to behold.
Inside the castle is a shrine and a Samurai Museum. There are weekly Samurai performances right outside the castle walls so be sure to check this out.
Tours we recommend:
10. Nagasaki
Nagasaki is peacefully nestled between hills overlooking the harbor. This port city has a cosmopolitan feel and you'll see a mix of Western and Eastern influences throughout the city.
Although also tragically affected by an atomic bomb in WWII, the city has been rebuilt and you'll find a bustling city with international flair today. A must-do when visiting the region is a visit to Nagasaki Atomic Bomb Museum and a walk around Peace Park. It's home to many monuments and memorials including the Nagasaki Peace Statue.
The cuisine on offer in Nagasaki is probably the most varied out of all these Japanese cities. You can try anything from poisonous okoze fish dishes to Fujian noodles.
Tours we recommend:
Discovering Japan's Famous Cities
So there you have it, if you were wondering what cities to visit in Japan before this post, now you probably can't decide which one to start with. Japan has so much to offer, from new trends and exciting neon-lit buildings to sacred temples and ancient cities filled with history.
A trip to Japan should be at the top of everyone's travel list and the above guide should help you navigate your trip. For more things to add to your Japanese travel list, check out this 2 weeks in Japan itinerary.
Like this post? Pin it on Pinterest!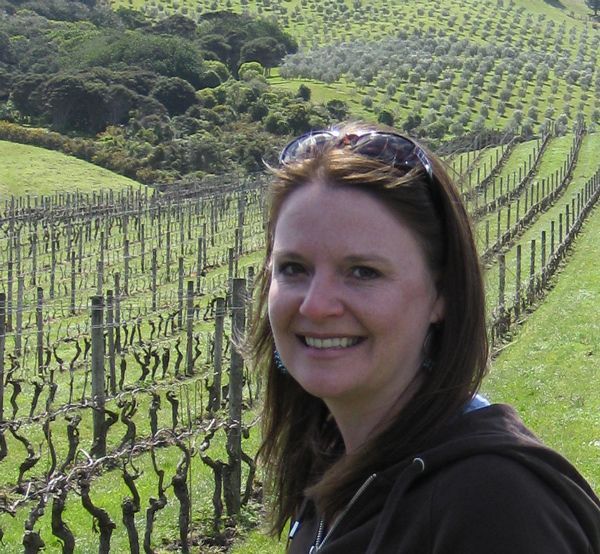 Laura Lynch, creator and writer of Savored Journeys, is an avid world traveler, certified wine expert, and international food specialist. She has written about travel and food for over 20 years and has visited over 75 countries.