Located in the Yucatán Peninsula, Cancun is known for its beachfront resorts and vibrant nightlife. It's also the perfect starting point for excursions to ancient ruins, cenotes, picturesque islands, and underground rivers.
Even though the all-inclusive resort where you're staying has everything you need for a week away, you might be tempted not to leave the resort, that would be a huge mistake. There are dozens of activities and tours you can take around the area that will bring you closer to nature and allow you to see things you only dreamed of. To upgrade your vacation you need to check out these best excursions from Cancun.
Spending more time in Mexico? Check out our list of 8 beautiful places to visit in Mexico and check out all the delicious food you must try in Mexico. See our guides for Cancun, Mexico City, and Cabo San Lucas.
If you're planning your Cancun getaway, be sure to save time in your itinerary to visit a few of these excursions and tours. You can book a pre-planned tour and have them pick you up directly from your resort so there's very little planning you have to do. You won't regret it.
To help you navigate this stunning city and not miss a thing, here are the 14 best Cancun excursions.
Best Cancun Tours & Excursions
1. Sailing Tour to Isla Mujeres
During Pre-Columbian times, Isla Mujeres, which translates to "Island of Women," was sacred land used to make sacrifices to the deity ixchel. A renowned Mayan goddess of the moon, love, abundance, fertility, and medicine.
Today, Isla Mujeres is known for its spectacular all-inclusive resorts, crystal blue beaches, and one-of-a-kind restaurants. Relax on a catamaran to Isla Mujeres and enjoy scuba diving and snorkeling amidst breathtaking coral reefs and colorful marine life.
Sailing adventure to Islas Mujeres from Cancun
Cruise down Cancun's stunning Caribbean coastline, and stop to snorkel in the water
Enjoy an open bar and a gourmet lunch on your catamaran cruise
Visit the charming island of Isla Mujeres, and go by its must-see sights
Must be at least eight years old to go on this adventure
Hotel pickup and drop-off is included
Tour Cost: $129 USD
Duration: 5 hours 30 minutes
2. Playa del Carmen Tour
Playa del Carmen is a coastal town that lies along the Riviera Maya strip. It's well-known for its luxury all-inclusive resorts, palm-lined shores, and extraordinary coral reefs.
Spend a day or two exploring its series of underwater water bodies, like Cenote Chaak Tun, its caves with hanging stalactites and beautiful sulfur colors. Playa del Carmen is also home to exciting adventure parks like the Native Park.
Guided buggy adventure
Rumble through non-touristic areas of Playa del Carmen and explore the jungle
Take a dip in a cenote for a refreshing swim
Meet Mayans at a local village
Choose from a morning and afternoon departure
Round-trip transport from centrally located Playa del Carmen hotels included
Small-group tour limited to 14 people ensures a more memorable experience
Cost: $105 USD
Duration: 3 hours 30 minutes
3. Xplor Park Day Trip
Xplor is a privately-owned adventure park anchored on ecotourism. This means all the rides, excursions, and expeditions are built to conserve the ecosystem and not destroy it.
Get an all-inclusive pass, and you'll have access to exciting activities like riding the unique hammock zipline, ATV jungle expeditions, and exploring underground caves with incredible stalactites and stalagmites.
Admission to Xplor Park Riviera Maya
Drive an amphibious vehicle
Paddle an underground river
Swim through a cave
Clip into a 14-line zipline course
Lunch and drinks included (non-alcoholic)
Cost: starting at $133 USD
Duration: 6 hours
4. Xcaret Park Tour
Xcaret Park is an eco-archaeological park that combines history and adventure. It boasts over 50 natural and cultural attractions like the Mexican Folk Art Museum and "Bridge to Paradise" Mexican Cemetery.
Xcaret park also provides the only unlimited nighttime adventure tour; Xplor Fuego. Book your pass to go cenote swimming, river rafting, and visiting the ancient Mayan ruins of Chichen Iza and Coba.
Day trip to Xcaret, an eco-archaeological park located along the Riviera Maya
Engage in a variety of water activities, including swimming, snorkeling, and exploring underground river channels
Watch a mesmerizing night show of Mayan and Mexican music, lights, and dance
Round-trip transport from most Cancun hotels included
Cost: from $140 USD
Duration: 6-12 hours
5. Río Secreto Tour
Discovered in 2007, Rio Secreto, meaning "Secret River," boasts a series of underground hidden caves and rivers. The 2.5 million-year-old caves run over 7.5 miles and feature thousands of striking stalactites and stalagmites.
Explore Mexico's extraordinary biodiversity and expansive natural reserves on a tour to see the caves, where you can swim in this spectacular cave.
Day trip from Cancun to the Rio Secreto Nature Reserve
Swim through an underground river and enjoy the tranquility inside an ancient cave
See gorgeous crystal-like cave formations above the turquoise water
Upgrade for hotel pickup and drop-off from most Cancun and Playa Mujeres hotels
Upgrade and add a visit to the Tulum ruins which is one of the most iconic sites in the destination
Cost: from $86 USD
Duration: 3-8 hours
6. Xel-Há Park Day Trip
Xel-Há Park is known for its towering lighthouse featuring scenic, 360-degree views and an epic water slide that plunges into crystal clear waters. The natural water park provides a true "swimming with sharks" experience, boasting a series of aquatic life in an inlet surrounded by an underground fence.
Relax on Xel Ha's hidden beach, swim in cenotes and lagoons, go snorkeling, and spelunk in caves.
All-inclusive day trip to Xel-Há, a natural aquarium in the Riviera Maya
Discover caves, cenotes, a hanging bridge and a hidden beach
Snorkel and swim in a turquoise-colored lagoon and spot colorful angelfish
Float down a river in an inner tube and jump off a cliff into the water below
Entrance fee, locker use, towels, snorkel gear, unlimited food and beverages included
Pickup and drop-off from most Cancun hotels included
Cost: from $130 USD
Duration: 9-10 hours
7. Tulum Cenote Swimming & Snorkeling Tour
Tulum is a popular Mexican destination boasting spectacular attractions like the Mayan ruins of Coba and picturesque views of the Caribbean coastline.
Take a day trip from Cancun to Tulum and experience a whirlwind of underground caverns like the Cenote Choo-Ha and Nicte-Ha. Most underwater cenotes in Tulum feature limestone stalactites and stunning corals.
Tulum Archaeological Site and Cenote Chen Há and Mariposa tour from Cancun
Day trip combines two popular destinations into one outing
Ideal for visitors who are short on time
All transportation included for hassle-free logistics
Cost: from $39 USD
Duration: 5-6 hours
8. Tulum Ruins Private Excursion
Facing the Caribbean Sea, Tulum played a critical role in the ancient Mayan civilization. The archaeological site includes the Coba ruins, clifftop Castillo, and underground caves such as the Gran Cenote. Explore this former Mayan economic hub and learn about the region's deep heritage.
A private tour is a great way to see the site at your own pace without being rushed or herded along with a large group. You can also take a swim at the nearby beach.
Private transportation and site entrance fees are included
An extra cost may be charged depending on the location of your hotel
After the morning tour, be back at your hotel in time for lunch
Fun souvenir photos of your excursion are included
Cost: from $85 USD
Duration: 4-5 hours
9. Mayan Ruins in Coba Excursion
One of the best Cancun day trips is visiting the Mayan Ruins in Coba. The settlement has three main viewing sites, the Nohoch Mul, Conjunto Pinturas, and Macanxoc structures. Walk or bike through Coba, and discover many other Yucatan Peninsula ruins.
Spanning over 30 square miles, Coba is a large group of sites connected to the central pyramid, Nohoch Mul, the tallest pyramid in the Yucatan Peninsula. Close to the ruins, you'll find the Chimuch Cenote and Cenote Choo Ha.
Swim in Cho Ha Cenote and visit Paradise Beach
Buffet lunch and beverages provided
Hotel pickup and drop-off included from Playa del Carmen
Small-group tour ensures personal service
Cost: from $100 USD
Duration: 10 hours
10. Chichen Itza Day Trip
Chichen Itza is one of the New 7 Wonders of the World, thanks to its pre-hispanic archaeology and towering infrastructure. The temple and other Mayan pyramid ruins are located in the heart of the Yucatan Peninsula.
The ruins are surrounded by several other attractions like El Caracol, Casa del Venado, and Cenote Xtoloc, a former Mayan reservoir and water source. Your tour begins at the ball court, el Castillo (the castle), leading to the step pyramid of Kukulcan, and finally, the Temple of the Warriors.
Guided tour of Chichen Itza including entrance fees
Entrance to Cenote Maya Park to experience adventure and cultural activities
Swim in an underground cenote
Lunch, transportation included
Cost: from $159 USD
Duration: 12 hours
11. Ik Kil Cenote
Ik Kil Cenote is an open-sky cenote situated in Ik Kil Archeological Park near Chichen Itza. The site was a former human sacrifice location for ancient Mayans and is thus considered sacred. This exposed cenote features hanging vines and a carved stairway that leads to the clear blue underground pool.
Tour of Chichen Itza, Ik-Kil cenote, and Valladolid from Cancun
Discover the archaeological wonders of Chichen Itza, a UNESCO World Heritage Site
Swim in the tranquil Ik-Kil cenote and visit Valladolid, Yucatán's third-largest city
Participate in a Temazcal ritual led by a real shaman
Hear about Maya history and culture from a guide
Round-trip hotel transport included
Cost: from $95 USD
Duration: 12 hours
12. Speed Boat Jungle Tour
Take a speedboat to Nichupte Lagoon and get close-up views of Cancun's thick jungle. The lagoon spans over 7,413 acres and has seven lakes and two channels connecting to the Caribbean Sea.
This jungle tour is awash with mangroves, winding rivers, and Punta Nizuc's magnificent barrier reef. The warm waters are ideal for snorkeling and scuba diving to Cancun's underwater Museum of Art.
Zip around Nichupte Lagoon in a 2-passenger speedboat
Snorkel in clear waters along the Punta Nizuc coral reef
Choose from several departure times to suit your schedule
Snorkel gear and bottled water included
Cost: from $59 USD
Duration: 2 hours
13. ATV in the Jungle
Cancun's jungle is packed with unique wildlife and fauna, thick mangroves, and lagoons. Extreme Adventure Eco Park provides a fun-filled ATV jungle tour. The excursion includes riding 4x4s, ziplining through the jungle, jumping off cliffs, and swimming in hidden cenotes.
Combination adventure experience from Cancun
Zipline course through the jungle
Go off road on an ATV
Swim in a cenote
Small-group tour
Ideal choice for families
Cost: from $75 USD
Duration: 4 hours
14. Balam Private Tour
Ek Balam is an ancient Mayan settlement built by its first known King, Ukit Kan Le´t Tok, in the Preclassic Period. The name translates to "black jaguar," a representation of the Mayan god of the underworld, representing power, ferocity, and valor.
Today the wall-fortified site is famous for its impressive infrastructure with decorated facades and unique stucco sculptures.
Climb to the top of Ek Balam's ancient acropolis
Feast on a delicious buffet of Yucatan dishes
A private tour ensures a personalized experience
Set your own pace to explore each location
Cost: from $210/group
Duration: 8-10 hours
Final Thoughts on Best Excursions in Cancun
Cancun is an excellent destination for excursions in Mexico. Its adventurous tours, stunning beaches, idyllic historical sites, and cenotes make up some of Cancun's best things to do.
Like this post? Why not save it to Pinterest?
FOLLOW US on Pinterest, Instagram, Facebook for more great travel inspiration and tips.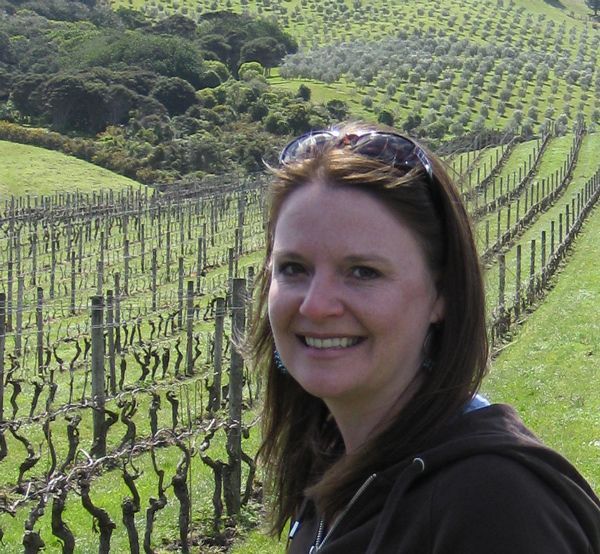 Laura Lynch, creator and writer of Savored Journeys, is an avid world traveler, certified wine expert, and international food specialist. She has written about travel and food for over 20 years and has visited 70+ countries.