Fall is the ultimate time to travel through various cities and states to experience a wide network of exciting activities, from festivals to outdoor activities.
Unsure how to find these foliage-covered terrains that will provide an unforgettable getaway? This list offers some of the best places to visit in the fall in the USA.
» Also check out the 22 Best Winter Vacations in the United States.
» Looking for more travel inspiration in the United States? See our U.S. Summer Vacation Ideas and 12 U.S. National Parks to Visit. Here are a few more fabulous U.S. Cities to visit.
U.S. Fall Vacation Ideas – Best Places To Visit
As many regions consider fall to be an off-season for tourists, this time period is the perfect season for visitors to experience various parts of the US with lower hotel rates. Take a look at a few fall vacations in the USA to take on your next trip:
1. Maine
Yes, the entire state. I know it's large and there's lots of area to cover here, but autumn is one of the cheapest times to visit this Atlantic Coast gem. The off-season provides more affordable accommodation and fewer lines at major attractions. The weather is good and the fall foliage is bursting around you.
Maine showcases some of the best fall foliage in the United States. For that reason, a fall foliage tour through Maine is a fantastic idea. You can drive yourself around, but why not take a fall foliage train tour, which is a unique way to take in the colors of fall. The Belfast & Moosehead Lake Railroad offers several options or in Portland take the Maine Narrow Gauge Railroad Co.
Along the coast, be sure to hit up these activities that are too crowded in summer:
Top Fall Activity: The ultimate festival for foodies, Harvest on the Harbor in Portland is the place to go for beer and oysters in Maine. Harvest on the Harbor usually occurs in early November.
Tours you might enjoy:
2. Zion National Park, Utah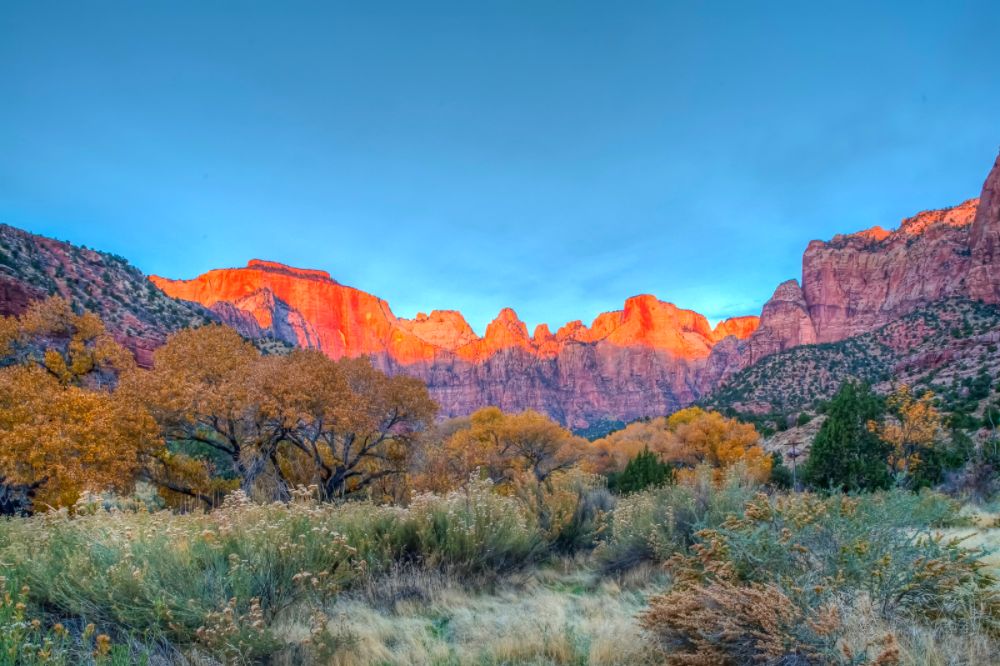 With frosty weather in winter, dangerous climbing conditions in spring, and scorching temperatures in summer, fall is the perfect time to visit Zion National Park. During fall, average temperatures in Zion range from low 40s to mid 70s.
Visiting Zion in fall is like stepping into a vivid painting. The colors are stunning and the sunlight isn't so harsh, so the contrasts between the trees and the rocks is more vibrant. You can take the Zion Canyon Scenic Drive through the park or head out onto some of the trails like Watchman Trail, Cable Mountain and Taylor Creek in Kolob Canyon.
Activities like horseback riding, canyoneering, and zip lining can all be more enjoyable in the fall in Zion and you won't be competing with all the other visitors.
Top Fall Activity: With cooler temperatures after the summer heat, a private tour of Slot Canyon is an epic adventure you won't want to miss.
Tours you might enjoy:
3. Williamsburg, Virginia
An enduring piece of US history, the city of Williamsburg will make you feel like you've entered a different time period. Fall in Williamsburg is one of the best times to visit because of fewer crowds, mild temperatures, and beautiful fall foliage.
In the fall, you can take plan all of those outdoor activities you don't want to do in the heat of summer, like a picnic, hiking, and bike riding. You can go on a ghost tour through Colonial Williamsburg, go pumpkin picking at Holly Fork Farm, or enjoy its wide variety of hiking routes like Lookout Tower Trail or Jamestown Island Trail.
Top Fall Activity: The Yorktown market days in Williamsburg is a fun way to peruse the local produce and vendors of the city. In October, the market day fall festival takes place with various festive treats, such as caramel apples.
Tours you might enjoy:
4. Albuquerque, New Mexico
When looking for the perfect fall destination to visit, the first thing that comes to mind is a nice cool temperature with perhaps a little chill in the air. Albuquerque fits that bill with its famous Indian summer.
Albuquerque has an abundance of fall activities to enjoy. Go pumpkin picking at McCall's, go on a ghost tour of Old Town, or visit the Corrales Harvest Festival, a two day event in September with live music, arts & crafts shows, a pet parade, hay rides, food tasting, and a beer garden. 
Top Fall Activity: The Albuquerque Balloon Fiesta in early October is the biggest hot air balloon festival in the US and is an absolute must-see experience.
Tours you might enjoy:
5. Napa Valley, California
One of the best times to visit Napa Valley is during fall, when the harvest season commences (August to early November). This destination is known for its top-class wineries and wines and fall is a rare opportunity to see the grape picking and wine making in action. Learn more about the harvest.
The vines begin to change colors in the vineyards as well, painting the entire region in yellows and reds. It's a sight you must see. The temperature in fall still hovers around 80 degrees, but with cooler nights that make it very pleasant.
Attend any number of harvest festivals and events, like the Rutherford Hill's Barn Bash and the Harvest Ball in St Helena, or the Harvest Festival in Yountville in September.
Tours you might enjoy:
6. Dallas, Texas
Fall is a spirited time to visit Dallas, Texas, from the harvest festivals to the kick-off of football season. From the simple pleasures of hayrides to the smile-inducing enjoyment of state fairs, this city knows how to celebrate fall to the fullest.
One of the biggest fall events is the State Fair of Texas that's open from end of September to October. Remember, everything's bigger in Texas and so is this fair!
Head to Howell Farms in Arlington to find a walking path filled with over 3,000 hand-carved pumpkins in displayed along a half-mile path. For something a little more frightful, visit Dark Hour Haunted House, a 30,000-square-foot house of horrors located in Plano.
Top Fall Activity: Autumn at the Arboretum in Dallas is a great way to fall head-over-heels for this season's merriment as the coveted 'pumpkin village' returns. The location is known to change from time to time, so be sure to do some research beforehand.
Tours you might enjoy:
7. San Diego, California
Even though San Diego doesn't experience a fall season like many of the other places on this list, there are many reasons to head there in the fall. Fall in San Diego is a time to enjoy mild weather, uncrowded beaches, a variety of festivals, Halloween celebrations, and plenty of outdoor activities.
One of the biggest perks for families visiting San Diego in fall is Kids Free San Diego. For the whole month of October, kids get free admission to 85+ museums, theme parks, tours, and attractions. If you've been wondering how to make your vacation a little more affordable, this is a great way to start.
Top Fall Activity: Pacific BeachFest in early October is a festival that is a celebration of beach-going activities. From volleyball to a fish taco contest, you're in for a treat.
Tours you might enjoy:
8. Big Sur, California
With dazzling redwoods and waterfalls, Big Sur promises a fall vacation in some of the most captivating natural landscape. The fall foliage in Big Sur is some of the best in the state, albeit not nearly as dramatic as on the East Coast. The scenic vistas, wildlife viewing, and waterfalls are all at their best in the fall months, from September to November.
Activities such as hiking and backpacking, highway and trail bicycling, fishing, and hot springs are in full swing still, before the end of the season, and camping is at its best, when you can enjoy the cool fall nights.
This season is also when various animals, such as humpback whales, are most active — so wildlife watching is bound to entice nature lovers.
Top Fall Activity: The best way to enjoy these outdoor splendors is by going on a camping adventure in this region's national parks.
9. New Orleans, Louisiana
One of the best times to visit New Orleans is in the fall, from October to November. These months offer the best sightseeing weather and less crowds, along with the spirit of the season with great festivals taking place, like the National Fried Chicken Fest, Voodoo Music + Arts Experience, and the Boudin, Bourbon, and Beer.
If you're not keen to visit New Orleans in the height of the summer heat and humidity, when it only feels good to be inside an air conditioned building, fall is your chance to get outside and see more of what the area has to offer.
New Orleans is the place to be when the Halloween spirit emerges. While spooky tours and excursions are a no-brainer, you'll also be able to experience the official oyster season in all its shucking glory.
Top Fall Activity: A Haunted Ghost, Voodoo, & Vampire tour will be sure to brew up a hair-raising experience on Halloween.
Tours you might enjoy:
10. Connecticut
A top contender for the best fall vacation spot in the U.S., Connecticut knows how to embrace the cozy pleasures of what this season brings.
From apple picking to leaf peeping, fall in Connecticut is as close to perfect as you can get! You can easily spend a fall weekend going to festivals or enjoying the fall produce at a local farm. The only issue will be deciding where to go. Practically the entire state is awash in red, yellow, and orange.
Norfolk is one of the first towns to get fall colors. There are three state parks at which to view the leaves. At Haystack Mountain State Park, you can reach the top of the mountain by driving and hiking to the top, where your reward is a 360-degree stunning views of the Berkshires, New York, and the Green Mountains.
Campbell Falls is another not-to-be-missed fall hike. Dennis Hill is another great location for leaf spotting. The pavilion at the top offers spectacular views of 3 states. It's a perfect spot to enjoy a picnic lunch while taking in the spectacular view.
Top Fall Activity: Hit the road and pick a route to drive along, like Route 169, to experience the changing colors in full throttle.
Tours you might enjoy:
11. Grand Canyon, Arizona
One of the most popular attractions in the country, the Grand Canyon is sure to top any USA bucket list. The autumn season is the perfect time to make a trip to this natural phenomenon, as this generally means fewer crowds and cooler days.
Fall is a great time to hike the South Rim's Inner Canyon trails due to milder temperatures and reduced crowds. There is also more wildlife present for the same reasons as mentioned above. And though it's not a great place for fall foliage, there are some brighter colors along the trail to enjoy.
Cooler temperatures and fewer crowds also allow the animals to be out, so you'll see more wildlife, and you'll pay a lot less for your hotel rooms too. Win – win.
Top Fall Activity: Make your way to the North Rim for a spectacular view of the canyon bathed in an auburn light when the sun sets on this fall getaway. Be sure to plan your trip to this attraction.
Tours you might enjoy:
When To Travel To These Fall Destinations
The fall, or autumn, season spans from September to November in the US. If you're looking to enjoy the autumn foliage, you'll want to go from late September to early October, although the exact dates can't be predicted, and they vary based on where you're going – from east to west.
The fall is also a time for festivals in the U.S. and many states take advantage of the lower temperatures to hold their state fairs and outdoor festivals. Here are some key events to look out for on your trip to the various awesome places in the USA:
Labor Day (1st Monday in September) – This holiday marks the end of summer and the return to school for the kids, so it's often celebrated with a final big trip, a weekend of camping, or at the very least a big BBQ and party in the backyard.
Halloween (31 October) – While not a federal holiday, Halloween is often treated as one, and it tends to define the whole of October, with an abundance of pumpkin picking, haunted houses, hay rides, and fall activities to keep you busy.
Thanksgiving (26 November) – If you're from the U.S., you've been to dozens of Thanksgiving dinners, but if you've never celebrated this holiday, you should definitely find a family to attach yourself to, so you can get your turkey eating on.
Final Thoughts on the Best Fall Destinations in the US
What would an awe-inspiring autumn vacation be without the crisp morning air that fuels the fire of a day filled with epic outdoor adventures? Whether you're after a pumpkin picking excursion or looking to enjoy a fun Halloween event, this season in the USA will have you covered.
Like this post? Why not save it to Pinterest?
FOLLOW US on Pinterest, Instagram, Facebook for more great travel inspiration and tips.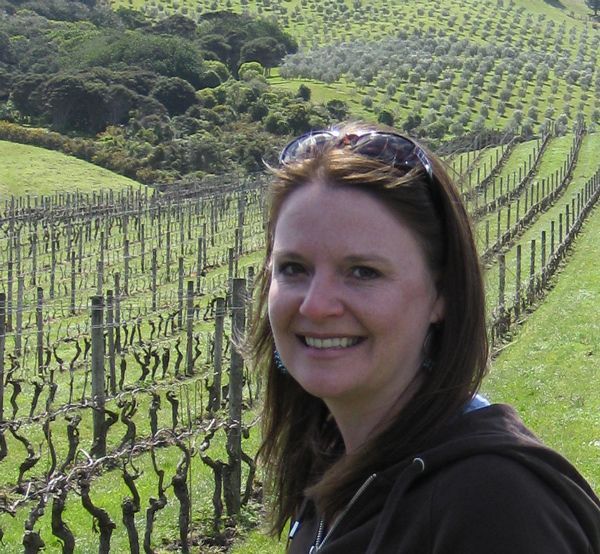 Laura Lynch, creator and writer of Savored Journeys, is an avid world traveler, certified wine expert, and international food specialist. She has written about travel and food for over 20 years and has visited over 75 countries.