If you're traveling and need to pack nice clothes, or you're going on a business trip and need to pack suits or dresses that you don't want to wrinkle or damage, you are probably looking for a great garment bag that will keep your clothing neat and wrinkle-free, unlike a suitcase.
Garment bags offer the ability to pack your nicer clothes, like suits, jackets, and dresses, in a folded configuration that won't leave them wrinkled from being wadded up too long in a cramped suitcase.
There are many different types of garment bags, so choosing the best garment bag for your situation can be very difficult. There are spinner garment bags, expandable garment bags, slim garment bags… you name it, it's available. So how do you make an informed decision when there are this many choices?
We've done the research to find the best of the best garment bags out there, so you don't have to. Instead of wasting your time trying to decide between a dozen models and styles, you've come to the right place, because we've narrowed it down for you. We've only listed the very best of each type of suit bag. Below you'll find a listing of the top garment bags in each style and price category.
You might also like:
See all of our travel gear reviews.
The best garment bags for 2018
I don't know about you, but I love the ease of purchasing on Amazon. All of these great garment bags can be purchased through Amazon, so feel free to click to read reviews or check out pricing for the various styles of garment bags we've chosen as our top picks. These are affiliate links. If you use one to purchase, we will receive a commission, at not extra charge to you.

Best Garment Bag Buying Criteria
Whether you're a business traveler who flies pretty much every week, or a travel blogger like me who rarely sees the inside of my own home, you are probably looking for the same basic set of criteria for your garment bag. It has to be light, easy to pull or carry, and you don't want to have to worry whether it will fit in the overhead bin.
These are the criteria we used when determining the which garment bag is right for you. The price of the garment bag is obviously also a major factor. You often get what you pay for with luggage, so buying the cheapest garment bag is probably not the best investment, especially after you see how it's treated by baggage handlers.
Lightweight
Easy to carry or pull
Meets airline regulations
Price and Value for Money
Durability
Airline Luggage Restrictions
I don't know about you, but it's really important to me that any bag I use for travel fit in the overhead bin. I don't want to have to check my bag all the time, especially for shorter flights. For this reason, you may be looking for a travel garment bag that falls under the size restrictions of the airlines. For most airlines, the maximum carry-on bag dimensions are 9 in x 14 in x 22 in (22 cm x 35 cm x 56 cm), including the wheels and the handles.
Garment Bag Styles
As we've already mentioned, there are many different styles of garment bags. You may not even realize that all of these options are available. For most regular business travelers, a rolling garment bag that can be carried on is the best option. If you're just going for a weekend getaway like a wedding or an occasion that requires proper attire, you may just want a hanging garment bag (by the way, there are wedding dress garment bags too!).
If you're looking for high durability or style, you may want a leather garment bag. But if you're not planning to use it very often, or don't need something fancy, you might be okay with a plastic garment bag.
You can always mix and match the criteria that are important to you. There are many different combinations. The most popular choices are:
Wheeled, foldable, carry-on
Hanging with no wheels
Wheeled, tri-fold, check-in
Best Carry-on Garment Bag (wheeled, foldable)
The Travelpro Maxlight 5 carry on garment bag is our top choice for all types of travel. The only situation this bag doesn't really work for is if you need a lot more space. It's meant to be a  lightweight carry on bag, so you can't pack more than 2-3 suits or 5-6 dresses, and a few additional items inside the roomy interior space. It measures 21.75 x 14 x 8.5 inches. It's light and sturdy, plus one of the only carry-on sized garment bags you'll find. It comes with a padded shoulder strap too, in case you want to carry it instead of pull it.
The durability to this bag and its components are really good. Even if you check the bag and it is treated with the great care that is often afforded to bags on flights, which is to say not much, you won't see this bag falling apart, ripping, or snagging like some do. The zippers are tough and durable. It has inline skate wheels and a lightweight, but sturdy PowerScope handle that extends to two different lengths.
It has a limited lifetime coverage warranty to protect against manufacturing issues and defects, plus a one-year guarantee to fix damage from air travel. It is made with a stain-resistant, water-repellent material
Check prices and read reviews for the
Travelpro Maxlite 5 Carry On Wheeled Garment Bag
Best Mid-Sized Garment Bag (wheeled, foldable)
If you're looking for a mid-sized wheeled garment bag for a trip of about 4-5 days, check out this London Fog Cambridge wheeled garment bag. It measures 22.5in x 4in x 44in. It also has a wide stance to keep it from falling over when it's fully packed. You'll also find the book-opening design on this bag. But the one thing missing here, that the Samsonite has, is the spinner wheels.
The London Fog bag has 2 inline wheels, so it has to be pulled. You might find that you can get away with taking this bag as carry on. It is larger than allowed, but it can fit in the overhead bin, so it's really up to the discretion of the airline. Because of it's slightly larger space, it can fit enough for a 4-5 day trip.
Check prices and read reviews for the
London Fog Cambridge 44 Inch Wheeled Garment Bag
Best Full-Sized Garment Bag (wheeled, foldable)
Since we many of you will need a bigger garment bag than the carry-on size, this is the larger version of the Samsonite.  It measures 22.5x22x10. You can fit 5 suits, or 10 dresses, plus the accompanying extras like shirts, socks, underwear. If you're tall, there are extender panels for larger garments.
One of the problems that larger garment bags often have is being front heavy which causes the bag to fall over rather than stand up on its wheels. That is not a problem with this bag. It is weighted evenly and stands up well. It opens like a book so you can easily get to everything. You can also easily take the packed clothes from the bag and hang them with no hassles.
This bag has easy-to-push spinner wheels that make it easy to push or pull around. We noticed that the wheels glide easily on most surfaces, and don't seem to get caught on objects as often as the older wheels did. The telescoping handle is easy to pull out and retract, and it has a nice sturdy rubber grip.
Check prices and read reviews for the
Samsonite Silhouette XV Softside Duet Voyager Garment Bag
Best High-End Garment Bag
Sometimes you need to pay the extra money to get the best quality. In the case of garment bags, you really do get what you pay for. The design is better, the interior lining is better, the construction is just better. Although the Tumi Alpha 2 is an expensive bag, it lives up to its reputation. You will immediately see the difference with this bag.
The Tumi Alpha 2 holds about 3-4 days worth of clothing. You can fit about 2 suits and a few extra items in the main compartment – more if you're a good packer. There are numerous pockets inside and out where you can store additional smaller items, like socks and underwear.
This bag doesn't have wheels, so it can get heavy quickly if you overpack it. It does have a padded shoulder strap and a flat top handle to make it easy to carry. One of the complaints people often have about garment bags is the ability to find the right size hanger for the bag. With the Tumi garment bag, that's not a problem because they sell the hangers that fit the bag.
Check prices and see more reviews for the
Tumi Alpha 2 Classic Garment Bag
Best Leather Garment Bag
If you look around, you won't find very many leather garment bags. We think they look stylish, and they hold up better than nylon bags since they are genuine leather cowhide. This AmeriLeather bag comes in chestnut brown leather. It has two large interior mesh pockets and two small mesh pockets, with straps to hold it all in. It also comes with two hangers that are suited for the bag.
The bag fits about 3 suits, and enough extra clothing for about a 5-day trip. It's larger than a carry-on size, which gives enough room to fit everything without having to jam it all in. The only problem with using this bag for air travel is that it can easily become damaged in transport. It's better used for shorter trips or road trips that don't require checking a bag. As with many bags, the zippers just cannot stand up to the pressure.
Check prices and see more reviews for the
AmeriLeather Leather Rolling Garment Bag
Best Trifold Hanging Garment Bag
 This is my personal favorite bag for carrying hanging clothes for a weekend event, like a wedding. It's not really used as a primary bag, where you'll pack all your extras, but you can use the exterior pockets for the accessories that go with your hanging clothes. It's just a great, flat-lying trifold bag that you can put your outfits in so they won't get smashed.
The bag is rather large, so that it fits longer clothing, like a floor-length dress. It is a tri-fold design, so once you've folded it up, it's easy enough to fit in an overhead bin. Because it's not a full-on piece of luggage, you won't be asked to check it.
I've always had trouble with these type of garment bags because the hangers tend to fall out of the opening at the top and then everything bunches up at the bottom of the bag, which is exactly what you're trying to avoid. This bag has a clamp that secures the hangers at the top. It can hold up to six items. The perfect use case is as a wedding dress garment bag. You can fit both the dress and the suit or tux inside.
Check out more reviews and see the latest prices for the
WallyBags 66 Inch Tri-Fold Destination Bag
Best Budget Garment Bag
 There are times when you don't need anything fancy to get the job done. If you just need to easily transport a few hanging items, making sure they don't get wrinkled or dirty, then the WallyBags 40 inch garment bag is the one for the job. It's lightweight and doesn't have a lot of extra pockets or sections. There is a handle at each end of the bag, so you can draw them together to carry. The handles fit over the top of most suitcase handles, so you can wheel it along, if you want.
The bag is made of a durable polyester that is water resistent. The dimensions are 40″L x 22″W x 3″D. It can be carried on the airplane, or it can even be used inside a suitcase.
Check prices and read more reviews for the 
WallyBags 40 Inch Garment Bag
Conclusion
You really can't go wrong with any of these garment bags. They are the best garment bag choices for 2017. All of them offer ease of packing and carrying. Which one you use really depends on what your needs are.
What is your favorite garment bag? Have you tried any of these choices?
Disclaimer: There are affiliate links to Amazon in this article. This means that if you make a purchase after clicking on these links, we may receive a small commission at no extra cost to you.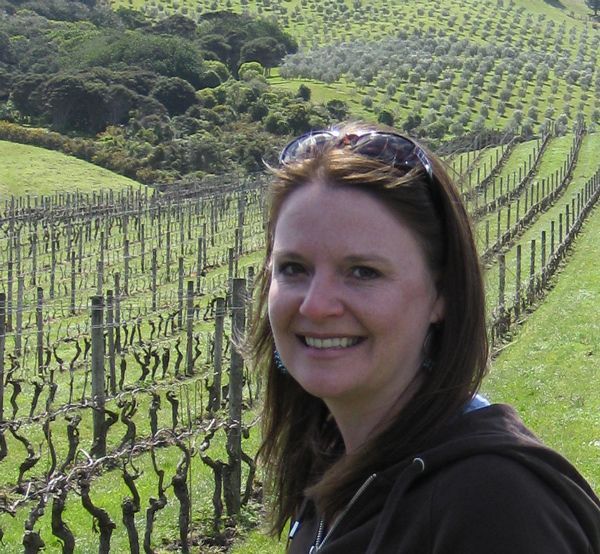 Laura Lynch, creator and writer of Savored Journeys, is an avid world traveler, certified wine expert, and international food specialist. She has written about travel and food for over 20 years and has visited 70+ countries.