Of all the places on earth, Greece is known as one of the most beautiful for couples. The islands of Greece are particularly known for their beauty – the whitewashed villas with blue roofs and amazing views at every turn – which makes them some of the most popular places on earth for a romantic couple's retreat!
So, if you're thinking of a couples trip to one of the many beautiful islands of Greece, then hopefully this guide will help you find the most perfect destination for a romantic getaway. There are so many Greek islands for couples that will give you and your partner the best time.
Unless you know the full geography of Greece, you've likely not heard of many of these islands. Some of them are well-known, while others are lesser-known gems. Depending on what you expect from your vacation – a quiet, secluded getaway or one where you can indulge in the dining and nightlife, you'll find it in the Greek Islands.
Planning for Europe? Here's more…
The Best Greek Islands for Couples
1. Rhodes
If your idea of a romantic time away involves soaking up the history and culture of the medieval and ancient world, then Rhodes is the place to go.
Rhodes is the largest of Greece's Dodecanese islands and it's known for its beach resorts, ancient ruins and the lingering stories of its occupation by the Knights of St. John during the Crusades. The Old Town, which is a UNESCO Word Heritage Site, is fun to walk around to see the Street of the Knights and visit the Palace of the Grand Masters.
Couple are spoilt for choice on an island that is packed with opulent beach resorts. We like the Lindos Blu Luxury Hotel & Suites. It's adults-only and has unbelievable views from the rooms. They also have rooms with private pools. The hotel is located in the historic area and the Tomb of Cleobulus and Faraklos Castle are within walking distance.
2. Santorini
Santorini is an extremely popular destination for holiday-goers, but it is especially famed for its appeal to couples. Ask anyone where they'd go on honeymoon and Santorini is often in the list.
It's often considered to be one of the most beautiful places on Earth, partially for its location on top of the cliff facing the caldera, with jaw-dropping views. You can barely turn a corner on Santorini without being presented with a picturesque view, especially in the towns of Fira, Firostefani, Imerovigli and Oia.
Santorini is the place to go for beautiful sunsets and wonderful wineries. You absolutely have to hike the trail along the cliff that goes from Fira to Oia in six miles of dramatic scenery.
Oia is Santorini's most picturesque town and has some of the island's best hotels. We stayed at the White Pearl Villas which was located in the center of Oia and had a private hot tub with great views. I would also check out Andronis Luxury Suites for a romantic stay.
3. Paxos
Paxos is sometimes considered a little out of the way for many tourists, as it's one of the Greek islands that doesn't have an airport, but there is a ferry. Once you get there, you will absolutely fall in love with the stunning natural views.
This is a peaceful island filled with olive groves, crystal clear water, and small seaside villages to explore. The capital of Gaios is a fun place to explore on foot through the lovely pedestrianized streets with cute cafes and restaurants to stop at.
Of all the Greek islands, I think Paxos is the best for foodies. There is some really great food here. For starters, check out Carnayo in Gaios and La Vista Paxos on the harbor.
For places to stay, Purple Apricot Hotel and Torri e Merli are both high-end, luxurious and romantic hotels that are both unique and boutiquey. Perfect for a couple looking for a quiet and stunning retreat.
4. Antiparos
If you're the sort of couple that really likes to get away from the crowd, then spending some time on the small island of Antiparos might be your dream couple's destination!
As one of the smaller Greek islands – even smaller than its close neighbor Paros – you'll hardly be able to find a better spot for a delightfully secluded retreat.
You'll find yourself almost taken back in time, and will absolutely love the beauty and remoteness of this island.
That doesn't mean that there isn't plenty to do on Antiparos! Couples are able to enjoy many fun and romantic activities – such as taking a boat ride, diving, or just enjoying the sun on Saint George Beach.
5. Crete
Crete is the largest of all of the islands of Greece, and is one of the most popular destinations in the country. It's very easy to get to and there are a lot of locations to
Couples who love the hustle and bustle of a busier island will absolutely love a romantic getaway in Crete! There is so much to do in Crete, like sailing, kayaking, and catamaran tours.
You'll find absolutely stunning vistas if you're looking for somewhere a little further away from the more populated areas of Crete, as there are countless beautiful sights to see.
There are so many beautiful beaches on Crete too, such as the magnificent Falassarna and Agiofarago beaches! So if a sunset walk on the beach is your thing, you'll absolutely love a trip to Crete.
6. Amorgos
Amorgos is another absolutely delightful Greek island, but one that many couples might well not have heard of!
And that could well be a good thing, because Amorgos is definitely one of the most beautiful places that a couple could visit, and yet the fact that it is relatively unknown compared to other Greek islands makes it a great place for a couple looking for a relatively untouched paradise.
Those who want the most authentic Greek island experience will absolutely love a visit to Amorgos, as its less known status amongst the many islands of Greece has left it comparatively unspoiled by tourism. Couples who want to get away from it all will absolutely love a trip to Amorgos!
7. Thasos
Thasos is definitely the place to go if you're the sort of couple that loves to have an energetic good time! That's because there are so many fascinating and exciting activities for couples to participate in on Thasos, the most northern island of Greece.
For a start, there are the famous and magnificent beaches that many tourists flock to each year. There are plenty of opportunities for watery activities, such as swimming, snorkeling, and diving – and Thasos is undoubtedly one of the most beautiful sites to do them in!
There are also opportunities for driving trips through mountainous terrain, and so many beautiful sites to visit along the way! Thasos is definitely worth a visit for more adventurous couples!
8. Hydra
Hydra is a fantastic place for couples to spend a romantic retreat! It's long been known as one of the most beautiful islands in Greece, with many beautiful sites to visit, like Bisti Beach, views from Mount Eros, and Profitis Ilias Monastery.
You'll find it easy to access Hydra, as you can get a ferry directly from Athens. From Athens, it's only a 1.5-hour journey to this wonderful island – although you can reach Hydra from many other parts of Greece!
You'll absolutely love the beautiful views you find on Hydra, with magnificent opportunities for walking and hiking. There aren't any cars on Hydra, which is a top reason why many couples find it one of the most romantic places. Imagine not having the distraction of cars and busy streets.
There are also plenty of beach to relax on like Agios Nikolaos Beach, Saint Nicholas Beach, and Vlychos Beach. These are tiny beaches packed with umbrellas and beach chairs that will make you feel that European charm.
9. Corfu
Corfu is one of the most beautiful parts of Greece, famed for its delightful old town architecture. Outside of Old Town, there are many beautiful and charming villages that are also worth visiting, like Pelekas, which is one of the most picturesque villages in Corfu, or Agios Stefanos Avliotes a popular seaside town.
And that's just for starters, as it would be remiss not to mention the absolutely beautiful beaches that you can find on Corfu, like the large sandy Arillas Beach and gorgeous Paleokastritsa Beach.
Corfu is a popular place that can get crowded in summer with backpackers and partiers, and it can also be quite expensive during high season, but it there are many quiet places to stay on the island where you can get away from the crowds. We like to stay in Kassiopi on the northern side of the island – a small fishing village that's quieter and close walking distance to sights and beaches.
10. Gavdos
Gavdos is one of the least well-known of the Greek islands, which can make it a perfect choice for a couples retreat. It's one of the smaller Greek islands too, only accessible by ferry, which ensures it is less visited, thus quieter than other islands.
Gavdos has a whole host of beautiful beaches and other places to relax. Because of its remote location, it's very easy to explore the island that's just 9 kilometers long and 4.5 kilometers wide. There are only a few small villages to see, two of the main ones being Vatsiana in the south, and the capital Kastri.
The most popular beach on Gavdos is Sarakiniko, near the main port. Not too far away you'll find the small beach of Fetifes and Agios Ioannis Beach, which is a really stunning beach with fine sand and clear water.
11. Agistri
There are many ferries running between the Port of Pireaus (Athens) and Agistri each day. The journey isn't long, taking just between 1 – 1 1/2 hours.
If there's one thing that Agistri is famed for, it is scuba diving. Whether you're a seasoned scuba diver, or you want to try it for the first time as a couples activity, a trip to Agistri will give you the amazing diving experience that you're looking for. For an easy diving trip, contact Interdive who can set you up with everything you need.
Don't worry, diving isn't the only thing to do on the island. You'll definitely want to visit the unique swimming area of Aponisos Beach, with ladders descending into the water. Dine out on the island's signature dish of octopus in the town of Skala.
For couples, the small Dragonera Beach is perfect for a romantic afternoon on the beach. It has just one line of beach loungers and a captivating view.
12. Kos
Kos is one of the more famous of the Greek islands. And rightly so as it's an amazing island that's full of both beautiful natural sights and amazing historic spots, like Paleo Pili. Kos is undoubtedly one of the jewels of the Mediterranean.
While there, you'll want to see the archaeological dig site, Agora of Kos, and the steps of the Roman Odeon of Kos. There are many fantastic beaches, like Agios Stefanos Beach and Lagades Beach that will blow you away.
Kos is also close to Turkey, so you can build two countries into your itinerary by hopping from Kos to Bodrum. There are usually 4-5 daily ferries from Kos to the port of Bodrum in Turkey.
For couples, there are many quiet romantic hideaways. We like to stay at OKU Kos. It's one of the best hotels in Kos for couples. It's adults-only and has a private sandy beach.
Conclusion
There you have it – 12 of the most beautiful islands in Greece for couples! Hopefully, this guide has helped you find the best destination!
By the way, you might have noticed a new feature on the website. I am one of Google's paid early testers for their Thank with Google pilot program, an experimental feature that allows you to purchase a virtual sticker to show your appreciation for the content on our site.
There are a variety of stickers to choose from in varying amounts. When you send a paid sticker, we will receive the money and any private message you've attached to support the work we put into this website. Even a free sticker is much appreciated! We love hearing from you and knowing that you enjoy our articles.
You can find the Thank with Google feature in multiple places on our site. Try it out and let us know what you think. Thanks again for your support.
Like this post? Why not save it to Pinterest?
FOLLOW US on Pinterest, Instagram, Facebook for more great travel inspiration and tips.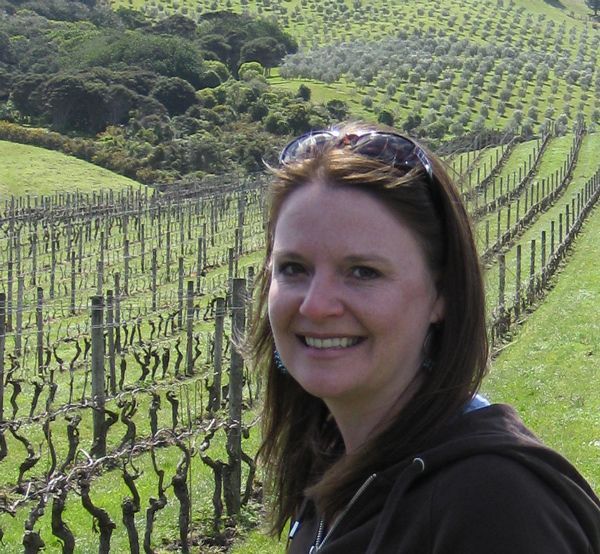 Laura Lynch, creator and writer of Savored Journeys, is an avid world traveler, certified wine expert, and international food specialist. She has written about travel and food for over 20 years and has visited 70+ countries.