As a frequent traveler, I am always on the look out for the best travel laptop that is as light and compact as humanly possible. If you've already got a carry-on suitcase, a backpack and a camera bag, there's just no room for a big, bulky computer. But there are so many laptop options today that it's hard to know exactly which ultra-light laptops are worth it.
Since we actually travel for a living, we need to be close to the computer at all times for social media updates, photo editing and, of course, writing informative articles like this one.  We've tried quite a few laptops over the years. And we've found which ones laptops are best for travelers due to being lightweight, powerful, and relatively inexpensive.
Below you will find Savored Journeys' guide to choosing the best travel laptops 2020 to make the agonizing chore of finding the best backpack for travel an easy one for you. While we're on the subject, you might also find these packing posts useful:
See all of our travel gear reviews.
Best Travel Laptops for 2022
In case you don't have a lot of time to read all of the reviews below and you're just looking for a list of our favorite travel laptops, we've put together a quick-pick list for you, starting with the most basic computer to the most full-featured and robust. Everyone's needs vary, but you should be able to find a computer in this list that suits your needs.
---
Click arrow to jump to review
Why You Need a Travel Laptop
The best travel laptops are ones that are lightweight and easy to stow away. They have enough power to do the things you need while traveling, but don't need to have as much capability as one you would use at home. What you're looking for is a computer that won't weigh you down.
At home, we use a much larger, more robust laptop than we would ever take traveling with us. Since there are now some really great choices for laptop backpacks, with fully protected sleeves to stow it in, and easy access panels from which to extract it when you arrive at the airport security gate, you don't have to worry about the inconvenience of packing along a laptop when you travel.
Having one along means you can quickly respond to emails, keep notes about your trip, upload your photos, catch up on social media, and even watch videos or listen to music while you're away.
PRO TIPS:
Find a laptop that is the perfect size for leisure travel
Unless you're a business traveler a lighter, less feature-rich computer is the best option while traveling.
Important Travel Laptop Criteria
The criteria we're looking for in a top travel laptop are:
1. Lightweight and Compact
Size is one of the most important things to look for in a travel laptop. You already have to carry around a lot of stuff when you're traveling, you certainly don't need a heavy, bulky laptop weighing your down – literally.
Look for an ultralight, laptop with as small a screen size as you can handle. Remember, you probably won't be using for the same tasks as at home, so it's okay if it's small.
2. Battery Life
One of the absolute  most important things to look for is a long battery life. You need to be able to use the computer for long periods of time without recharging it. Look for a battery life of 8+ hours.
3. Operating System
While you want a streamlined laptop without a lot of extra features, it's still important to pay attention to the operating system – specifically you'll need to decide between a Mac and a PC. Stick with what you're used to at home, so you don't have to learn a lot of new features and keystrokes.
4. Processing Speed and Power
The amount of processing speed and power you need in a travel laptop is really dependent on what you're going to be using it for. If it's just for answering emails and posting photos on Facebook, you can get away with a Chromebook or something with a slower processor – even a tablet would be sufficient in most cases.
If you're going to be doing heavier tasks, like editing videos, watching movies and playing robust games, you'll need a stronger processor.
5. Style
I don't mean design here, I mean the style of laptop. You've no doubt noticed that there are many different types of laptops now – not just ones that have an open/close lid and function as a typical laptop, but ones that flip inside out and function as a drawing board, as well as a typical tablet would. Many have touchscreens. You'll need to decide what style you most prefer, and will use.
6. Price
Of course, price always plays a role in any decision. Laptops are one product that ranges greatly in price – largely based on the features it comes packed with. To lower the price, you will need to settle for less power, speed and capability. That's not always a big deal though when talking about travel laptops.
We prefer to stick with a base model that has just enough power to get the job done. If you lose it, or it gets damaged in transit, you will wish you hadn't paid top dollar for it. A decent travel laptop can be purchased for as low as $150, while a high-end one can be as much as $2000.
Travel Laptop Reviews
Now that you have your criteria narrowed down, you can read our reviews below and see which of these top travel laptops suit your needs.  These are based on my opinion and the customer ratings from five different online stores that stock these top travel laptops.
We are in no way affiliated with any of these products and have not received any products in exchange for this review.
There are many benefits (and also some drawbacks) to purchasing a Chromebook as your travel laptop. I think they're great because they're light, small, easy to use, and don't have a lot of extra bells and whistles that you don't need.
They are especially great for travelers who are basically only going to spend time browsing the Internet, checking email, or watching videos. Since the Chromebook is a slimmed down computer using a web-based Chrome operating system, it isn't capable of running intensive programs. It acts as a Chrome browser only.
That means if you need to run other programs like Microsoft Word or Photoshop, you wouldn't be able to do it on the Chromebook. You can, however, use online apps like the Google Drive for docs, sheets, etc. Chromebooks can be purchased for as low as $150. That makes them an exceptional value.
If you want more capability than the base model, they can go up in price to around $500. I prefer the Acer Chromebook R 11 Convertible. I think if you're going to use one of these computers, it's because you don't have a lot of difficult and tedious tasks to do, so an 11-inch screen is more practical than a 14-inch screen.
It has and LED-backlit display, a multi-touch screen, and enough onboard storage and memory to get the easy jobs done. It also has up to 10-hours battery life. and a webcam. At 2.7 pounds and .76 inches thick, it's sleek and easy to carry.
The Google Pixelbook Go is a great option too, and it has more options so you can get it in different configurations to fit your needs.
We also like the Acer Chromebook Spin for light use, especially if you like to flip the screen all the way around to make it like a tablet. It's just around $250.
---
My favorite laptop for travel (and at home) is the Dell XPS 13. It's small screen size, and equally small bevel around the screen, makes it feel like you're working on a much larger computer, while keeping the sleek form factor. Usually, ultra lightweight computers mean you have to sacrifice on power and features, but that's not the case with the XPS 13.
It weighs in at 2.8 pounds, and is just over a half-inch thick. It includes up to an Intel Core i7 processor, as much as 1 terabyte of storage capacity, optional touchscreen, and a number of ports (USB-C, SD card reader, audio jack, and two USB 3 ports).
It fits easily into most travel backpack sleeves, and isn't a pain to carry. It's really not much larger than a regular paper notebook. My favorite features are the keyboard back light and the speed at which it turns on and off.
★ It comes in many different configurations. Check out these two for the best comparison. LOW END (~$1100) or HIGH END (~$1600)
---
The biggest selling point for the Lenovo IdeaPad 3 is that it has everything other computers have at a fraction of the price. It's also slimmer and weighs less than competitors that have similar features and components.
The IdeaPad has a 14″ screen with 1920 x 1080 FHD display, weighs just 3.3 pounds and is under 1 inch thick. It's smaller than the Chromebook, even. But it is packed with features like a 13.3″ full hd screen, a webcam, an Intel i7 processor, 8GB ram, backlit keyboard, many useful ports, and bluetooth. The computer boasts up to 7 hours of battery life and a 512 GB solid state drive, which offers better performance and reliability. You can get it with an without a touch screen. ★ It comes in many different configurations. Check out these two for the best comparison. LOW END (~$800)  or  HIGH END (~$1400)
The LG Gram is a thin and light laptop that comes with a screen size of 14″ to 17″. The 15″ weighs just 2.5 pounds and the battery can last up to 21.5 hours. There are some really great features in this laptop, including 1920 x 1080 pixels resolution, 8 GB RAM and 256 GB flash memory solid state drive and Windows 11.
It also comes with an 11th-gen Intel Core i5 or i7 processor, so it's super fast. If you're worried about trekking around a large computer, you can put your mind at ease, because this computer is so slim and light, you won't even know you're carrying it.
For that size and weight, you can get a larger screen and it doesn't feel like carrying around a brick, plus it has a number pad on the keyboard, which only comes on a 15″+ screen laptop. I still prefer the 14″ for travel though.
---
If you're a Mac user, you already know there are a couple of different options that you have to choose from. Apple has four different MacBook options (search them all here): MacBook, MacBook Air, 13in MacBook Pro, and 15in MacBook Pro.
The only ones we would consider for travel are the 12in MacBook and the slightly bigger 13in MacBook Air. The MacBook Air takes first place for me because it has a larger screen size than the MacBook and is quite a bit less in price.
The Apple M1 chip with an 8-core CPU delivers up to 3.5x faster performance than the previous generation and comes with 8GB RAM and 13.3" Retina display with 2560×1600 resolution, plus 256GB storage for under $1000; and 512 GB for $1100.
To get even close to this in the 12″, you have to pay at least $200 more. Not worth it, in my opinion. If you need even more capability, you can upgrade to the 13″ MacBook Pro for the extra cost.
---
A laptop is sometimes more than you need when traveling. If you're not planning to do any major computing tasks, then you should be just fine with a tablet.
The only problem people generally have with a tablet is a lack of keyboard, but don't worry about that because you can always get a portable keyboard that attaches to the tablet. So we're giving you two options in this category, because there are Apple supporters and PC supporters out there.
If you're an iPad user, you can't go wrong with this 9th generation iPad. It's a great machine with a lot of capability at a mid-level price that's affordable as a travel tablet. It has a 10.2-inch screen and either 64 or 256 storage. It weighs just slightly over 1 pound, with up to 10 hours of battery life, and can be attached to a separate keyboard. It also has Apple Pencil capabilities.
Don't go thinking this can replace a laptop, though. The capability isn't enough for more difficult tasks, but it can definitely get the small jobs done. Some of its best features are
A13 Bionic chip with Neural Engine

Face ID for secure authentication and Apple Pay

12MP back camera, 8MP True Depth front camera

Up to 10 hour battery life
---
This Microsoft Surface tablet is a great choice for non-Apple users. It comes in a range so you can choose what fits your needs, but it's basically a full-blown computer in a small package. It has everything you might need, unless you're looking for a large screen.
This tablet comes in a 10.5″ in the Surface Pro 3, up to a 13″ Full HD (1920×1280) touchscreen in the more expensive Surface Pro 8 model. It has full capability with Windows 10 professional 64-bit full version.
It has 8 GB memory, 256 GB solid state drive, an Intel Core i5, and battery life that lasts up to 10 hours. You can attach a separate keyboard so you can get more tedious projects done, like writing blog posts on the go! Way more features than you would expect to find in a tablet.
---
Best Travel Backpack for Laptops
If you regularly carry your laptop with you while traveling, it's just smart to find the proper backpack for it. It doesn't take much to rattle a computer.
The last thing I want is to accidentally drop my bag and break my computer. Travel laptop bags have also gotten a security boost recently. Some are even TSA approved to go through the scanner with the computer still inside.
There are many things to like about this SwissGear ScanSmart backpack. The main feature of this backpack is the dedicated laptop section that allows you to pass through security screening at the airport without taking the laptop out of the bag.
You can unzip the back section and lay it open flat on the scanner and it will pass right through with no worries, as long as the laptop is the only thing you've packed into the back section. It fits up to a 17″ laptop in the back pocket, that has a side zipper, so you don't have to open the main compartment to pull out the laptop.
There is also a dedicated tablet pocket opposite the laptop section with a protective sleeve to keep your tablet safe. The SwissGear computer backpack has padded, ergonomically contoured straps that conform to your back, so it doesn't dig in, even when it's packed full.
The back panel is nicely padded and has a ventilation technology to keep your back from overheating. It also has a sturdy handle that helps distribute the weight when carrying it by hand. It might look like a small bag from the images, but it can hold up to 31L. For me, that will easily accommodate clothing and accessories for a 5-7 day trip. 
For travel purposes, it has plenty organizational features and pockets, and it can double as a work/office bag, too. There are multiple interior pockets for accessories, including a padded pocket with a headphone slot so you can store your phone or iPod and listen to music while on the go.
Additional features that are nice to have are the side water bottle pocket, which I prefer to use for my travel umbrella, and the carabiner so you can attach things to the outside (like an extra pair of shoes!).
You might also consider these: Best-Selling Laptop Backpacks
Conclusion
We hope you found a travel laptop or tablet that suits you. It's important to find the right fit for your needs while traveling. Let us know which one you chose or if you have another computer recommendation that has suited you well on the road.
Like this post? Why not save it to Pinterest?
FOLLOW US on Pinterest, Instagram, Facebook for more great travel inspiration and tips.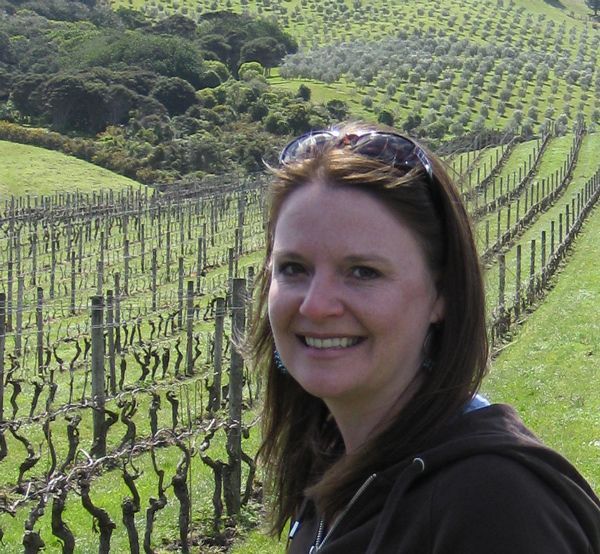 Laura Lynch, creator and writer of Savored Journeys, is an avid world traveler, certified wine expert, and international food specialist. She has written about travel and food for over 20 years and has visited over 75 countries.