Whether you're a family of four and needing to use all of the piece of a luggage set for one trip, or you're a frequent traveler who needs to have a range of luggage sizes at your disposal, purchasing a luggage set will save you money.
There are some great pieces of luggage out there, but if you have to buy it piece of piece you might be spending a whole lot more than you should. Besides the cost, there are many reasons to purchase luggage as a set.
There are more than a few luggage sets that come in popular size progressions and have really good reviews. They come in a variety of colors, types (spinner or pulled, soft-sided and hard-sided) and various price ranges.
That's why we've put together this list of the best luggage sets on the market today, so you can easily find the one that suits you without getting lost in the sea of choices.
Don't have a lot of time to read reviews and compare sets? We've got a quick-pick guide too, so you can see our top recommendations and make a purchase quickly, without the hassle of reading and comparing.
However, if you do have time, we have a full review of each case below. First we'll go over the important factors to look for in a suitcase set, though, so use this link to [SKIP DIRECTLY TO REVIEWS] if you don't want to read that section.
Quick-Pick List – Top Luggage Sets for 2019
Why Buy a Luggage Set?
A luggage set is a travel investment. Yes, they can be expensive, but if you find a good quality set, you can use it for your travels for many years to come. If you travel multiple times per year, you will want to find a set that includes different sizes to meet the specifications of your various trips, but you'll also want to find ones that nest together and save space when they're parked around your house. Likewise, if you use more than one suitcase at a time, you will need them to fit well together, for ease.
Here are the many reasons to consider buying a luggage set, rather than individual pieces of luggage.
They Nest Together
Many luggage sets are built to nest together, meaning each piece packs comfortably inside the next biggest piece. If you buy a nesting luggage set, when you're not traveling and the luggage is just taking up space in your house, it won't be taking up an entire room to itself. Even the hard spinner cases can come in nesting sets.
Variety
There are a great many different types of luggage sets to fit what you're looking for, so you can have the greatest flexibility in your travel packing. There are sets that come in 3, 5, 7, and even just a suitcase, weekend bag and toiletry kit.
The best part about a luggage set is that you have the choice of size and layout at your fingertips when you are packing for a trip. If you're going on a longer trip, select the large case, for a smaller trip you have the weekend bag. If you're a family of 4, you may need all 5 case sizes for your trip.
Price
It's must less expensive to buy luggage as a set, than buying individual suitcases. If you know you're going to need all the pieces of a 3-piece luggage set anyway (and who doesn't, really), you should save money and buy them as a set.
Matching Set
It's hard enough finding your luggage among the sea of suitcases on a baggage carousel, why make it even harder by having non-matching cases? When you're traveling with more than one case, it's best to have a matching set so you can easily identify which ones are yours.
Even if you don't travel with more than one case at a time, it's good to stick with one style and color, so you never forget which one you packed this time.
>> Just need one? Look at our reviews for the best carry-on sized luggage.
Similar Features
There are many different kinds of suitcases out there, and each one has different features. If you find one that you like, with the features that you like, you can ensure you'll always have those features at your disposal by buying a luggage set.
How to Choose the Right Luggage Set
You'll want to consider these important things before purchasing a luggage set. As we've said, there are so many different styles, and not ever one will fit your needs. Be sure you've asked yourself these questions before buying:
Hardsided or Softsided
I personally go back and forth on this decision. There are pros and cons of each type. Hardsided may do a better job of protecting your stuff, but softsided can fit more when you're in a pinch because it expands better. Hardsided cases tend to fair better when they're tossed around on long-haul flights. Softsided cases are better for overhead bins because they can be flexible when you can't fit it in and have to start shoving.
» Check out our favorite hardsided suitcases. These don't come in a set, but you can purchase both separately.
Spinner or Not
The spinner cases are really nice to have when you're racing through the airport and don't want to be dragging a heavy piece of luggage behind you. They are easier to push, with less resistance and aren't so bad on your back and shoulders. However, the wheeling mechanism can take up more space inside the case and be heavier than other types.
Sizes
Size is a major issue for me. I already know that I will never use the large 28″ or 32″ suitcase. Even when we went to Spain for 2 months, we only used the 24″ case. So, having a larger suitcase around is just not worth it for me. Also, remember that the larger cases cost a lot more.
If you don't need one that big, don't buy a set with that size in it. Likewise, if you know you'll never use the weekend bag and 20″ size, find a set that doesn't have those sizes.
Your Needs
Be sure to carefully consider what you'll be using the set for and how often you might use each of the pieces of the set. If you buy a 5-piece set, will you use all 5 pieces, or will you never use the largest suitcase? Is the smallest suitcase too small for you? There's no need to buy more pieces that you think you'll use, or to buy sizes you won't ever be using.
Best Luggage Sets for 2020
The best luggage sets for you is heavily determined by your individual needs and preferences. But here we've selected 5 of the best luggage sets based on general demand and approval rating.

The Samsonite Omni PC set is my favorite luggage set. First of all, I really like and trust the Samsonite brand. I've used suitcases by Samsonite for many years and they have always been reliable and sturdy.
The 20″ suitcase fits in all overheads., so you don't have to worry about getting to the airport and having them tell you to check your carry on. They are hard sided with spinner wheels, so they will keep your belonging safe from damage.
Samsonite says that this luggage was built so that the 100th time you use it, it looks as good as the first. It's built with a scratch-resistant micro-diamond texture, and the lightest 100% poly carbonate construction.
There are 4 double spinner wheels that are designed to be 360-degree wheels that glide along beside you, so you don't have to pull a heavy load. The large and medium cases have retracting handles, while the small has a telescoping handle.
The cases are expandable for when you need more space, but don't expect to be able to push and shove until everything fits with the hard-sided walls. They also have a full zipper interior divider and cross-straps to hold things down. The packing organization is really good. I really like the quality of the interior of the Samsonite suitcases. It feels sturdy and easy to wash.
Each suitcase has a double zipper that can be closed from either side. They have a side-mounted TSA-approved lock that hooks to the zippers to provide good security.
Do They Nest?
Yes, this set is a nesting set that will fit together neatly when packed away.
Sizes Included
28″ high, 10.35 pounds
24″ high, 8.34 pounds
20″ high, 6.81 pounds
Samsonite offers their Omni suitcases in a couple of different set combinations. Click through to Amazon to see all the different options.
Pros: Nice looking, expandable, TSA approved locks, scratch resistent, able to nest
Cons: Hardsided cases are harder to pack, does not include an extra large case.
Get the Samsonite Omni PC Harsided 3-Piece Set
---
AmazonBasics is always there with the budget option. I wouldn't compare the quality of these cases to the Samsonite, but they are definitely less expensive. AmazonBasics hardsided spinner set is just that – a less-expensive version of the Samsonite luggage set.
You'll save about $100 on this set, and it includes the same sizes as the other set. It has the scratch-resistant, extra-firm ABS exterior, though I've heard people say they do scratch pretty easily.
If you crave more space, these cases are expandable to offer 15% more interior space. The interior organization is also very good, with an interior organizer and 3 pockets to keep things separate and findable.
This set also has 4 double spinner, 360-degree wheels for smooth gliding. They have short telescoping handles that will help you push the cases, but that won't get in the way like longer handles do. And they have sturdy, heavy-duty zippers.
The feature that the AmazonBasics set lacks is the TSA-approved locking system. This set comes with no locks.
If you don't have the money to spend on the nicer Samsonite model, this is likely your go-to luggage set. It's basic, but it gets the job done. At this price point, you really can't find any better, with the features that are built in.
Do They Nest?
Yes, all of the pieces of the set nest together.
Sizes Included
(exact weights are not given)
28″ high
24″ high
20″ high
AmazonBasics also offers a 2-piece luggage set with 20″ and 28″ spinner suitcases. And they have a soft-sided luggage set as well.
Pros: Great price point, strong and sturdy, smooth gliding wheels
Cons: Can scratch easily, large case may exceed luggage standard weight if packed too full, no included lock
Get the AmazonBasics 3-Piece Hardshell Spinner Set
---
If you're looking for something from a well-known brand that doesn't exceed your budget, this Travelpro Maxlite 5 set might be for you. We firmly stand behind the quality and value of the Travelpro Maxlite. We've been recommending them as the best carry-on luggage choice for years. For the price, it'll be hard to find a soft-sided case that beats this one.
The Maxlite 5 luggage set includes 2 suitcases in a 21″ and 25″ size, a tote bag, and a travel pillow. All of the bags are made of polyester fabric with DuraGuard coating that resists water and stains. They are extremely lightweight and easy to push with the 4-wheel 360 rotating spinners.
The telescoping handle has two positions, so it fits both short and tall travelers. We love the contoured grip, which makes the handle extra comfortable and easy to pull from any angle.
You can easily carry the suitcase and tote together with the back sleeve that allows the case to slide over the handle of the suitcase. Each has a large interior space for your clothes and accessories. The suitcase has the typical large main compartment with hold-down straps, but it also features a full-length zippered lid pocket and side accessories pocket. There are two large zippered pockets on the front.
Do They Nest?
Yes, all of the pieces of the set nest together.
Sizes Included
21″ Expandable
25″ Expandable
Tote Bag (11″ x 18″ x 8″)
Pillow
Pros: Dependable, high-quality bags. Great interior organization. Contoured grip.
Cons: 21″ case is slightly too large for some budget airline luggage regulations.
Get the Travelpro Maxlite 5 Set
---
it Luggage is a very popular brand. Why? Because it's incredibly lightweight. The smallest of the luggage set is 21″ and weighs just 4.07 pounds. Even the middle size only weights 4.5lbs. For that reason alone, this is one of our favorite luggage sets.
They don't scrimp with the features either. You'll find that the it luggage set has almost all the same features as the higher-end, heavier pieces of luggage. If you can pack more and have the case be the same weight, why wouldn't you want that?
One of the best innovations on this suitcase is the lay-flat handle. It is made from a single piece of aluminum that doesn't require a bulky mechanism inside the case, so the bottom of the suitcase is flat. I love that feature. Packing around the handle can be a huge pain.
The case has everything you expect to find. It has 4 double spinner, 360-degree wheels for smooth gliding. Despite it's light weight, it has a sturdy fiberglass exterior structure, so you don't have to worry about it getting bent or mangled in transit.
There aren't a lot of interior organization features, but there is one large flap pocket and two straps to hold things down. This suitcase style is also not expandable.
Do They Nest?
Yes, this set of suitcase all nest together.
Sizes Included
Large: 31.5 x 18.3 x 10.2″ and weighs 5.29 lbs.
Medium: 27.6 x 16.1 x 9″ and weighs 4.51 lbs
Small: 22 x 14 x 9″and weighs 4.07 lbs.
Pros: Very lightweight, no interior handle mechanism, sturdy
Cons: Not much interior organization, no locks, no handle on the bottom for easy lifting.
Get the it Luggage 3-piece soft-sided set
---
If you need a larger luggage set, but at a value price, the Rockland 4-piece spinner set is a good deal. It comes with four suitcases, and in sizes that are not typical of luggage sets, in case you need something a little different.
You'll get an 18″ case that is good for short weekend trips, a 22″, which is slightly larger than most carry on cases, but will still be accepted as carry on in most airlines. There a 26″ case, which is my preferred size for check in luggage, and a much larger 30″ for when you really need a lot of space.
The Rockland luggage set is very economical. You'll get four cases at about half the price of one 3-case set. Of course, the price does reflect in the features of the suitcases. They are a basic design, with very little extra, but the extra features are not always necessary.
They have multi-directional spinner wheels, although not with double wheels, like higher-end sets. The exterior is made with a heavy-duty nylon fabric that prevents damage and snagging.
The interior of these suitcases provide a few organizational features, like a mesh and zip pocket and a plastic pocket for spillages. They are fully-lined. Without the organizers, you can fit more into the case, so that might be a good thing for you if you don't typically use the organizers anyway.
Do They Nest?
Yes, all of the pieces of the set nest together.
Sizes Included
30″ upright: 30″ H x 19″ W x 11″ D

26″ upright: 26″ H x 17″ W x 10″ D

22″ upright: 22″ H x 15″ W x 9″ D

18″ upright: 18″ H x 15″ W x 9″ D
Rockland also has a 4-piece luggage set with skater wheels that includes different sizes: 14 in duffle, 19 in, 24 in and 28 in cases
Pros: Value, basic set. Great price for 4 pieces.
Cons: Seams sometimes come loose with heavy use. Basic set
Get the Rockland 4-piece spinner set
---
CONCLUSION
Finding the best luggage set for your travels doesn't have to be as difficult as it might seem. Yes, there are many different sets available, but once you've figured out what size and price you want, it's easy to find the diamonds in the rough.
We hope you've identified the right set from our favorites above. We've been using these brands and cases for a long time and are sure you'll like them.
Like it? Pin it for later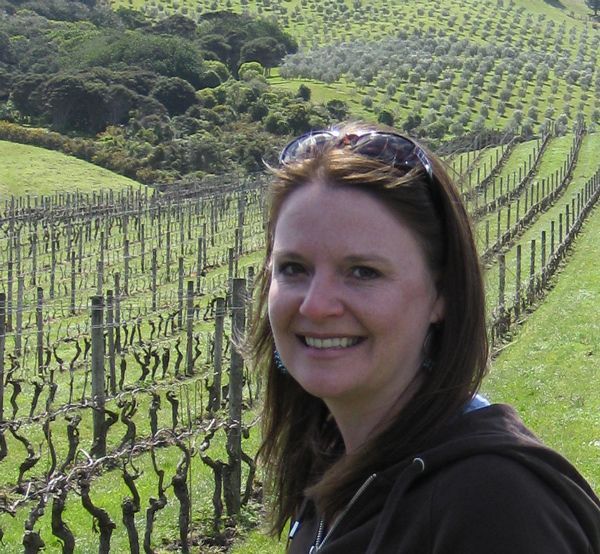 Laura Lynch, creator and writer of Savored Journeys, is an avid world traveler, certified wine expert, and international food specialist. She has written about travel and food for over 20 years and has visited 70+ countries.