This article has links to products and services we recommend, which we may make commission from.
Can there be anywhere more enticing to a foodie than San Sebastian, Spain, where hundreds of beautifully dressed pintxos are expertly arranged across every bar in town for your eyes to feast on all day?
I mean, I knew the food in San Sebastian would be epic, but I wasn't aware of just how amazing everything would look. We were there for only 3 hours before our eyes were competing with our stomachs and we were on a quest to find the best pintxos in San Sebastian.
Spain is one of my favorite food countries in the world. We purposefully spent our only-ever 6-week vacation in Spain, because we knew there was no chance of getting sick of the food. And we were right. How could you, when there are so many food choices, even in just one single bar – and there are dozens more on the same tiny street.
If you like to travel for food – if you like food at all – you HAVE to book a trip to San Sebastian right now.
Like this post? Save it to your Pinterest board to share with others!
What You Need to Know About San Sebastian Pintxos
Everyone will tell you a slightly different version of their pintxos crawl in San Sebastian. There might be different rules, different ordering techniques, and certainly different ideas of what the best places and pintxos are. The best part is that it doesn't really matter. It might seem overwhelming at first, especially if you've chosen to go in the high season where you'll be competing for bar space with a hundred other hungry eaters, but once you get the hang of it, you'll have developed your own version – the one that fits you best.
Tips for Doing a Pintxos Crawl in San Sebastian
There are a few rules and tips that you'll need to understand before you get started.
Choose a bar.
Elbow your way to the bar.
Either ask for a plate and (a) proceed to load your plate full of everything that looks good or (b) choose the ONE pintxo that catches your eye or (c) forego the bar items for the specialty items listed on the blackboard or wall

and

order a drink (like a txokoli, sidra, cana or vino).
Eat and drink.
Pay.
Move on to next bar. Rinse. Repeat.
That's really all there is to it.
You can see how there would be some variation, since step #3 includes three choices of its own. And let me assure you, they are not easy choices to make.
I've heard never to eat the pintxos on the bar because only tourists do that.
I've heard never to eat more than one pintxo per bar because only tourists do that.
And I've seen locals load up their plates from the bar.
I've heard that each bar has their one specialty, but then read competing lists of which "specialty" is the best at that same bar.
We were told to look for the asterisk next to blackboard items, because THOSE are the bar's specialty, but then noticed that every item had an asterisk.
We were also told to pay at the time of ordering, AND to pay after eating. Which is it??
All this to say there isn't just one version of the San Sebastian pintxos crawl, or one way to do it that suits everyone. You have to jump right in and discover your own method, using the basic guidelines above.
This is how we tackled the crawl, and how we found some of the best pintxos in San Sebastian. Now, let's get to the good part. The part where we tell you:
Where to find the best pintxos in San Sebastian
San Sebastian's old town, which is comprised of about a dozen streets in a grid layout,
Bar Nestor
I'm listing Bar Nestor first for a reason. It was our favorite of all the pintxos bars in San Sebastian. Why? It's not about the pintxos at Bar Nestor. It's about the chuleton (or txuleton) meal you can get there. There are plenty of bars that serve chuleton in San Sebastian. But no one does it like Bar Nestor. You stand at the bar and order (there are only 8 seats in this tiny bar, and you probably won't be sitting at one). They'll bring you two massive steaks to choose from – one is usually on the smaller side. You also want to order the side dishes (tomatoes and peppers) and a bottle of wine to go with your steak. I adored the tomatoes – so flavorful! When you hit your pintxos limit, this is the place to come for a full meal at one bar. It's well worth it!
Bar Nestor is also known for their tortillas (Spanish omelettes). They make two a day – at 1pm and 8pm and have to be pre-ordered. At certain times of the year the line for pre-orders starts at 11:30am and 7pm. But if you're one of the lucky few who get a slice, you'll be well rewarded.
Where: Arrandegi Kalea, 11
Bar Zeruko
One of the best bars for more experimental or modern pintxos, Bar Zeruko won't disappoint your eyes or your stomach. The bar is packed full of some of the best looking and most creative pintxos we saw in San Sebastian. There are blackboard items too, but if you want to try choosing from the bar, this is the place to do it. So ask for a plate, and grab a few items to try. If you hand the plate back to the bartender, they will heat it up and dress it up with sauces before giving it back to you to enjoy. Unlike many of the other bars, at Zeruko there isn't necessarily one or two pintxos that you should try. I say just try whatever sparks your interest.
Where: C/Pescadería 10
Gandarias
One of the most perpetually busy bars in San Sebastian, Gandarias is the place to go for both reliably good pintxos at the bar, or a full dinner in the dining room. The seared foie gras (foie a la plancha) here is great, as well as the beef (solomillo) and shrimp (brocheta de gambas). We also tried the chuleta steak at Gandarias. Sometimes it's nice to have somewhere to sit down and enjoy a meal.
Where: Calle 31 de Agosto
A Fuego Negro
The blackboard menu and the pillars are where you should look for the best things to order at A Fuego Negro. You'll find a lot of people ordering the MacKobe mini hamburgers here. They're the perfect couple of bites and served with a few chips on the side. We also ordered the gildas (skewers of peppers, olives and anchovies). Another point of interest here is that you can sit down in their dining room for a full tasting of pintxos for 40,00€, which is a great way to try a bunch of different things without having to hop around.
Where: 31 de agosto
SiriMiri
We enjoyed the atmosphere at Sirimiri. It's a bit more warm and comfortable than some of the others that have harsh lighting and minimalist decor. You'll find a blackboard devoted to cocktails and vermouth here, which is also unusual for San Sebastian, so if you're looking for a break from the wine and txakoli, head to Sirimiri. We ordered the pulled pork bao bun for a change of flavors, and there were other items on the menu that were similar, with International flavors and influences.
Where: Calle Mayor, 18
Bartolo
Bartolo is one of those bars that doesn't look like much from the outside. It's very traditional and not very exciting on the inside. But it was also where we found some of the best pintxos in San Sebastian, as far as pure taste goes. Ox cheek is a favorite pintxos that you'll find on many menus. We had it a couple of times in different bars, but the best one was at Bartolo. the mashed potatoes were heavenly, too. We also ordered the solomillo and it was excellent, as well.
Where: Fermin Calbeton Kalea, 38
Bar Sport
If you're looking for a reliably good version of seared foie gras – and of course you should be, because it's amazing! – then you should stop by Bar Sport. Not being big on sports ourselves, we were hesitant to go there, thinking it would be a noise sports bar, but it was worth it for the foie.
Where: Fermin Calbeton, 10
Txuleta
I must admit, it took us a while to figure out the system at Txuleta. There were tons of people standing around outside with a glass of wine or beer, but no one was eating. We finally learned that it's a popular pre-game place. They have a nice restaurant inside. We did order a couple of pintxos there, however, and since it was so packed inside, they asked us to wait for our food outside, then they shouted out the name of the dish from inside and it was difficult to get back inside to get it.
Despite the confusion, it was definitely worth it. We ordered the tuna belly tostada (they have a list of toasts on the blackboard) and it was really tasty. I highly recommend battling the crowds for one of those tostadas. Or go for a sit down meal!
There are obviously dozens of other pintxos bars in San Sebastian, and you can find amazing food at all of them. If you have the time and inclination, I would recommend not going back to the same one twice, and just wandering around eating until you've had your fill.
Oh, also, if you have a chance to head south to Logrono, it's also one of our favorite food stops – we ADORE the pinchos crawl on Calle Laurel. (By the way pinxtos and pinchos are the same thing, basically.)
Have a favorite pintxos bar in San Sebastian? Share it in the comments section!
Read more about San Sebastian and a few of the other incredible surrounding towns in Basque country.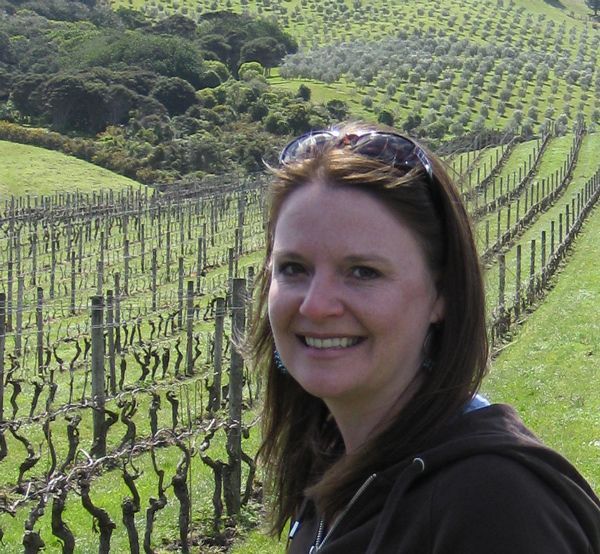 Laura Lynch, creator and writer of Savored Journeys, is an avid world traveler, certified wine expert, and international food specialist. She has written about travel and food for over 20 years and has visited 70+ countries.