San Sebastian, Spain, is one of my favorite food destinations in the world. Located on just a few small streets in the old town of this beautiful city is a plethora of pintxos bars, with hundreds of beautifully dressed and expertly arranged pintxos, plus plenty of wine, beer, and cider to wash it all down. Can there be anywhere more enticing to a foodie?
Your eyes will be competing with your stomach when you go on a quest to eat the best pintxos in San Sebastian. There are dozens of bars to choose from and each one has a list of specialties on their daily chalkboard menu, as well as dozens of pre-made pintxos on the bar.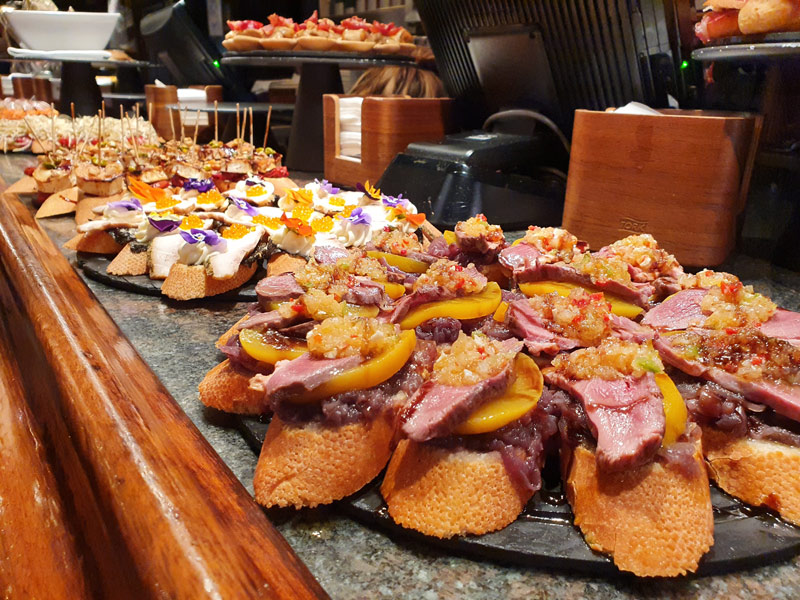 We've done a lot of pintxos eating – and crawling – in San Sebastian. We know all the best spots and all the best foods to order there. So dive right in and we'll help you find those bars and what to order there.
Planning your trip to San Sebastian?
Where to Stay in San Sebastian:
Best Tours and Experiences in San Sebastian:
» In the area for longer? You're going to want to go wine tasting in La Rioja and check out the awesome pinchos crawl in Logrono.
What to Know Before You Go
A pintxos crawl in San Sebastian might seem overwhelming at first, especially if you've chosen to go in the high season where you'll be competing for bar space with dozens of other hungry eaters, but once you get the hang of it, you'll be ordering and eating like a pro.
In my opinion, the best way to enjoy the pintxos crawl is to build a game plan (like the one we have below) and go to specific bars for specific foods.
Ordering Food
There are two ways of ordering at any bar. When you walk in, you'll see the cold pintxos on the bar. There will also be a chalkboard with specials behind the bar. I stick with the made-to-order items on the chalkboard, personally.
If you want to eat the cold pintxos, you can ask for those items, or (when a available) grab a plate and put the item you want on. Then hand the plate to the barman who will heat it up for you.
I'm not a huge fan of the cold items. But it's up to you. Typically you only order 1-3 items per bar. The whole idea of the crawl is to make it to numerous bars. If you fill up at one place, you won't make it very far.
Ordering Drinks
Each stop on your crawl can (*should) be combined with a drink. There are many options available and it doesn't really matter what you pair with what foods. You should just get what you feel like drinking.
The options are:
Caña (a small beer)
Rioja (or similar red wine)
Sidra (dry Basque cider)
Txakoli [pronounced chacolí] (slightly sparkling, dry white wine)
Tips for Doing a Pintxos Crawl in San Sebastian
Here's how to begin your pintxos crawl.
Choose a bar – preferably one we've listed below.
Elbow your way to the bar.
Order one of the specialty items listed on the chalkboard

and

order a drink.
Eat at the bar or a table, if you can find one, and enjoy.
Go back to the bar and pay before leaving.
Move on to next bar. Rinse. Repeat.
That's really all there is to it.
You can follow our guide below for where to eat and what to order, or you can just walk around an go into whatever bar looks good to you.
Now, let's get to the good part. The part where we tell you:
Where to Find the Best Pintxos in San Sebastian
San Sebastian's old town, which is comprised of about a dozen streets in a grid layout, isn't very big. You can get lost wandering around, but that's part of the fun, too! To keep you moving in the right direction, here is a map of the bars we recommend.
You probably cannot cover all of these bars, so pick the ones that sound the best to you. If you have more than one day, break the list up into two and see how many you can get to.
La Cuchara de San Telmo
Gandarias
Bartolo
Paco Bueno
Borda Berri
Bar Sport
Goiz-Argi
Bar Nestor
1. La Cuchara de San Telmo
Easily one of the best pintxos bars in San Sebastian, La Cuchara de San Telmo is busy at all times. If the doors are open, there is a crowd inside. We like to arrive here just as the doors open, so we're among the first few to enter.
There are numerous things you will want to order here. The two that should be at the top of your list are the Carrillera (beef cheek) and the Cochinillo (suckling pig). Both of these are sublime and will make you question the need to go anywhere else. Stay for a second round, if you must.
Where: Santa Korda Kalea, 4
2. Gandarias
One of the most perpetually busy bars in San Sebastian, Gandarias is the place to go for both reliably good pintxos at the bar, or a full dinner in the dining room. The seared foie gras (foie a la plancha) here is great, as well as the beef (solomillo) and shrimp (brocheta de gambas).
We've also reserved a table in the restaurant to have Txuleta steak in a more relaxed way. Sitting at a table isn't always guaranteed on a pintxos crawl. If you're looking for a restaurant, this is a good choice.
Where: Calle 31 de Agosto
3. Bartolo
We've been to this bar many times and the list of specialties to order there is getting longer. The beef cheek is one of their most popular. We also ordered a plate of sardines and a plate of red peppers on our last visit. All of them were very good.
The bar might get packed at Bartolo, but there's a large restaurant area in the back with plenty of tables, if you'll be ordering raciones (full sizes).
Where: Fermin Calbeton Kalea, 38
4. Paco Bueno
This bar isn't fancy, and there's not a lot on the menu, but the reason to go here is the incredibly delicious battered prawns. They come out piping hot and crispy. The batter is airy and seasoned just right. And they aren't expensive. We weren't convinced when we walked in, but we were by the time we walked out. The shrimp were so good, we ordered more.
Where: Calle Mayor, 6
5. Borda Berri
This bar has a lot of fan favorites. You'll have to decide what you're feeling like eating before ordering. We visited in artichoke season, so were lucky enough to try the artichokes with mushrooms, which was very good.
We also had the cheese risotto. My favorite from Borda Berri, however, was the kebab. It's a beef rib rubbed with Middle Eastern spices, which is how it got its name. The meat is super tender and flavorful.
Where: Fermin Calbeton Kalea, 12
6. Bar Sport
If you're looking for the best foie a la plancha in San Sebastian, it's at Bar Sport. The bar is always packed because of the quality of the food. The foie is so good we inevitably go back twice. They also have good fried calamari and cheesecake that will blow your mind.
Where: Fermin Calbeton, 10
7. Goiz-Argi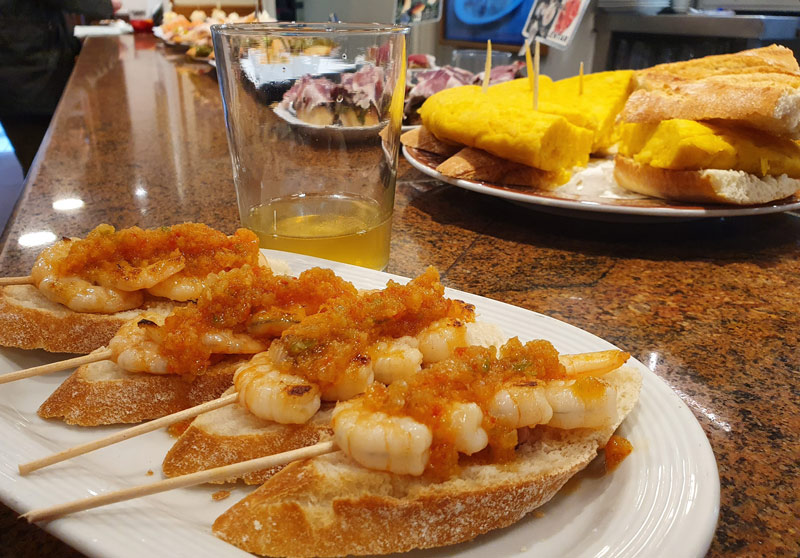 This bar is known specifically for their Brocheta de gamba. It's a skewer of grilled shrimp, with a light sauce and salsa on top, served on a piece of bread. They have quite a few other things on the menu, but we recommend starting with the gambas. If you have more room, try the chipiron a la plancha (grilled baby squid).
Where: Fermín Calbetón, 4
8. Bar Nestor
I'm listing Bar Nestor last for a reason. It was our favorite of all the bars in San Sebastian. However, it's not about pintxos at Bar Nestor. It's about the tomatoes and steak. There are plenty of bars that serve Txuleton steak in San Sebastian. But no one does it like Bar Nestor.
There are only 8 seats in this tiny bar, and you probably won't be sitting at one unless you make a reservation well in advance. They'll bring you two massive steaks to choose from – one is usually on the smaller side. The other parts of the meal include a plate of the best tomatoes you've ever eaten and Pimiento de Padron peppers.
When you hit your pintxos limit, this is the place to come for a full meal. It's well worth it! Bar Nestor is also known for their tortillas (Spanish omelette). They make two a day – at 1pm and 8pm. You have to stand in line early to pre-order one. Pre orders start at 12pm and 7pm. There are only 16 slices, so you have to be there on time to get one.
Where: Arrandegi Kalea, 11
Other Pintxos Bars – if you have time
The New Zeruko
Bar Zeruko was a very popular tapas bar before it closed during COVID. But it reopened as the new Zeruko. It has a brand new, totally different menu and it's all sit down tables and waiter service. It has a more relaxed, modern vibe. 
One of the best bars for more experimental or modern pintxos, Zeruko won't disappoint your eyes or your stomach. They have some of the best looking and most creative pintxos in San Sebastian.
If you can, try the Stone Cooked Tuna – delicious raw tuna served on a stone – or the fish and chips, served in a little basket. The Pig's Snout and Foie Gras is also one of our favorites.
A Fuego Negro
The blackboard menu and the pillars are where you should look for the best things to order at A Fuego Negro. You'll find a lot of people ordering the MacKobe mini hamburgers here. They're the perfect couple of bites and served with a few chips on the side. We also ordered the gildas (skewers of peppers, olives and anchovies).
Another point of interest here is that you can sit down in their dining room for a full tasting of pintxos for 40,00€, which is a great way to try a bunch of different things without having to hop around.
Where: 31 de agosto
Txuleta
I must admit, it took us a while to figure out the system at Txuleta. There were tons of people standing around outside with a glass of wine or beer, but no one was eating. We finally learned that it's a popular pre-game place. They have a nice restaurant inside.
We did order a couple of pintxos there, however, and since it was so packed inside, they asked us to wait for our food outside, then they shouted out the name of the dish from inside and it was difficult to get back inside to get it.
Despite the confusion, it was definitely worth it. We ordered the tuna belly tostada (they have a list of toasts on the blackboard) and it was really tasty. I highly recommend battling the crowds for one of those tostadas. Or go for a sit down meal!
ONE LAST PINTXO
Bodega Donastarria
All of the bars mentioned above are in the old town area and easy to walk between. But there is one bar that we highly recommend that is located in the Gros neighorhood. If you happen to be in that area and want to stop by, you will be rewarded with the best tortilla.
Where many of the tortillas in town are thick and thoroughly cooked through, this one is thin and slightly runny. It's worth the walk.
Where: Peña y Goñi Kalea, 13
CONCLUSION
There are obviously dozens of other pintxos bars in San Sebastian, and you can find amazing food at all of them. If you have the time and inclination, I would recommend not going back to the same one twice, and just wandering around eating until you've had your fill. Read more about San Sebastian here.
Oh, also, if you have a chance to head south to Logrono, it's also one of our favorite food stops – we ADORE the pinchos crawl on Calle Laurel in Logrono.
Have a favorite pintxos bar in San Sebastian? Share it in the comments section!
Like this post? Why not save it to Pinterest?
FOLLOW US on Pinterest, Instagram, Facebook for more great travel inspiration and tips.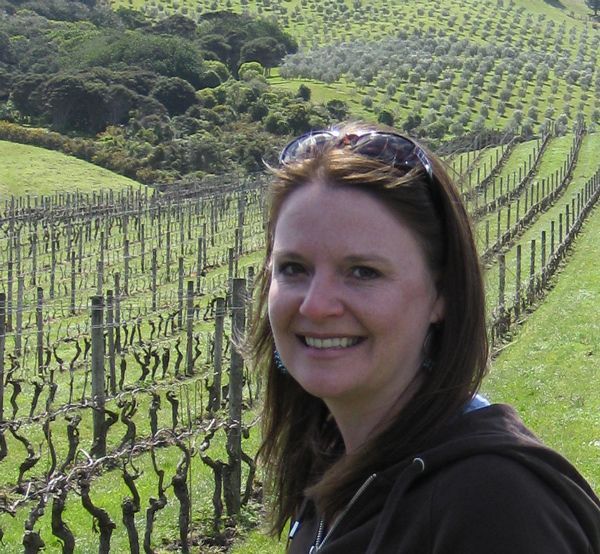 Laura Lynch, creator and writer of Savored Journeys, is an avid world traveler, certified wine expert, and international food specialist. She has written about travel and food for over 20 years and has visited over 75 countries.