One of the most prolific wine regions in the world is the Rhône Valley in France. This region oozes with countryside charm and it's an ideal place for wine lovers to visit to try the best Rhone Valley wineries.
The rolling hillside vineyards and the stunning wine made there are two of the area's best features, but even if you're not much of a wine-lover, you'll absolutely fall in love with the valley's laid-back ambiance, tantalizing local cuisine, and unique culture.
When it comes to wine tasting in the Rhone Valley, you'll find that it's not quite as tourist-centric as other wine regions in France, like Champagne, but it's still fairly easy to plan a trip there and book winery appointments, especially if you utilize our secret weapon, Rue des Vignerons, which we'll tell you all about in this post.
Planning your trip to Rhône Valley?
Where to Stay in Rhône Valley:
In LYON
FURTHER SOUTH
Maison Pic, in Valence, has a sleek interior and a top chef, Anne-Sophie Pic, with a three-Michelin-starred restaurant.
Château de Massillan is a romantic château close to Bollène with elegantly interiors, a nice covered terrace, big pool and lovely bedrooms.
Best Tours and Experiences in Rhône Valley:
» Visiting soon? Check out our France travel guide. You might be interested in visiting the gorgeous town of Annecy, France for amazing food, as well as the Savoie wine region and these three jaw-dropping destinations in the French Alps. Here are our guides to the most beautiful cities to visit in France, and the top French wine regions.
Where Is the Rhône Valley?
Rhône Valley is an Old World Wine Region located in southeastern France. It's one of the oldest wine regions dating back more than 2,000 years. It's also a very large wine-producing region that follows the path of the Rhône River from its source in the Swiss Alps to its confluence with the Saône River in Lyon, and then south through the region of Provence until it empties into the Mediterranean Sea near Marseille.
The region is famous for its vineyards and diverse wine production, with wines like Côtes du Rhône and Châteauneuf-du-Pape being particularly well-known.
Both regions are known for producing distinct types of wine, so we'll break them down for you below. It's like a mini-wine class. Be sure to keep this in mind when you get there. It'll come in handy.
Northern Rhône
The Northern Rhône is best known for its full-bodied red wines made from the Syrah grape. Some of the most prestigious appellations (wine regions) in the Northern Rhône include:
Côte-Rôtie: Produces some of the most esteemed and typically most expensive wines in the Rhône Valley. These wines are made predominantly from Syrah, often co-fermented with a small amount of Viognier (a white grape variety).
Hermitage: Known for robust and long-lasting Syrah wines. A white version from Marsanne and Roussanne is also made here.
Cornas: Produces intense, full-bodied wines made entirely from Syrah.
Saint-Joseph and Crozes-Hermitage: Both areas produce a more approachable style of Syrah, generally intended for younger drinking.
The Northern Rhône also produces white wines from Marsanne and Roussanne, including in the appellations of Saint-Péray, Hermitage, and Condrieu (which is famous for its rich, aromatic wines made entirely from Viognier).
Southern Rhône
The Southern Rhône produces a wide variety of red, white, and rosé wines. It's best known for its red blends, which often include a mix of Grenache, Syrah, and Mourvèdre grapes (a combination sometimes referred to as GSM). The most famous appellations here include:
Châteauneuf-du-Pape: The most famous appellation in the Southern Rhône, known for robust, complex red blends.
Gigondas and Vacqueyras: Known for rich, full-bodied red wines similar in style to those from Châteauneuf-du-Pape but typically at a more approachable price point.
Côtes du Rhône and Côtes du Rhône Villages: These two appellations cover a large amount of vineyard area and produce a wide range of styles, but are best known for their value-for-money red blends.
Tavel: An appellation known specifically for its high-quality rosé wines.
In addition to these more famous appellations, there are numerous others in the Rhône Valley, each with its own character and style of wine.
Which Rhône Wine Region Should You Visit?
The Rhône Valley is a large region and the Northern and Southern Rhône are quite distinct from each other, both in terms of geography and the styles of wine produced. They are roughly a two-hour drive apart, which can make it challenging to explore both in a single day trip.
If you're interested in tasting a variety of wines and getting a comprehensive understanding of the region, spending a few days in each part of the Rhône Valley would be ideal. That would allow you to fully explore the vineyards, take your time at each winery, and avoid a rushed experience.
If your time is limited, you might want to choose between the Northern and Southern Rhône based on your wine preferences.
If you particularly enjoy powerful, full-bodied red wines made from Syrah, then the Northern Rhône, with its prestigious appellations like Côte-Rôtie and Hermitage, might be your choice.
If, on the other hand, you prefer complex red blends or are a fan of Grenache, or you want a broader mix including some rosé and white wines, the Southern Rhône, home to Châteauneuf-du-Pape and Côtes du Rhône, would be a good option.
Wine Tours in Rhone Valley
Self-Guided Tour
I usually prefer to do self-guided touring when I visit wine regions because it gives me the greatest flexibility and I actually really like researching and choosing the wineries I want to go to.
While there is a little more work involved because you have to set up all the appointments yourself, there are tools that will help make this super easy. The one I use is called Rue des Vignerons. It's a French website that makes booking wine appointments super easy.
You can book online up to 30 minutes before and your appointment is confirmed instantly. This is the website I used to book all of my Champagne tasting appointments.
In our descriptions below, I will give you links directly to Rue des Vignerons for each winery so you can easily book it.
Group/Private Tour
If you don't want to do your own planning/driving, there are many group and private tours to choose from. These often including up to 8 people and are on a pre-planned route so you don't have to take care of a single detail.
Below are two tours we recommend:
Top Rhône Valley Wineries To Visit
Clos du Calvaire winery is set in the breathtaking Châteauneuf-du-Pape appellation known for its bold Grenache-based red blends. The family-owned estate covers 81 acres that organically grows 11 grape varieties.
Soak up this winery's gorgeous scenery and learn about their extensive history. They've been producing their signature red Clos du Calvaire, an ancestral cuvée, since 1923. The remainder of their range includes two red blends, Père Pape (Father Pope) and La Crau de ma Mère (My Mother's Crau), and a single white, Père Pape Blanc.
The estate offers guided tours through its verdant vineyards and cellars, with wine tasting in the heart of the vineyard year round. Visiting hours depend on the season, and you can only attend by reservation via their website.
---
If you're visiting the quaint commune of Courthézon, Domaine Galevan should be your first stop. Today, this family-owned estate is run by a woman for the first time after nine generations. Join an informative tour to learn about the region and winemaking process, or indulge your taste buds with nine different types of whites and reds.
Encompassing 138 acres of organic vineyards, you'll find some of the best Rhône grape varieties here. These include Syrah, Carignan, Mourvedre, and Grenache red variations, while the white types include Bourboulenc, Clairette, and Grenache Blanc. The quality of their wines is sealed with Protected Designations of Origin: Côtes du Rhône, Côtes du Rhône Villages, and Chateauneuf Pope.
---
Venture on an intriguing tour through lush vineyards in the sleepy town of Tupin-et-Semons. Domaine de Corps de Loup offers diverse tastings and some of the most sought-after wines in its region. Flourishing in the wine-making industry for over 25 years, the Daubrée family produces each bottle passionately.
This estate's unique, authentic atmosphere, paired with luscious wines, results in a euphoric experience. Their main production of Côte-Rôtie (or roasted slope) since 1995 has put Corps de Loup on the map. In the early 2000s, they expanded into other terroirs, namely Condrieu and Saint Joseph. Visit any time of year for a guided tour or tasting by making an online appointment.
---
With a whopping 45 wines to their name, Ferraton Père & Fils is bound to be a hit among connoisseurs. Thanks to an idyllic vineyard, Tain-l'Hermitage, sitting on the banks of the Rhône River, they are able to produce such splendid wines in abundance. Some formidable cuvées worth trying out include Ermitage Le Méal, Hermitage Les Miaux Rouge, and Côte-Rôtie Lieu-dit Montmain.
You might be tempted to purchase one or two bottles after an enjoyable and relaxing tasting. With up to seven different tastes of reds and whites, you may have a hard time choosing which ones to leave with. Online reservations are required for tastings, and the cellar is open from Tuesday to Saturday.
---
Domaine de La Citadelle offers a dreamy escape in the limestone hilltop region of the Luberon adorned with medieval villages and olive groves. That said, the lush, forested valleys provide the perfect conditions to grow about 99 acres of vines aged 15 to 75 years.
Encompassing eleven localities and four terroirs, the estate has created five ranges of wines. This entails 23 different types of wines with standouts, such as Les Ultimes Luberon and Gouverneur Saint-Auban Vaucluse Blanc.
Pop in at the boutique for memorabilia and trinkets galore, from corkscrews to cutlery. There's even a botanical garden and corkscrew museum to wander through. Visit their official website for opening times and bookings.
---
Domaines Pierre Gaillard
Embrace the most humble and expertly-curated wine tasting and touring experience at the Domaines Pierre Gaillard winery. With a significant emphasis on family, Gaillard promises quality and attention to detail from vine to bottle.
Pierre Gaillard discovered his love for wine-making at the tender age of twelve while plowing in the vineyards on horseback. Steeped in hard work and passion, these fertile grounds churn out deeply colored wines with strong tannins and fruity aromas.
The winery is best known for its local produce of Côte Rôtie, Condrieu, Saint-Joseph, and Crozes-Hermitage blends. Wine enthusiasts will have a blast during the tasting with such a vast catalog.
---
The family-owned Château Mourgues du Grès invites you to a dreamy escape between vineyards and orchards in the Rhône Valley's southern subregion. They promise to develop your wine palate with balanced, sharp, and aromatic wines.
Offering white, rosé, and red wines from organic agriculture, you'll find something here for every taste. Their Capitelles and Fleur d'Eglantine rosé are excellent on a sunny day.
A tour and tasting generally last about an hour brimming with warm welcomes, history lessons, cave explorations, and delicious wines. These will show you through the cellars and vineyards, followed by a wine tasting, possibly by appointment.
---
Vacqueyras terroir of Rhône Valley is the most ideal alternative to Chateauneuf-du-Pape with both offering Grenache-dominant wines. You might pay a little extra for wines here, but the unspoiled landscapes and sumptuous vines of Château Bois D'Arlène are worth the splurge. Boasting enchanting forests, meadows, groves, and a traditional chateau — wineries couldn't get more captivating than this.
The estate's diverse and abundant landscapes are handled with care enduring only sustainable and environmentally-friendly practices. With such gentleness and respect, it's no wonder wine-making thrives on these lands, curating some of the finest whites and reds.
Psst: Their award-winning L'Orée du Bois is a White Vacqueyras of note and quite the performer in gastronomy.
---
Domaine Moulin-Tacussel reaffirms the Châteauneuf-du-Pape appellation's claim to fame as the primer for all French wines. Explore the property's history, discover the best vintages, and learn about wine and food pairings at this enchanting estate.
The family winner has been operational since 1976, using innovation and tradition to create some of the finest wines from the region.
Most of their blends consist of 75% to almost 100% Grenache grapes, with other variants like Syrah and Mourvedre making up the rest. Surrounded by a mythical village and magical scenery, it is here where you can get an insightful peek at how wines are made.
---
Continuing our quest for the best Rhône Valley wineries, Les Vins de Vienne should inevitably pop up. Set in Chavanay, three passionate winemakers and friends joined forces to create some of the best Rhône wines.
The trio reinvented and revived the very first wines of a historical wine-growing area, Seyssul. These include three wines: Sotanum is their first vintage red produced in 1998, followed by Taburnum, the first white in 2000, and the second red, Heluicum, created in 2004.
With such a profound history in the winemaking scene, it's only fair that enthusiasts visit this estate. Visits and tastings are only possible through appointments.
---
Vibrant landscapes and ethereal skies are the backdrops to this celestial winery. Domaine Saint-Pierre d'Escarvaillac boasts 13th-century Romanesque architecture that allows you to travel to ancient times. Not only a feast for the eyes, but their authentic and rich wines also offer a sensational affair.
Formally "La grange de la Cépède," the estate was once owned by the Carthusian monastery of Bonpas, allowing monks to blend their wines in the same old vats. Experience rich history and tradition at its finest while learning all about the winemaking that makes this estate a prominent figure in the Avignon region. The winery produces three cuvées of reds, namely La Saint-Pierre, La Huppe, and La Cépède.
---
Uncover the secrets behind wine-making, stroll through picture-worthy vineyards, and taste some of the finest blends in a stylish cellar. Maison Gabriel Meffre offers all this and more. This estate has been at the forefront of wine-making since its inception in 1936, being the first Rhône Valley winery to excel regarding social and environmental responsibility.
After 80 years in the business, it's still revered for high-quality products, including sumptuous Châteauneuf-du-Pape and Côtes du Rhône wines. Using mostly old vine Grenache, Mourvedre, Syrah, and Cinsault grape varieties, you'll get an authentic taste of Rhône Valley. Their cellar is open for wine tasting from Mondays to Saturdays.
---
Starting at just 37 acres in 1967, Domaine de la Janasse winery has expanded to a whopping 222 acres. La Janasse is a producer of several cuvées conquering new markets and becoming a highly-regarded estate in Châteauneuf-du-Pape. Providing a solid wine tasting experience, you'll fall in love with its extensive range of white, red, and rose wines.
The estate covers a mosaic of terroirs giving way to special cuvées, including Chaupin, Les Garrigues, and Terre d'Argile. Their wines are mostly blended with Grenache, Mourvèdre, and Syrah grapes.
---
The highly rated Château des Coccinelles winery offers a serene escape among picturesque historical sites. The estate sits in the south of the Rhône Valley in Domazan. Awarded two gold medals at the 2020 Concours Général Agricole, this winery excels in innovation for organic wine-making.
Their sulfite-free wines have dominated the markets since 1978, spanning three generations. With so much experience and quality soil, the winery grows Syrah, Grenache, Roussanne, and Chardonnay varieties. With these grapes, they've made mouth-watering Chardonnay, Merlot, and Château des Coccinelles.
Taste their organic cuvées in the heart of their cellar by reservation. These take place all year round for about an hour each day.
Where to Stay in Rhone Valley
IN LYON
Villa Florentine is a former convent that has been converted into a great hotel with an infinity pool
Cour des Loges is a gorgeous mini-palace with a courtyard dining room, spa and rooftop garden.
FURTHER SOUTH
Maison Pic, in Valence, has a sleek interior and a top chef, Anne-Sophie Pic, with a three-Michelin-starred restaurant.
Château de Massillan is a romantic château close to Bollène with elegantly interiors, a nice covered terrace, big pool and lovely bedrooms.
Now that you've uncovered the top-tier wineries in Rhône, France, the only thing left to do is to brush up on your wine knowledge. Trust us, the world of wineries has its own distinguished language, and there's nothing worse than feeling clueless as your tour guide babbles on.
Jokes aside, these are fantastic wineries for your trip to Rhône Valley or if you're visiting the South of France in general. The most important thing to remember is to book your visit ahead of time, and you're on your merry way.
Next up: Discover more of Europe's most beloved wine regions.
Like this post? Why not save it to Pinterest?
FOLLOW US on Pinterest, Instagram, Facebook for more great travel inspiration and tips.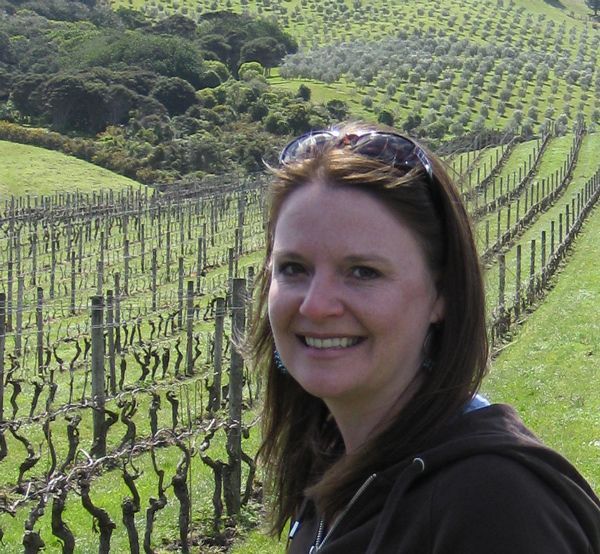 Laura Lynch, creator and writer of Savored Journeys, is an avid world traveler, certified wine expert, and international food specialist. She has written about travel and food for over 20 years and has visited over 75 countries.