Sicily is Italy's largest island, filled with stunning beaches, a rich history, and some of the country's best wineries. It's also famous for having an immense food culture, from delicious arancini to fantastic pasta dishes, and the freshest raw fish.
Sicily has so much to offer, from the gorgeous and trendy Taormina (Anyone watch White Lotus?) to the island's capital, Palermo. It doesn't matter where you're visiting on your Sicily itinerary, you are guaranteed to find amazing food there.
Seeing how we all have to eat, there will be plenty of opportunities during your trip to seek out some of these Sicilian dishes to try. I challenge you to take some notes here and try to find all of these things while you're there. I know you'll love them, and it will enhance your experience and your memories of the trip afterward.
Visiting soon? Check out our expertly curated Sicily itinerary to help you plan the perfect trip, from where to visit, the airports that are closest to the places on our list, plus our guide to wine tasting in Sicily, the food you should eat, and the best beach hotels on the island.
Sicily Food Tours & Cooking Classes to Try
15 Scrumptious Sicilian Dishes To Eat
Let's get into the best Sicilian foods on offer on this stunning Italian island.
Arancini
One of the most famous Sicilian dishes is Arancini – a creamy risotto rice ball that is breaded and fried. It's not just famous in Italy and is found in many Italian restaurants – no matter where in the world.
However, Sicily is where it originates from and the island has some of the best arancini.
One thing's for certain, no matter what you call it, it's truly mouthwatering.
The crunchy breadcrumb exterior goes perfectly with the smooth and creamy interior. No wonder it's referred to as the "Pearl of Sicily".
Caponata
Next on the list is a delicious vegetable dish called Caponata. The star of this Sicilian dish is eggplant, which is fried in olive oil with onions, garlic, and tomato paste.
It's a tasty dish and is a must-try food of Sicily. Usually served as a side dish or antipasto, it features some of Sicily's most produced crops. These include tomatoes and olives.
This traditional Sicilian food is typically served with fresh crusty bread, which you'll want to use to get every last drop of the fantastic sauce. Even more, this might be one of the times you ask for a Sicilian recipe, but just be aware that every household has its own version.
Pasta alla Norma
Another Sicilian food to use the humble eggplant is Pasta alla Norma. This is a simple dish, like many in Sicily, which focuses on the ingredients' quality more than tons of items to add.
It is made by frying eggplant and serving it atop pasta mixed with fresh tomato sauce. Finally, it is garnished with ricotta cheese and fresh basil.
It is especially common to find Pasta alla Norma on Sicily's east coast and particularly in Catania, where the recipe comes from. It gets its name from the famous opera Norma by Vincenzo Bellini, and it delights the senses just as much.
Busiate alla Trapanese
By now, we all know about basil pesto, traditionally called pesto Genovese, as a beloved Italian dish. However, its lesser-known cousin pesto Trapanese is a favorite amongst Sicilians – and for good reason.
It features similar ingredients to pesto Genovese, such as basil, garlic, and Pecorino. Additionally, it adds fresh vine tomatoes and almonds (instead of pine nuts) to the pestle and mortar.
It's traditionally served with the busiate pasta shape – which looks like a mixture of fusilli and penne. Busiate alla Trapanese is a brilliant option for vegetarians (or for a break from seafood and meat).
Cannoli
Another well-known classic Sicilian dish is Cannoli, a fried pastry filled with sweet ricotta. This is a fantastic dessert choice and one that you can find all over the island.
What's more, it's a delightful thing to eat, no matter the time of day it is. You can find cannoli with all kinds of toppings, such as pistachios, chocolate, and fresh fruit.
However, for the best experience, try and get freshly-fried cannoli. There's no better feeling than biting into the crunchy pastry and getting a taste of the sweet ricotta.
Granita & Brioche
This sweet treat is quite delightful to the senses. Granita con Brioche is one of the most popular of Sicily's dishes, especially come summer. Typically, served at breakfast, this dish consists of a freshly-baked brioche bun and a bowl of frozen granita.
Granita is a semi-frozen dessert made from a combination of sugar, water, and flavorings.
These flavors often depend on what's in season, so it's a terrific way to taste some excellent Sicilian produce, such as almond, pistachio, and lemon.
This, combined with the brioche serves as a great take on an ice cream sandwich.
Sicilian Pistachio Pesto Pasta
Pistachios are an ingredient that you see in many dishes in Sicily. I was happy to see it was being used as a pesto pasta sauce on many menus. I ordered it quite frequently.
Sicilian Pistachio Pesto Pasta is a delicious and unique twist on the traditional pesto pasta that highlights the flavors and ingredients native to the region. This dish features a creamy, nutty pistachio pesto sauce combined with pasta, creating a delightful fusion of flavors and textures that celebrate the richness of Sicilian cuisine.
Pesce Crudo
Pesce crudo, which translates to "raw fish" in Italian, is a popular dish in Sicilian cuisine that showcases the island's access to fresh, high-quality seafood. In Sicily, pesce crudo is often served as a light appetizer or part of an antipasto spread.
This dish is a testament to the simple yet flavorful nature of Sicilian cooking, relying on the freshness and quality of the ingredients to create an unforgettable culinary experience. Sicilian pesce crudo can feature various types of fish and seafood, depending on availability and seasonality, but some of the more common are red prawns, tuna, and scallops.
Pasta con le Sarde
Now, back to some savory dishes. Pasta con le Sarde celebrates the Sicilian coastline and its access to some of the freshest seafood in Italy. It's a simple pasta made with fresh sardines, salted anchovy, and wild fennel.
Spices and nuts are also added, such as raisins, saffron, and pine nuts, as a sign of Sicily's proximity to North Africa. Finally, the sauce is stirred through fresh bucatini and topped with breadcrumbs.
It's one of the best traditional Sicilian dishes for fish lovers, as it's packed full of fish. For the best Pasta con le Sarde, visit Palermo, as it's a signature dish there.
Gelato
Next on this list is the classic gelato. Many accredit Sicily as being the birthplace of gelato or ice cream, and you may understand why when visiting the island.
Sicilians are famous for their sweet teeth, from delectable cassatas to lip-smacking cannolo. But more than anything, they love their gelato here.
Sicily is one of the best spots in Italy to get gelato, as they have so many flavors to try. Don't worry if you're allergic to dairy, as they also have scrumptious sorbettos made from all kinds of fruit.
Sfincione
So far, this list has covered pasta and sweet treats, so if you're wondering where's the pizza, we get it. However, Sicily has its own take on pizza and it's called Sfincione.
Sfincione is made similarly to pizza; but, it has a thicker dough and is closer to focaccia in texture. It's the perfect snack to get in between meals, as it's covered in cheese, tomato sauce, and olive oil.
It's one of the quintessential foods of Sicily, and each town celebrates it differently. For example, Bagheria tops theirs with ricotta, and Altavilla Milicia adds breadcrumbs and Pecorino atop theirs.
Panino con la Milza
Another fantastic option for Sicilian cuisine is the simple, yet delectable Panino con la Milza. This is a sesame-topped bun filled with beef spleen and originated as a "poor man's food".
Humble as it may seem, it's a delightful option to keep you full as you explore Palermo's streets. It is made by stewing the "undesirable parts" of the cow and then frying them and covering them with cheese.
It's the perfect meal for meat lovers, as it truly celebrates all parts of the cow and is simply seasoned with salt, pepper, and lemon juice.
Panelle
A great choice of street food in Sicily are pannelle – chickpea fritters. This typical Sicilian food is another example of "poor man's food" as it uses modest ingredients to create a sumptuous and tasty snack.
Panelle is made with chickpea flour, spices, and water before being fried in olive oil. The recipe originates from Arabs in the 10th century, who ruled over Sicily.
It's a fantastic snack to try when you're in Sicily, particularly Palermo, Agrigento, and Trapani. If you want something more filling, ask for a mafalda – a sandwich with the fritters inside.
Involtini di Pesce Spada
Sicily's seafood is some of the freshest in Europe. Additionally, as an island, it has an immense coastline for fishing and getting high-quality produce.
So, an absolute must-try is the Involtini di Pesce Spada, which is fresh swordfish grilled over a charcoal fire. It is made by slicing swordfish into thin segments and stuffing them with pine nuts, olives, raisins, capers, and lemons.
It's a terrific way to experience the brilliance of Sicilian cooking, as it makes use of produce that is found in and around Sicily.
Cipollina
Next on our list of the best food in Sicily is the delicious and flaky Cipollina. This is another brilliant option for Sicily's food to eat as a snack – as it's a pastry filled with onions.
It's most commonly found in Catania, along Sicily's east coast, in rosticcerias. So, if you're visiting this port city, make sure to try one – no matter the time of day.
Frittura di Mare
As it's clear by now, some of the best Sicilian food is seafood. Given that Sicily is an island, this should come as no surprise.
That said, you may be picky about eating seafood due to the fishiness or the texture. If that's the case, Frittura di Mare is a great option for you. This is because the fish is coated in flour and deep-fried in oil. It's a delightful way to experience the fruit of the sea, as it's crunchy and delightful to the senses.
Parmigiana di Melanzane
Last but definitely not least, is Parmigiana di Melanzane, which may be the best Sicilian food option. More commonly known as eggplant parmesan, it's one of the most famous foods in Italy.
It celebrates the Sicilian produce by frying up eggplant, covering it in tomato sauce and layers of mozzarella before being baked in an oven. It's a truly fantastic dish, even if its origins are heavily contested.
Sicily is a fine place to be in Italy, whether on one of its beaches or simply enjoying its delectable cuisine. That said, we hope that this list has helped you find Sicily's traditional food options, from its fresh seafood to its bright vegetables.
It's truly a delightful place to be, so if you're interested in visiting, check out this post on where to stay in Sicily to make the most of a trip to Italy. Sicily is idyllic, so start packing your bags now!
Tips for Traveling in Sicily
Rent a car or hire a driver to explore the island, as public transportation can be unreliable and limited in some areas.
Be prepared for hot and humid weather in the summer months, and plan accordingly by packing light, breathable clothing and plenty of sunscreen.
Immerse yourself in the local culture by trying the delicious Sicilian cuisine, which includes fresh seafood, pastries, and pasta dishes.
Don't miss out on visiting some of the island's most famous attractions, such as the ancient Greek temples at Agrigento, the picturesque fishing village of Cefalù, and the stunning beaches of Taormina.
Like this post? Why not save it to Pinterest?
FOLLOW US on Pinterest, Instagram, Facebook for more great travel inspiration and tips.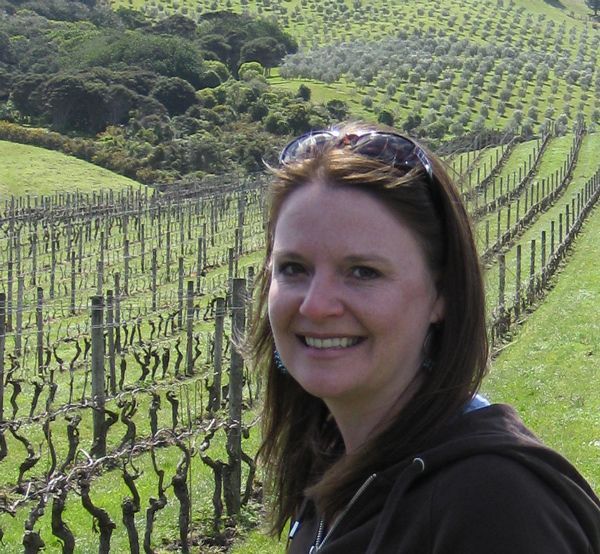 Laura Lynch, creator and writer of Savored Journeys, is an avid world traveler, certified wine expert, and international food specialist. She has written about travel and food for over 20 years and has visited over 75 countries.