Ever since I discovered a few of the best travel pants we've included on this list, they are almost all I ever wear. They are just so comfortable and versatile; why would I choose to wear anything else?
One of the biggest travel challenges we all face is staying comfortable. When you're stuck on a plane for 10+ hours, what you're wearing suddenly becomes an issue. If you're a day hiker, you want pants that don't limit your range of motion. If you're on a city break, you want stylish travel clothes. This is why we went on a mission to find the most comfortable and versatile travel pants for both men and women.
The good news is that, after testing dozens of pairs, we found some really great choices! To help you avoid all the necessary researching and testing involved in finding the best travel pants (or the best travel trousers, as they call them in the UK!), I've put together a guide to the best travel pants and jeans to make the search easy for you!
Best Travel Pants Brands to Look For
The first issue you'll run into when looking for travel pants is the range of brands available. Who can you trust and who delivers the best product? After many road tests and trials, we've come to trust the following travel brands, who offer a reliable product as well as something extra, like security features, extra pockets, and high-quality fabric.
PrAna
Royal Robbins
Columbia
Quick Pick List – Best Travel Pants 2018
Below you'll find a chart of the top travel pants for 2018 in both men's and women's styles, with price and review info (Note: these are affiliate links.) You can click on any of them to see more reviews or learn more about them. Below the chart are our personal reviews of each pair of pants. We've done extensive research of our own to find the best pants for frequently travelers like ourselves.
Best Men's Travel Pants
*Our Top Picks
Preview
Features

Aviator Travel Jeans

Super comfortable
Flexible, durable, breathable
Stylish, modern design
Hidden security pocket
Handcrafted in the U.S. (can be shipped worldwide)

Buy Now

Read Review

Bluffworks Men Travel Pants

Uncompromising comfort and style
Quick-drying and wrinkle-resistant
100% technical, breathable polyester
Zippered security pocket, hidden pocket, and security loop
Handcrafted in the U.S. (can be shipped worldwide)
See below for coupon code

Buy Now

Read Review
Preview
Title
Outdoor Research Men's Ferrosi Pants
prAna Living Men's Brion Pants
Columbia Silver Ridge Cargo Pants
Arc'teryx Abbott Men's Travel Pants
Best Travel Pants for Women 2018
*Our Top Pick
Preview
Features

Aviator Travel Jeans

Super comfortable
Flexible, durable, breathable
Stylish, modern design
Hidden security pocket
Handcrafted in the U.S. (can be shipped worldwide)

Buy Now

Read Review
Preview
Title
Columbia Women's Saturday Trail Pant, Water and Stain Resistant
prAna Living Women's Regular Inseam Halle Pant, Coal, 4
Columbia Women's Anytime Outdoor Boot Cut Pant, black, 8Regular
Outdoor Research Women's Ferrosi Pants (Pewter, 6)
Royal Robbins Women's Discovery Pant, Jet Black, 2/Regular
How We Chose the Best Travel Pants
Comfort, obviously! It's not quite that easy to find the right pair of travel pants, but comfort is a big part of the equation. Once we found comfort, 50% of the work was done. What are the other criteria we looked for in the perfect travel pants?
Lightweight
Breathable
Water-resistant
Deep pockets
Wrinkle-resistant
Quick Drying
Cling-Free
Flexible Fit
Versatility
Yes, it's a long list! Is it possible to find all of these attributes in a single pair of pants? Maybe not, but we got pretty darn close with the ones we chose.
For most every day travelers — I'm not talking about the high adventure types who regularly hike mountains and stuff — there are a few things you really can't be without. Nick and I both have our own lists of must haves, which you can read below.
→ Looking to build a whole travel wardrobe? We recommend checking out the
stylish and versatile pieces
in this post that we've built our wardrobe with.
No pair of pants that doesn't meet the following criteria will ever make our recommendation list. Here they are:
Laura's Must Haves
⇒ Comfort
My main reason for wanting to find the best travel pants was for comfort on airplanes. I need to sit for long periods of time in these pants without them digging into my skin. I want pants that don't restrict my movement or pull down in the back when I bend over. I am also looking for a pair that doesn't stretch out after prolonged wear.
⇒ Lightweight Material
We pack really light using just a carry-on backpack, so lightweight and compact are top on my list. Even when I use packing cubes, I still can't fit in multiple pairs of regular pants or jeans. A good pair of travel pants will be lightweight, yet durable.
⇒ Wrinkle-Resistant
I really hate it when we arrive at our destination and all of our clothes are wrinkled. I don't want my travel pants to wrinkle during travel. If I forget to fold my pants before bed, I'd love for them to not be wrinkled in the morning. Wishful thinking? I actually found a few pairs of travel pants that don't wrinkle.
⇒ Versatility
One very important thing for me is versatility. Being a light packer, I don't pack multiple pairs of pants. I need one pair to do double duty, so it can be worn during casual and dressy situations. I want to wear a pair of travel pants during the day for tours and then wear them to a fancy dinner without anyone noticing.
Nick's Must Haves
⇒ Breathable
For Nick, the most important thing in men's travel pants is breath ability. Sweating all day in material that doesn't breath is not a good way to go.
⇒ Deep Pockets
That time when Nick's ID fell out of his pocket in the taxi on our way to the airport immediately comes to mind as the top reason for needing deep pockets. He stores his wallet, keys, change and phone in his pockets, so if the pockets aren't deep enough to hold those things, they won't make the cut.
⇒ Water-resistant
Materials that typical pants are made of are usually not water-resistant. A good pair of travel pants have to be water resistant, so you don't get soaked in a sudden downpour or ruin your pants when you spill wine on them.
⇒ Quick Drying
We often take half the clothes we need and wash them in the sink halfway through a trip. They need to dry quickly so they can be worn again the next day. A pair that takes a full day to dry is just not going to work.
The Best Travel Pants Are Multi-Functional
I know not everyone is a light packer, but I always encourage it. Light packers tend to think in terms of how little they can pack and still have the right clothing options for every situation. This is where a good pair of travel pants comes in. For this purpose, I highly recommend having at least one pair of black or dark grey travel pants. Why? Because black goes with everything, and because black pants can always be made to appear dressy.
If you buy the right pair of travel pants, they will be multi-functional enough to be worn in all of these situations without anyone wondering what you were thinking.
Dining out at a nice restaurant
Hiking
Walking around museums
Airplane travel
During hot summer days
On an impromptu run in the park
Mens Travel Pants Reviews
I made sure to include pants in this list that were classified as cargo pants, because I know how important it is to Nick to be able to carry a bunch of things in his pockets when we travel. You might also notice that I left out all convertible pants because I just don't like them. Most of these pairs do have convertible options available though, if you must.

Nick has a few pairs of the Bluffworks Chino pants that he takes along on our travels. They are made from a quick-dry polyester material that looks and feels like cotton, but has a bit of stretch and is wrinkle resistant. These are just the kind of pants we need for travel. Nick can fold them up in his suitcase (they're really lightweight!), then pull them out and wear them immediately without worrying about wrinkles.
They are comfortable, flexible and, most importantly, breathable.
Another feature of the Bluffworks pants that Nick really likes is the abundant pockets. The front pockets appear to be normal-sized pockets, but there is a hidden interior, zippered pocket where you can stash important things. Nick's entire wallet fits inside that zippered pocket, eliminating the fear of losing it to pick-pockets. There's also a hidden loop on the inside of the front pocket where you can clip a badge or keys. The back pocket is deep and wide enough to fit a Kindle.
The best part of these Bluffworks travel pants is the ultimate versatility they offer. Nick can wear them pretty much anytime. They are stylish enough to wear to a nice dinner, but they are flexible enough to wear hiking or climbing. One pair of pants that suits every occasion is exactly what light packers like us have been looking for.
These pants fit true to size, so you can order your regular size with no worries about fit. If you prefer a more relaxed fit, you can order the original fit, versus the chinos, or just order a size up in the waist, which gives a little more room in the thighs.
HEY GUESS WHAT: Bluffworks now has travel jeans!
Bluffworks Blazer – I can't write a Bluffworks pants review without also mentioning the mens travel blazer. It's nicely tailored, with the look and feel of wool, but is made from the same wrinkle-resistant, quick-dry polyester material as the pants. You can actually machine wash this blazer!
It looks really nice on – a great complement to the chinos. Plus, there are TEN pockets in this blazer. The best part is that no matter how scrunched up it is in your bag, it comes out completely unwrinkled and ready to wear.
⇒ Click to learn more about the Bluffworks Blazer
Bluffworks Travel Pants Overview:
Pros: Stretchy, breathable material that doesn't wrinkle. Design and fit that look really nice and specially tailored. Abundant pockets and security features. Do not looks like "travel pants".
Cons: Difficult to slip things into the front pockets because there are additional pockets inside to get snagged on. Fit is rather slim (order original for a looser fit).
Key Features

Uncompromising comfort and style
Quick-drying and wrinkle-resistant
100% technical, breathable polyester
Zippered security pocket, hidden pocket, and security loop
Handcrafted in the U.S. (can be shipped worldwide)

Buy Now
Use this Bluffworks coupon code for 10% off your order (not applicable on sale items).
---
★ Our Favorite Men's Travel Jeans: Aviator Jeans
("The best travel jeans in the world" – USAToday)

Nick has a pair of the summer travel jeans in Cool Faded Blue Indigo. These are probably the best pair of jeans he's had in years. They fit very well – being neither too baggy nor too tight, with just the right amount of stretch and flexibility to be comfortable and stylish at the same time. They look really great on.
What makes them particularly well fitted for travel are two things. First, they are made to be lightweight, breathable and fast drying. In summer weather, Nick rarely ever wears jeans because they are too hot and constricting, but he doesn't mind wearing these Aviator jeans, because of their breath-ability.
The second thing that makes them great for travel is the hidden pockets. There are two pockets that are zipper protected and hidden away inside other pockets. You can easily store your valuables in these pockets. One of them is even large enough for your passport. The front and back pockets of the jeans both are large enough to fit a Kindle, which is important to Nick while we're traveling, so he has somewhere to store his Kindle while getting on and off the plane.
One of the worries we always have about jeans with stretch in them is that they'll stretch out of shape and start to fit awkwardly while traveling. Nick tends to re-wear his jeans a couple of times at least between washes. He was happy to find that the material recovers well and doesn't stretch out too much. If they had to be washed while on a trip, it wouldn't be too big of a deal because they dry really fast.
Aviator jeans also come in an original fit and four colors: Dark Indigo, Jet-Setter Black, Khaki, and Silver Gray. They are made in a family-run factory in Los Angeles. If you order the wrong size, it's not a problem. You can return them for a new size. Worldwide shipping is available.
Pros: Lightweight, breathable and fast drying. Fit really nicely and don't lose their shape quickly. Abundant pockets, with added security.
Cons: These jeans don't come in differing lengths, so you'll have to get them hemmed to fit when they arrive.
⇒ Read our full review of these jeans here.
Key Features

Super comfortable
Flexible, durable, breathable
Stylish, modern design
Hidden security pocket
Handcrafted in the U.S. (can be shipped worldwide)

Buy Now
---
The Outdoor Research pants for men are very much like the women's version. They aren't necessarily ideal for all situations, but they are great for active adventurers who will appreciate the additional features they provide, like water and wind-resistance. They just have a few extra styling elements that make them harder to blend into nicer environments, so they can't really be dressed up easily.
They have drawstrings at the ankles so you can pull them up to any length and secure them there with the pull string, though that feature probably isn't going to get used very often. You can also use the tightening drawstring to secure your pants around your ankle so they don't get caught in the spokes of your bike, or ride up when climbing.
One of the things I like the most about these pants is the amount of stretch and flexibility the fabric has, but they don't get stretched out easily, they retain their shape well, likely due to the nylon/lycra blend. As for pockets, there are two front regular pockets that are not incredibly deep, two zippered rear pockets, and a zippered pocket on the thigh, which is deep enough to hold a cellphone.
Pros: Flexible, stretchy fabric that doesn't lose its shape, good features for adventurers
Cons: Too casual for dressy situations
---
The PrAna brand has a few different styles for men, including the Zion stretch that is best for really active adventurers. The Brion is more for every day wear and for when you want something more multi-functional. They are cut slimmer with straight legs and a fixed waistband, so they look decidedly less "adventurey" and more able to blend into any situation. The black pair can easily be dressed up and look nice enough for a classy restaurant.
The slimmer fit doesn't make them any less practical as travel pants. They are water-repellent, quick to dry and are very lightweight for packing purposes. The stretch fabric is made specifically to allow maximum comfort when moving around.
The only thing to be aware of is that the pockets in the Brion are not nearly as functional for people who like to keep multiple items in there. The front pockets are pretty deep and can hold a wallet and keys, and the back pocket can hold a wallet. There is no leg cargo pocket.
Pros: Slim fit, perfect for most every day use, can be dressed up easily
Cons: Pockets aren't ideal
---
These pants are the perfect combination for both active wear and evening wear. Aside from the small logo on the front of the leg, you really can't tell these are technical pants. They pair well with both active casual shirts and dressier shirts.
The material is very soft to the touch, but it' s durable. It's also water and stain resistant, which is always a good thing when traveling. There's a good stretch to these pants, so they're comfortable to wear on the airplane, while hiking, or just for casual walking around. They don't seem to stretch out with extended wear.
For pockets, there are two in front and two in back. I was worried about the zippered thigh pocket, but you really don't notice it and it provides a great place to store your phone. They come in two colors: pilot grey and tui blue.
Pros: Exceptionally soft and comfortable material, bonus phone pocket at thigh.
Cons:Slim fitting and tight at the calves – may have to go up a size if you have larger calves.
---
These pants are 100% nylon with plenty of flexibility of movement. They have an exterior waistband adjuster to easily take them in or out. Columbia is always good at including extra features to combat the elements in their clothing, so it's no surprise that these pants have moisture wicking and SPF 50 protection built in. Though they aren't water-resistant, they are quick to dry due to the moisture-wicking technology.
The material is soft and comfortable, and they don't make much of a swishing sound when you walk. Although the waistband says it's partially elastic, it's still pretty unforgiving, so proper sizing is important. We've found that the belt it comes with is pretty useless. It can easily be removed. We've also noticed that the inseam doesn't seem to be correct, so it might take a few tries to find the right fit if ordering online.
There are six pockets in these pants. The front two regular pockets and two rear pockets with tab closure and velcro to secure them shut. There is also one pocket on each leg, one with velcro and one that is zippered. I don't think anything would fall out of any of those four pockets, but it's nice to have the zippered one for added security.
Pros: Plenty of pockets, lightweight and good for summer
Cons: Difficult to find the right fit
---
The Best Travel Pants Reviews for Women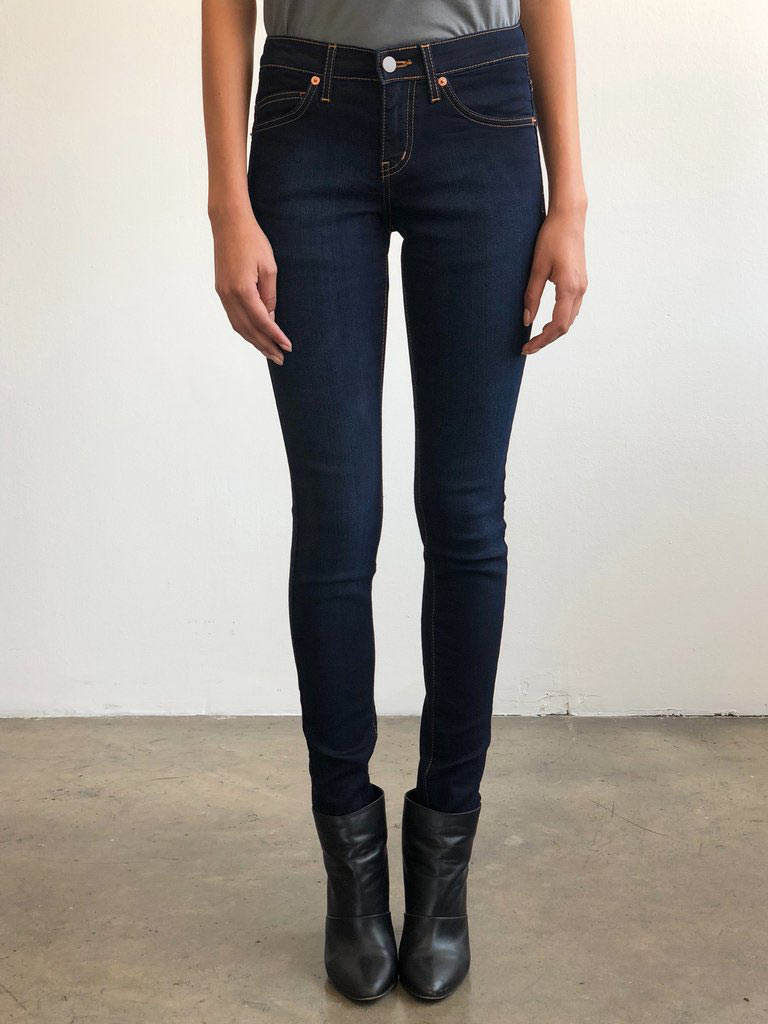 If I could wear stretch leggings all day every day on a trip, I would; but they just aren't stylish enough and the lack of pockets would drive me crazy. It doesn't matter, though, because I found Aviator travel jeans and they are even better than wearing leggings. These are one of the most comfortable pairs of jeans I've ever had.
When it comes to jeans, I typically prefer straight leg, but I branched out this time and got the Performance Skinny jeans in dark indigo from Aviator. They fit like skinny jeans, but they feel like leggings. I'll be the first to admit that I've never been able to pull off skinny jeans with my curvy body frame, but I have no problems fitting into these jeans. In fact, all I had to do to find the right fit was order my regular size. I didn't try them on before ordering. And they fit perfectly. I've avoided skinny jeans for so long and now I don't have to anymore.
The features of these jeans are what led them to be called the "best travel jeans in the world" by USAToday. They have six internal pockets – one pocket in the back is zippered for added protection, and one pocket is large enough to fit a cell phone.
They are made from a material that is breathable and cool. I was recommended not to put them in the dryer to extend their life, but it's not a problem because they dry very quickly. Shape recovery is great – I've worn them for three full days in a row and haven't had an issue with them stretching out. The only thing I've noticed is a bit of bunching around the knee, but I appreciate the extra stretch there so kneeling down doesn't cause them to come down.
The color I have is dark indigo (which is great for dressing up), but they also come in medium dark indigo, black, and silver. Performance skinny is also just one fit – they also have original and comfort skinny fits. They are made in a family-run factory in Los Angeles. If you order the wrong size, it's not a problem. You can return them for a new size. Worldwide shipping is available.
Pros: Very soft, comfortable, stretchy material. They look great on.
Cons: These jeans come in only one length, so you'll have to hem them.
⇒ Read our full review of these jeans here.
Key Features

Super comfortable
Flexible, durable, breathable
Stylish, modern design
Hidden security pocket
Handcrafted in the U.S. (can be shipped worldwide)

Buy Now
---
These are one of the most comfortable pairs of pants to wear, they are very lightweight and easy to take care of, and they are versatile enough to wear in multiple situations.
I am very picky when it comes to comfort. I don't want pants to be tight around the waist so that they are restricting when sitting for long hours on a plane. I want them to feel like I'm wearing yoga pants instead. These are fantastic. There is a double snap button closure at the waist that lays flat and doesn't dig in. They stay in place without having to pull them up all the time. They don't really stretch over time, so if you wear them for 4+ days without washing, they don't start to fall down and become uncomfortable after getting stretched out.
The material is soft and lightweight. They take up practically no space. I could fit 3 pairs of these in the same amount of space as one pair of jeans. The material has Omni-Shade included, which offers UPF 50 sun protection and water repellency. I also like the feature that allows you to roll the pant leg and secure it at just below knee length with the snap tie.
Even though these are active wear pants with lots of "on-the-go" features – like 2-way stretch material, zippered pockets, and articulating knees – the black ones can be dressed up to wear out to a nice dinner, if paired with the right top. There are no visible logos or cargo-style pockets to give them away.
Overall, these are a great pair of travel pants for women. I would recommend them over all of the others on this list. It's all about the little details.
Pros: Lightweight, versatile, very comfortable
Cons: Don't fit as true to size as expected. Can wrinkle easily.
---
There are quite a few differences between the PrAna pants and the Columbia pants. The PrAna Halle pants are made with 97% Nylon and 3% Spandex, and they have a thicker, slicker look and feel. The four-way stretch design with reinforced knees makes them really comfortable to move around in, so they're great for all types of travel situations, even in more adventurous situations. I find them to be fairly wrinkle-free and quick to dry.
This pair of pants has two pockets in the back with flaps sealed with silver buttons, plus a secret hidden pocket on the top right leg, which you can see fairly well, making this pair of pants not quite as easy to dress up. The front closure consists of a zipper and two silver buttons. They are not as relaxed in the front as I would hope and the buttons do have a tendency to dig in after a few hours.
Aside from being really durable, breathable and water resistant, the Halle travel pants also have a roll-up feature, so you can easily turn them into shorts. They come in three different lengths and it's important to get the one that fits you right, or you may find the fit doesn't feel right and it's hard to keep them up.
Pros: Great for adventure travel
Cons: Side pocket makes them less multi-functional, hard to find the right size
---
One of the best pairs of women's travel pants I own are the Columbia Anytime Outdoor Bootcut pair.
The thing I like most about this pair of pants is that they are incredibly lightweight and don't wrinkle. I can roll them up in a ball for two days and 5 minutes after I've put them on, they're smooth again. Because they don't have any extra pockets, zippers or tags on the legs, you can wear them almost anywhere. I even wore them to a Michelin-star restaurant when my dress pants were too wrinkled to wear. They can be dressed up with a nice blouse and shoes. The two front pockets lay flat and there is only a small back pocket with a velcro seal.
If you were to stack three pairs of these pants together, they would take up the space of one pair of jeans. They are made from 96% Nylon and 4% Elastane, so they have a good amount of stretch to them. The zipper, snap and drawstring are not tight-fitting, so you can sit on a plane in these for 12 hours and not feel the closure digging into your skin. The only things I don't really like is that the drawstring is thin and doesn't do a great job of tightening them, so they sometimes feel too loose.
While these pants are really thin and breathable, I expected them to dry a little quicker than they did. It took most of a day for them to dry. They are quite flexible and stretchy, but they don't really stretch out with prolonged use. I've had one pair for 2 years now with almost daily wear and they still look great. The only thing I don't like is how pilly the crotch has become.
Pros: Sheds wrinkles fast, soft, comfortable material, no large waistband to dig in
Cons: Drawstring is too thin and long, and doesn't hold them up well; material gets pilly in the crotch
---
These were the first pair of travel pants I tried, so I didn't have as many comparisons to draw from. They are more water-resistant than any of the other pairs reviewed here, but that also makes them a little less soft and comfortable. The material swishes together a little more than I'd like, making some noise as I walk.
I was originally a little afraid that the snap closure would be uncomfortable for longer sitting, but the band of the pants is wide enough and also protected by a band of softer material, so it lays flat and doesn't dig in. They have drawstrings at the ankles so you can pull them up to any length and secure them there with the pull string, but of the few times I've tried to use the pull string, I've not had luck getting them to actually stay up.
I would say these are the least versatile of the pants listed here. You can't really get away with wearing them to a nice restaurant. They have zipper pockets in the back that lay flat, but they also have a plastic "Outdoor Research" label sewn into the lower leg, and a silver OR logo sewn into the ankle, not to mention the slighly bulky drawstring in the pant leg.
While these pants are fairly breathable and lightweight, they don't air dry as quickly as they should and the crotch area can become a little too warm when in active situations or hot environments. They could vent a little better. They are very comfortable to wear in regular conditions, however.
Pros: Very comfortable waistband, can be secured higher on the leg as capris or shorts, lots of pockets
Cons: Can't be easily dressed up, wrinkle easier, not as breathable in the crotch
---
Probably the most versatile of all the pants we've reviewed, the Royal Robbins Discovery pants can be worn in almost any situation. If anything, they almost look too nice to wear in outdoor adventure settings, probably because of their matte appearance. But they are great for wearing out to a nice dinner. The material is a little stiffer than others, so they aren't as comfortable for everyday wear, and they do make a slight swishing sound as you walk.
My biggest pet peeve about these pants is the front closure. There is a zipper and button on the inside, and a snap flap that snaps about and inch past the button. This makes them a very unforgiving size. You wouldn't want to gain any weight and try to fit into these, and that means eating a large lunch or dinner! The waist does tend to dig into the skin when sitting for longer periods.
These pants dry the quickest of the four options. They generally stay wrinkle free as long as you aren't balling them up for days before wear. There are pockets in front and one zippered pocket in back that all lay very flat, so you don't really notice they're there. There are no other branded markings on the legs.
Pros: Can be worn anywhere, easy to dress up
Cons: Not as soft or comfortable as others, button and snap closure tends to dig in
---
Conclusion
With all of these great choices, you should be able to find the best travel pants for you. I have a pair of each of them and use them in different situations. What I love the most is that I can easily pack all four pairs in my backpack in a fraction of the space it would take to pack four regular pairs of jeans, so I can have a much greater variety of things to wear, while still packing light.
If there are any pairs of travel pants that you love that I left off the list, let me know and I'll review those as well.
Like this post? Why not save it to your Pinterest board! ↓ ↓
Disclaimer: Savored Journeys is a participant in the Amazon Services LLC Associates Program. This means that if you make a booking after clicking on this link that we may receive a small commission at no extra cost to you. We have no association with the companies of the products reviewed. These are our own opinions of the top travel products. Thanks for supporting our site!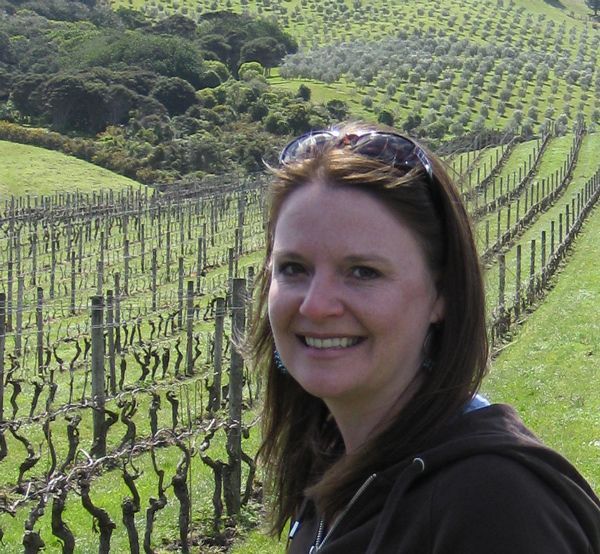 Laura Lynch, creator and writer of Savored Journeys, is an avid world traveler, certified wine expert, and international food specialist. She has written about travel and food for over 20 years and has visited 70+ countries.