One of the biggest issues travelers face is how to conveniently carry everything you need so you can find it easily and it's not too heavy or disorganized. Finding the right travel purse was the best thing to happen to my travel satisfaction in a long time.
Over the years, I've bought many variations of travel purses for international travel that have all failed in one way or another. It's not easy finding the perfect purse for travel when you don't know how they'll perform before buying it.
Thus I went on a mission to find the best travel purse for international travel that I could find. The good news is there are some really great choices out there. I've tried many purses to find the 5 best options, then I put together a guide to my top picks for best travel handbags.
Yes, we're talking about travel handbags for ladies today, but we've also covered a few other travel issues you might be trying to solve, like how to find the best travel pants (which I now wear practically every day!) and our top carry on luggage choices. Also check out our guide on finding the best travel backpack. See all of our travel gear reviews.
How to Choose the Best Travel Purse
There are definitely important criteria to look for in the best purse for travel. You're going to be out and about most of the day carrying this bag, so you need it to be comfortable and effortless. The best travel purse holds everything you need to have with you in an organized fashion.
It has a sturdy and comfortable strap that can't easily be cut or snapped by a thief. And it's weather proof. Here are some questions to ask yourself when choosing the right travel purse for you:
Comfortable to carry. If you load it up, is it too heavy to comfortably carry around all day? Does the strap dig into your shoulder? Is the weight distributed well?
Holds everything you need. Is it too small or too big for the typical items you want to carry? Do you find yourself stuffing things in because there's never enough space?
Provides good organization. Are there enough dividers and pockets to organize items? Are they proportioned well and are they functional in the way you want them to be?
Sturdy, theft-proof strap. Is the strap flimsy or thin? Could the strap easily be cut by a thief walking by? Is the strap the right length to enable you to protect the bag against your body or does it allow the purse to dangle at your side?
Weather proof. If you were caught in a sudden rain storm, would the bag become drenched on the outside and inside? Are there adequate zippers and flaps to protect the contents?
Types of Travel Purses
To make this quest a little more difficult, there's not just one type of purse out there. There are many. Here is a breakdown of the most typical types of travel purses.
» Crossbody Bag
If I were to choose one type of bag that's best for travel, it's a crossbody bag. These bags have straps that are long enough to be worn across your body, so you have the added protection of the bag not dangling off your arm. While it can still be cut and taken by a thief, it can't be snatched off your arm. Wearing the bag this way also allows you to protect the bag against your body. (Read more about cross body bags.)
» Messenger Bag
These bags tend to be larger than I would typically take on a trip, but they hold a lot more. They are also usually worn cross body and have sturdier straps. The benefit of a messenger bag is that it has a flap that comes over the top of the bag, which gives added protection against pick pockets.
» Shoulder Bag
Shoulder bags have longer straps that are intended to hang from one shoulder. These are the least-best type of bag to carry for travel because they leave you vulnerable to thieves who are really good at zipping by and snatching or cut the bag right off your shoulder. Because they're just hanging from your shoulder, there's pretty much no way you'll be able to defend against it.
Top Travel Purse Brands
I'm always tempted to check out the travel purses in bag stores in touristy areas, mostly because you can pick up the bag and look inside it before you decide to buy, and because there's always so many of them (they know how to tempt us travelers!). However, I would highly recommend buying a trusted brand instead.
I'm not saying you can't find a good bag in a touristy bag shop in Tokyo. I'm sure you can. But you might also be getting ripped off, or be getting an inferior product. I like to stick with the brands I know can deliver. Here are a few of the top travel purse brands that you'll find on Amazon and in major retail luggage stores.
I like to stick with these brands, but I do have a few bags from other companies, like Rosetti, Samsonite, and Kenneth Cole. I would not suggest taking a major designer purse with you while traveling, so those brands are out.
Baggallini
eBags
Travelon
Pacsafe
Travel Purse Reviews 2022
Our Choices for Best Travel Purse 2022
There are two charts below, for each category of travel purse. I've evaluated smaller, mini-type shoulder bags, and larger day bags. If you're like me, you don't like to carry a lot of things and have a heavy bag to lug around, so the smaller sizes will be best for you.
If you do want to carry a lot of things, be able to stuff a laptop, water bottle, rain jacket, etc into the bag, then the larger size is for you. More on the choices after the charts… I like Amazon because they often allow free returns if an item doesn't meet your qualifications, which can be a huge benefit when there are so many choices.
Lucky for you, it's easy to get your hands on an of the travel bags I chose through the links below (note: they are affiliate links so we receive a small bonus when you use our links).
Large Travel Purse Reviews
Large travel purses typically measure somewhere around 9 in. tall, 11 in. wide x 5 in. thick. They can easily carry all manner of small items, a Kindle, a tablet, a water bottle, jacket, snacks, etc. They tend to have a lot of pockets and sections to keep things organized. Here are four large travel purses we recommend. See below for full reviews of each bag.
---
This is one of the best crossover bags for travel, in my opinion. There are two prevalent styles of purses, one that is tall and one that is wide. Depending on what you need to carry, one might be better than another.
This Baggallini Everywhere bag is one of the few wide bags. It's is 12 inches wide, versus the typical 9 inches. There are multiple pockets in this bag, including two front pouches, one zips and one snaps.
There's a secondary front pocket, as well as the main compartment, which can easily fit an iPad and lots of other things. On the back of the purse, there is a thin pocket that spans the length of the bag that can be unzipped at the bottom that can slide on to the handle of luggage to hold it on in transport.
Pros: Wider than most bags, back pocket over a luggage handle.
Cons: Two side pockets aren't very useful
---
This bag has more protection against theft that includes an RFID blocker so your electronic cards can't be read through the bag. It also has a slash-proof strap and material.
The outside pockets have locking zippers. The strap is also hooked to the bag with a sturdy caribiner, so you can unclip it and secure it to something, like the table at a restaurant. For these reasons Travelon is one of the best bags to guard against theft.
The main inner pocket has a lot of space with pockets for organization. The back pocket has credit card slots and room for travel documents, including a dedicated passport pocket. There are also two side pockets.
One can carry a small umbrella or water bottle, the other is good for sunglasses or a camera. I put my keys in there to keep them out of the way.
Pros: Strap can be shortened into regular shoulder-bag length, comes in tons of colors, has a passport slot, great theft-prevention.
Cons: Strap may not come with the caribiner. Sizing seems inconsistent.
See on Amazon
---
Another great bag that includes RFID blocker, the Pacsafe holds so much that it's one of my favorite bags to have along on a trip when I need to have everything handy.
One pocket is lined with protective RFID material. There are 2 lockable zipper compartments, and 1 padded & suspended interior tablet sleeve that keeps your tablet or Kindle from touching the bag's bottom – just in case you drop it, and there are 2 zippered interior pockets. Additionally, you have 2 side pockets for small water bottles or an umbrella. 
A feature that I love about this bag is that you can carry it two different ways. The strap can be laced through the handle on the top which creates shoulder straps to carry it like a backpack. That has come in handy a number of times for me.
Pros: Great RFID protection. Huge amount of space, with good organization. Keeps your devices safe and secure.
Cons: Too big for some uses. Not available in the UK or Canada (substitution is given when you click our links).
See on Amazon
---
They call this bag "small" but to me it's anything but small. In fact, this is one of the biggest bags on this list. It's a messenger bag and I think it's a good bag for men and women, because it's not at all flashy or feminine.
The best thing about this bag is the organization it offers. There are 9 pockets (7 zipped pockets and 2 external side pockets without zipper). You can stuff a lot of things inside this bag, including a 10″ tablet and a water bottle.
There are 8 credit card slots on the inside, along with a place to tuck pens, keys, etc. There's even a little hole that you can thread your headphones through. The flap is held shut with velcro. The bag itself is made with sturdy canvas.
Pros: Amazing amount of space inside, great organization, sturdy, gender neutral
Cons: If you only pack a few things, it feels enormous. The front zipper flap is a bit floppy and can be annoying.
See on Amazon
---
Small Travel Purse Reviews
Small travel purses typically measure somewhere around 8 in. tall x 8 in. wide x 2 in. thick. They can easily carry a wallet, keys, passports, Kindle, small items like chapstick, and if you've packed light you can manage to stuff a lightweight rain jacket inside.
They aren't usually large enough to carry compact umbrellas, water bottles, or tablets. Here are the four small travel purses we recommend. See below for full reviews of each bag.
---
The Baggallini pocket crossbody purse is just 8.5 inches wide and tall and 2 inches thick, but it comes packed with a zippered interior pocket, three exterior pockets and credit card slots for easy organization.
You can fit in a Kindle, but not a tablet. It's a great option because it's streamlined and lightweight. If you're expecting a lot of room, this is not it. The joy of this bag is how small it is.
This is one of the best crossbody bags for travel if you're a light packer. The strap is adjustable so you can move it up or down for your comfort. It's not an incredibly sturdy strap though, so you don't have to be careful in certain situations.
I really like that it has a removeable RFID wristlet included, so you can just carry your cards, if you want. The back pocket is just the right size to stash your smartphone so you don't have to go through the interior pocket to get it.
Pros: Not too big, includes removeable RFID cardholder.
Cons: Thin strap can be uncomfortable and not very secure, back side-zipper pocket isn't very well-designed.
» Shop other styles of Baggallini Bags on their website.
See on Amazon
---
If you're worried about theft while carrying a purse, you can look no further than this Travelon Anti-Theft mini bag (if it's too small for you, there's a larger one in the next section).
One of the features I love on this bag is the slash-proof strap. It has a locking main compartment and RFID card slots for added protection. You know how you're not supposed to leave your bag laying on the floor or on the chair in a restaurant, but it's uncomfortable to rest it on your knee?
The strap of this bag is made to be attached to a chair or small post so it can't be stolen. This bag is also slightly larger than other bags in this category, with 9.5 inches of height, so you can fit a few more things inside.
It's not really large, but it does fit quite a bit inside, like passports, Kindle or iPad mini, smartphone, wallet, keys and sunglasses. There's also a small LED light attached on the inside. AND the interior is a bright color so it's easy to see what's inside the bag.
>> See all our recommended anti-theft travel bags.
Pros: Great anti-theft measures, love the caribiner that allows you to secure the bag around anything, lots of well-placed zipper pockets.
Cons: If anything, there are maybe too many pockets on the inside.
See on Amazon
---
This bag is the smallest that I've chosen for this list. I used to carry a bag like this one on every trip I took for more than 10 years and it served me well. It's 8.27 x 3.54 x 5.9″.
Because it's so small, it's easy to pack into a backpack or another larger day bag, if necessary. There are inner pockets and card holders on both sides, but that doesn't prevent you from stuffing things in the center. However, they have to be small items. There are front and rear zippered compartments. 
It's just the right size to fit a passport, a camera, keys and one or two other things. Your smartphone will fit conveniently into the front zippered pocket. The zippers are very secure and can clip to each other or to the end of the bag, so it can't be opened without some effort.
Pros: Can easily be packed into another bag so you can use it only if you need it, detachable strap makes it versatile.
Cons: Quite small, front pocket isn't very useful, it's too shallow to hold much
See on Amazon
---
This is one of the larger bags in this category at 10.5 inches tall and wide, and 2 inches thick. There is plenty of space inside for the essentials, even a book or tablet can fit inside.
The bag has a zippered front pocket, a main top-zipping compartment and a u-zip rear compartment. If you're looking for the best crossover travel bag for women, this is a very strong contender. Inside the main compartment is a slot to hold your phone, you credit cards, and your passport, all with RFID blocking material.
As far as security features go, this bag has full Anti-Theft features including locking compartments, slash-resistant construction, and slash-resistant, adjustable strap.
Pros: Plenty of pockets, lightweight and good for light packers, but large enough for a tablet.
Cons: In between size that might not fit all scenarios. Can't carry a water bottle.
See on Amazon
---
Conclusion
With all of these great choices for travel handbags, you should be able to find the best travel purse for you. My personal favorite is the eBags Piazza bag, but I have used some of the others regularly too.
The trick is finding the one that fits your situation best, because we all tend to pack differently. If there are any travel purses for women that you love that I left off the list, let me know and I'll review those as well.
Like this post? Share it to your Pinterest board!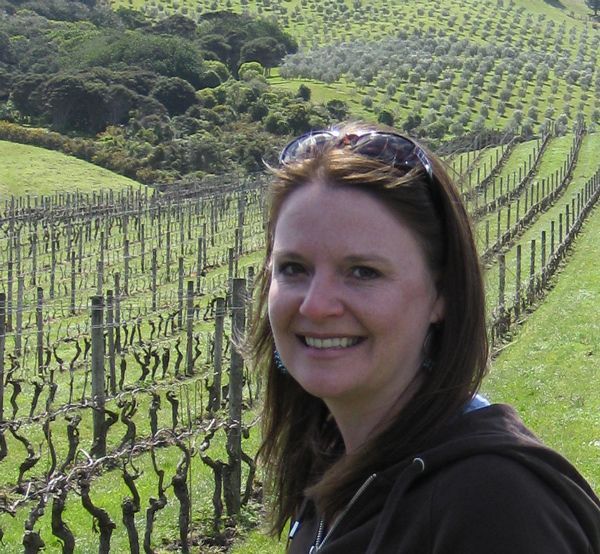 Laura Lynch, creator and writer of Savored Journeys, is an avid world traveler, certified wine expert, and international food specialist. She has written about travel and food for over 20 years and has visited 70+ countries.