America's National Parks are more than just hiking trails into mountain valleys, campsites overlooking sweeping vistas and unparalleled chances to watch moose and elk run wild. Many are famous historical sites, battlefields and small parks with big-time scenery.
Picking the park for you may depend on how well you like crowds. Some National Parks reel in millions of visitors a year, though a crowded park is often not as actually crowded as you might think. There is plenty of room to roam, and even the most crowded parks, like the Great Smokey Mountains in Tennessee, will feel like you're there alone in many spots.
» You might be interested in these 7 Archeological Treasures to See in the United States.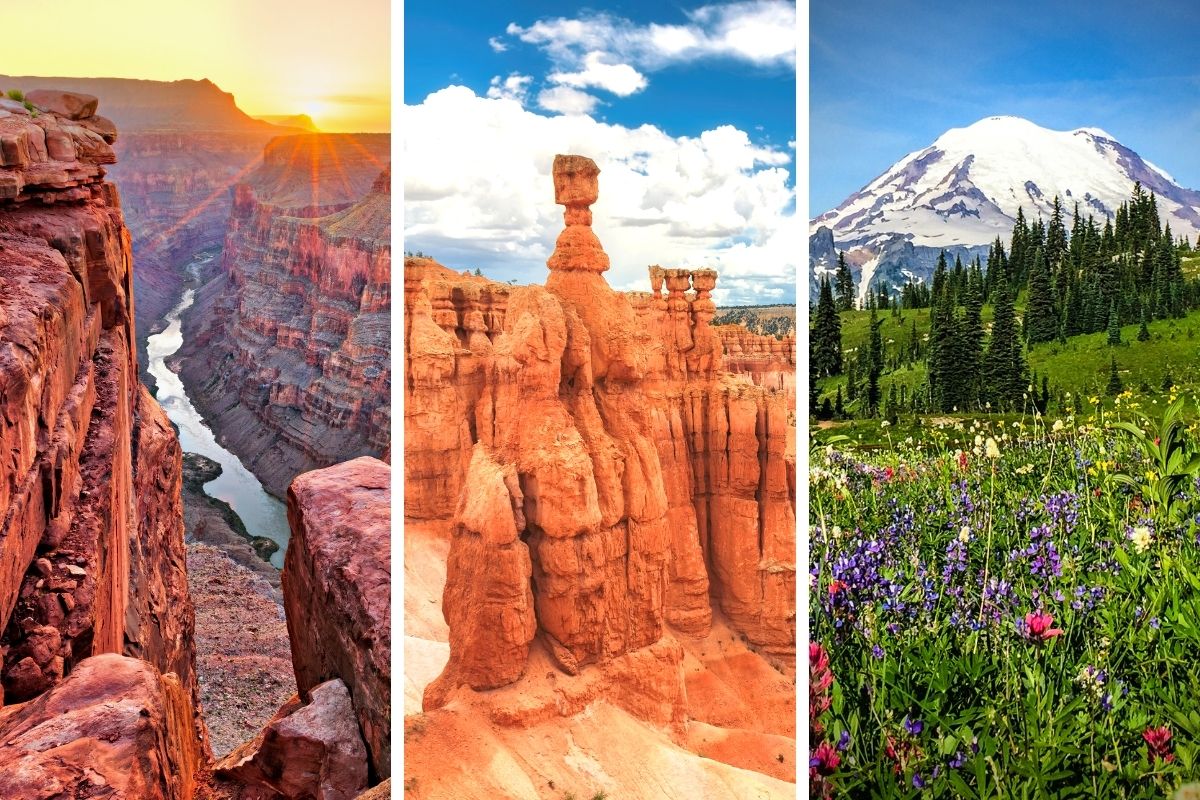 Of the parks listed here, the Grand Canyon and Zion National Park receive the most traffic per year. You might also want to plan a trip in the shoulder season, to avoid the bulk of the crowd, which will show up in the summer peak months. The shoulder season is between peak and off-peak seasons.
» Looking for more summer vacation ideas? Why not try one of these great California road trips or check out these great family road trip destinations.
Plan a Tour to These Parks
The best way to see these National Parks are on a road trip, which is fairly easy to plan yourself. Start by answering these questions:
How far to you want to drive?
How many parks do you want to visit?
How many days will you devote the the trip?
Then you can plot out the distance between the parks you want to see, and make an itinerary.
Go on a Guided Tour
Another option for visiting the National Parks is to go on a guided tour that's already planned and set up. All you have to do is show up.
Here are three great tours that we recommend, which stop in a few of the parks mentioned below.
Rent a Campervan and See Even More
Have you ever considered a road trip in a campervan? Driving yourself from place to place in your destination is a great way to see more, do more, and spend less!
Escape Campervans are the largest in North America with 600+ campervans and lots of good reviews. Escape your routine and embrace your adventurous spirit by exploring the world in a campervan.
Bryce Canyon National Park
You may be completely overwhelmed by the fascinating & awe inspiring beauty of Bryce Canyon when you see it for the first time. It's truly a hidden gem.
Bryce Canyon, named after an early settler in the area, Ebenezer Bryce, is located in southern Utah (along with 4 other Utah National Parks) and is known for it's bright red hoodoos, which are spire-shaped rock formations that can only be found in a few other places on earth, like Cappadocia, Turkey.
Most visitors to the park spend their time hiking the many trails and viewing the expansive Bryce Amphitheater from the main viewpoints. There are overlooks at Sunrise Point, Sunset Point, Inspiration Point and Bryce Point.
You might be interested to know that Bryce Canyon isn't actually a canyon. It's the spectacular edge of the Paunsaugunt Plateau, which has been gradually eroded by the Paria River to form Bryce Canyon, where today you can see intricately carved towers & archways of stone.
In the warmer months there are many trails for visitors to explore, ranging from easy strolls to hard hikes. Some of the best trails are located in the Bryce Amphitheatre, located near the entry to the park.
Walkers can also follow the Fairyland, Riggs Spring & Under-the-Rim trails, which are longer, but permit more opportunities to see the different elements of the park at close range.
Grand Canyon National Park
The Grand Canyon lies on the Colorado Plateau in northwest Arizona and was carved over millions of years by the Colorado River. The maze of canyons, fissures, and gorges intertwine and merge to create one of the world's most amazing natural wonders.
You can actually see the different colors of the rock in the many layers that make up the canyon. It's truly amazing to see how a little trickle of water eventually turned into the Colorado River, which eventually carved out the Grand Canyon.
The Grand Canyon National Park is located about 75 miles north of Flagstaff, Arizona. There are two main entrances to the park, depending on which side of the canyon you approach from. It will take about an hour and a half to get to the North Rim Visitor Center from Flagstaff.
You can approach your trip to the Grand Canyon in a couple different ways. One way is to stay within the park at one of the lodges on the South Rim and take time to experience all the different things the park has to offer. Or you can stop for a few hours to take in the views enroute to the next destination on your road trip.
The benefit of staying within the park is the ability to take your time to see the magnificent canyon from different viewpoints, which you can access by walking the rim trail or taking a shuttle from point to point.
Acadia National Park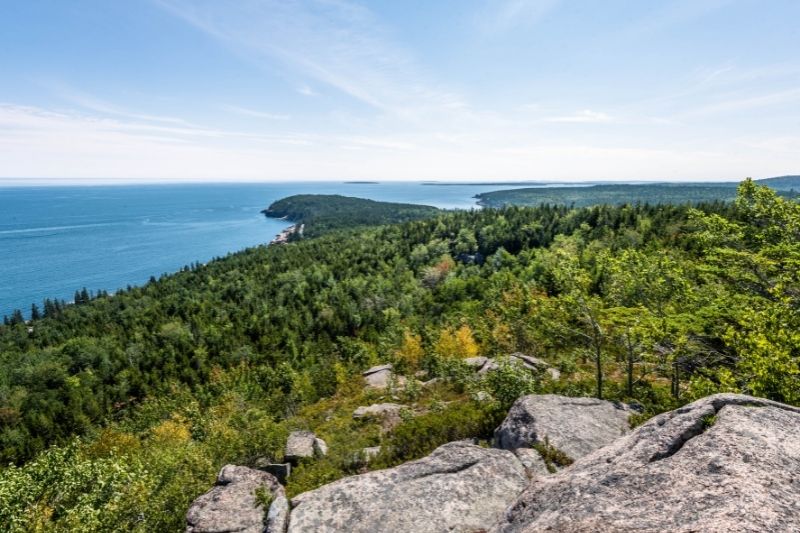 Located on the rugged coast of Maine, Acadia National Park encompasses over 47,000 acres of granite-domed mountains, woodlands, lakes and ponds, and ocean shoreline. It's one of the top 10 most-visited national parks in the United States
Declared as a national park in 1916 by then president Woodrow Wilson, this versatile park is a dream to visit, with over 60 miles of coastline to explore. The park might look small on a map, but it encompasses Mount Desert Island, Schoodic Peninsula, Isle au Haut, and more outer islands, with so much to see and do.
There's an activity for all kinds of people at this park. Ranging from climbing, hiking, and boating to fishing and horseback riding, this park can give you a large variety of experiences in a short amount of time. In the winter, seasonal activities open up. Skiing, snowmobiling, and other snow sports are all on the table at this beautiful location.
Along with this comes gorgeous wildlife, and a plethora of different animals to spot. Namely, many species of birds, seals, and other small mammals and reptiles. There's no guarantee what you'll see while hiking trails in Acadia National Park.
Crater Lake National Park
Crater Lake is located in Oregon and is famous for the intense blue color of its waters and for its spectacular views. There are extreme cliff drops all around the lake and it's simply beautiful.
The beautiful blue hue of the surrounding mountains as well as the water of Crater Lake make for gorgeous pictures and lots of sight seeing. You can drive the whole loop around Crater Lake, and view the lake from many different points. You'll see out across the lake, Wizards Island and all the dramatic cliff faces.
During the summer there's many hiking trails, like Garfield Peak Trail and The Watchman Peak Trail that are very popular for dramatic scenery. When it's warm there are two campgrounds to stay in right in the park, so you can enjoy the scenery overnight and watch the stars. They are open to RV and tent campers, and all are first come first served so make sure to show up early.
In the winter, the rim drive and North Entrance to the park are closed to automobiles due to deep snow. So the best season to go is summer, so that the whole park is open for viewing.
Grand Teton National Park
Located in northwestern Wyoming, Grand Teton National Park is home to stunning mountain scenery and a diverse array of wildlife.
Home to over 200 miles of scenic hiking trails, the snake river, and gorgeous mountain ranges, the Grand Teton National Park is a beautiful and underrated national park. Being so near to Yellowstone, the Grand Teton gets overlooked, but those who do get there are well rewarded.
Some of the more popular areas include Jenny Lake and the Colter Bay Area where there's hiking, a visitor center, camping, cabins, and lots of water activities. Signal Mountain and Sting Lake are also popular for hiking, camping, and water sports.
Visit the historical Moose and Mormon Row areas for a look into the lives of settlers John and Thomas Moulton. On Mormon Row sit two barns that are both hundreds of years old, remnants of homesteads of the 18th and 19th centuries.
Make sure to reserve your campsites ahead of time if you're staying inside the park, as reservations can be hard to come by and the system is entirely reservation driven now, with no first-come first-served spots.
Great Smoky Mountains National Park
Ridge upon ridge of endless forest straddle the border between North Carolina and Tennessee in Great Smoky Mountains National Park, one of the largest National Park areas in the Eastern United States. It is also the most visited National Park.
This park preserves beautiful wildlife, fauna, and early Appalachian mountain culture. Some natural beauties of this park include black bears, an abundance of wildflowers, and tall forests.
Among the trees are hiking trails that lead to gorgeous views and destinations such as waterfalls and streams rushing down cliff faces.
The history of Great Smoky Mountain National Park is also outstanding. Inside the park, in Cades Cove, there's several examples of this area's past. The first European settlers to inhabit the area came in 1818. Along Cades Cove there are several antiquated churches, barns, log houses, and even a working mill.
Mount Rainier National Park
Mt Rainier National Park was established in 1899 and covers 235,625 acres (97% is designated wilderness), which includes Mount Rainier at 14,410 feet high, which is an active volcano encased in over 35-square-miles of snow and ice. The park contains outstanding examples of old growth forests and subalpine meadows.
Mount Rainier stands as an icon in the Washington landscape. Wildlife abounds in the park's ecosystems, including meadows full of wildflowers which draw crowds during the spring and summer, particularly in the Paradise area, where the Henry M. Jackson Memorial Visitor Center is located. From there, you can embark on any number of short and long hikes.
The Longmire and Sunrise areas also have visitor centers, lots of hiking, and places to stay. Longmire is where you'll find the popular Cougar Rock Campground, which is almost always full at peak summer times.
It's a good idea to check the weather and road conditions before going, because snow persists until late into the spring. Late spring can be a good time to visit the park, as the snow is starting to melt off and weather conditions improve.
Petrified Forest National Park
Petrified Forest National Park, east of Flagstaff, Ariona, is a surprising land of scenic wonders and fascinating science. The park features one of the world's largest and most colorful concentrations of petrified wood and the multi-hued badlands known as the Painted Desert.
The Painted Desert is an amazing geological feature. It's composed of soft clays, volcanic ash, sandstone, and other types of rock. This combination of different materials is what gives the desert it's distinctive color variations that it's known so well for.
Over the years, erosion has carved this park into a stunning and ever-changing landscape. The terrain has become a mix of mesas, plateaus, rolling badlands, and even monuments as a result of wind erosion- meaning it will never look the same.
In addition to the rock formations, this park is also a home to a diverse ecosystem of wildflowers, cacti, many types of birds, and reptiles as the warm weather draws all types of cold-blooded animals.
The best way to experience this park is through one of it's many hiking trails, or camping at the park overnight.
Rocky Mountain National Park
Established on January 26, 1915, Rocky Mountain National Park is a living showcase of the grandeur of the Rocky Mountains and my favorite National Park vacation site.
Rocky Mountain National Park's 415 square miles show off spectacular mountain environments. Travel along Trail Ridge Road – which crests at over 12,000 feet including many overlooks to experience the subalpine and alpine worlds – along with over 300 miles of hiking trails, wildflowers, and wildlife.
This park lets it's visitors dip their toes into rural old-time mountain life. Visit the Holzwarth Historic Site for a look into homesteading and the lives of homesteaders in the early 1900s. Tours of the original cabins are available for all guests to enjoy.
There are many ways see this park. Along with hiking trails, there are several scenic routes to drive, and overlooks that show the sheer beauty of this national wonder.
Yellowstone National Park
In 1872, President Ulysses S. Grant designated Yellowstone a national park and it has since become one of the most famous National Parks, largely due to the Old Faithful geyser.
The park is located primarily in Wyoming, with parts in Idaho and Montana. It's home to a very unique ecosystem that includes all types of flora and fauna. Because of that, it's a great place to view animals in their natural habitat, and you'll have a chance to glimpse wolves, bison, elk, and bears among others in the Hayden and Lamar Valleys. It's not uncommon for a black bear to wander across the road, stopping traffic as people strain to watch the action unfold before them.
Aside from the wildlife, there are also several geological wonders inside the park. Most famously, the Old Faithful geyser named in 1870 for it's predictable geothermic cycle. It's been erupting every 45 minutes to 2 hours for the past two decades.
Other hydrothermal attractions include the Grand Prismatic Springs, Mammoth Hot Springs, and Dragon's Mouth Springs. All of these are wonderful ways to experience the unique hydrothermal areas of Yellowstone Park.
It's best to visit the park during the summer months, as attractions close down in the winter. Lodging and camping inside the park, and surrounding area, are available year round. Check out our Ultimate Yellowstone National Park Itinerary & Guide for 1-5 day itineraries to help you see as much of the park as you can. Here is a look at the top 10 things to see while visiting the park.
Yosemite National Park
Yosemite National Park is one of the most well-known and appreciated national parks the United States has to offer. From the time of the famed naturalist John Muir until now, millions of people have been left in awe at the natural wonder and majesty of the sheer granite cliffs, massive stands of old-growth forest, abundant wildlife, and dozens of other examples of pure, natural beauty that Yosemite offers.
You can easily get around to see many of the top sights in Yosemite in two days because many of them are quite close together.
One of the most appreciated panoramic views of Yosemite National Park is at Glacier Point which you can drive up to. During weekends, many tourists and picture takers all vying for the best spot. If you want a little bit more seclusion and privacy to enjoy the views at Yosemite, only five miles away is Taft Point. You will have to leave the car and hike about a mile in from the road, but the view is just as impressive without all the crowds.
The top places to see are Glacier Point, Half Dome, Yosemite Falls, Taft Point, Lembert Dome, and Vernal Falls. If you make it to all of these spots, you'll see a side of Yosemite that most visitors are never fortunate enough to see.
If you are hiking, camping or riding off the main trails, in the backcountry, you will need a permit. Permits can be obtained through the Backcountry Information Center. Rangers patrol and inspect camps they find for permits and to check that campers are adhering to the conditions laid down in the permit.
Did you know there are many natural hot springs in Northern California? If you have time they are worth the drive.
Olympic National Park
Olympic National Park is located in the Northwest corner of Washington State. It's one of the most beautiful places to get away and experience nature in the Pacific Northwest. While there are dozens of reasons to visit Olympic National Park, we want to share a few of our favorites with you in this post.
Although referred to as three parks in one sometimes, Olympic National Park is really just one park that encompasses several ecosystems. The park encompasses an old growth rain forest, glacier-capped mountains and many miles of wild and rugged coastline.
You can camp there, take a drive through the forest, go kayaking, backpacking, fishing, birding, and mountaineering, and set out on some of Washington State's best hikes. If it's done outdoors, you can likely do it at Olympic National Park.
There are three temperate rainforests located in the United States and all of them are located in Olympic National Park. The rain forest is a rugged, beautiful area with a pristine forest habitat that houses a unique community or animals, from the resident herd of elk to black bears and eagles.
CONCLUSION
With so many fantastic National Parks in the United States, there's an unlimited supply of beautiful nature to explore, and many of these parks are wide open space with plenty of room for camping and exploring. Which one will you choose to go to?
Like this post? Why not save it to Pinterest?
FOLLOW US on Pinterest, Instagram, Facebook for more great travel inspiration and tips.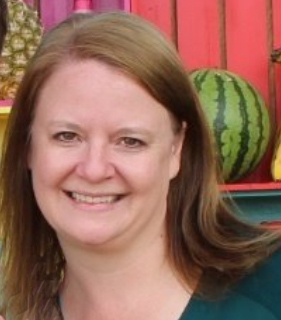 Laura Lynch, creator and writer of Savored Journeys, is an avid world traveler, certified wine expert, and international food specialist. She has written about travel and food for over 20 years and has visited over 75 countries. Her work has been published in numerous guidebooks, websites, and magazines.