For traveling, it's important to have a great pair of walking shoes, as you'll inevitably do a lot of walking around sights that require sturdy footing, whether it be the cobblestone streets of Venice or the ancient terraces of Machu Picchu. However, we know that finding the best pair of walking shoes for travel can be difficult, so we've put together a list of our favorites to make it easier to decide.
If you're in the market for a new pair of shoes for travel, make sure you keep reading to find out what the best-rated walking shoes are for travelers like us who spend hours walking around cities and exploring destinations.
⇒ See all of our travel gear reviews. You may especially like our guide on the best walking sandals for travel, best travel pants, and comfortable travel clothes. Be sure to get a anti-theft travel purse as well.
Best Walking Shoes – Quick Pick Comparison
In case you're in a hurry and don't have time to read all of our reviews below, here is a chart containing all of our top pick shoes in each category. We hope you'll stick around and read our full reviews below. You can trust that we only added the best shoes to the list.
Best Men's Walking Shoes
Best Women's Walking Shoes
How to Find the Most Comfortable Walking Shoes
The trouble with walking shoes is that there isn't one shoe that will fit everyone. There are too many different types of feet out there to be able to please them all with one type or style of shoe. So it's very important, when looking for the right pair of walking shoes for you, that you understand your feet and what you need in a shoe. Then you can choose a pair that suits you best.
Size
The size of your foot is the most important criteria to know before purchasing a shoe. I bet it's been a really long time since you've set your foot on one of those foot measurers at the shoe store and seen what your actual size is.
You'd be amazed to see that your foot can change size and shape over the years. If you're ordering online it can be a big pain to find the right size, so always check the sizing guide and see what other reviewers have said about the fit.
If you don't want to go into a store to have this done (because most of us order our shoes online these days!), you can buy a foot measuring device for home. They're cheap and easy to use. It will tell you the length and width of your foot.
Purpose
Another important thing to consider is the purpose of the shoes. When I say travel, obviously I expect you're going to take them on a trip with you. But what kind of a trip is it?
Will you be mainly walking around town? Will you be doing adventure activities? Will you be spending most of your time hiking? These are all important questions to consider before purchasing.
Like I mentioned before, there's no one shoe that can fit every purpose. That's fine if you don't mind taking a few pairs of shoes with you. But it matters when you're trying to pack light. Sometimes all you need is a sneaker, but I've definitely taken trips where I wear a comfortable pair of flats the whole trip.
⇒ Traveling in warm weather? Check out our guide to finding the best walking sandals.
Occasion
This is the one I have the most trouble with. When we travel, I mostly need a pair of shoes that I can wear during the day to walk around town, but that will also fit in well when I put on a dress and go out for dinner later on.
Is there really a pair of shoes that can cover me in both situations? Think about what situation(s) you'll be needing these shoes for. Will it be dressy, casual, or both?
Foot Type
If you've got a specific foot type or foot issue that you know you need to accommodate, it can be very difficult to find the right shoe. For instance, if you're trying to find the best walking shoes for flat feet or the best walking shoes for plantar fasciitis, which I myself suffer from, you'll need to dive a little bit more into the descriptions and reviews of the shoes you want to buy to make sure they meet you needs.
Oftentimes, an insoles will suit you best for these specific needs. It will be easier to find an insole for your shoes than finding the right walking shoes with arch support. Although there certainly are some good, supportive walking shoes out there, buying a shoe with the support already built in can cause other problems, like back, knee and foot pain, if you don't need that type of support.
Superfeet are my favorite inserts for different issues you may be facing. They have an insole for every situation. For instance:
Need a different type of insole? Check out our guide to the best insoles for travelers here.
Best Walking Shoes for Travel 2021
In this category, we list the best men's walking shoes, followed by the best women's walking shoes. You might be looking for something super casual, or something built to weather the elements. We've got four different styles of shoes to choose from, starting with the most lightweight and comfortable and moving into sturdy and stylish.
Best Walking Shoes for Men
* Most comfortable mens walking shoes for travel – lightweight & slip on
You really can't find lighter weight shoes than these. Nick has been wearing Skechers lightweight shoes for years, for two reasons.
They are the most comfortable pair of shoes to wear for long periods of walking and they are so light it's no problem to add a second pair of shoes to your luggage. A lot of the benefit of these shoes is in the fact that they are incredibly light weight, so they feel like walking around with clouds attached to your feet. You might think that means they must lack in support and features, but it doesn't.
They have a very comfortable memory foam insole and shock absorbing midsole. They also have a padded collar for your ankle. They come in a lot of different colors. Some are all mesh, some have a mix of mesh and fabric.
Pros: Extremely lightweight, comfortable and airy. Slip on for added convenience. Good padding for long distance walking.
Cons: The soles squeak on certain floor types. They aren't exceptionally durable and don't last longer than a year. Don't run true to size.
Buy Now
* Style and comfort – these go with everything
These Vans are fashionable, but still comfortable for walking. They're a good combination shoe to wear all day when traveling, because they are comfortable but also stylish.
You can take just this one pair of shoes when traveling. They go with everything and don't look too sporty, like sneakers. Both are made with canvas and have a sturdy rubber sole. The canvas upper makes them not quite as breathable as the New Balance – keep that in mind if you have naturally sweaty feet.
They have a padded footbed for extra comfort and good shock absorption. The tongue and collar are padded. The rubber sole provides good grip and doesn't slip easily on slick or wet surfaces. They come in dozens of colors. The only issue with these shoes is that they are very casual, so you can't wear them with nicer clothing and get away with it.
For those of us who are light packers, this usually means you'll have to pack two pairs of shoes. Check out the entire line of Van's Men's Shoes
Pros: Comfortable for long periods of walking, rubber soles, breathable, versatile.
Cons: They can start to fall apart on the sides quicker than expected. Fabric fades.
Buy Now
* Best walking shoes for men – walk long distance with comfort
New Balance is one of the top and trusted shoe brands. Once you find a pair of New Balance that you like, you don't usually go back to looking for a different brand. These Cruz V1s are great for walking because of their lightweight constructions, fresh foam midsole, and breathable material.
These Cruz walking shoes are much more casual looking and lightweight than the popular 577s or 877s. There's plenty of room in the toe box, even if you have a wide foot, because of the mesh material, which is flexible. You also won't have to worry about your feet getting hot and sweaty in these shoes because the mesh is breathable.
Pros: Comfort padding, breathable, good for all-day comfort
Cons: Tight around upper – order a 1/2 size larger
Buy Now
---
* Best looking travel shoes for men
If you're looking for a pair of shoes that are nicer looking than the typical pair of trainers, these are a great choice. They don't sacrifice comfort for appearance.
They still have the cushioned memory foam insole that Skechers are so well known for, but the outer is made of leather and can fit into just about any situation, even fancy dinners. There are a few different color choices – brown to black – so you can find the pair that fits you best. They're easy to clean and don't scuff easily.
Pros: Great stability and arch support with the comfort of the memory foam insole.
Cons: The construction could be better. Additional insoles would make walking long distances more comfortable.
Buy Now
---
Best Walking Shoes for Women
This chart lists the four top walking shoes we recommend for women. You can find in-depth reviews of each shoe below the chart. We've included slip-ons, ballet flats, sneakers and hiking shoes. All of these shoes are available in a range of colors and fabrics.
* Most comfortable womens walking shoes for travel – lightweight & slip on
One of the most comfortable pair of walking shoes I've ever owned is a pair of Skechers Go Walk. The comfort comes from the fact that they are incredibly lightweight walking shoes, and that they are made with an extra cushioning in the step. It feels like you're walking on a cloud. They are also slip on walking shoes, which I love. Why bother
with shoelaces! To add to the comfort, there's memory foam padding around the heel and a stabilizing heel cup so your heel won't be coming in and out of the shoe with each step. This is especially important if shoes often rub against the back of your heel and cause blisters.
The way the sole is constructed, there is a lot of flexibility in the shoe, so your walking isn't impeded by an inflexible rubber sole. These shoes also come in an array of different colors and even materials, so if you don't like the look of mesh, you can go with canvas instead. I also really like the Skechers Performance Womens Go Walk 4 All Day Comfort Walking Shoe.
Pros: Comfortable for long periods of walking, breathable, stylish
Cons: The don't hold up well under constant wear. Sizing varies.
Buy Now
---
* Most comfortable sneakers for women
Keds have long since established their place on the list of best walking shoes. They offer value and comfort, while also being very sleek and versatile. You can wear them with just about anything casual. And they come in a plethora of colors.
You're not buying a Cadillac of shoes here. Keds are very basic with not a lot of bells and whistles. You're getting a classic, iconic style that suits all moods. They do have a cushioned Ortholite insole, however, so you can wear them on long walks without experiencing discomfort.
Pros: Look nice, very versatile for all situations. Can wear for long periods. Comfortable insoles.
Cons: Sizing maybe be difficult. Fit is a bit narrow.
Buy Now
* Best walking sneakers for women – walk long distance with comfort
I've always been a big fan of Skechers lightweight shoes for women. They are sporty enough to provide good comfort and protection to your feet while walking, even in slippery conditions. But they are fashionable enough to wear with casual clothing and still look nice – better than typical sneakers.
I've worn different variations of these shoes for years and have never had a problem with any of them. While so many pairs of shoes hurt my feet after a few miles or tear up the back of my heal when I walk, these Skechers shoes have never done that. They are the best shoes for walking all day.
I can walk for up to 6 mile in these shoes before I even realize it, because my feet don't hurt. I've read a few reviews that say these shoes aren't very durable, but I've had the same pair for nearly 3 years with a lot of use and they still look nearly new.
I'd say if you're tough on your shoes or doing more in them than just walking about, they may not be sturdy enough for you. But for general use, they have been great for me. As mentioned, there are many different variations of these casual Skechers walking shoes, so you might want to have a look at all of them to decide which ones you like best. All Skechers Fashion Sneakers
Pros: Comfortable for long periods of walking, breathable, stylish
Cons: Can have issues with bad construction. Insole wears down with heavy use.
Buy Now
---
* Best active shoes for women
The Merrell Siren Edge hiking shoes . They have a breathable upper mesh fabric to allow your feet to breath and they also have a sturdy protective rubber toe guard. They have Vibram soles, which we find are the best for providing stability and grip on all surfaces.
I like the way they cradle the foot and make it feel like an effortless stride when you're walking, even on uneven terrain. The insole provides good cushioning and arch support. There's plenty of space in the foot of the shoe for when you want to/need to wear thicker socks.
They have a contoured footbed and organic odor control feature that will keep them smelling fresh, even after a tough hike.
Pros: Very sturdy, non-slip traction. Waterproof. Good support for foot and ankle.
Cons: Not great for wide feet. Need to be broken in.
Buy Now
⇒ If you're in need of a wider hiking shoe, check out these wide-toe-box hiking shoes. If those don't strike your fancy, take a look at these women's boots for hiking for more choices.
CONCLUSION
I hope you're able to find the best walking shoes for travel in this bunch, that suits your style. We've bought so many shoes over the years and these ones are always the ones we come back to, again and again.
If you have a pair of shoes you love that isn't on our list, please share it with us in the comments. We always love to hear what else is out there. Disclaimer: This post contains affiliate links to products we use and love.
Like this post? Why not save it to Pinterest?
FOLLOW US on Pinterest, Instagram, Facebook for more great travel inspiration and tips.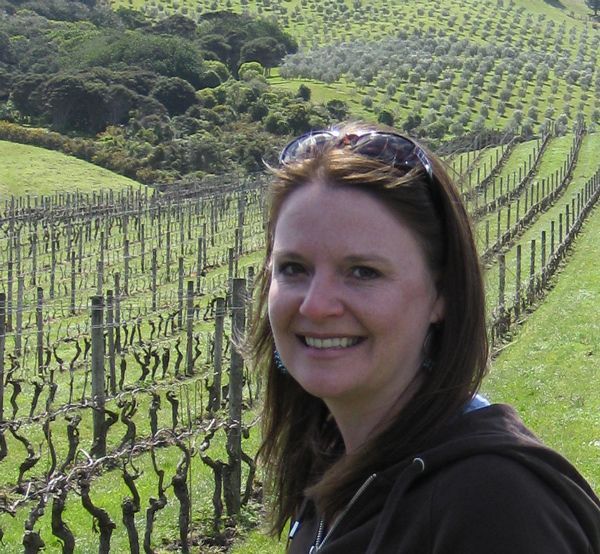 Laura Lynch, creator and writer of Savored Journeys, is an avid world traveler, certified wine expert, and international food specialist. She has written about travel and food for over 20 years and has visited 70+ countries.