During winter in the United States, most people go to skiing resorts and find places to participate in winter sports. However, the US has so many different climates that you can really find a great winter vacation destination no matter what you want to do – be it winter sports, hiking in a temperate climate, or even beach getaways.
From snowy slopes and stunning national parks to warm metropolitans and delightful beaches, the USA has it all. You just have to know where to go to make the most of the winter season. We've put together this guide with what we consider to be 22 of the best winter vacations in the US.
» Check out these 11 Best Fall Destinations in the US: Autumn Trip Ideas.
» Looking for more travel inspiration in the United States? See our U.S. Summer Vacation Ideas and 12 U.S. National Parks to Visit. Here are a few more fabulous U.S. Cities to visit.
Best Winter Destinations in the USA
Do you like cold weather or are you looking to visit somewhere that's way too hot to visit during the summer and is actually quite nice in the winter? Because the United States is so vast, you can find somewhere to suit your vacation style. Try one of these options on for size.
1. New York City, New York
Holiday charm aside, the city that never sleeps is a winter wonderland every month of the season. The sprawling city enthralls visitors with snowy strolls in Central Park, ice skating in Rockefeller Center or in Central Park, and a million different holiday shows, events, and festivals to attend.
There are also hearty meals served by Michelin star restaurants all the way down to hyper-local diners in each of the diverse neighborhoods.
Find it too cold to take in views of NYC's iconic landmarks as they sit under blankets of snow? Head indoors to museums like the Museum of Modern Art or the Museum of Natural History, and galleries like the Guggenheim or Gladstone Gallery. We also love the panoramic NYC views from the top of the Empire State Building.
The city is quite appealing in the holiday season, in particular, because windows are dressed for the occasion, twinkle lights are up everywhere, and there's a real festive spirit in the air.
» Check out this One Day Guided Sightseeing Tour.
2. Chicago, Illinois
Winter isn't Chicago's peak season, but that doesn't mean the Windy City loses any of its charms. There are plenty of opportunities just outside the city for skiing, snowboarding, and snowshoeing. During the evenings, you can cozy up in a restaurant with a fireplace, like Fireside Restaurant & Lounge.
Peruse awe-inspiring pieces at the Art Institute of Chicago, marvel at the marine life at the Shedd Aquarium, or admire the city's architecture from different skyscrapers. Use the Chicago CityPASS for discounted access to top attractions.
Brave the cold and head to Millennium Park, where you can ice-skate at McCormick Tribune Ice Rink and enjoy views of the city skyline and the renowned Cloud Gate, and the Bean, which is very near where the city puts up a large Christmas Tree at Millennium Park during the holiday season.
» Check out this Best of Chicago Tour.
3. Salt Lake City, Utah
Salt Lake City is a skiing haven boasting four resorts, including Snowbird and Park City in 45 minutes, ready to host eager skiers, snowboarders, and winter sports enthusiasts. The snow is so good in Salt Lake City that they've taken to calling it the Greatest Snow on Earth.
If you're after a more leisurely experience, the city also has trails for snowshoeing, hikers, and bikes. Check out Woodward Park City for snow tubing and other fun snow activities.
Non-skiers, layer up and ice-skate at the Gallivan Center's outdoor rink, or head to Temple Square to view historic sites and learn more about the Church of Jesus Christ of Latter-day Saints.
» Check out this Guided Bus Tour of Salt Lake City.
4. Yellowstone National Park, Wyoming
Winter is the best time to visit Yellowstone National Park if you want to see it in its Winterland glory. There are fewer crowds, frigid temperatures, and steaming geyser basins to admire. When the crowds and cars disperse, the park returns to a natural state teeming with wildlife. You'll see bison, elk, and wolves more easily against the white snow. No bears though.
Of course, most roads are closed during winter, making navigation a little harder. However, you're rewarded for the effort by white-frosted forests, soaring geysers, and frozen lakes. You just night have to go about it with skis or snowshoes on.
The best way to see the park is on a guided snowshoe or cross-country tour where you can explore trails like the Lone Star Geyser trail that starts at Old Faithful Snow Lodge.
5. Lake Tahoe, California
While Lake Tahoe is fantastic all year round, there's just something about its winter beauty that demands a visit. Hike to the top of Cave Rock or enjoy the renowned Emerald Bay hike and watch as the sun glistens off frozen lakes enclosed by snow-capped trees.
There's no shortage of winter sports either as the alpine lake is also home to various skiing resorts. The Lake Tahoe area gets record levels of snow, so skiing and snowboarding are always on the itinerary.
Since Tahoe straddles the state of Nevada, where gaming is legal, you'll want to fit in some time for the casinos, like Grand Lodge Hyatt Casino, Hardrock, or Harrah's.
» Check out this Scenic Snowshoe Adventure.
6. Yosemite National Park, California
Most renowned as a summer destination, this park becomes a winter wonderland explored by few once the cold creeps in. Panoramic views of the Sierra Nevada Mountain Range, scenic cascades, kayaking, and hiking among redwoods make the visit worth it.
Head here in February to witness one of Yosemite's top attractions. The sunset lights up Horsetail Falls and gives the illusion of a Firefall. If you're an amateur photographer, this is the best time to go, with the snow covering the entire landscape.
Your hiking and driving options are limited in Yosemite in winter, but the crowds are much smaller. You can still hike along the valley floor, along the Mist Trail's winter route, or the Valley Floor Loop. Other activities include the walk through the Indian Village of the Ahwahnee (Miwok Village) the native plant garden, and the 1897 Yosemite Chapel. The Yosemite History Museum is also open year-round.
» Check out this Guided Snowshoe Hike.
7. Key West, Florida
When you've had enough of all that snow, Key West, Florida, is the place to go. Temperatures usually vary between 64 and 80 degrees, with beaches and water sports topping the way to spend your winter getaway.
While everyone else layers up, Key West turns up the heat with an electric nightlife and eateries offering mouth-watering foods you can enjoy between museums, theaters, sunset sailing and art gallery escapes.
If you think you can't find the Christmas season in Key West, you're wrong. The Holly Jolly Holiday Trolley leaves from Mallory Square aboard the Old Town Trolley in pursuit of the best holiday light displays. The Conch Tour Train takes you around other parts of the island on the same mission.
There's also a holiday parade, a lighted boat parade, and a ghost tour to participate in. You won't be missing the holiday season in Key West.
» Check out this Half-Day Snorkeling Excursion.
8. New Orleans, Louisiana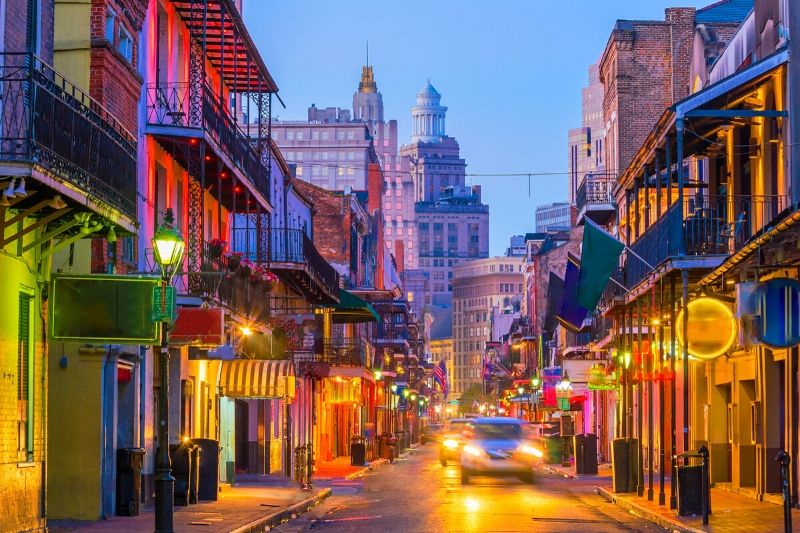 Mild conditions and everlasting charm make New Orleans one of the best winter vacations the USA has to offer. Layer up and stroll iconic Bourbon Street in the French Quarter, where bars and soothing jazz music are the biggest draws.
The Big Easy is perhaps most famous for its food and cocktails. You won't want to miss a steaming cup of café au lait and beignets at Cafe du Monde.
The city gets all dressed up for the holidays, with numerous concerts and light shows. You have to take a walk through The Roosevelt Hotel's entry hall to see the 60,000 lights on display. It's not the only hotel with fantastic Christmas decorations.
From Thanksgiving to New Year, City Park lights up with the Celebration of the Oaks display that's not to be missed. The parade festivities start in January, with the Mardi Gras festival a must-see in February.
» Check out this New Orleans City Tour: Katrina, Garden District, French Quarter & Cemetery
9. Washington, DC
If you're after Christmas Lights, there are fewer places better than Washington DC to see them. The highlight of the season here is the National Christmas Tree and Enchant Christmas, a stunning light maze offering dining, ice-skating, and more.
Outside the light displays, there are a lot of things to do in Washington, DC, including visits to the Smithsonian Museums, Monuments, the National Archives Museum, and a tour of the White House.
While it is quite cold in DC in winter, you can bundle up and watch the District's Holiday Boat Parade along the Potomac or head to the waterfront to make s'mores or sidle up to the bar in any of the high-end restaurants along the wharf.
» Check out this Washington DC Monuments by Moonlight Tour by Trolley
10. Sonoma County, California
If you're all about indulging in incredible cuisine and tasty reds, then you'll feel at home in Sonoma County, no matter what season it is. While winter is the off-season in the vineyards, the area still has wine and decadent dishes galore, from the dozens of wineries to the Michelin-starred restaurants and all the tasty food-and-drink pairing options.
Outside of the food, enjoy mild temperatures while exploring Sonoma's tranquil parks and the rugged coastline. The two historic downtowns of Sonoma and Healdsburg twinkle with lights and have a decidedly festive atmosphere for walking around. You can pop into wineries and do some shopping, as well.
Another great activity to do in Sonoma in winter is visiting the day spa. There's no better time to pamper yourself in the warmth and glow of spas like Kenwood Resort & Spa with its vinotherapy baths.
» Check out this Sonoma Valley Wine Trolley Including Lunch
11. Breckenridge, Colorado
When it comes to the best winter vacations with snow in the USA, it's hard to argue that Breckenridge isn't one of the best ones. The small city is a winter sports paradise with plenty of mountain ground to cover atop a ski or snowboard at various ski resorts.
Alternatively, indulge in crepes and craft beers while enjoying snow-capped mountain views after a day of snowshoeing and ice-skating.
12. Sedona, Arizona
Sedona is one of the best places to visit in winter in the USA if you don't want to stay cooped up indoors. This warm city gives visitors front-row seats to views of snow-capped red rocks with plenty of trails to hike through.
While many visitors avoid Arizona from late spring to late fall because of the tremendous heat, the winter is a great time to avoid the heat, go on hikes, and even go winter camping. And ATV tour through the canyons is also a stunner.
Admire the flora at the Sedona Desert Botanical Garden or stroll the lit-up downtown and its many shops, and take some time to peruse the Native American crafts and art at Kachina House.
» Check out this Half-day Sedona Sightseeing Tour
13. Park City, Utah
As a former host of the Winter Olympics, Park City has plenty of winter sporting opportunities to offer. White slopes and snowy meadows offer endless fun of skiing, snowboarding, snowshoeing, and bobsledding.
Afterward, stop by Historic Main Street, which is lined with restaurants, cafes, boutique stores, galleries, and bars to match.
14. Hayward, Wisconsin
Hayward, a small city in Wisconsin, is one of the best snow vacations in the US. The area is a winter wonderland boasting 600 miles to be snowmobiled, 200 miles you can cross-country ski on, and many more trails for snowshoeing, hiking, and fat-tire biking.
To see Hayward's charm, stroll Main Street, which is dotted with murals and eateries selling authentic Wisconsin cuisine like a fish fry.
Sip on hot chocolate during the hot chocolate crawl, take a sleigh ride, and watch a festive parade – all things you can do in Hayward during the festive season. There's the A Lure of Lights festival from late November through December, and the Start Your Engines parade with cars all decked out in lights.
15. San Antonio, Texas
Another warm winter destination, San Antonio is one of Texas' most touristy cities and has attractions open throughout the year. At the top is the River Walk, full of dining, cultural experiences, and shopping. During the holiday season, they drape 200,000 holiday lights from the buildings, trees, and bridges.
With mild temperatures, you can step outside and explore the Alamo, San Fernando Cathedral, and the riverside's architecture and street performers.
January is the coldest month of the year and average temperatures are around 63°, so you can get outside and do the things you can't do in summer for the heat.
» Check out this San Antonio Missions UNESCO World Heritage Sites Tour
16. Anchorage, Alaska
If you can handle a freezing winter in the US, head to exciting Anchorage in Alaska. The small town has activities like dog sledding, cross-country skiing, snowshoeing, awe-inspiring glaciers, and ice fishing at the ready.
The best part of a visit to Anchorage is seeing the jaw-dropping Northern Lights dance in the night sky. The entertainment scene here is as varied as the landscape, with bars, theaters, and eateries aplenty.
Whether you want to play in the snow, curl up next to the fireplace, or celebrate winter in classic Alaska form, Anchorage is the perfect winter destination.
» Check out this Wilderness, Wildlife, Glacier Experience, add upgrade to Portage Glacier Cruise
17. Hawaii
Hawaii offers the best US winter vacations if you're intent on replacing the seasonal blues with rays of sunshine and outdoor fun. The average daytime winter temperature is 78°.
Trek through rainforests, sunbathe on golden-sand beaches and see humpback whales in Kauai. There's the Electric Lights Parade and the Amy & Willie Holiday Show in December in Honolulu.
If surfing is your thing, then hop to Honolulu's Waikiki Beach to ride the waves and then enjoy delicious grub on the promenade. In Maui, the picturesque Road to Hana still awaits. Make sure to sample food from some of the local food trucks.
» Check out this Manta Ray Night Snorkel Kona, Big Island
18. Charleston, South Carolina
While colder than some of the other warm cities mentioned here, Charleston still offers palatable conditions during winter. In the off-season, you'll find the city's attractions open to visitors without the need to battle crowds.
Hop on a carriage tour to explore Charleston's historic district dotted with historic mansions, churches, and more. Christmas in Charleston is fantastic. There are a wide variety of family-oriented activities and events that capture the spirit of the season.
Shop the holiday market at Middleton Place or attend the Festival of Lights. In February, you should go to the Lowcountry Oyster Festival, the world's largest oyster festival.
» Check out Charleston's Alleys & Hidden Passages Guided Small-Group Walking Tour
19. Palm Springs, California
With pleasant weather during winter, Palm Springs is one of the best destinations in the USA if you don't want to let go of summer. The city makes up for its lack of beaches with golfing, horseback riding, fishing, and hiking.
The average high temperature in Palm Springs during the winter months is around the low to mid-70s, making it a desirable location for anyone escaping the cold at home.
During the Christmas season, the whole are is ablaze with lights and festive decorations. If you don't need a white Christmas, you can enjoy the lights without the cold. For the rest of winter, outdoor activities are the way to go.
» Check out this Joshua Tree National Park Offroad Tour
20. San Diego, California
Add beaches to your California winter getaway by going to San Diego. The stunning coastline has several beaches perfect for swimming, snorkeling, or just sunbathing — but beware the water's chilly.
Entertainment beckons with a December Nights event in Balboa Park, electric nightlife at Gaslamp Quarter, along with museums, galleries, and theme parks scattered everywhere. For a more thorough breakdown, check out our guide on the best things to do in San Diego.
» Check out this Skip the Line: USS Midway Museum Admission Ticket in San Diego
21. Nantucket, Massachusetts
Along with lively winter vacations, the USA also has something for people after a peaceful getaway. Nantucket fits the bill ever so well as it's a summertime destination that has little-to-no tourists in winter, perfect for tranquil holidays.
Despite its quietness, holiday cheer isn't completely lost as you can get lost in a forest of trees during the Festival of Trees. You can also enjoy ice skating at a rink or marvel at the snow-capped sand beaches.
22. Big Bend National Park, Texas
If you want to enjoy exploring a national park without really cold conditions, head to Big Bend National Park in Texas. Days are mild and clear, but nights do tend to drop to near-freezing temperatures.
Grassy meadows, bodies of water, towering mountains, and rock formations can all be seen with a plethora of hikes across various trails.
Final Thoughts on the Best Winter Vacations in the US
When it comes to winter destinations, the USA has many to offer, each with a diverse splendor. Whether you're looking for a place to spend Christmas in the US, escape the winter blues, or dive headfirst into winter sports, best believe there's a destination for you.
Like this post? Why not save it to Pinterest?
FOLLOW US on Pinterest, Instagram, Facebook for more great travel inspiration and tips.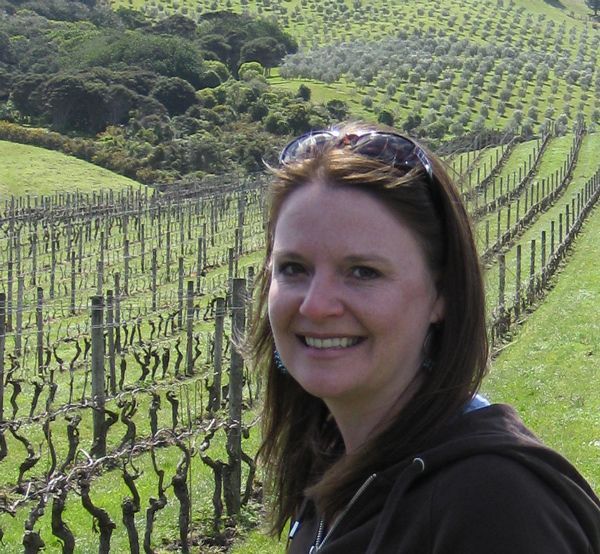 Laura Lynch, creator and writer of Savored Journeys, is an avid world traveler, certified wine expert, and international food specialist. She has written about travel and food for over 20 years and has visited 70+ countries.