This Discover Wine series focuses on regions of the world that you can visit for wine tasting.
If you want to go wine tasting in Bordeaux, we have all the information you'll need to put together a fun and informative self-guided wine tour in Bordeaux.
We know this area can be daunting to newbies, so we've not only put together a list of some of our favorite Chateaux in Bordeaux, we've also included a primer to help you understand the area, along with how to get there, how to get around, and where to stay.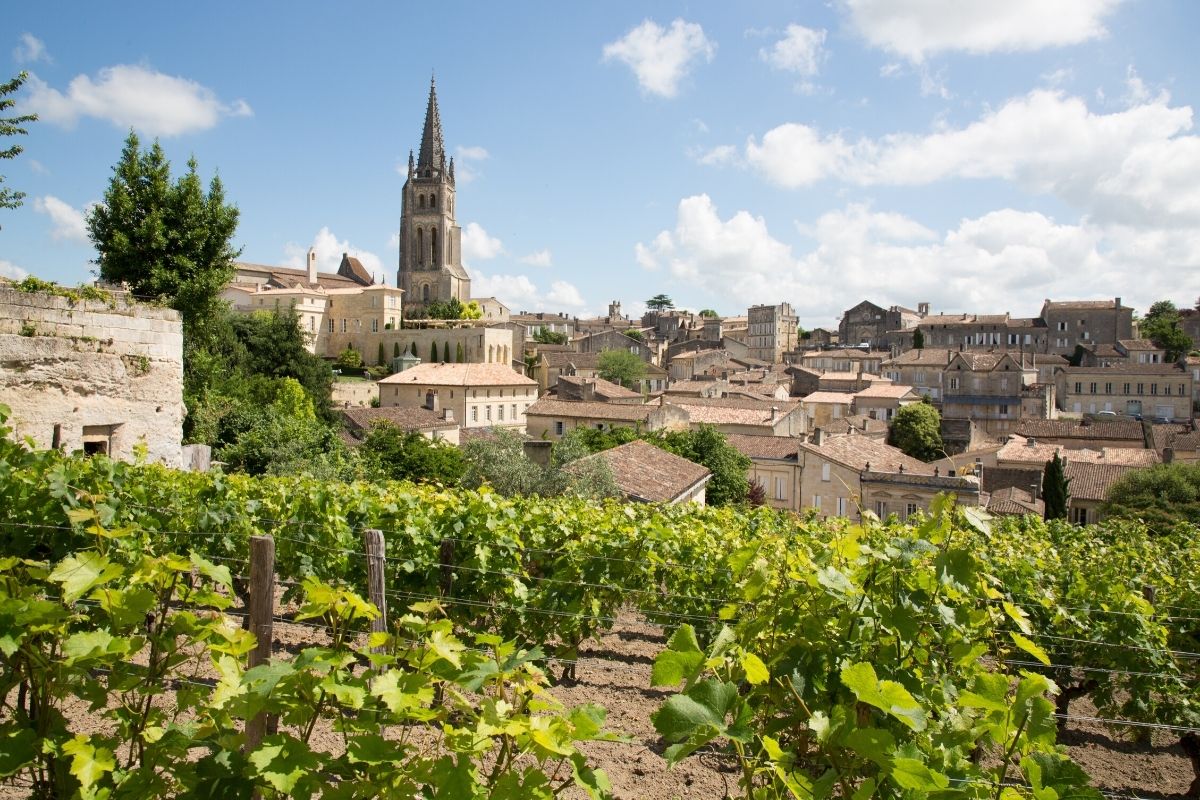 Bordeaux is a world-renown wine region with great popularity and highly acclaimed wine. There are many appellations with quirky differences that you'll want to discover for yourself by tasting the wines in the vineyard.
Somewhere along the way you might even learn what a first-growth verses fifth-growth is.
The predominant grape varietals in Bordeaux are Merlot and Cabernet Sauvignon, and each region uses it's own specific blend.
We've always found that traveling ourselves to a wine region is the best way to learn an incredibly amount about its wine and the industry in a short amount of time.
If you're just beginning to research a wine tasting trip to Bordeaux, you're in the right place. Let's go!
Self-Guided or Bordeaux Wine Tour
The first consideration you'll probably be making is whether you want to take a guided wine tour or do a self-guided tour. If you don't have a designated driver, or don't wish to spit the wine instead of drinking it, you will need to take a wine tour.
Group Tour
There are many to choose from. You can go on a group tour, which are plentiful, but often include up to 30 people and are on a pre-planned route that you can't decide on. Tours typically go to great wineries and there's a lot of information given – plus you don't have to take care of a single detail.
Below are two group tours we recommend:
Full day small-group Medoc wine tasting tour from Bordeaux – BOOK HERE
Small-Group Saint-Emilion and Pomerol Day Trip from Bordeaux – BOOK HERE
Arrange a Private Tour
If you don't want to build your own self-guided wine tour to the wine areas of Bordeaux, I suggest booking a private wine tour through B for Bordeaux, a wine tour company run by Berit Simonsen, who is very knowledgeable and works closely with the wineries to ensure your visit is great.
With this tour, the whole process is up to you. You can decide where to go yourself, or have Berit take care of all the details for you. You can book one day or 5 days – it's entirely up to you.
Here's a recent customer review: "We considered a few options for a day tour of the Medoc but chose Berit on the basis of her great communication, responsiveness, reasonable rate and her flexibility in meeting our requirements. Our expectations were fully met, even exceeded."
Check out the offerings here and be sure to tell her that Savored Journeys sent you.
Self-Guided Touring
I personally prefer to do self-guided touring when I visit wine regions because it gives me the greatest flexibility and I actually really like researching and choosing the wineries I want to go to.
While there is a little more work involved because you have to set up all the tours yourself, there are tools that will help make this super easy. The one I use is called Rue des Vignerons. It's a French website that makes booking wine appointments super easy.
The site has 450 wineries and distilleries, both family-owned and famous houses, that includes 1,500 bookable experiences, including tastings, tours, workshops, and meals. You can book online up to 30 minutes before and your appointment is confirmed instantly. This is the website I used to book all of my Bordeaux tasting appointments.
In our descriptions below, I will give you links directly to Rue des Vignerons for each winery so you can easily book it.
---
⇒ Spending more time in the Bordeaux area? Check out our one-week itinerary for Bordeaux.
Must-Visit Wineries for Wine Tasting in Bordeaux
As mentioned previously, the Bordeaux wine region is very large. It can be broken up into areas of popularity, for the sake of simplifying your wine tasting route. Be aware that tours and tastings at most of the chateaux is by appointment only. Don't count on showing up and there being someone available to welcome you.
It's best to begin this process around 2 weeks before arriving. I suggest making reservations through the Rue des Vignerons links I've included below, or contact the wineries individually.
Left Bank Wine Tasting
First, you have the Left Bank. In the left bank, the top appellations are Medoc, Haut Médoc, Saint-Estephe, Margaux, Saint Julien, Pauillac, and Pessac-Leognan.
Medoc might be the most popular of these, but definitely not the only place to do some great wine tasting on the Left Bank. Just don't expect to get in to all of – or any of, for that matter – the First-Growth Chateaux. Instead, try to visit the Chateaux that you already drink wine from.
If you're new to the world of Bordeaux wine, then I suggest you choose a spot on the map and find a cluster of Chateaux that are within easy distance of each other and just try something new!
Must-Visit Chateaux on the Left Bank
Be sure to make reservations well in advance of your visit and leave at least 2 hours for each visit.
Located on a hill at the highest point in the Saint-Estephe appellation, this is a family-run château that is one of the five Grands Crus Classés in this appellation. They offer wine tours and tastings by appointment only. You can book a tasting for 2 or 3 wines, or a traditional tour, or an experience tasting with their Primeur wine taken from the barrel, a vintage of their second wine "Pèlerins de Lafon-Rochet" and two other vintages. Contact j.pareau@lafon-rochet.com | Website
---
A highly regarded cellar, this 3rd Grand Cru Classé in Margaux hosts tours and tastings, as well as lunches and dinners in their grand castle location. The family has been involved in the production and trade of Bordeaux wines for 8 generations. An authentic, warm and intimate environment. You can book an interactive tour and tasting, a private tour, or a tasting with bread and cheese. Contact: mail@chateau-kirwan.com
---
The vast, elegant cellars here, adjoining the fortress, are still home to the wines of the estate and testify to an ancestral vine-growing tradition that has lasted for centuries. The vineyards are located in the southern part of Ludon Medoc. Contact accueil-visite-agassac@agassac.com to make an appointment.
This well-known chateau is owned by members of the Rothschild family and is highly regarded in Bordeaux. Visits are by appointment only from Monday to Friday during limited hours. Contact visites@lafite.com to request an appointment.
This is a Grand Cru Classé in 1855 Chateau with a really nice, modern visitor center that still retains the beauty and tradition of their interesting past. They do a large production, and you can see the entire process in their equally modern cellar. They have a few different types of tours, including a gourmet wine and food pairing. Contact info@prieure-lichine.fr for an appointment.
Where to Stay in the Left Bank
There are many chateaux on the Left Bank that have accommodations. You could choose to stay at one where you can also have a tour and tasting included. Here are two great choices:
★ Château La Tour Carnet: Find the best deal on Expedia. Compare prices and read reviews on TripAdvisor.
★ Château Ormes de Pez in St Estephe: Find the best deal on Expedia. Compare prices and read reviews on TripAdvisor.
Wine Tasting in Graves/Pessac Leognan
If you have some extra time in your schedule, another good place for wine tasting is Graves, Pessac Leognan appellation. This area has its own unique micro-climate and soil conditions which lead to it being suitable for both the production of Merlot and Cabernet Sauvignon, as well as white grape varietals.
For this reason, you'll find a more even balance of both of the major Bordeaux grapes in the wines of this appellation. They are also classified until a separate Classification.
Must-Visit Chateaux in Graves and Pessac Leognan
---
---
---
---
The chateau has been built up over the past decade to be one of high quality and reliability. It's a beautiful property with a five-star hotel and spa on the premises, as well as two restaurants.
Contact: visites@smith-haut-lafitte.com | Website
Where to Stay in Pessac
We chose not to stay in Graves, as we stopped by the chateaux we wanted to visit in between stays in Bordeaux city center and Saint-Emilion. But if you have time and want to stay a few nights in Graves, then we have one highly-recommended suggestion:
Chateau Pape Clement: Find the best deal on Expedia.com. Compare prices and read reviews on TripAdvisor.
Holiday Inn Bordeaux Sud – Pessac, an IHG Hotel: Find the best deal on Booking.com. Compare prices and read reviews on TripAdvisor.
Right Bank Wine Tasting
We love the town of Saint-Emilion and think it's the perfect place to do some wine tasting and to discover the beauty of Bordeaux. The Right Bank has a decidedly more relaxed, unpretentiousness that is welcoming to guests, even if you don't know much about wine.
If you base yourself in or near Saint-Emilion, you can easily get around to the biggest appellations on the Right Bank, which are Saint-Emilion and Pomerol. Of course there are other, smaller appellations too, but these are the main ones where the classifications of Saint-Emilion come from.
If you have a car, you can very easily drive yourself between the chateaux. The roads are very good and well marked. You can't miss seeing the chateaux dotting the landscape as you drive along. We even found that they are much close together than we imagined they'd be from the map. It often took us only 5 minutes to drive between the chateaux on our itinerary.
If you're scheduling your own itinerary, you'll want to leave about 1.5 hours for each tour/tasting and driving time. Any more than that might leave you wandering around trying to find something to do in between. We also suggest stopping for a long, leisurely lunch.
Must-Visit Chateaux on the Right Bank
---
This Chateau is a Grand Cru Classe in Saint-Emilion, with high quality wines and a really interesting cellar, designed by famous architect Jean Nouvel. Stay for lunch or have a nice relaxing dinner at the restaurant, Le Terrace Rouge, where you'll have a lovely view of the vineyards from their unique red stone terrace.
This is one of the only Chateau that we found where you can stop by the tasting room for a wine tasting (no tour) without an appointment. Make an appointment or restaurant reservation.
A Premier Cru Classe B in Saint Emilion, Chateau Troplong Mondot is located up on a hillside, with amazing views of the vineyard. They have a restaurant that is open for lunch and dinner, with some of the best views anywhere. You can also book a picnic or immersive experience. To make a booking, contact@chateau-troplong-mondot.com.
The beautiful new cellar of Chateau Faugeres, designed by Swiss architect Mario Botta, is a true sight to see, perched high up on a hillside surrounded by vines. You can tour the facility and taste the wine on a group or private tour. Open from May to September. Contact info@vignobles-silvio-denz.com to book an appointment.
A Grand Cru Classé de Saint-Emilion, Chateau Villamaurine is within walking distance of the town of Saint-Emilion and offers the chance to see the great underground caves where the limestone has been extracted. Visits are conducted every day of the week. Contact
Located in the Lussac Saint Emilion appellation, the Chateaux is owned by a famous cooper, Jean-Luc Sylvain. The grounds and chateau are incredibly beautiful. You'll want to stay in one of the few guestrooms they offer on site. Stop by for a tour of the grounds and a tasting of their various wines. Book your visit online.
This chateau is a small, family-run winery right in the heart of Saint-Emilion. It has been in the family for many generations. There is a really extensive and incredible underground cave cellar that you can tour, which ends in a wonderful tasting of their Grand Cru Classe wine. It is essential to make a reservation prior to visiting the cellar. Make a reservation online.
Where to Stay in Saint-Emilion
When in wine country, we prefer staying somewhere surrounded by vineyards in the countryside, rather than in the city center. Both of these options are available to you in Saint-Emilion.
★ Chateau Hotel & Spa Grand Barrail – If you want the countryside experience and have a car to get around with, you absolutely must stay here We had an incredible second-floor room with a balcony overlooking the main Chateau and it was just fantastic. If you can get this room (or similar) it will add greatly to your experience in Saint-Emilion.
Read reviews on TripAdvisor or book on Expedia
★ Hostellerie de Plaisance – If you don't have a car and would prefer to be able to walk to some of the chateaux from the city center, then this is a great choice for luxury located right in the city center.
Read reviews on TripAdvisor or book on Expedia.
How to Get to Bordeaux's Wine Regions
Bordeaux is an easy city to reach, as it is very well connected with the rest of Europe. It is just a few hours' train ride from Paris, making it an easy side trip. I'm not aware of any direct flights from the U.S. to Bordeaux, but there are a lot of connecting flight options (which is great news for anyone looking to take advantage of a free stopover in another major European city).
Once you've landed in Bordeaux, you can take a bus or the tram into the city center, or rent a car and drive to the countryside to visit the Chateaux. If your goal is wine tasting and going on Bordeaux vineyard tours, then a car is a necessity. Not that you can't get around by public transpiration, but it will take you so much longer.
Once you've decided on a wine region to visit, you can make appointments to visit the Chateaux, or you can find a guided Bordeaux wine tour (either a group or private tour). This is a good option if you don't like to drive yourself around, or if you're not good at sipping and spitting wine.
If you only have the option of public transportation and don't want to go on a guided tour, the easiest and best option is to visit Saint-Emilion. You can take the train directly from the center of Bordeaux to the center of Saint-Emilion. From there, you can walk to at least a dozen Chateaux.
Want to visit other great wine regions in Europe? Check out our full guide.
Learn More About the Bordeaux Wine Region
The first thing you need to know about the Bordeaux wine region is that it is split up into many different sub-regions, or appellations. There are over 290,000 acres of vineyards in the whole of Bordeaux, so it's enormous, to say the least. With over 7,000 different Chateaux in the region, it is both the largest and most important wine growing region in France.
Throughout Bordeaux, you'll find wines that are designated with their Bordeaux appellation on the label, as well as wines that do not have this designation. That is due to the fact that there are very strict rules governing the production and marketing of wines from this area.
In order to be labeled with the specific Bordeaux appellation, all aspects of the growing and vinification must take place within the appellation. That means the vineyards are located there, the work to create the wines is located there, and the Chateau itself is located there.
The wine must also be a blend of the grape varietals required for that appellation. For the Left Bank, that blend is heavy on the Cabernet Sauvignon, lighter on the Merlot. For the Right Bank, the blend is heavy on the Merlot, lighter on the Cabernet Sauvignon.
⇒ To learn more about Bordeaux Classifications and regulations, visit the Complete Guide to Bordeaux on The Wine Cellar Insider.
The blends are specified this way due to the nature of the soil in both of these areas. Merlot grows better in the limestone and clay soils found on the right bank, while Cabernet Sauvignon grows best in the gravel-predominant soil on the left bank.
You've probably already heard these territorial specification: Left Bank and Right Bank. They refer specifically to the area of land on the left and right of the River Gironde that flows through the center of Bordeaux.
On the Left Bank, you'll find perhaps the most famous of the Bordeaux appellations, Medoc. It is in Medoc that the first wine classification began, with the Official Classification of 1855. It was during this classification that the First-Growth Chateaux were recognized, and they have remained the same ever since.
Speaking of official classifications, there are currently four such classifications in Bordeaux. The 1855 classification, the Cru Bourgeois, Classifications of Graves, and Classifications of Saint-Emilion. They all have different specifications and rules.
While the 1855 classification in Medoc has not changed in all those years, the Classification of Saint-Emilion changes roughly every 10 years, giving a periodic chance for Chateaux to earn a spot in the coveted classification.
Conclusion
As you can see, visiting Bordeaux for wine can be very rewarding and educational, but it can also be really overwhelming to first-time visitors. Using the above information should help you iron out a good itinerary for visiting Bordeaux's wine regions. Then all that's left to do is get there and enjoy the wine! Let us know if there is anything we can do to help with your planning!
Pin it for later!