Did you know that California has many of the top wine regions in the United States? From Napa Valley to Temecula, there are some incredible food and wine options in California. What better way to get from one winery to another than in a luxury RV?
An RV gives you get all the comforts of home and the ability to hang out in your own space both for lunch breaks and at the end of the day. As long as you have somewhere to park, you can decide your day spontaneously.
We love fancy hotels, but sometimes you just want your own space, where you can cook your own meals, hang out inside whenever you want, and not have to worry about  packing and unpacking. That's the joy of renting an RV. You can even get one that's as nice as a resort suite for a fraction of the price.
How to Find a Luxury RV Rental in California
If you don't own an RV, that's OK—you can rent one online in a few simple steps. Just pick the rental company you want to rent from. Companies like Cruise America are located throughout California, so you won't have to return the RV in the same city where you picked it up.
This gives you a lot of flexibility to drive throughout the state without having to do a long drive back. If you go this route, you could hit up more than one of the wine regions listed in this post (which includes Temecula, Paso Robles, Sonoma, and Napa Valley.
We also like Outdoorsy because they have excellent customer service and you can easily search for a luxury RV. Outdoorsy is a listing of private RVs that you can rent directly from the owner. You will have to pick up and drop off at the same location.
To find the perfect RV on Outdoorsy, follow these steps:
Select the date range you plan on renting and the location you'd like to rent from.
In the Keyword filter, type "luxury" and set the Rating to 5-Stars (see screenshot below). You can also search based on price, vehicle type, specific amenities, and more. Feel free to play with the settings until you get something you like.
I personally like the Mercedes-Benz chassis. They often have the best interiors and run very well. The price is a bit higher per night, but it's worth it in the quality of the interior.
Click on a result to see more pictures, learn more about the RV owner, and read customer reviews (I always read the reviews before I rent anything). You can also check out our recommendations if you need some help.
Best California Wine Tours To Do In An RV
Below are four of our favorite California wine regions, where you can spend at least a few days going wine tasting, trying local cuisine, and enjoying the vineyards.
Go to just one, or combine them together in one trip with a Cruise America RV.
Sonoma Valley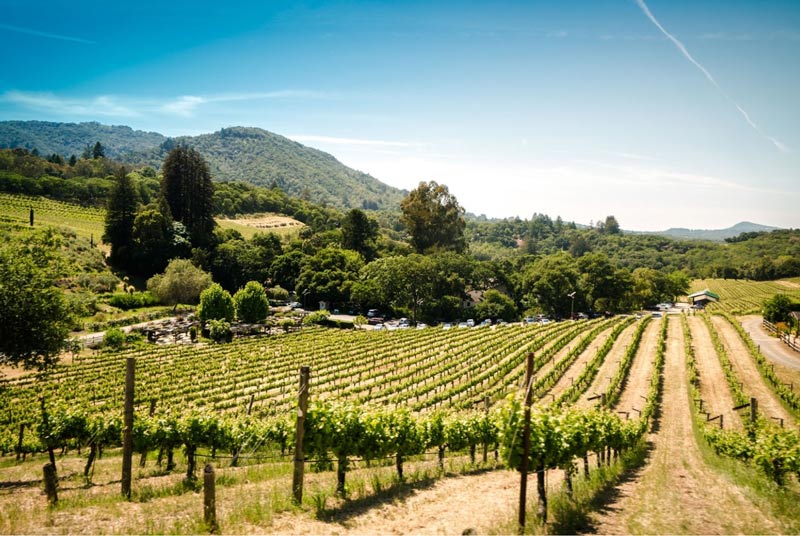 Sonoma is absolutely stunning and offers more wineries than you could ever imagine. For your tour of Sonoma, why not visit the wineries that offer free tastings? These wineries can be visited in any order you'd like and the only money you are spending is for gas!
Visit Adastra Wines if you want a real treat. They are well known for their Pinot Noir, but also offer Chardonnay, Syrah, and more.
Next up is Alexander Valley Vineyards. This winery is perfect for the self-proclaimed connoisseur or the complete beginner! They offer Zinfandels, Estate Wines, Cyprus, and others. All great selections!
Finally, wrap up your trip at Highway 12 Vineyards & Winery. They take true pride in the wine that they make and are knowledgeable in the different regions of their grapes. Their offerings include Cabernet Franc, Meritage, Zinfandel, and more.
Need more? Don't worry, there are many more wineries and vineyards in Sonoma that offer tastings. Check out Savored Journeys' guide to Sonoma and nearby Healdsburg wineries.
Ready to sleep off your buzz? Buckle down at Wine Country RV Park Sonoma.
Napa Valley's Up Valley
It's no secret that Napa Valley is considered THE wine country of California. With gorgeous views and vineyards for miles, Up Valley is a must see when taking your own luxury RV wine tour!
Begin your adventure at Castello di Amorosa. You can take a guided tour of the castle and taste your choice of five different Italian wines. They also offer a cheese and wine tour that I highly recommend. Nothing beats cheese and wine!
From there, continue your journey to Markham Vineyards. It's one of the first wineries that was founded in Napa Valley and has been going strong since 1874. This place really knows its stuff! For your tasting, they offer a large selection ranging from Merlot to Pinot Noir.
Wrap up your day at Franciscan Estate. It was founded in 1973 and started by making their own Cabernet Sauvignon. During your tasting, you can sample some of their popular choices like Sauvignon Blanc or Cabernet Sauvignon.
If you're hankering for more wineries, check out some of Savored Journeys' favorite Napa Valley wineries for more ideas!
When you're done for the day, set up camp at Bothe-Napa Valley State Park.
Carmel-by-the-Sea Wine Tasting
Carmel is a beautiful area, with beaches, vineyards, and lovely ocean views. The entire area around Central California coast is a sight to see. That's what makes traveling there in an RV so fantastic. You can set up in an RV park near the beach, then set out for day trips to Monterey and Carmel-by-the Sea.
Carmel-by-the-Sea is a small European-style village that is well loved and maintained by the community. They don't allow big-box stores or chain hotels, so wherever you choose to stay will be a locally owned inn. There are many adorable shops and restaurants to visit, in between tastings.
If you're in town for a wine tasting weekend, the best way to enjoy it all is by doing the Carmel Wine Walk by-the-Sea. The Wine Walk is made up of 13 tasting rooms that you can visit anytime, on a self-guided and self-paced basis. To participate in the walk, you buy a $100 passport, which provides you with a choice of 10 full flights at your choice of 13 tasting rooms. 
The passport never expires, so you can use it all at once, or save some for your next visit. We opted to share a passport, which meant we could split the 10 tastings or share a tasting at each winery. We did a little of both.
Park your RV for the night at the Carmel by the River RV park, just a few miles away.
Paso Robles
This wine region is known for its dark, full-bodied reds. Located along Central California's beautiful coast, Paso Robles is the largest AVA in California. With 26,000 acres of vineyards and over 200 wineries producing premium wines, Paso Robles has steadily became recognized as a world-class wine-growing area and no longer takes a backseat to Sonoma and Napa Valley.
With its ideal climate and rustic wine country charm, it's the perfect place to enjoy a weekend of wine tasting, particularly in the spring before it really starts to heat up. The area has a perfect climate for growing Zinfandel and other hearty red grapes, like Cabernet Sauvignon, Merlot, and Syrah.
There are a couple of distinct tasting areas. The historic downtown area has more than 15 tasting rooms surrounded by local eateries, delis, cheese shops and olive oil producers, and can be enjoyed on foot.
The westside wineries are scattered among the rolling hills to the west to town and area bit harder to get to, with winding, narrow roads leading to some. 
For a taste of award-winning 90+ point rated Zinfandels, plan stops at Turley Wine Cellars, Peachy Canyon Winery, J Dusi Wines and Adelaida Cellars.
If you're searching for views, drive along Adelaida Road, stopping at Lone Madrone, Adelaida Cellars, Tablas Creek, and Oso Libre before heading back to town, hitting up Summerwood Winery on the way. On the east side of town, plan to stop at Vina Robles, Robert Hall and EOS wineries.
You can park for the night at nearby Wine Country RV Resort.
Santa Barbara Wine Region
The Santa Barbara wine region spans 50 miles, so be prepared with a plan before setting out in the car for a day of tasting.
Check out the wine routes suggested by Santa Barbara Vintners. They include maps, wineries to stop at and will keep you within range of what's doable in a day. They currently feature 9 different wine trails in the region. Each route can take a full day or more to explore.
Our favorite Santa Barbara wine tasting areas are the downtown area's Urban Trail and the Foxen County wineries. These two areas tick all the boxes.
You'll get a feel for the town of Santa Barbara, where many of the top wineries have tasting rooms, and you'll get a chance to drive around the countryside and see the vineyards and wineries that are spread throughout the region to the northwest of Santa Barbara.
Downtown you'll find a collective of tasting rooms in an area called El Paseo. We stumbled upon this enclave and were delighted at the variety of wineries. This is where you'll find Happy Canyon, Jamie Slone and Grassini.
In the Funk Zone, you'll find tasting rooms like Riverbench and Santa Barbara Winery — both have some terrific Pinot Noirs to try — and The Valley Project, a modern tasting room with an incredible map of the region displayed on their back wall. It's a must for newbies to get the lay of the land.
You can park your RV for the night at the Santa Barbara Sunrise RV park.
Temecula De Portola Wine Trail
Temecula's De Portola Wine Trail is off the beaten path, about . Located in the more rural, equestrian side of the Temecula Valley, this route contains quite a few amazing wineries that you must visit. I picked this particular stretch of wineries because one of my favorites is actually located here.
You can follow the order that I have laid out, or make your own way. That's the beauty of doing your own wine tour in a luxury RV!
Start your journey at the Cougar Vineyard & Winery. It's family owned and operated which mean that they truly care about their wine. They specialize in 100% Estate Italian varietals. Here, you can taste Primitivo, Pinot Grigio, and The Full Monte (pulciano).
From there, travel down the road to Danza del Sol Winery. It's an Italian-countryside inspired winery that is both dog and horse friendly. You can enjoy Chardonnay Reserve, Viognier, Tres Rose, Tempranillo, and Merlot inside or on the gorgeous patio.
My personal favorite—Fazeli Cellars—is next. From just about anywhere, you can see a spectacular view of the valley. It was started in 2001 by the Fazeli family and has been going strong ever since. Their tasting offerings are Hafez, Saadi, and grape Shiraz. The Shiraz is to die for!
Want to have a multi-day adventure? Consider visiting Frangipani Estate Winery, Leoness Cellars, Masia de la Vinya, Oak Mountain Winery, and Robert Renzoni Vineyards & Winery for more great wine.
All of these wineries offer plenty of parking room, and when you are ready to wrap up your day consider staying at the Pala Casino RV Resort. It's a short drive away from the De Portola Trail.
Parting Advice On Luxury RV Wine Tours
When renting an RV, make sure you get one you can either drive (aka a motorhome) or that you have the capability to pull. When in doubt, get a driveable one.
Look out for RV listings that say things like "Drop-off/setup only", as they expect you to stay in one place and they drop it off at the campsite for you. You're not allowed to take it anywhere. Only some of the available rentals are like this, and it's pretty obvious which ones are, but I just wanted you to be aware of it!
Finally, I recommend getting Damage Protection on your rental. It only takes one knocked over wine glass to stain the carpet and cost you a few hundred dollars (or more)! It's usually an additional 6.5% on your rental, but I think it's worth it just in case.
Enjoy your wine tours, and leave a comment which winery you loved the most!
ABOUT THE AUTHOR
Kayla Widmer is a former full-time RVer and travel lover. Together with her husband Bill, they share their RVing tips at The Wandering RV.
Pin it for later