Wouldn't you love to just sit back and have a completely relaxing vacation, where someone else takes care of the details. You just get on board and have a great time. You eat amazing French food, you drink amazing wine, you go on amazing excursions, and it is all planned by someone else. That's exactly what it's like when you go canal cruising in France aboard a luxury barge.
Sound refreshing? Believe me, it is. If you're the type of traveler who wants to have a fantastic time, meet some new people, and see inspired places, but don't want to do all the legwork yourself, then a canal cruise is exactly what you're looking for.
There are many opportunities for European canal cruises with companies like European Waterways. One of the most popular canals to cruise along in France is called the Canal du Midi, but there are many others like Burgundy, Bordeaux, Alsace and Loire Valley.
Outside of France, you can see Germany & Luxembourg, Belgium, Italy, Ireland or Scotland. The possibilities are endless. You'd never know there were so many canals in Europe! You don't have to know anything about cruising, or ever have even been on a cruise ship before to enjoy canal cruising.
Canal Cruising in France
If you like the water, you'll love a floating holiday aboard a luxury barge. On a luxury barge cruise, not only can you unpack once and then travel around the region in complete style and luxury, you also get to see beautiful scenery all along the way. It's the best of all world, rolled into one trip.
We went on a canal cruise through the canals near Burgundy, France, on board the beautiful Finesse barge. All we knew when we boarded the barge was that we were in for a relaxing and quiet week, filled with gastronomic experiences.
I was sold on the concept from the second I stepped aboard and was handed a glass of Champagne by one of the charming and friendly hosts. It just got better from there.
We were never more than a few hours away from a gourmet meal prepared by the barge's expert chef, another glass of delicious Burgundy wine, or a long walk along the meandering canal as the barge made its way along beside us.
To my relief, the Finesse canal barge was not a rundown piece of scrap metal, as one might expect from watching barges carry cargo down the river. This barge was 100% luxury.
Complete with a large umbrella'ed dining table on the front deck from which to enjoy a long lunch, and a gorgeous hot tub from which to watch the stars at night after a thoroughly enjoyable 4-course master-chef created meal.
Before I get carried away, I should probably explain exactly what a barge cruise in Europe looks like. They aren't just in France (also in Italy, Scotland, Ireland, Holland, etc) and there are many different canals snaking all throughout Europe that they cruise along.
A canal cruise is similar to those big river cruises you see everywhere, but they're actually smaller, more intimate, and more exclusive. Instead of 100+ passengers, a barge hotel typically carries between 4-12 passengers. Let me share with you the facts about a canal barge cruise.
See for yourself if this is something you might be able to get onboard with (pun intended). A six-night barge cruise includes:
All gourmet meals – at least 3 courses for lunch, 4 courses for dinner, with a cheese course and dessert (see below for more information about the amazing food).
Professionally chosen regional wines at each meal that are specifically paired with your meal (see below for more information about the incredible wines).
A fully inclusive open bar. Fancy an appertivo or digestivo, or a mimosa with breakfast? All included.
Bicycles to explore the towpaths. There is plenty of time to walk or ride alongside the boat on the flat, paved paths.
A sundeck to laze on, with sunchairs and loungers, plus a spa or pool to relax in when it's hot outside.
Daily escorted excursions to wineries, castles, markets and charming French towns. We even got to see a wine harvest taking place right in front of our eyes (see below for more information about the excursions).
A few hours' or relaxing, slow cruising each day through the lush countryside. Plus experience the excitement of transferring through multiple locks along the way.
All local transfers are taken care of for you, so you'll be whisked to and from the boat without having to book a ride
Living onboard a luxury hotel barge is really not unlike having a room in a luxury hotel, except that it feels more like home. One of the best parts about hotel barging is that you can unpack your suitcase one time and not have to pack up until the end. But all throughout the week you're moving around from place to place, seeing new things and watching the countryside pass by as you float along.
Although the configuration is different on every barge, on the Finesse there were four large staterooms to accommodate a total of 8 guests. I was expecting somewhat cramped quarters. It's a large boat, but how large can the rooms really be? I was actually really surprised, and I'm sure you will be too. The rooms are 265 sq ft. We live in central London — our cabin on the Finesse was bigger than our room (and bathroom) at home.
The room has a queen size bed that I believe can be turned into two twins, if required. There's a large dresser so you can unpack, plus a vanity and seat to get ready in the morning. The bathroom is also quite large, with a double sink and a full-size shower stall.
Have you ever eaten lunch and dinner at a Michelin-star restaurant every day for 6 days? Well, prepare yourself, because that's exactly what you'll be doing on a luxury barge cruise. When board the Finesse, we were introduced to our chef, Mike. From the very first bite of the canapes he created for our welcome, we knew we were in for a real treat.
Mike fed us so well, we were near tears when we had to leave the boat and go back to cooking for ourselves. He made some of the best food I've ever eaten. He is a master at sous vide cooking, he created the most velvety carrot and cauliflower purees, he delighted our eyes with perfect tarts and souffles. It was masterful, delightful, stunning.
Chef Mike's Gourmet Meals
Check out this video for mouthwatering photos of Mike, the Barge Chef's, delicious food. We ate all but one meal onboard and couldn't wait to see what he served us next.
Professionally Chosen Wine List
Southern Burgundy Wines
The Finesse cruises through the canals in southern Burgundy, along the wine regions of Côte de Nuits, Beaune, and Chalonnaise. Burgundy wines are made entirely from Chardonnay and Pinot Noir grapes.
I was worried that the variety of wine served on board might be repetitious because of that, but the selected wines were all quite different. Each of the wines paired nicely with the food that was being served, from light and crisp Chardonnays, right through to full-bodied, jammy Pinot Noirs (or, at least, as jammy as Pinots can get).
daily escorted excursions
Each day, there is an escorted excursion from where the hotel barge is moored. On the Finesse, which south along the Saone River and the Canal du Centre in southern Burgundy, the excursions take you to beautiful sights among the vineyards and in the charming town of Beaune.
The best part is that you don't have to worry about a thing. The trip is planned for you, the van is there to transport you, you always spend just the right amount of time off the boat, and none of the excursions are too strenuous.
We also loved that our tour guide, Arnault, was on the boat with us. He doubled as the deck hand, helping the captain through the numerous locks, and as our driver.
He was highly knowledgeable in the area, and was especially great at explaining the wine regions and helping us understand where we were in the vineyards at all times.
Château de Germolles
We visited a 14th-century chateau, a former residence of the Dukes of Burgundy. The chateau is currently being lovingly restored by the owners and their live-in managers. We walked through the house, admiring the historical details, and learning about its restoration.
Château du Clos de Vougeot
In the 12th century, monks from the Cistercian Abbey grew vines at Château du Clos de Vougeot. A wall still remains to define the prestigious appellation. We learned about the Confrérie des Chevaliers du Tastevin (Brotherhood of the Knights of the Tastevin), and looked around the property.
Château de Chamirey
Located in a very beautiful vineyard in the town of Mercurey is Chateau de Chamirey. Our excursion here was for a wine tasting of their Les Ruelles and La Mission wines. They also have what looks like a very nice restaurant where you can have a wine-paired lunch, though we weren't able to stay.
Beaune
The town of Beaune is the centerpiece of the Burgundy wine region. There are many things to do there, which we took advantage of. We visited the Hospices de Beaune, where poor patients used to be care for, we visited the farmer's market, and picked up some tasty cheese for later.
Slow cruising - onboard activities
Along the Canal du Centre, there are many locks that the barge must go through to rise up to the level of the canal. Turns out it's quite mesmerizing to watch the captain thread the barge into the tiny lock and then rise up several meters before being released again.
Walking & Biking
Because of the abundance of locks the boat must go through, there are some places you can hop off the boat and walk or bike along the canal. Then just hop back on at the next lock, or a few locks later.
Cooking Lessons
There is time while cruising to learn a few things in the kitchen from the chef. You can even request a specific cooking lesson, if you want. Mike taught us how to make the perfect cheese souffle.
Reading & Relaxing
As we didn't spend more than 4 hours a day cruising, it was just about the perfect amount of time to read,
take a nap, talk with the crew and enjoy the scenery. We played a few games, read, and soaked up the sun.
Professional, Friendly crew
One of the absolutely best parts of taking a barge cruise for us was the crew and the other passengers. There were 5 crew members, each with their own distinct job, and they are all really fun to talk to. Each of them made the week special in their own way.
I think most people who join an 8-person canal cruise, without knowing who the other guests are in advance, are a bit nervous about who they'll get. We were convinced we'd be on the boat with a family of 6, with 4 young children, who didn't speak English. That would maybe be the worst case scenario for us.
I spent way too much time worrying about it. Because once we got onboard, we were so pleased to meet our barge mates. They were a couple from Australia that we had wonderful conversations with every day at lunch and dinner, and enjoyed touring around with during the day.
My thoughts on other passengers is that the most likely scenario is not the worst, but the best. They are very likely to be just like you, because like-minded people are choosing to go on a luxury, all-inclusive barge cruise in France.
How to book a luxury barge cruise
We booked our barge cruise through European Waterways, one of the premier companies for barge cruising in Europe. They offer a large array of different style boats, and they cruise through 16 different canals, including the popular Canal du Midi, in France, and the Canal du Centre (which we were on), in Scotland, Holland, Italy and Ireland.
They have a fleet of 18 different barges. I trust them to be 100% professional and to provide the kind of vacation you're looking for.
To book a canal cruise with European Waterways, visit their website and check out their various cruise options. I spent quite a bit of time on the site, looking at the boats and the canals in France, before I chose the Finesse. Each boat is different, and each area offers different highlights.
Once you've chosen a specific cruise, you can check availability for the week you want on the website here.
Canal cruises go from Sunday to Saturday. You can either book the entire boat for yourself and your friends/family, or you can just book a few spots and cruise with strangers. Don't worry, they won't be strangers for long!
European Waterways canal cruises start at around $4,500. The cruising season is from March through October.
Prices for a 6-night cruise aboard the hotel barge Finesse are from $6,750 USD /pp (£4,490) , in a twin/double cabin, including all meals, wines, an open bar, excursions and local transfers.
You can also call European Waterways toll free from the USA to book a cruise or talk to a specialist at 1-877-879-8808 (from the UK: +44 (0) 1753 598555).
Website: europeanwaterways.com
CONCLUSION
Now that you've seen how amazing a canal barge cruise can be, I'm sure you're already planning yours in your head. I cannot recommend this experience enough. We had a fantastic time and we came home fully relaxed and refreshed.
If you have any questions about barge cruising, feel free to send us an email. We're happy to help you make a decision.
(A big thank you to the Finesse, it's crew and European Waterways for helping to make this experience a wonderful one. As always, all thoughts and opinions expressed in this post are my own honest reflection on our travel experiences.)
Pin it for later!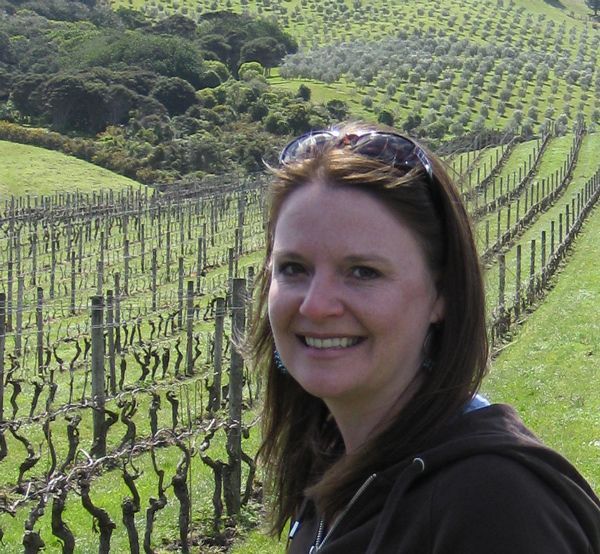 Laura Lynch, creator and writer of Savored Journeys, is an avid world traveler, certified wine expert, and international food specialist. She has written about travel and food for over 20 years and has visited 70+ countries.