Ireland's historical castles, beautiful landscapes, and friendly people make it a true Emerald Isle that everyone should visit at least once. I've personally been to Ireland over a dozen times and I can't get enough of it.
As you've probably travel day-dreamed about already, Ireland has some of the most breathtaking castles that are open to the public as hotels, so you can feel like royalty for a night or two. At each of these castles to stay at in Ireland you can expect luxury accommodation, impeccable service, and gorgeous grounds.
If you've ever fancied staying in a palace while exploring Ireland, you really need to check out these places and add them to your Ireland itinerary.
Planning your trip to Ireland?
Best Tours and Experiences in Ireland:
Planning Your Ireland Vacation
Many of the country's most beautiful sights, like the Cliffs of Moher, the Ring of Kerry, or the Dingle Peninsula, are in rural areas. Public transportation can be sparse in these areas, so consider renting a car. However, remember that driving is on the left in Ireland! I recommend booking through DiscoverCars.com to get the best rate.
Most travelers spend about a week in Ireland. If you have more than 7 days to spend, you'll be rewarded with the ability to spend more time in each destination, so the route will feel more relaxed, and you'll have time for more activities.
Ireland can be quite wet and cold, particularly in the winter months (October to February). However, summer and autumn can be pleasantly warm. Spring, particularly May, is one of the best times to visit. Each season offers different experiences, so consider what you want to do and see in Ireland before you plan your visit.
Best Castle Hotels in Ireland
If you've ever wanted to live out your very own fairy tale, booking a room in one of these Irish castles for the night might just be the experience you're looking for. From simple luxury vacations to glorious wedding venues, these castles are ideal. Many of them have won awards, proving just how spectacular they are.
Book in for a weekend – or a week – and relish in graceful rooms with period furniture, large and lavish dining rooms, and astonishing outdoor spaces for strolls and picnics. In no particular order, here are some of the top choices for castle accommodation on the Emerald Isle.
Ashford Castle
Location: Ashford Castle Dr, Leaf Island, Cong, Co. Galway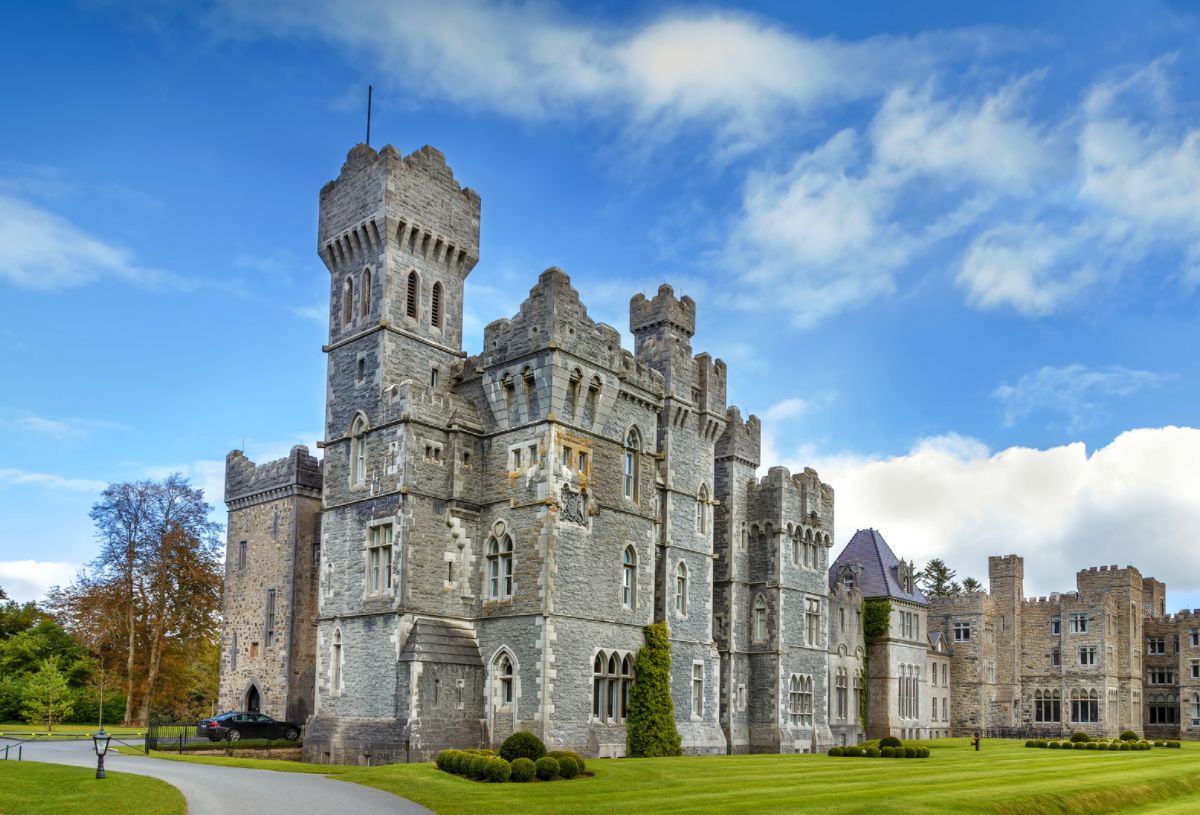 This real-life Victorian palace is one of the most popular 5-star castle hotels Ireland has to offer. There are 83 separate spaces to sleep here, ranging from a simple yet luxurious Corrib room to a splendid Presidential Suite. And then there is the Hideaway Cottage which provides a more intimate space on the banks of the Lough Corrib.
The 800-year-old castle also boasts a spa and wellness center, seven restaurants, and three bars. Plus, there are a number of activities to enjoy on the grounds of the castle, including clay shooting, golf, and fishing.
---
Dromoland Castle
​​Location: Dromoland, Newmarket on Fergus, Co. Clare
Once home to the direct descendants of Irish King Brian Boru, this castle in Ireland has kept all of its regalness and combined it with luxury hospitality. The castle hosts several events and festivals in the spring and summer seasons, and it's completely child-friendly too.
You can't go wrong with any of the castle's rooms on offer, whether you choose a classic, courtyard, deluxe, or executive deluxe room. There are also staterooms and suites for those looking for the ultimate luxury stay.
The castle offers guests a wide variety of dining options, ranging from a table at one of the on-site restaurants to a packed picnic lunch. In-room service is also available for those not wanting to leave their cozy quarters.
---
Ballynahinch Castle
Location: Recess, Connemara, Recess, Co. Galway
Ballynahinch Castle, located along the Wild Atlantic Way, gives visitors the chance to experience life in an 18th-century castle while still offering 4-star modern luxury accommodation. The castle sits on a 700-acre estate of woodland and provides one of the most tranquil settings you'll find in the area.
Guests can choose their rooms based on availability, budget, and desire. There are classic, superior, and luxury rooms, ranging in size and offering views of either the river, Ben Lettery mountains, or the stunning gardens.
If you are looking for more space or a bit more independence and privacy, the six-bedroom Owenmore Cottage and five-bedroom Lettery Lodge are self-catering spaces for large groups. These still come with impeccable service and gorgeous castle ground surroundings.
---
Lough Eske Castle Hotel
Location: Lough Eske, Co. Donegal
Closely linked to the founding fathers of Donegal, the O'Donnells, this castle is steeped in history and heritage. Lough Eske's location is perfect for those in the mood to discover Donegal during the day and sleep like a king (or queen) by night.
The hotel has 97 rooms and suites in a range of styles. Some of these are found in the original part of the castle, while the courtyard rooms and garden suites have direct access to the castle grounds.
For a truly intimate experience, the two-story Lake Lodge is separated from the castle, with views out on the lake, but provides the same comfort and luxury as the rooms.
Guests have access to free bike hire to explore the surrounding area, and the on-site spa will be waiting to pamper you afterward. There is also fishing on the lake and history tours of the castle itself.
---
Ballyseede Castle
Location: Tralee, Ballyseede, Tralee, Co. Kerry
This is the only castle hotel in County Kerry, which makes it special already. But even when compared to all of the other castle stays in Ireland, Ballyseede has its own appeal. The castle is owned and run by Marnie and Rory O'Sullivan and their Irish wolfhound, Molly.
When the O'Sullivans took the hotel over in 2005, they extended the castle (carefully preserving the building's heritage), and it now offers 45 magnificent rooms. Each of these is luxurious in its own way, with many offering stunning views of the manicured gardens, four-poster beds, and elegant en-suite bathrooms.
Each meal at this castle is an occasion, but the Afternoon Tea is especially enjoyable, so if you've booked a stay, be sure to make it back to the hotel in time for this.
---
Cabra Castle Hotel
Location: Carrickmacross Rd, Mullantra, Kingscourt, Co. Cavan
Definitely one of the most romantic castles of Ireland, Cabra Castle is a popular wedding venue in County Cavan. The 4-star castle hotel has 105 bedrooms in total, ranging from clean, budget-friendly Cottage Rooms all the way up to medieval-style Castle Rooms and artisan-style Courtyard Rooms.
With its backdrop of the Dún a Rí Forest Park and 100 acres of land, Cabra Castle offers guests plenty of fresh Irish air to enjoy. While inside, the period furnishing and cozy atmosphere create a welcoming space for all.
The castle has the Derby Bar, which serves light meals all day, either in the Drawing Room or on the Terrace. But The Courtroom Restaurant is where you can indulge in a dinner fit for royalty. It's also the best place to have a traditional Irish Sunday lunch.
---
Kilkea Castle
Location: Castle View, Kilkea Demesne, Castledermot, Co. Kildare
The 12th-century Kilkea Castle is an important landmark in Ireland's history, and it's found just an hour away from Dublin. The castle's history dates back all the way to 1180, but today the impressive grounds have been turned into a regal resort.
This 180-acre property boasts 140 bedrooms in total, with options to suit everyone. There are 11 bedrooms within the castle itself, as well as a number of carriage rooms in the courtyard. Then just a short distance from the castle are the self-catering lodges, coming in one-, two-, or three-bedroom options.
The resort estate also has a spa, tennis courts, conference center, clubhouse, bar, and two restaurants. And even with the multiple eateries available, in-room dining is still a luxury offer to all guests.
---
Lismore Castle
Lismore, Co. Waterford
What's better than booking into an Irish castle hotel? Having the entire castle to yourself, of course!
Lismore Castle is available for exclusive hires only, meaning you and a party of between eight and 27 people can 'move in' to the castle for your stay. There are 15 bedrooms to accommodate guests, each as comfortable and lavish as the next.
The castle also has a library, playroom for the kids, drawing-room, grand hall, and two sitting rooms. There is a kitchen where the staff will prepare your meals and serve you in the dining room or the banqueting hall. The experience is completely tailored to you and your special occasion, making it even more magical.
---
Wilton Castle
Location: Wilton, Enniscorthy, Co. Wexford
Slightly different from the other castles in Ireland on this list, Wilton Castle offers a more self-catering vacation experience. The 19th-century castle is split up into four suites – each named after one of the four families that once occupied the castle. The suites all have fully equipped kitchens, living rooms, and bedrooms.
This allows guests their own space while still offering attentive staff and help where needed. There is a bed and breakfast option, or you can go fully self-catering and cook up a storm in your suite kitchen.
Wilton is a great place to bring family reunions, birthday parties, and -of course – weddings. The entire seven-bedroom castle can be rented out just for you and your group. The castle is a short distance from Wexford, which promises plenty of activities and fun to keep you occupied while here.
Wherever you are based on your trip to Ireland, you'll most likely find a grand palace ready and waiting to welcome you into its luxury rooms. While hotels and B&Bs in the country can be just as luxurious and comfortable, Irish castle hotels offer a unique experience.
These hotels are perfect for a romantic getaway, a family vacation, or even a solo trip. Elegant bedrooms, lavish living rooms, and vast grounds to explore are all things you can look forward to when arriving at your Ireland castle hotel.
Frequently Asked Questions
Are there any castles to stay in Ireland?
Some of the notable castles where you can stay in Ireland include Ashford Castle, Dromoland Castle, Ballynahinch Castle, Lough Eske Castle Hotel, Ballyseede Castle, Cabra Castle Hotel, Kilkea Castle, Lismore Castle, and Wilton Castle.
Can you stay in a castle overnight in Ireland?
Yes, you can stay in a castle overnight in Ireland. Many historic castles in Ireland have been converted into hotels, guesthouses, or luxury accommodations, offering visitors a chance to experience a taste of history and indulge in a unique stay. These castle hotels provide various modern amenities while retaining the charm and grandeur of their historic architecture.
What castle can you stay in Ireland and feel like royalty?
Ashford Castle is one of the castles in Ireland where you can truly feel like royalty. Located in County Mayo, Ashford Castle is renowned for providing its guests with a luxurious and opulent experience. It is often considered one of the most luxurious castle hotels in Ireland and the world.
Top Tips for Travel in Ireland
Pack appropriately: Regardless of the season, it's a good idea to pack layers and rain-proof items because the weather can be quite unpredictable. Even in summer, it can get quite cool especially in the evenings.
Take your time: The beauty of Ireland is in its landscapes and charming small towns. Don't rush from one place to the next. Allow yourself time to take in the sights, have a chat with the locals, and enjoy a leisurely meal or a pint in a pub.
Explore beyond Dublin: While Dublin has much to offer, there's much more to see. Galway is a lively, artsy city on the west coast, and Cork is known for its food scene. The small towns and countryside are full of charm and history, so make sure you get out and explore.
Visit a traditional pub: No trip to Ireland would be complete without a visit to a traditional pub. Many pubs offer live music, particularly in the evenings. Don't miss out on the opportunity to try a Guinness here – it's said to taste better in its homeland.
Learn some local history: Ireland has a long and complex history, from ancient Celtic times through to its struggle for independence from Britain in the 20th century. The more you know about this history, the more you'll get out of your visit.
Try the local food: Irish food is hearty and delicious. Don't miss out on traditional dishes like Irish stew, soda bread, black and white pudding, or a full Irish breakfast.
Respect the environment: Ireland is known for its beautiful, unspoiled landscapes. Please follow all local guidelines and make sure to leave no trace.
Bring a good guidebook or use a reliable app: While it's great to explore, it's also helpful to have some trusted guidance. A good guidebook or app can give you history, context, and the most current information about hours, prices, etc.
Like this post? Why not save it to Pinterest?
FOLLOW US on Pinterest, Instagram, Facebook for more great travel inspiration and tips.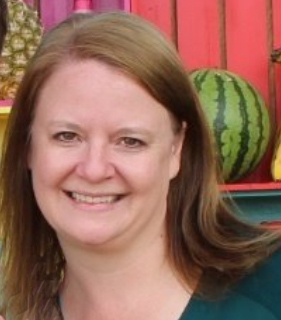 Laura Lynch, creator and writer of Savored Journeys, is an avid world traveler, certified wine expert, and international food specialist. She has written about travel and food for over 20 years and has visited over 75 countries. Her work has been published in numerous guidebooks, websites, and magazines.