Reims, a city in northeastern France, is known for its Champagne houses. Visitors from all over the world come to Reims to experience the Champagne region and learn about the history and production of Champagne.
In fact, there are over 250 km of cellars and Gallo-Roman galleries in Reims, and many Champagne houses open their doors to visitors for tours and tastings.
When planning a visit to Reims, it is important to research the Champagne houses in advance to ensure you can visit the ones you want to see like Veuve Clicquot, Taittinger, Pommery, and Ruinart.
Each Champagne house offers unique tours and tastings, so you'll want to do some research to find the best ones for you. We've been to all of these houses and have offered our thoughts and recommendations below.
Planning your trip to Reims?
Where to Stay in Reims:
Best Tours and Experiences in Rome:
Small Group Full Day Tour – Visit 3 Champagne houses, where you'll try a variety of champagnes. There's also an included three-course lunch. (8 hours)
Private Full Day Tour – Visit 3 Champagne houses, visit Hautvillers where Dom Perignon created Champagne, and have a 3-course restaurant lunch. (8 hours, 2 people minimum)
How to Visit Reims
Visiting Champagne houses in Reims is not only a great way to learn about the history and production of Champagne, but it is also an opportunity to explore the city and its surroundings. The Saint Remi area of Reims is home to many Champagne houses and is a 30-minute walk from the city center.
Visitors can also take guided tours of Reims, go on excursions in the vineyard of Champagne, and discover the UNESCO heritage of the region. With so much to see and do, a visit to Reims is a must for Champagne lovers and history buffs alike.
Self-Guided Tour
I usually prefer to do self-guided touring when I visit wine regions because it gives me the greatest flexibility and I actually really like researching and choosing the wineries I want to go to.
While there is a little more work involved because you have to set up all the tours yourself, there are tools that will help make this super easy. The one I use is called Rue des Vignerons. It's a French website that makes booking wine appointments super easy.
You can book online up to 30 minutes before and your appointment is confirmed instantly. This is the website I used to book all of my Champagne tasting appointments.
In our descriptions below, I will give you links directly to Rue des Vignerons for each winery so you can easily book it.
---
Group/Private Tour
There are many group and private tours to choose from. You can go on a group tour, which are plentiful, often including up to 10 people and are on a pre-planned route so you don't have to take care of a single detail.
Below are two group tours and a private tour we recommend:
Small Group Full Day Tour – Visit 3 Champagne houses, where you'll try a variety of Champagnes. There's also an included three-course lunch along the way. (8 hours)
Private Full Day Tour – Visit 3 Champagne houses, visit Hautvillers where Dom Perignon created Champagne, and have a 3-course restaurant lunch. (8 hours, 2 people minimum)
Getting to Reims
Reims is a beautiful city located in the Champagne region of France. It is known for its stunning architecture, rich history, and of course, its champagne houses. If you are planning a trip to Reims to visit some of the famous champagne houses, there are a few ways to get there.
By Train
One of the easiest ways to get to Reims is by train. Trains leave Paris Est station regularly throughout the day, taking approximately 45 minutes to reach Reims via the high-speed TGV. This is a great option for those who are already in Paris and want to take a day trip to Reims.
By Car
If you prefer to drive, you can take the A4/E50 directly to Reims from Paris, which is approximately 143 km or 89 miles.
It is important to note that parking in Reims can be difficult, so it is recommended to park outside the city center and walk or take public transportation to your destination.
Champagne Houses to Visit in Reims
Located within a 5-minute drive of Veuve Clicquot and Taitttinger is G.H. Martel & Co. This Champagne house offers wine tasting and tours to their medieval chalk caves, which were dug between the 4th and 15th centuries, at a depth of 22 meters.
Along the tour, they have a collection of winemaking tools and machinery to see. The tour also includes a film of the Champagne house and winemaking process and an eco museum.
If you don't have the time for a full tour, you can stop into the wine shop for a tasting at any time. There are a few Champagne flights to choose from ranging from 12-20€.
Location: 17 rue des Creneaux, 51100, Reims, France
Hours: Daily 10am-1pm and 2pm-7pm. Tours in French and English until 5:30pm
Email:boutique@champagnemartel.com
---
Jeanne Pommery built this incredible Elizabethan-style mansion in the 19th century. If you're looking for an experience you won't forget, a stop at Pommery is absolutely necessary.
You won't believe your eyes when you see the estate. Inside the estate, which you'll see on a guided tour, are ancient Roman caves, chalk caves that are accessed by an impressive staircase, and tasting rooms that look more like art galleries.
It's one of the largest Champagne house, making around 500,000 cases a year. There are a few differnt tours you can take at Pommery. Be sure to book in advance. The tours are given in English, French, and German. Prices range from 22€-35€.
Location: Place General Gouraud, 51100, Reims, France
Hours: Early April to mid-November: every day 9:30am-7pm. Mid-November to late March: every day 10am-6pm
Email:visites@vrankenpommery.fr
---
Location: 1 Place des Droits de l'Homme, 51100 Reims, France
Season: Closed end of December to mid-March
Email: visitscenter@veuve-clicquot.fr
You've likely already heard of this Champagne brand, as it's one of the most popular Champagnes being sold around the world. The underground cellars of Veuve Clicquot are one of the main highlights of a visit. It has been designated as a UNESCO World Heritage site.
They've been making wine since 1772, then bought the underground quarry in 1909, and turned it into a wine cellar. You will learn all about the fascinating history – including the cellars being used as a shelter during the war – on a guided tour.
When you purchase tickets for your visit, it can include a tour and a few different types of tasting options. Click here to see them all. Prices range from 35€-250€ depending on the tour your book.
---
Another Champagne house with an impressive chalk cave that has been designated a UNESCO World Heritage site, Taittinger will stun you from the moment you arrive at the impressive entrance gates.
Unfortunately, their main location is currently closed, but you can still visit Demeure des Comtes de Champagne in the center of Reims and try the tasting experience called "À la table de Thibaud IV".
The experience is meant to showcase the life of Thibaud the fourth, King of Navarre, who was also a poet, while tasting the two signature cuvées of the House: the Brut Réserve and the Comtes de Champagne Blanc de Blancs.
It's a mix of audio and tasting and is offered in English and French. The price is 60€ and it lasts about 1 hour.
Location: À la table de Thibaud IV – Champagne Taittinger, 20 rue de Tambour, 51100 Reims
---
Dating from the early 1900s, the Villa Demoiselle is an architectural gem on the property of Pommery. It was reborn in 2008 with a new splendor thanks to the passion of its owners Paul-François and Nathalie Vranken.
There are two tours available. One is a self-guided tour and the other is a guided tour.
The Henry Vasnier tour follows the dream of Henry Vasnier, creative visionary and great patron of the city of Reims. This self-guided tour takes you on a visit to the Pommery cellars and the discovery of Emile Gallé's masterpieces in the Villa Demoiselle.
The self-guided tour comes with a downloadable digital and audio tour. Both tours end with a tasting of two emblematic cuvées of Domaine Pommery and the Ville Demoiselle: Pommery Brut Royal and Demoiselle Tête de Cuvée. 42€ and 52€
---
The House Mumm started in 1827 in the historic birthplace of the Champagne, Reims. This almost bicentenary estate opens the doors of its cellars where about 25 million bottles rest peacefully in the cellars.
The Mumm family, whose lineage includes barons and knights, dates back to the 12th century. They were originally wine merchants based in Cologne, Germany, but expanded into France when they saw potential for the region and expansion of their business. They've been going strong ever since.
Today Mumm is spread across nearly 25 kilometers in the heart of Reims. Visitors can explore the long history of this cellar and learn about the process they've followed for centuries.
There are three visit types: The Cordon Rouge Mumm experience, the discovery experience, and the 100% Grand Cru experience. The visit will end at one of the most beautiful museum about champagne. Afterward, you will have the opportunity to taste their Champagnes.
Location: G.H. Mumm, 29 Rue du Champ de Mars, 51100 Reims, France
Hours: Daily 10am-1pm and 2pm-5:30 or 6pm, seasonally. Tours in French and English until 5:30pm
Boutique available during opening hours
Email: guides@mumm.fr
---
Tips for Visiting Champagne Houses in Reims
Visiting Champagne houses in Reims can be an unforgettable experience, but it's important to plan ahead to make the most of your trip. Here are some tips to help you prepare for your visit.
Best Time to Visit
The best time to visit Champagne houses in Reims is during the spring and summer months, from April to September. During this time, the weather is mild and the vineyards are in full bloom. However, keep in mind that this is also the busiest time of year, so it's important to book your visit well in advance.
If you prefer a quieter time to visit, consider going during the fall or winter months. While the weather may be cooler, you'll have a more intimate experience and may even get the chance to see the vineyards during harvest season.
What to Wear
Visiting a Champagne house is a special occasion, so it's important to dress appropriately. Besides, the French are fashionable people and they might not appreciate your casualness as much as you do. It's recommended to wear smart-casual attire, such as a dress or slacks and a nice shirt. Avoid wearing flip-flops, as they may not be allowed in some of the cellars – no open toed shoes.
It's also important to wear comfortable shoes, as you may be doing a lot of walking and standing during your visit. And don't forget your sunglasses and sunscreen, as the sun can be strong in the vineyards.
Reservations
It's essential to make reservations in advance for your visit to a Champagne house in Reims. Most houses and growers don't accept visitors at all without an appointment. The best way to do that is to click those handy buttons I included above to make a reservation through Rue des Vignerons.
When making your reservation, be sure to let the house know if you have any special requests or preferences. Some houses may be able to accommodate dietary restrictions or offer private tours for an additional fee.
It's also important to arrive on time for your appointment, as many houses have a tight schedule and may not be able to accommodate late arrivals.
Where to Stay in Reims
Reims is a beautiful city with a wide range of accommodation options, but not a lot of luxury hotels, and even less international brands you might be looking for.
The city has several high-end hotels such as the Hotel Continental, , and the La Caserne Chanzy Hotel. For those on a mid-range budget, there are also plenty of options such as the Best Western Premier Hotel de la Paix and the Holiday Inn Reims Centre.
Regardless of where you choose to stay, it's important to book your accommodations in advance, especially during peak tourist season.
Where to Eat in Reims
Reims is known for its Champagne, but it also has a lot to offer when it comes to dining. From Michelin-starred restaurants to local bistros. One of the top restaurants in Reims is Les Crayères, which has earned three Michelin stars. The restaurant is located in a beautiful chateau and offers a fine dining experience with a focus on French cuisine. Reservations are recommended.
For a more casual dining experience, Racine is a popular choice. This bistro serves up classic French dishes using locally-sourced ingredients. Reservations are also recommended here. If you're looking for something sweet, head to Maison Fossier. This bakery has been around since 1756 and is known for its pink biscuits, which are a local specialty.
For a more unique dining experience, Le Foch is a restaurant located in a former train station. The restaurant serves up modern French cuisine and has a great wine list.
Before You Go
Since you made it to the end of this article, you're probably pretty interested in wine tasting. Here are a few more articles we think you might enjoy.
Like this post? Why not save it to Pinterest?
FOLLOW US on Pinterest, Instagram, Facebook for more great travel inspiration and tips.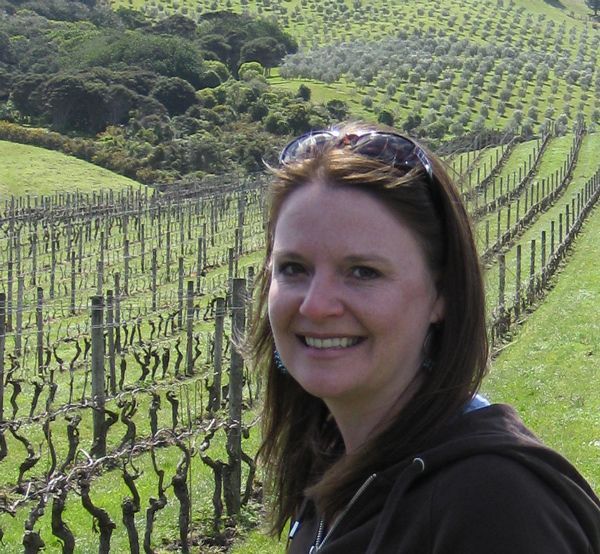 Laura Lynch, creator and writer of Savored Journeys, is an avid world traveler, certified wine expert, and international food specialist. She has written about travel and food for over 20 years and has visited over 75 countries.