Food tours are great. I love them, obviously, as it's one of the first things we often do in a new city when we travel. But I have to admit, I rarely go on food tours in the U.S. We already know the food and the customs, so there's no necessity to learn as we eat. Instead, when we visit new, or beloved, cities in the U.S., we embark on a self-made food crawl, visiting as many restaurants, bars, pubs and food trucks as possible on a quest to find the best food the city has to offer. We've done one in Austin, New Orleans, Vancouver and Philadelphia. The list goes on. It's a fantastic way to see the city while enjoying the food that makes it unique.
Last weekend, our awesome friends and east coast foodie dopplegangers, David and Corey, embarked on a Charleston Food Crawl that had them indulging in dishes from all the major contenders on the downtown Charleston food scene in just two short days. They've shared their adventure with us so we could pass along their drool-worthy research to you.
How to Put Together Your Own Food Crawl
In case you're wondering how to put together your own food crawl, let us give you a few pointers.
First, define an area of town you're going to tackle. Usually, the downtown area of a big city is the best place to start. Using your impeccable research skills, find 4-6 places you'd like to try and make yourself a plan. Do these places require reservations? When do they open and close? In what order should you visit them for the best experience? We prefer to walk between places, if possible, because our eating always involves drinking as well, but if you aren't drinking, driving will help you get around to more locations.
Keep the group small. Usually, with just 2-4 people, you won't need reservations. You can always eat at the bar at most places. But if you do need to make reservations, your crawl will be more rigidly defined. You'll need at least 45-60 minutes at each place (unless it's fast-casual), and you'll need to account for walking/commuting time.
The only other important aspect of a winning food crawl strategy is to be judicious with your ordering. If you're just doing a breakfast, lunch and dinner crawl, you can get away with ordering full entrees, but typically it's best to stick with small plates or appetizers, or sharing one entree. This is our biggest struggle, because we often find multiple dishes at one location that we want to try, but if you eat too much early on, there's no way you'll make it to the end.
Finding the Best Food in Charleston, South Carolina
Downtown Charleston is packed with great restaurants and bars. So many that even a 2-day binge-worthy food crawl doesn't scrape the surface. That's a good thing, though. The possibilities are vast, so you can pick cocktails or wine, rich lowcountry classics or modern fine dining, appetizers or entrees and still have more to try next time.
Here are some of the stops on David and Corey's recent food crawl that will have you drooling on your computer, even if you just ate lunch. They managed to hit up eight restaurants and seven bars in just two and a half days.
1. Hominy Grill
Busy yet relaxed eatery dishing up Lowcountry classics in homey digs, also popular for its brunch. 207 Rutledge Ave; hominygrill.com Phone: (843) 937-0930
2. McCrady's
Acclaimed spot for high-concept, locally sourced American food in an intimate, brick-walled setting. 2 Unity Alley; www.mccradysrestaurant.com Phone: (843) 577-0025
3. Slightly North of Broad (SNOB)
Reinvented Southern & Lowcountry cuisine served in an airy, 18th-century warehouse. 192 E Bay St; http://snobcharleston.com/ Phone: (843) 723-3424
4. Xiao Bao Biscuit
Creative, multicultural Asian cooking & specialty cocktails in a trendy converted gas station. 224 Rutledge Ave; xiaobaobiscuit.com No phone.
5. FIG
Elevated takes on Southern classics, cooked with seasonal ingredients, in an upscale-bistro setting. 232 Meeting Street; www.eatatfig.com Phone: (843) 805-5900
6. 167 Raw
167 Raw is a the best seafood restaurant fish market and raw oyster bar in Charleston SC. 289 E Bay St; 167raw.com Phone: (843) 579-4997
7. Stars Rooftop & Grill Room
American eatery with a seasonal menu & mid-1930s vibe boasts a rooftop bar & wood-fired oven. 495 King St; starsrestaurant.com Phone: (843) 577-0100
Pig Head Sandwich with braised greens, togarashi on a baguette at Two Borough's Larder (Photo by Wally Gobetz)As you can see, there's some incredible food to be found in Charleston, South Carolina. And this is only a small handful of the restaurants serving up delicious food there. Have you been somewhere in Charleston we haven't mentioned? We'd like to hear about it!
Now, go forth and eat!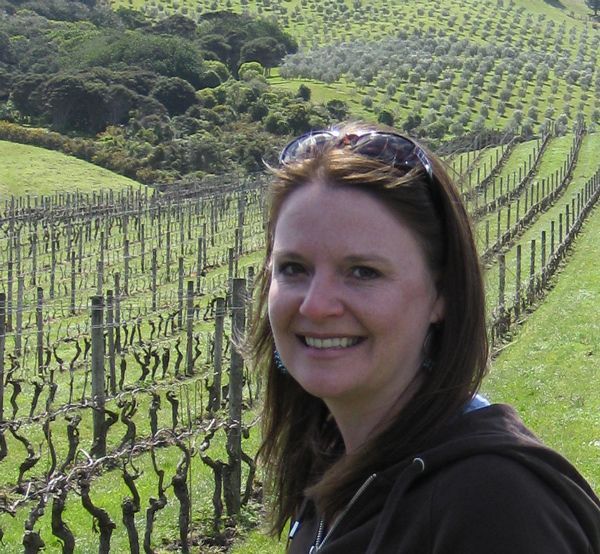 Laura Lynch, creator and writer of Savored Journeys, is an avid world traveler, certified wine expert, and international food specialist. She has written about travel and food for over 20 years and has visited 70+ countries.